Tangen cleared to take over Oil Fund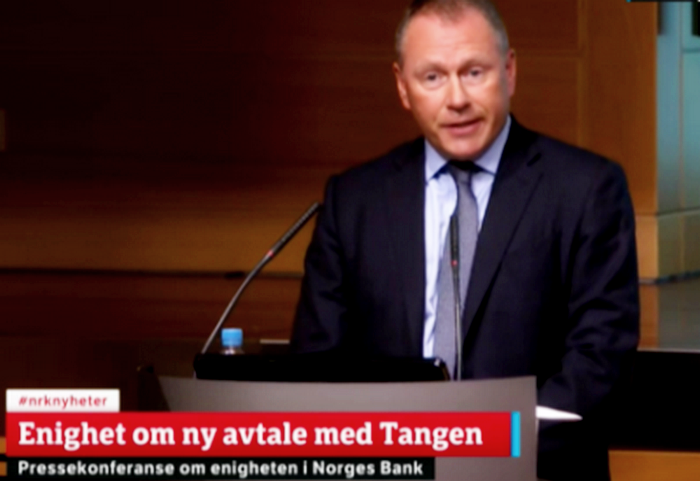 August 24, 2020
After months of drama and political uproar, billionaire Norwegian hedge fund founder Nicolai Tangen has decided to sacrifice much of his personal fortune in order to run his homeland's huge sovereign wealth fund with no conflicts of interest. He's selling out of his huge AKO Capital LLP and plans to simply put more than NOK 5 billion in proceeds in the bank.
Billionaire investor and hedge fund manager Nicolai Tangen, shown here at Monday night's nationally televised press conference, is giving up a fortune to take over as CEO of Norway's Oil Fund. PHOTO: NRK screen grab
"All ties (with AKO) are cut forever," Tangen said at a press conference Monday evening after a crisis meeting of Norway's central bank's board, which is responsible for what's widely known as Norway's Oil Fund. That clears the way for Tangen to manage Norway's oil wealth without raising conflicts of interest with his own wealth.
"I think we can all say that Nicolai has stretched himself very far with this agreement," Øystein Olsen, governor of Norges Bank, said at a press conference Monday evening after his bank board's crisis meeting Monday afternoon.
"I think it's fair to say that Øystein owes me a beer," Tangen told reporters when it was all over. "I asked Øystein if I could put the money in Norges Bank, but I'm not allowed to do that."
'Revised agreement'
Norges Bank Investment Management (NBIM), the central bank's unit that runs the Oil Fund, reported in a mastery of understatement that it now merely had secured a "revised agreement with Nicolai Tangen" in order to address "the concerns raised" by the Parliament's finance committee over the past several months and not least on Friday, when they all but ordered divestment.
Tangen has now agreed to divest himself of all holdings in AKO Capital LLP, which he's built up for years, and transfer them to the charitable AKO Foundation. He will thereby have no ownership interest in AKO Capital ever again.
Tangen will also "change the way his personal fund investments are managed," stated NBIM, so that all his assets are held merely as bank deposits. He thus won't earn anywhere near what he's earned on his investments so far, not least after the central bank brought its key policy rate down to 0 percent, but no one can accuse him of managing Oil Fund holdings and benefiting on his own in the process.
Tangen (left) and central bank chief Øystein Olsen, "who owes me a beer," Tangen said. PHOTO: NRK screen grab
It all means that Tangen can assume the role as CEO of NBIM on September 1 as planned. That came as a huge surprise to politicians and professors of economics who were clearly uncomfortable with Tangen's personal wealth, and never thought he would give up so much of his own fortune to run the Oil Fund. Many had thought Tangen would instead give up the fight and quit his new job before even starting it.
"I never thought for a second to give up the job," Tangen said at Monday's press conference. On Friday all parties in Parliament voted to demand that he sell off AKO Capital or give up his new post, with most thinking the latter would occur.
Giving away 'my life's work'
Tangen surprised many others as well when he confirmed Monday that he would indeed "give away my life's work until now" to take on the Oil Fund job. He admitted that "it hasn't been an easy decision" and that the past five months since he was offered the job "have been the most demanding in my life."
He claimed that for his part, though, the conflict with Parliament was already behind him. Now, he said, it's all about "going into the Oil Fund, getting to know even more of its people, learn its systems and see what adjustments I can make to get even better returns" on the oil revenues that still flow into the Norwegian treasury. "That's why I'm here. I'm strongly and deeply motivated and even more keen for the job."
He said he was giving up his fortune "to remove all doubts about which hat I'll be wearing. I'll be the Oil Fund chief and have only one goal: to create value for future generations." He claimed that Norway's Oil Fund "is more important than me. The Oil Fund's future is more important than my private economy."
Norges Bank Governor Øystein Olsen can carry on in his job as central bank chief as well, after Tangen agreed to eliminate any conflicts of interest around his new job as Oil Fund boss. PHOTO: NRK screen grab
Tangen's decision also saved the central bank chief from possibly having to resign himself, because of all the fuss after he and the bank board hired Tangen. Finance Minister Jan Tore Sanner of the Conservative Party, who'd also been under pressure to "instruct" the bank board to withdraw its job offer to Tangen because of potential conflicts of interest, stated that he was "happy there was a quick solution" to the conflict between the central bank and Parliament.
Opposition politicians who never liked Tangen's appointment were surprised, with Kari Elisabeth Kaski of the Socialist Left party (SV) criticizing Olsen for not accepting more criticism himself. "This crisis was unleashed because (Tangen's hiring) was poorly handled by Norges Bank," Kaski told state broadcaster NRK Monday night. She didn't seem particularly impressed that Tangen is sacrificing so much of the wealth he's built up for years in order to guide the Oil Fund.
Sigbjørn Gjelsvik of the Center Party stressed that he still wanted to examine Tangen's "revised" employment agreement more closely, and he seized the chance to criticize Finance Minister Sanner, even though the central bank is supposed to be autonomous of the government.
Bjørnar Moxnes of the Reds Party claimed the Tangen affair "shows that it pays off to oppose the economic elite and prevent them from doing what they want." He also intends to examine Tangen's new job contract closely.
Only Sivert Bjørnstad of the Progress Party, which had also questioned Tangen's role, stated that Norwegians "and our descendants can now be glad that we still got the person who was best suited to secure the Oil Fund's mandate of highest possible returns. He's probably the most generous, too, since he's now giving away all his investments."
NewsInEnglish.no/Nina Berglund
---
WHO and WHAT is behind it all ? : >
---
VISIT THE HUMAN SYNTHESIS ACHIVE
The bottom line is for the people to regain their original, moral principles, which have intentionally been watered out over the past generations by our press, TV, and other media owned by the Illuminati/Bilderberger Group, corrupting our morals by making misbehavior acceptable to our society. Only in this way shall we conquer this oncoming wave of evil.
Commentary:
Administrator
HUMAN SYNTHESIS
All articles contained in Human-Synthesis are freely available and collected from the Internet. The interpretation of the contents is left to the readers and do not necessarily represent the views of the Administrator. Disclaimer: The contents of this article are of sole responsibility of the author(s). Human-Synthesis will not be responsible for any inaccurate or incorrect statement in this article. Human-Synthesis grants permission to cross-post original Human-Synthesis articles on community internet sites as long as the text & title are not modified.
The source and the author's copyright must be displayed. For publication of Human-Synthesis articles in print or other forms including commercial internet sites. Human-Synthesis contains copyrighted material the use of which has not always been specifically authorized by the copyright owner. We are making such material available to our readers under the provisions of "fair use" in an effort to advance a better understanding of political, economic and social issues. The material on this site is distributed without profit to those who have expressed a prior interest in receiving it for research and educational purposes. If you wish to use copyrighted material for purposes other than "fair use" you must request permission from the copyright owner.