Avslørende at Hydrokloroksin brukes av US Regjering og Den Globale Eliten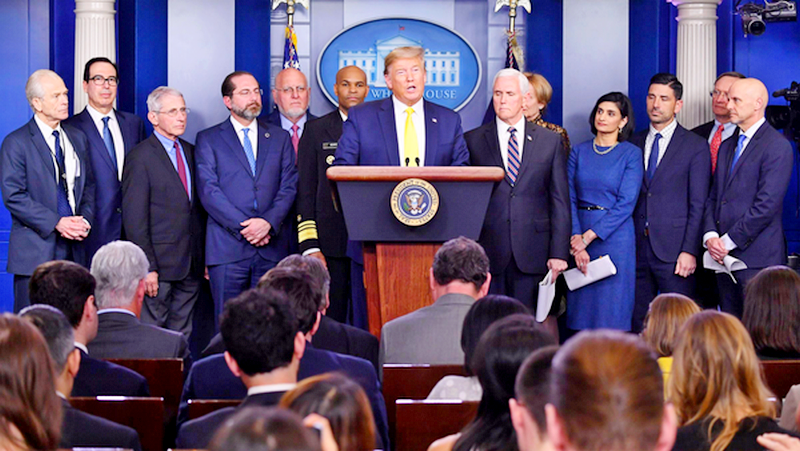 Anonymous D.C. Insider - July 29, 2020
Edited by State of the Nation - July 29, 2020
'Big Pharma' og WHO har hele tiden vært klar over HCQ kuren for COVID-19
Alle på CDC, NIH og FDA vet at hydroksyklorokin (HCQ) er sølvkulen for koronaviruset. De vet også at 3-i-1 når de kombineres med azitromycin og sinkprotokoll gir den magiske formelen for nesten alle som har coronavirus sykdom.Hva Dr. Fauci, Dr. Birx og Robert Redfield ikke forteller noen er at praktisk talt hver VIP i Washington, DC bruker HCQ profylaktisk. Alle vet at Trump har brukt det som et forebyggende middel som han offentlig uttalte ved flere anledninger. Men ingen har avslørt at så og si alle inne i 'Beltway' bruker den også. Derfor ble de alle vist så ofte i grupper uten masker som ikke holder seg til den anbefalte sosiale distanse-retningslinjer under de vanlige koronavirus briefingene.
Og det vises tydelig rett i midten av Covid-piggene under den første bølgen.Den virkelige skandalen her er at ledende politikere, myndighetspersoner, bedrifter, administrerende direktører og FN-administratorer som alle vet om effekten av HCQ, likevel har har de samarbeidet for å frata det amerikanske folket bruken. Hele tiden,seg selv, tar de i all hemmelighet HCQ profylaktisk. Når så mange land rundt om i verden har brukt hydroksyklorokin med stor suksess, hvorfor motstår USA heftig imot det? Fordi verdens mest nidkjære vaksineselger - Bill Gates - er fast bestemt for å bringe en COVID-19-vaksine på markedet.
Ord på gaten (K-Street) er at Gates også tar HCQ som et forebyggende middel. Faktisk har han tatt HCQ som et forsiktighets tiltak i mange år i løpet av sine reiser til nasjonene i den tredje verden som ble utsatt for hans uendelige vaksine-standplasser og vaksinasjonsprogrammer. Hvis amerikanere visste at India med suksess brukte HCQ landsdekkende, hvordan ville de ha reagerer da? New Delhi har til og med tatt beslutningen om å gjøre HCQ tilgjengelig som et profylaktisk middel, så billig er det.
"India anslås å produsere 70% av verdens hydroksyklorokin, med Ipca Labs og Zydus Cadila de to største produsenter av stoffet i landet.
Hvorfor sendte India 85 millioner doser hydroksyklorokin til 108 Covid-infiserte land hvis det ikke fungerer ?!
Så, hva skandalen?
Viktige myndighetspersoner, medisinske myndigheter og folkevalgte over hele USA er klar over hvert eneste faktum som er uttalt i denne eksponeringen. Likevel presser de uprøvde midler og farlige protokoller som faktisk har drept mange COVID-19 pasienter i alle 50 stater. Denne situasjonen er helt uakseptabel. Spesielt når lederne av nasjonale coronavirus informaner, tar HCQ og andre profylaktiske midler for å holde coronavirus i sjakk.
Det samme gjør mange i hovedstrøms- media; de vil aldri fortelle det til noen at de tar HCQ.  Heller ikke vil de Sultans of Silicon Valley eller WallStreet banksters eller Corporate moguler noensinne fortelle videre om denne "ultra-hemmelighets-sammensvergelsen".  Det er derfor Hamptons Konsernet med Goldman administrerende direktør, Chain-smokers, avventer  NY gransking . Goldman Sachs styreleder David Solomon følte seg åpenbart immun mot å bli smittet av Covid, til og med på en konsert der han var showets stjerne.
Men hva er den virkelige skandalen her?
HCQ-Azithromycin-Zinc-protokollen blir bevisst tilbakeholdt fra Amerikanske borgere, slik at en obligatorisk COVID-19-vaksine kan utvikles. Og beviset på et slikt kriminellt konspirasjonsplott: vil være uendelige sesongbaserte Covid pigger med hver bølge større og mer intens enn den forrige. Når de begynner å ebbe, klynger coronavirus seg i sammen og eksplosjoner vil bli detonert i de viktigste metroområdene, spesielt helligdoms- byene. Så, når de blå statene har fått nok, vil demokratiske guvernører sammen med sine demokratiske lovgivere  gi mandat om en årlig Covid-vaksinasjon (akkurat som California nylig vedtok drakonisk lovgivning som krever årlig overholdelse av vaksinasjonsplaner for barn). De utrolige lanseringene av COVID-19 som biovåpen på konservativt territorium vil til slutt tvinge Republikanske guvernører til å gjøre det samme i de røde statene...
LEGER FORTELLER  STOLTE PÅ SOSIAL MEDIA OM COVID-19 OG HYDROXYCHLOROQUINE BEHANDLING
---