Dangerous Trend Emerging- Fake Or Manipulated Vaccine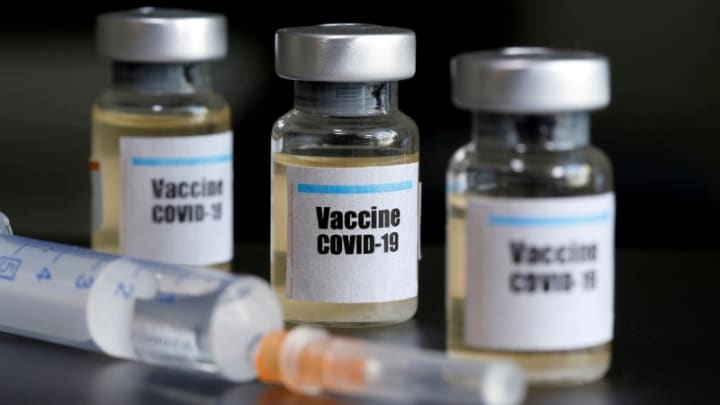 Thailand.Medical News: COVID-19 Vaccines  May 26, 2020
COVID-19 Vaccines: New Dangerous Trend Emerging- Fake Or Manipulated Vaccine
As there has been to date no effective drugs that can treat COVID-19 so far, the world is putting most of its hope on a possible vaccine. The problem is that by even by expediting protocols and clinical trials, a proper, safe and effective vaccine would still need at least 24 months to develop from the original 4 years.

While there are more than 128 different entities at the moment trying to develop a COVID-19 vaccine deploying various strategies and platforms and despite claims by governments, health authorities and also certain medical researchers that a COVID-19 vaccine would materialize by the year end, it is most unlike that such truly effective safe vaccine would ever materialize in such a short time.

What the public must be aware is that many unethical politicians around the world are using the COVID-19 crisis to exploit the situation and to find ways to siphon public tax payers money into research entities in which they will receive huge kickbacks and in some cases, certain research entities and pharmaceutical companies are using the situation to get their share prices up on the stock markets and cashing out at the right time to make huge financial gains. In between, there are unethical medical journals and medical researchers who are also involved in these scams to enrich themselves along with the owners of certain media and social media platforms.

Two vaccine companies were dominating the news in terms of vaccine trials: the German CureVac received an offer from Trump to buy their as of yet non-existent coronavirus vaccine and reserve it exclusively for USA.

The German government had to interfere, CureVac's CEO resigned and the company received a huge public investment, with the promise to deliver a vaccine by autumn 2020. Let us hope, because so far CureVac's promises for a different vaccine ended up with nothing to show for but a failed phase 2 clinical trial.  

In USA, CureVac's competitor Moderna had initially  opened recruitment to its human clinical trials for COVID-19 mRNA-based vaccine, without any previous preclinical testing for efficacy or safety. The safety testing would happen straight in human volunteers in a phase 1 trial. That however was put on hold on 30 March, maybe it is a good opportunity to recall this secretive company's past now: Moderna (which also has yet to show a single success for any of its products in phase 2 clinical trial) was founded by the controversial former Harvard researcher Kenneth Chien (now at Karolinska). The research attitude at Moderna, as described by a a website : STAT, dampens the hope for their mRNA vaccines.  and  Nr 2. here   and  Nr. 3 here
On May 18th news emerged about Moderna's Covid-19 vaccine candidate, the frontrunner in the American market  seemed to be generating an immune response in Phase 1 trial subjects. The company's stock valuation also surged, hitting US$29 billion, an astonishing feat for a company that currently sells zero products.

However several vaccine experts warned that, based on the information made available by the Cambridge, Mass.-based company, there's really no way to know how impressive or not the vaccine may be.

Though Moderna spend a fortune on its PR company and blitzed the media, it revealed very little critical  and most of what it did disclose were words, not data.. With science, numbers speak much louder than words.

Whatever irrelevant the figures the company did release don't mean much on their own, because critical information effectively the key to interpreting them was withheld.

Many medical experts suggested that the announcement was just "hot air" and not to be taken seriously  due to a variety of reasons such as:

1. No Public Comments By The NIAID
NIAID or The National Institute for Allergy and Infectious Diseases has partnered with Moderna on this vaccine. Scientists at NIAID made the vaccine's construct, or prototype, and the agency is running the Phase 1 trial. The PR release last Monday from Moderna readout came from the earliest of data from the NIAID-led Phase 1.

NIAID does not normally stay away from the PR spotlight.. The institute generally trumpets its findings, often offering director Anthony Fauci who, fair enough, is pretty busy these days or other senior personnel for interviews.
Interestingly, NIAID did not put out a press release Monday and declined to provide comment on Moderna's announcement.

2. Only Results From 8 Participants.
Moderna's statement led with the fact that all 45 subjects (in this analysis) who received doses of 25 micrograms (two doses each), 100 micrograms (two doses each), or a 250 micrograms (one dose) developed binding antibodies.
However later in the statement, it indicated that only eight volunteers ie four each from the 25-microgram and 100-microgram arms developed neutralizing antibodies. Of the two types, these are the ones you'd really want to see.

No one knows the results from the other 37 trial participants. This doesn't mean that they didn't develop neutralizing antibodies. Testing for neutralizing antibodies is more time-consuming than other antibody tests and must be done in a biosecurity level 3 laboratory.  Moderna disclosed the findings from eight subjects because that's all it had at that point. Still, it's a reason for caution.

Also while the Phase 1 trial included healthy volunteers aged 18 to 55 years, the exact ages of these eight people are unknown. If, by chance, they mostly clustered around the younger end of the age spectrum, you might expect a better response to the vaccine than if they were mostly from the senior end of it. And given who is at highest risk from the SARS-CoV-2 coronavirus, protecting older adults is what Covid-19 vaccines need to do.

3. No Known Data On Durability Of These Antibodies.
The report of neutralizing antibodies in subjects who were vaccinated comes from blood drawn two weeks after they received their second dose of vaccine.
Dr Anna Durbin, a vaccine researcher at Johns Hopkins University said, "That's very early. We don't know if those antibodies are durable."

4. No Real Way To Contextualize The Findings
The company stated that the antibody levels seen were on a par with or greater than, in the case of the 100-microgram dose  those seen in people who have recovered from Covid-19 infection.

However studies have shown antibody levels among people who have recovered from the illness vary enormously; the range may be influenced by the severity of a person's disease. Dr John Rose, a vaccine researcher from Yale University, pointed to a study from China that showed that, among 175 recovered Covid-19 patients studied, 10 had no detectable neutralizing antibodies. Recovered patients at the other end of the spectrum had really high antibody levels.


Hence though the company said the antibody levels induced by vaccine were as good as those generated by infection, there's no real way to know what that comparison means.

Moderna was asked for information on the antibody levels it used as a comparator. The response: That will be disclosed in an eventual journal article from NIAID, which is part of the National Institutes of Health.

Colleen Hussey, the company's senior manager for corporate communications, said in an email, "The convalescent sera levels are not being detailed in our data readout, but would be expected in a downstream full data exposition with NIH and its academic collaborators."

Many medical experts was struck by the wording of the company's statement, pointing to this sentence: "The levels of neutralizing antibodies at day 43 were at or above levels generally seen in convalescent sera."

Many said the company should disclose the information. "When a company like Moderna with such incredibly vast resources says they have generated SARS-2 neutralizing antibodies in a human trial, people would really like to see numbers from whatever assay they are using."

The company has not yet brought a vaccine to market, but it has a variety of vaccines for infectious diseases in its pipeline. It doesn't publish on its work in scientific journals. What is known has been disclosed through press releases. That's not enough to generate confidence within the scientific community.

Interestingly Moderna's stock price skyrocketed as much as 30% on Monday after the biotech company announced promising early results for its coronavirus vaccine. As ordinary investors piled in, two insiders were quietly heading for the exits.

Moderna's CEO and CMO executed options and sold nearly $30 million of shares combined on Monday and Tuesday, according to reviewed SEC filings.

The sudden sales occurred after Moderna (MRNA) excited Wall Street before markets opened Monday by announcing encouraging vaccine trial results. Moderna's market value swelled to $29 billion even though the company has no marketed products.

Since spiking to as high as $87 on Monday, Moderna's stock price has since retreated below $70 as medical experts have debated the importance of the early findings.

Moderna's chief financial officer, Lorence Kim exercised 241,000 options for $3 million on Monday, filings show. He then immediately sold them for $19.8 million, creating a profit of $16.8 million.

The following day, Tal Zaks, Moderna's chief medical officer, spent $1.5 million to exercise options. He immediately sold the shares for $9.77 million, triggering a profit of $8.2 million.

Although the fortuitous timing of the transactions may raise eyebrows, Charles Whitehead, professor at Cornell Law School, said the stock sales did not appear to raise any legal red flags.

These plans regulate when and how many shares company insiders, including directors and executives, are allowed to sell. The transactions are typically executed automatically, without the insiders taking any action.

The CFO also made stock sales prior to the vaccine news. On May 15, just days before the results were announced; Kim sold 20,000 shares of stock worth $1.3 million.

Andrew Gordon, director of research services at Equilar, said there would only be a "legal issue if they created or modified their 10b5-1 plan while in possession of material insider information."

Moderna's share price fell 10% to $71.67 on Tuesday after health website STAT reported that vaccine experts concluded the company did not release enough information to know how significant the Phase 1 findings are.

Media reports said that Moncef Slaoui, the new chief scientist of the White House's initiative to develop a Covid-19 vaccine, was a former executive of Moderna and had a large volume of stock options. He sold his shares after Moderna's stocks spiked, following the announcement of the interim study results, which fueled the concern for conflicts of interest.

Moderna's shares took a nosedive after the media questioned the clinical clarity of its data and raised suspicions on possible ties to the Trump administration.

Vaccine research is a sensitive subject, because of the problems created by the worldwide antivaxxer movement, which even seems to find its supporters in the Israeli Academy of Sciences.

Fraud in vaccine research would be definitely be not helpful in the current pandemic.

The public should take this global coronavirus disaster as the opportunity to crack down on research fraud and bad science, nationally and worldwide.

The public has to be very careful about what the mainstream medical and social media platforms are disseminating with regards to medical and health news and also about COVID-19 vaccines.

For more on COVID-19 Vaccine, keep on logging to Thailand Medical News.

We Desperately Need Your Help. Please Help To Sustain This Website And All Our Initiatives To Propel Research By Donating.

Credits: Most of the material from this article was extracted from the following two websites: https://forbetterscience.com and https://www.statnews.com


---