Illuminati og European Council on Foreign Relations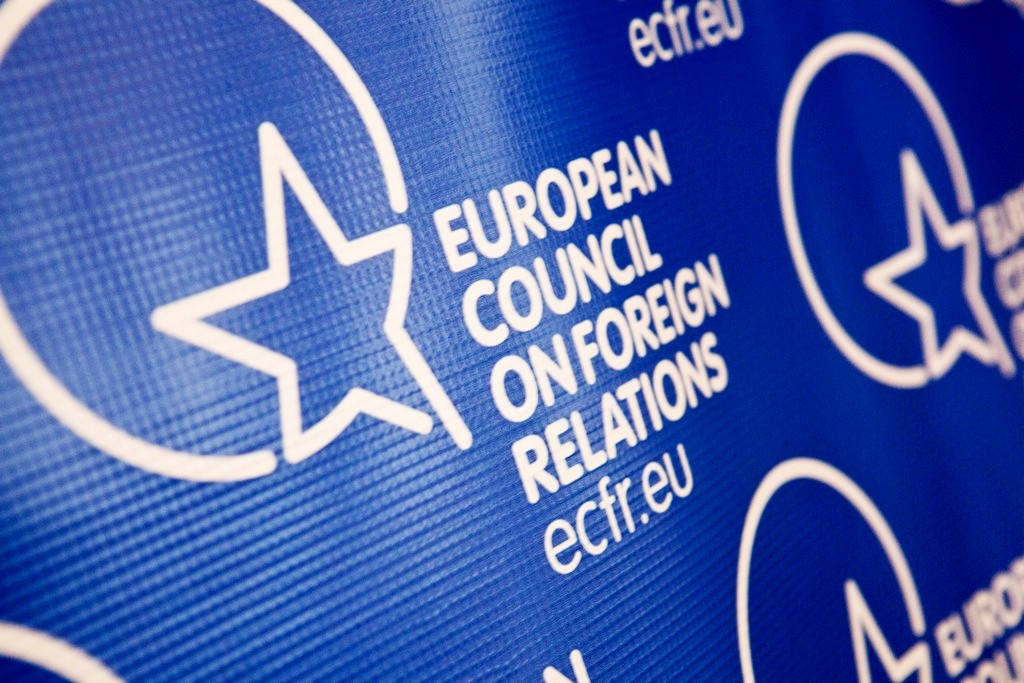 Ny EUs utenrikspolitisk tenketank opprettet - European Council on Foreign Relations (ECFR)

22. OKTOBER 2017
9. oktober 2007, Kilde: euobserver.com
Medlemmer inkluderer Martti Ahtisaari, Sir Stephen Wall, George Soros, Brian Eno, Chris Patten, Timothy Garton Ash, Joschka Fischer, Gijs de Vries, Bronislaw Geremek m.fl.
En gruppe europeiske politikere og intellektuelle har startet en ny tenketank som tar sikte på å presse EUs hovedsteder for å skape en "mer sammenhengende og sprek" utenrikspolitikk i et forsøk på å gjøre Europa til en sterkere aktør på den globale scenen.
Den nye tenketanken - European Council on Foreign Relations (ECFR) - ble lansert tirsdag (2. oktober) av femti grunnleggende medlemmer som tidligere statsministre, presidenter, europeiske kommisjonærer, MEPs og ministre samt intellektuelle, næringslivsledere og kulturelle tall fra EUs medlemsland og kandidatland.
De inkluderer Martti Ahtisaari, tidligere finsk president og nåværende spesiell FN-utsending for Kosovo; Joschka Fischer, tidligere tysk utenriksminister; Gijs de Vries, tidligere EUs koordinator for terrorbekjempelse; Timothy Garton Ash, en kjent professor i europeiske studier; og Bronislaw Geremek, MEP og tidligere utenriksminister i Polen. (forts. under video)
---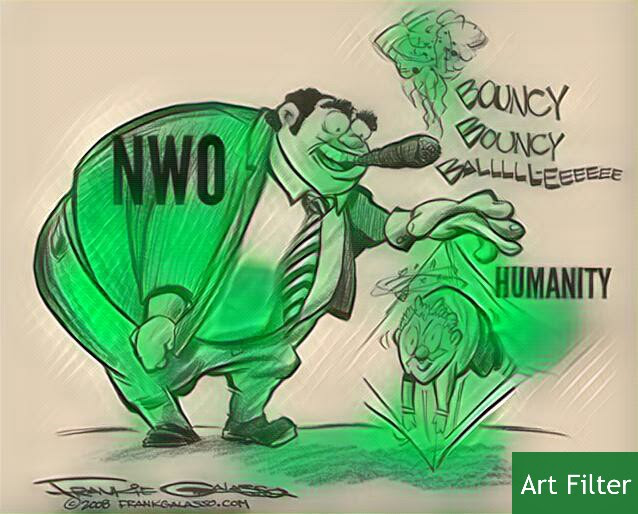 The Illuminati & CFR Exposed by Myron Fagan [1967]
Myron Fagan var en amerikansk forfatter, produsent og regissør for film og teater og en red skremselfigur på slutten av 1940- og 50-tallet. Fagan, en antikommunist, var en av de første samtidens amerikanske skikkelser som snakket offentlig om det vi i dag vil kalle en "globalistisk konspirasjonsteori". Mellom 1967 - 1968 registrerte Fagan The Illuminati og Council on Foreign Relations, tre LP-poster som dokumenterte aktivitetene i huset til Rothschild, ofte kjent som "The Illuminati".
De ber europeiske regjeringer "å vedta en mer sammenhengende og sprek utenrikspolitikk til støtte for europeiske verdier og interesser støttet av all Europas makt: politisk, kulturell, økonomisk og - når alt annet mislykkes - militært."
Senteret vil være basert i syv EU-hovedsteder - Berlin, London, Madrid, Paris, Roma, Sofia og Warszawa - og ledes av Mark Leonard - en forfatter og tidligere direktør for utenrikspolitikk ved det britiske baserte Centre for European Reform.
"Europa må bli eldre. Vi må slutte å klage over hva andre gjør med verden og begynne å tenke selv. Vi vil ha en kan-gjøre utenrikspolitikk, der europeisk makt blir satt til tjeneste for europeiske verdier," sa han. sa det i en uttalelse etter lanseringen.
Brian Eno og George Soros for å synge Europas ros
Fra: thisisnottingham.co.uk
Musiker Brian Eno skal hjelpe til med å lansere et nytt press for å styrke EU på verdensbasis.
De 50 grunnleggende medlemmene av European Council on Foreign Relations (ECFR) inkluderer musiker og produsent samt en tidligere finsk president, en eks-polsk statsminister og tidligere europeisk kommissær Chris Patten .
En annen grunnlegger, milliardærfilantropen George Soros , kommenterte: "EU er vant til å ta ledelsen fra USA, reagere på sin agenda - noen ganger positivt, noen ganger negativt - og den aksepterer i utgangspunktet verdensordenen som gitt. Det må endres og det kan ikke oppnås av enkeltland som handler på egen hånd. "
Gründerne sier at de ønsker å løfte EU ut av de politiske doldrummen, i kjølvannet av franske og nederlandske avslag på en ny grunnlov. De sier at de ønsker å tvinge EU "til å møte det globale ansvaret".
Lanseringen markerer starten på en serie debatter, konferanser og utenrikspolitiske rapporter sentrert ved ECFR-kontorer som blir satt opp i Berlin, London, Madrid, Paris, Roma, Sofia og Warszawa.
Et annet grunnleggende medlem er Sir Stephen Wall, tidligere Europa-rådgiver for tidligere statsminister Tony Blair.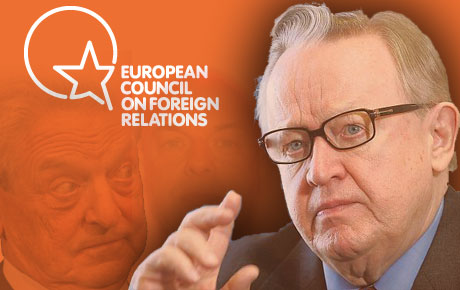 European Council of Foreign Relations - Medlemsliste:
NORSKE REPRESENTANTER:
Ine Eriksen Søreide - Norges utenriksminister - Høyre
Jonas Gahr Støre, leder for Arbeiderpartiet
Leiv Lunde, minister for Polarinstituttet - Høyre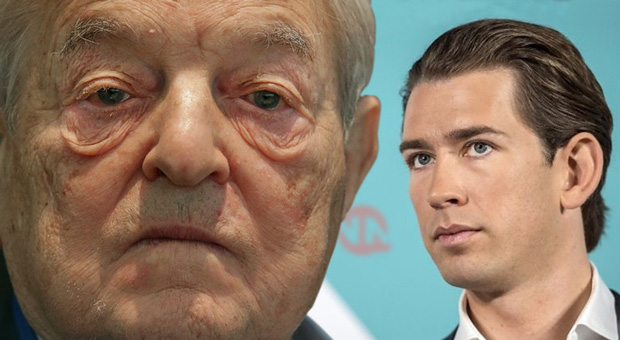 'Fanden sjøl', George Soros med Kurtz, Østerrikes nye president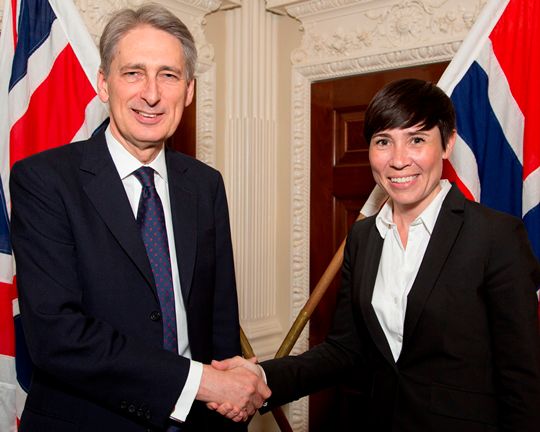 Ine Eriksen Søreide - utenriksminister, med Philip Hammond Storbritannia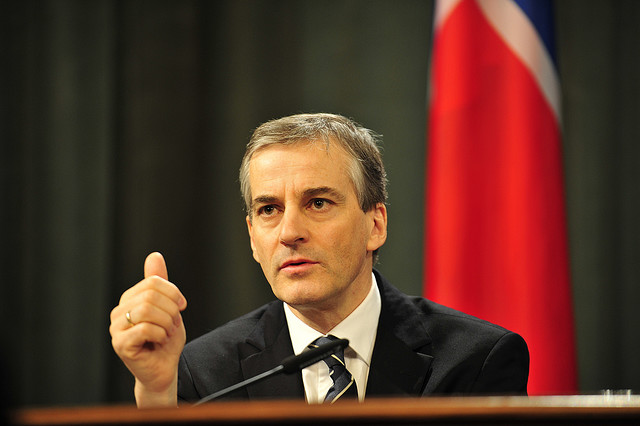 Jonas Gahr Støre - leder av Arbeiderpartiet

---
Norge har bidratt med totalt 3.842.000 kroner, eller € 400.000.- i 2016
---
WHO and WHAT is behind it all ? : >
---
The bottom line is for the people to regain their original, moral principles, which have intentionally been watered out over the past generations by our press, TV, and other media owned by the Illuminati/Bilderberger Group, corrupting our morals by making misbehavior acceptable to our society. Only in this way shall we conquer this oncoming wave of evil.
Commentary:
Administrator
HUMAN SYNTHESIS
All articles contained in Human-Synthesis are freely available and collected from the Internet. The interpretation of the contents is left to the readers and do not necessarily represent the views of the Administrator. Disclaimer: The contents of this article are of sole responsibility of the author(s). Human-Synthesis will not be responsible for any inaccurate or incorrect statement in this article. Human-Synthesis grants permission to cross-post original Human-Synthesis articles on community internet sites as long as the text & title are not modified.
The source and the author's copyright must be displayed. For publication of Human-Synthesis articles in print or other forms including commercial internet sites. Human-Synthesis contains copyrighted material the use of which has not always been specifically authorized by the copyright owner. We are making such material available to our readers under the provisions of "fair use" in an effort to advance a better understanding of political, economic and social issues. The material on this site is distributed without profit to those who have expressed a prior interest in receiving it for research and educational purposes. If you wish to use copyrighted material for purposes other than "fair use" you must request permission from the copyright owner.