ER DET DEN SAMME NWO SOM DUKKER OPP I ANNEN FORKLEDNING?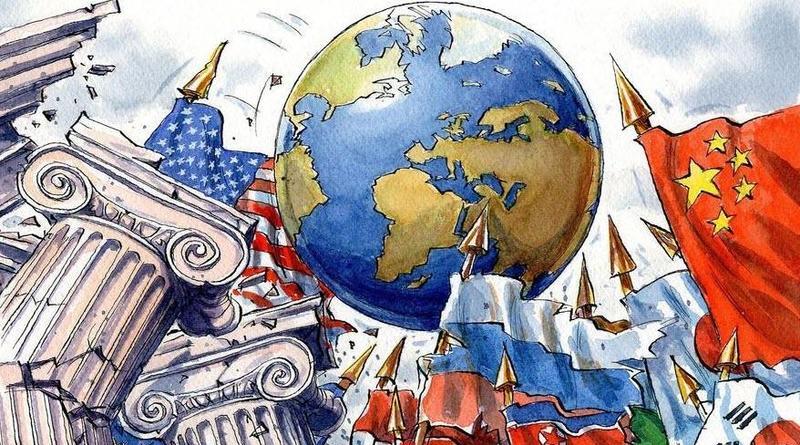 Human Synthesis - 05 april 2020
Til tross for at de hadde store tap av menneskeliv rundt Wuhan, kom Kineserne seg igjen forbløffende raskt og var dessuten usedvanlig godt forberedt med masse utstyr. Hospital for 2000 ble bygget på noen få dager. Bortsett fra en håndfull nye smittede er Kinas arbeidsstokk i full sving igjen med produksjonen som hurtig vil overstige USA.
Kunne det være mulig at den globale eliten nå benytter Kina som forkledning til deres utopiske NWO. Det skal jo tross alt etter sigende være dem som innførte kommunismen opprinnelig i Tsarens Russland for å bryte opp hans rike da det var en trussel mot deres verdier.
Lenin og Trotsky ble orientert med manuskript om kommunisme i New York på et luksushotell av representanter for den globale eliten. De oppfant IKKE kommunismen.
Millioner av russiske statsborgere ble deretter myrdet på de mest grusomme måter til de måtte importere utenlandsk arbeidskraft for å kunne bemanne fabrikkene sine.
Kommunismen ble jo også forsøkt innført i USA men ble ganske bestemt forkastet og utstøtt av den sittende regjering, Det var sannsynligvis krefter fra middelklassen. De klarte derimot å gripe seg fast i Cuba samt enkelte land i Syd-Amerika.
Livet i den kommunistiske verden ligner mistenkelig på det som vises på agendaen til den globale eliten for deres dystopiske NWO. ALLE skal dele det bittelille som blir igjen etter at den globale eliten har forsynt seg.
5G-nettverk kontrollerer allerede store områder i Kina, så vel som enkeltindividers økonomi og deres 24 \ 7 oppholdssted.
Tuller jeg, eller mener dere også at det har noe for seg?
Tore Christiansen
HUMAN SYNTHESIS
THE NEW WORLD ORDER AND THE SOCIALIST AGENDA 1992
Europe Must Recognize China for What It Is - Feb 11, 2020 GEORGE SOROS

2. The fall of the Russian Empire in 1917
3. The beginning of Communist China 1921-1947

---
Kommunistpartiet slapp viruset ut i verden – helt bevisst
Gordon Chang er en av verdens fremste eksperter på Kina.
Av: Hans Rustad   6. april 2020, 12:04
Gordon Chang er en av verdens fremste eksperter på Kina. Han sier i dette intervjuet at man i Beijing gjorde et valg da man forsto at man sto overfor en epidemi i Wuhan: Man stengte byen ned. Men man lot flytrafikken fortsette, selv om man visste at de reisende brakte viruset ut til hele verden, og særlig til USA.
Kunnskapen om dette lar seg ikke undertrykke, for bevisene er mange. New York Times hadde søndag en artikkel om hvor mange som reiste til USA i januar, februar og mars.
Since Chinese officials disclosed the outbreak of a mysterious pneumonialike illness to international health officials on New Year's Eve, at least 430,000 people have arrived in the United States on direct flights from China, including nearly 40,000 in the two months after President Trump imposed restrictions on such travel, according to an analysis of data collected in both countries.
430,000 People Have Traveled From China to U.S. Since Coronavirus Surfaced
New York Times forstår nok ikke selv implikasjonen av det de her bringer til torgs: Hvis kommunistpartiet 31. desember valgte å gå ut med at de hadde fått en epidemi i fanget, kan vi være sikre på at de hadde visst det en stund. De visste at viruset var svært smittsomt. Likevel valgte de å la flyene gå internasjonalt, og hele 430.000 mennesker fikk reise til USA:
Dette var et helt bevisst valg, sier Chang. Kommunistpartiet hadde gjort en kalkyle: Viruset kunne komme til å utløse en krise i USA som både ville svekke hovedmotstanderen økonomisk og militært og gi som bonus at Trump ikke blir gjenvalgt.
Men i likhet med mange andre undervurderer de Trump. Trump har vist seg som en ekte commander in chief.
Trump vil fortsette å få etterretning om hva som skjedde, og kunnskapen vil synke inn: Dette er USAs hovedhandelspartner. USA har lagt nesten alle eggene i deres reir.
Hva det betyr, har vi bare sett begynnelsen på. Trump har en rekke verktøy han kan bruke for å tvinge selskapene til å flytte hjem. Hans handelsrepresentant Peter Navarro er en tøffing og er klar på at industrien må komme hjem. Å la livsviktige medisiner bli produsert i land som viser seg upålitelige eller endog fiendtlige, er utelukket. Selv en demokrat som New Yorks Andrew Cuomo har forstått dét.
Han har ikke så mye han skal ha sagt. I 2015 fikk han overlevert en rapport som sa at byen var helt uforberedt på en kraftig influensaepidemi og manglet 15.000 ansiktsmasker. Cuomo foretok seg ingenting.
Pensjonsfond i Kina
Ikke bare har multinasjonale selskaper flyttet produksjonen til Kina. Også statlige pensjonsfond har investert i Kina. De går etter størst avkastning, og det har de fått i Kina. Men noe har også vært smøring. Kina kjenner vestlige lederes svakhet for penger.
Slik sett har Kina skutt seg selv foten, for mennesker i Vesten må kjempe for sin eksistens.
Medier som NRK vil ha oss til å tro at Kina er en humanitær stormakt som var uheldig og nå hjelper verden.
I så måte ligner NRK på kommunistpartiet: Statskanalen vet at det man forteller, er en løgn.
Amerikanske pensjonssparere ser at verdien på deres fond synker. Det politiske trykket ovenfra og nedenfra kan tvinge fondene til å trekke seg ut av Kina. Det kan gi rystelser i Kinas økonomi.
Globalismen kom til veis ende: Når selv pensjonsfondene til amerikanske militære investerte i kinesiske selskaper, forstår man at noe var i ferd med å gå helt galt.
Først handelsunderskuddet, så Trump og nå coronaen har gjort deler av Amerika edru.
---
WHO and WHAT is behind it all ? : >
---
The bottom line is for the people to regain their original, moral principles, which have intentionally been watered out over the past generations by our press, TV, and other media owned by the Illuminati/Bilderberger Group, corrupting our morals by making misbehavior acceptable to our society. Only in this way shall we conquer this oncoming wave of evil.
Commentary:
Administrator
HUMAN SYNTHESIS
All articles contained in Human-Synthesis are freely available and collected from the Internet. The interpretation of the contents is left to the readers and do not necessarily represent the views of the Administrator. Disclaimer: The contents of this article are of sole responsibility of the author(s). Human-Synthesis will not be responsible for any inaccurate or incorrect statement in this article. Human-Synthesis grants permission to cross-post original Human-Synthesis articles on community internet sites as long as the text & title are not modified.
The source and the author's copyright must be displayed. For publication of Human-Synthesis articles in print or other forms including commercial internet sites. Human-Synthesis contains copyrighted material the use of which has not always been specifically authorized by the copyright owner. We are making such material available to our readers under the provisions of "fair use" in an effort to advance a better understanding of political, economic and social issues. The material on this site is distributed without profit to those who have expressed a prior interest in receiving it for research and educational purposes. If you wish to use copyrighted material for purposes other than "fair use" you must request permission from the copyright owner.