Her er grunnen til at koronaviruset er så livsfarlig
Engin_Akyurt via Pixabay Skrevet av Benjamin Neuman ,
The Conversation 3. april 2020
Benjamin Neuman , Texas A&M University-Texarkana
COVID-19 er forårsaket av et coronavirus kalt SARS-CoV-2. Coronavirus tilhører en gruppe virus som smitter dyr, fra påfugler til hvaler. De er oppkalt etter de pærespissede piggene som rager ut fra virusets overflate og gir utseendet til en korona som omgir det.
En coronavirusinfeksjon spiller vanligvis ut en av to måter: som en infeksjon i lungene som inkluderer noen tilfeller av hva folk vil kalle forkjølelse, eller som en infeksjon i tarmen som forårsaker diaré. COVID-19 starter i lungene som vanlig forkjølelse coronavirus, men forårsaker da ødeleggelser med immunforsvaret som kan føre til langvarig lungeskade eller død.
SARS-CoV-2 er genetisk veldig lik andre humane respiratoriske koronavirus, inkludert SARS-CoV og MERS-CoV. Imidlertid oversetter de subtile genetiske forskjellene betydelige forskjeller i hvor lett et coronavirus smitter mennesker og hvordan det gjør dem syke.
SARS-CoV-2 har alt det samme genetiske utstyret som det opprinnelige SARS-CoV , som forårsaket et globalt utbrudd i 2003, men med rundt 6000 mutasjoner drysset rundt på de vanlige stedene der koronavirus endres. Tenk helmelk kontra skummet melk.00:0100:38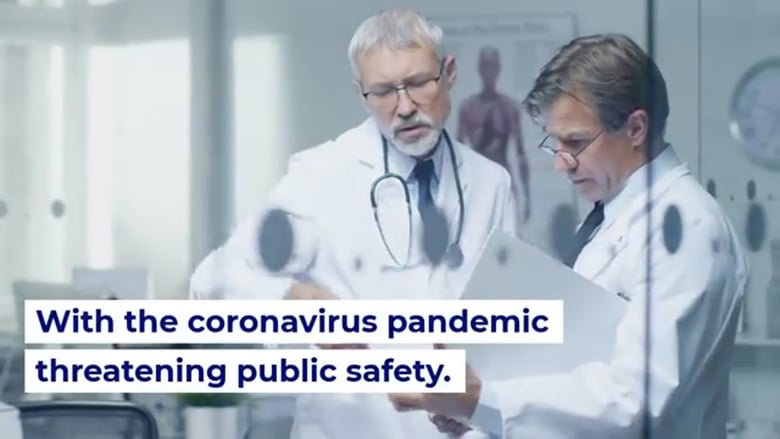 Sammenlignet med andre humane koronavirus som MERS-CoV , som dukket opp i Midt-Østen i 2012, har det nye viruset tilpasset versjoner av det samme generelle utstyret for å invadere celler og kopiere seg selv. SARS-CoV-2 har imidlertid et helt annet sett med gener som heter tilbehør, som gir dette nye viruset en liten fordel i spesifikke situasjoner. For eksempel har MERS et bestemt protein som slår av en cells evne til å gi alarm om en viral inntrenger. SARS-CoV-2 har et ikke-relatert gen med en ennå ukjent funksjon i den posisjonen i genomet. Tenk kumelk kontra mandelmelk.
Hvordan viruset smitter
Hver koronavirusinfeksjon starter med en viruspartikkel, et sfærisk skall som beskytter en eneste lang streng genetisk materiale og setter den inn i en menneskelig celle. Det genetiske materialet instruerer cellen å lage rundt 30 forskjellige deler av viruset, slik at viruset kan reprodusere. Cellene som SARS-CoV-2 foretrekker å smitte, har et protein kalt ACE2 på utsiden som er viktig for å regulere blodtrykket.
Infeksjonen begynner når de lange piggproteinene som stikker ut fra viruspartikkelen låser seg til cellens ACE2-protein . Fra det tidspunktet forvandler piggen, utfolder seg og bretter ut seg ved hjelp av spiralformede fjærlignende deler som begynner begravet i kjernen av piggen. Den rekonfigurerte piggen kroker seg inn i cellen og krasjer viruspartikkelen og cellen sammen. Dette danner en kanal der strengen av viralt genetisk materiale kan slange seg inn i den intetanende cellen.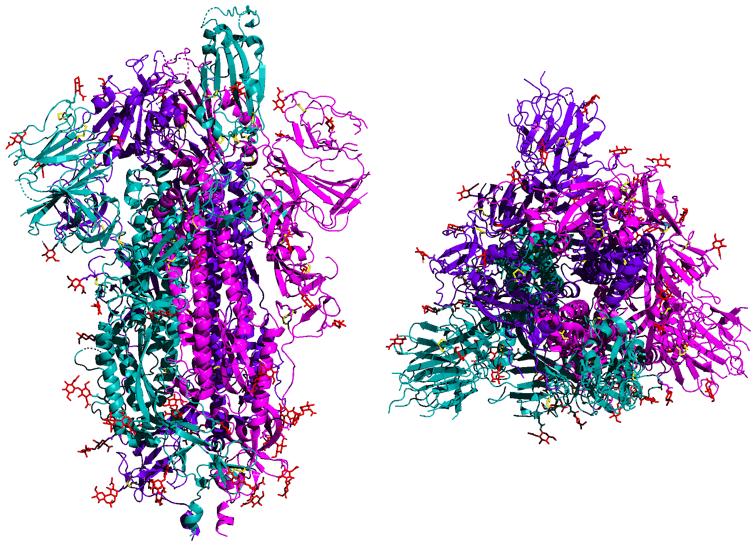 SARS-CoV-2 sprer seg fra person til person ved nærkontakt. Shincheonji Church-utbruddet i Sør-Korea i februar gir en god demonstrasjon av hvordan og hvor raskt SARS-CoV-2 sprer seg. Det virker som om en eller to personer med viruset satt ansikt til ansikt veldig nær uinfiserte mennesker i flere minutter av gangen i et overfylt rom. I løpet av to uker ble flere tusen mennesker i landet smittet, og mer enn halvparten av infeksjonene på det tidspunktet kan tilskrives kirken. Utbruddet startet raskt fordi offentlige helsemyndigheter var uvitende om det potensielle utbruddet og ikke ble testet mye på det stadiet. Siden den gang har myndigheter jobbet hardt og antallet nye saker i Sør-Korea har falt jevnt .
Hvordan viruset gjør mennesker syke
SARS-CoV-2 vokser i type II-lungeceller, som skiller ut et såpeaktig stoff som hjelper luft med å gli dypt ned i lungene, og i celler som foret i halsen. Som med SARS, skyldes mesteparten av skadene i COVID-19, sykdommen forårsaket av det nye koronaviruset, at immunforsvaret utfører et svidd jordforsvar for å hindre viruset i å spre seg. Millioner av celler fra immunforsvaret invaderer det infiserte lungevevet og forårsaker store mengder skade i ferd med å rense ut viruset og eventuelle infiserte celler.
Hver COVID-19-lesjon varierer fra størrelsen på en drue til størrelsen på en grapefrukt. Utfordringen for helsepersonell som behandler pasienter, er å støtte kroppen og holde blodet oksygenrikt mens lungen reparerer seg selv.
SARS-CoV-2 har en glidende alvorlighetsskala. Pasienter under 10 år ser ut til å tømme viruset lett, de fleste under 40 år ser ut til å sprette raskt tilbake, men eldre mennesker lider av stadig mer alvorlig COVID-19 . ACE2-proteinet som SARS-CoV-2 bruker som en dør for å komme inn i celler er også viktig for å regulere blodtrykket, og det gjør ikke jobben sin når viruset kommer dit først. Dette er en av grunnene til at COVID-19 er mer alvorlig hos personer med høyt blodtrykk.
SARS-CoV-2 er mer alvorlig enn sesongpåvirkning delvis fordi den har mange flere måter å stoppe celler fra å ringe til immunforsvaret om hjelp. En måte som celler prøver å reagere på infeksjon på, er for eksempel å lage interferon, alarmsignalproteinet. SARS-CoV-2 blokkerer dette ved en kombinasjon av kamuflasje, snipping av proteinmarkører fra cellen som fungerer som nødbakker og til slutt makulerer alle antivirale instruksjoner som cellen lager før de kan brukes. Som et resultat kan COVID-19 feste seg i en måned og forårsake litt skade hver dag, mens de fleste får over et tilfelle av influensa på mindre enn en uke.
For tiden er overføringshastigheten til SARS-CoV-2 litt høyere enn for pandemien H1N1 influensavirus 2009 , men SARS-CoV-2 er minst 10 ganger så dødelig . Fra dataene som er tilgjengelig nå, virker COVID-19 mye som alvorlig akutt respirasjonssyndrom (SARS), selv om det er mindre sannsynlig at SARS er alvorlig.
Hva som ikke er kjent
Det er fremdeles mange mysterier om dette viruset og koronavirus generelt - nyansene for hvordan de forårsaker sykdom, måten de interagerer med proteiner inne i cellen, strukturen til proteiner som danner nye virus og hvordan noen av de grunnleggende viruskopieringsmaskineriene fungerer.
En annen ukjent er hvordan COVID-19 vil svare på endringer i sesongene. Influensaen har en tendens til å følge kaldt vær , både på den nordlige og sørlige halvkule. Noen andre humane koronavirus spredte seg på et lavt nivå året rundt, men ser ut til å toppe om våren . Men ingen vet egentlig sikkert hvorfor disse virusene varierer med årstidene.
Det som er utrolig så langt i dette utbruddet, er all den gode vitenskapen som har kommet så raskt ut. Forskermiljøet lærte om strukturer av viruspike-protein og ACE2-protein med en del av piggproteinet festet litt over en måned etter at den genetiske sekvensen ble tilgjengelig. Jeg brukte de første 20 årene på å jobbe med koronavirus uten fordel av noen av dem. Dette antyder godt for bedre forståelse, forebygging og behandling av COVID-19.
[ Få fakta om coronavirus og den nyeste forskningen. Registrer deg for vårt nyhetsbrev. ]
Benjamin Neuman , professor i biologi, Texas A&M University-Texarkana
Denne artikkelen er utgitt fra The Conversation under en Creative Commons-lisens. Les den opprinnelige artikkele
---
WHO and WHAT is behind it all ? : >
---
The bottom line is for the people to regain their original, moral principles, which have intentionally been watered out over the past generations by our press, TV, and other media owned by the Illuminati/Bilderberger Group, corrupting our morals by making misbehavior acceptable to our society. Only in this way shall we conquer this oncoming wave of evil.
Commentary:
Administrator
HUMAN SYNTHESIS
All articles contained in Human-Synthesis are freely available and collected from the Internet. The interpretation of the contents is left to the readers and do not necessarily represent the views of the Administrator. Disclaimer: The contents of this article are of sole responsibility of the author(s). Human-Synthesis will not be responsible for any inaccurate or incorrect statement in this article. Human-Synthesis grants permission to cross-post original Human-Synthesis articles on community internet sites as long as the text & title are not modified.
The source and the author's copyright must be displayed. For publication of Human-Synthesis articles in print or other forms including commercial internet sites. Human-Synthesis contains copyrighted material the use of which has not always been specifically authorized by the copyright owner. We are making such material available to our readers under the provisions of "fair use" in an effort to advance a better understanding of political, economic and social issues. The material on this site is distributed without profit to those who have expressed a prior interest in receiving it for research and educational purposes. If you wish to use copyrighted material for purposes other than "fair use" you must request permission from the copyright owner.