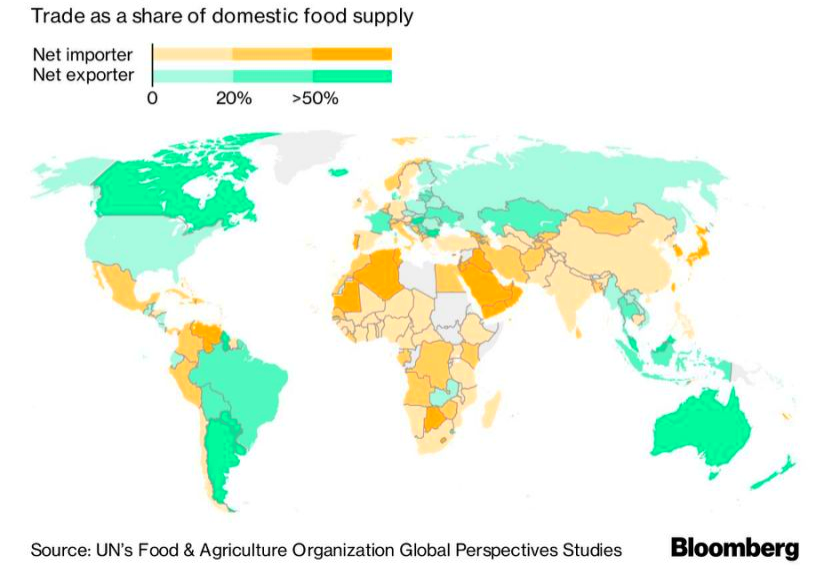 BLOOMBERG  25 Mar 2020
Det er ikke bare dagligvarekjøpere som hamstrer mat. Noen myndigheter beveger seg for å sikre innenlands matforsyning under conoravirus-pandemien.
Kasakhstan, en av verdens største avsendere av hvetemel, forbød eksport av dette produktet sammen med andre, inkludert gulrøtter, sukker og poteter. Vietnam suspenderte midlertidig nye riseksportkontrakter. Serbia har stoppet strømmen av solsikkeolje og andre varer, mens Russland lar døra være åpen for forsendelsesforbud og sa at den vurderer situasjonen ukentlig.
For å være helt tydelig har det bare vært en håndfull trekk og ingen sikre tegn på at mye mer er i horisonten. Likevel har det som har skjedd reist et spørsmål: Er dette starten på en bølge av matnasjonalisme som vil forstyrre forsyningskjeder og handelsstrømmer ytterligere?
"Vi begynner å se at dette skjer allerede - og alt vi kan se er at innstengingen kommer til å bli verre," sier Tim Benton, forskningsdirektør for nye risikoer ved tenketanken Chatham House i London.
Selv om matforsyningen er rikelig, gjør logistiske hindringer det vanskeligere å få produkter der de trenger å være ettersom coronavirus slipper løs hidtil usete tiltak, kjøp av panikk og trusselen om arbeidskramper.
Forbrukere over hele kloden laster frem trærne sine - og det økonomiske nedfallet fra viruset er akkurat i gang. Spekteret til flere handelsrestriksjoner vekker minner fra hvordan proteksjonisme ofte kan ende opp med å skade mer enn godt. Dette ordtaket ringer spesielt sant nå, da trekkene ville bli drevet av angst og ikke blitt gjort som svar på avlingssvikt eller andre forsyningsproblemer.
Som det er, har mange regjeringer tatt i bruk ekstreme tiltak, satt portforbud og begrensninger for folkemengdene eller til og med på folk som våger seg ut for annet enn å skaffe seg nødvendigheter. Det kan smitte over på matpolitikken, sa Ann Berg, en uavhengig konsulent og veteran jordbrukshandler som startet sin karriere i Louis Dreyfus Co. i 1974.
"Du kunne se rasjonering av krigstid, priskontroll og innenlandsk lagring," sa hun.
Noen nasjoner legger til sine strategiske reserver. Kina, den største risdyrkeren og forbrukeren, lovet å kjøpe mer enn noen gang før av den innenlandske høsten, selv om regjeringen allerede har enorme lagre med ris og hvete, nok til ett års forbruk.
Viktige importører av hvete, inkludert Algerie og Tyrkia, har også gitt nye anbud, og Marokko sa at en suspensjon av hvete-importtoll ville vare til midten av juni.
Når regjeringene tar nasjonalistiske tilnærminger, risikerer de å forstyrre et internasjonalt system som har blitt stadig mer sammenkoblet de siste tiårene.
Kasakhstan hadde allerede stoppet eksporten av andre matfett, som bokhvete og løk, før flyttingen denne uken for å avskaffe hvetemelforsendelser. Den siste handlingen var et mye større skritt, med potensialet til å påvirke selskaper rundt om i verden som er avhengige av forsyningene til å lage brød.
For noen varer utgjør en håndfull land, eller enda færre, hoveddelen av eksporterbare forsyninger. Forstyrrelser i disse sendingene vil ha store globale konsekvenser. Ta for eksempel Russland, som har dukket opp som verdens største hveteeksportør og en nøkkelleverandør til Nord-Afrika. Vietnam er den tredje største riseksportøren, og sender mange av lastene sine til Filippinene.
"Hvis regjeringer ikke jobber kollektivt og samarbeid for å sikre at det er et globalt tilbud, hvis de bare setter nasjonene først, kan du havne i en situasjon der ting blir verre," sa Benton fra Chatham House.
Han advarte om at vanvittig shopping kombinert med proteksjonistisk politikk etter hvert kan føre til høyere matpriser - en syklus som kan ende med å forevige seg selv.
"Hvis du får panikk med å kjøpe på markedet for neste års høst, vil prisene stige, og når prisene går opp, vil politiske beslutningstakere få mer panikk," sa han.
Og høyere regninger for dagligvarer kan ha store konsekvenser. Brødkostnader har en lang historie med kickstartende uro og politisk ustabilitet. I løpet av matprisene i 2011 og 2008 var det matopptøyer i mer enn 30 nasjoner over hele Afrika, Asia og Midtøsten.
"Uten matforsyningen bryter samfunn bare helt," sa Benton.
I motsetning til tidligere perioder med frodig matinflasjon, er globale varelager av stifteavlinger som mais, hvete, soyabønner og ris rikelig, sa Dan Kowalski, visepresident for forskning ved CoBank, en utlåner på 145 milliarder dollar til landbruksnæringen, og la til at han ikke forventer "Dramatiske" gevinster for priser nå.
Mens piggene i det siste tiåret opprinnelig var forårsaket av klimaproblemer for avlinger, forverret politikken konsekvensene. I 2010 opplevde Russland en rekordvarme bølge som skadet hveteavlingen. Regjeringen svarte med å forby eksport for å sikre at innenlandske forbrukere hadde nok.
FNs mål på globale matvarepriser nådde rekordhøyt innen februar 2011.
"Gitt problemet vi står overfor nå, er det ikke øyeblikket å få på plass denne typen politikker," sa Maximo Torero, sjeføkonom ved FNs mat- og jordbruks-organisasjon. "Tvert imot, det er øyeblikket å samarbeide og koordinere."
Selvfølgelig kan det hende at noen få forbud på plass ikke varer, og tegn på en tilbakevending til det normale kan hindre land i å treffe drastiske tiltak. Når forbrukerne begynner å se flere produkter i hyllene, kan de slutte å hamstre, og dermed la regjeringene slå seg tilbake. X5 Retail, Russlands største kjøpmann, sa at etterspørselen etter stiftemat begynner å stabilisere seg. I USA har store butikker som Walmart Inc. kuttet butikktiden for å la arbeidstakere få på nytt.
I mellomtiden har noen matvarepriser allerede begynt å stige på grunn av økningen i kjøpet.
Hvetefutures i Chicago, den globale referanseindeksen, har steget mer enn 8% i mars etter hvert som forbrukerne kjøper opp mel. U.S. engros-storfekjøtt denne uken skutt opp til det høyeste siden 2015, og eggprisene er høyere.
Samtidig faller den amerikanske dollaren opp mot en rekke fremvoksende markedsvalutaer. Det reduserer kjøpekraften for land som sender varer, som vanligvis er priset i greenbacks.
Til slutt, når det er en forstyrrelse uansett grunn, sa Berg, "det er de minst utviklede landene med svake valutaer som blir skadet mest."
(Oppdaterer hveteprisene i tredje til siste ledd.)
© 2020 Bloomberg L.P.
---
WHO and WHAT is behind it all ? : >
---
The bottom line is for the people to regain their original, moral principles, which have intentionally been watered out over the past generations by our press, TV, and other media owned by the Illuminati/Bilderberger Group, corrupting our morals by making misbehavior acceptable to our society. Only in this way shall we conquer this oncoming wave of evil.
Commentary:
Administrator
HUMAN SYNTHESIS
All articles contained in Human-Synthesis are freely available and collected from the Internet. The interpretation of the contents is left to the readers and do not necessarily represent the views of the Administrator. Disclaimer: The contents of this article are of sole responsibility of the author(s). Human-Synthesis will not be responsible for any inaccurate or incorrect statement in this article. Human-Synthesis grants permission to cross-post original Human-Synthesis articles on community internet sites as long as the text & title are not modified.
The source and the author's copyright must be displayed. For publication of Human-Synthesis articles in print or other forms including commercial internet sites. Human-Synthesis contains copyrighted material the use of which has not always been specifically authorized by the copyright owner. We are making such material available to our readers under the provisions of "fair use" in an effort to advance a better understanding of political, economic and social issues. The material on this site is distributed without profit to those who have expressed a prior interest in receiving it for research and educational purposes. If you wish to use copyrighted material for purposes other than "fair use" you must request permission from the copyright owner.