EU Army PANIC: EU official asks 'who would give the orders?' Macron's ambitions in ruins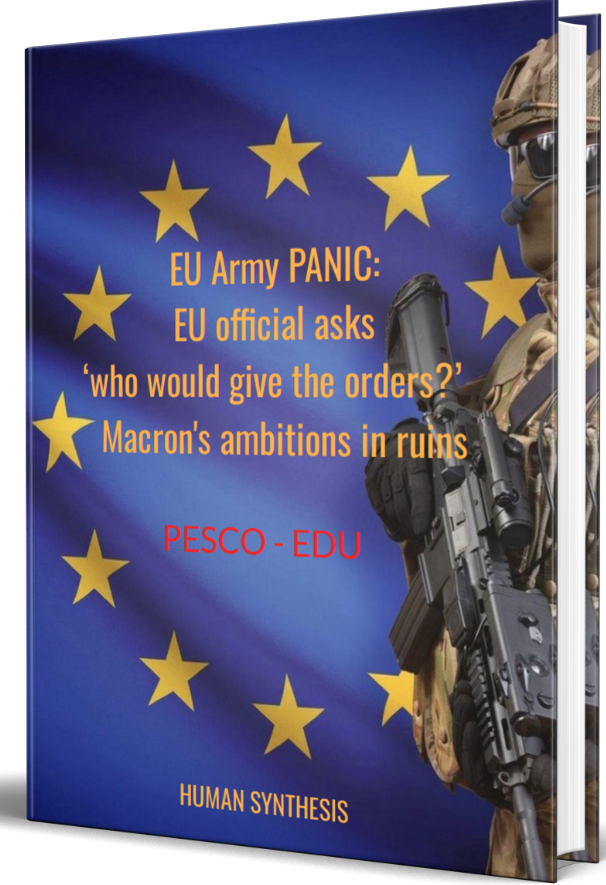 PUBLISHED: 08:24, Thu, Nov 21, 2019
The French president has been spearheading the EU's push towards a European Union- led army by taking a role in 10 new defence and security related projects. In a blatant escalation of the bloc's military ambitions, EU defence ministers this week signed off on a package of new 13 new joint projects under the umbrella of the bloc's Permanent Structured Cooperation (PESCO) pact. The scheme, which features 25 EU member states, alongside the £11 billion European Defence Fund, is designed to develop a credible fighting force.
However EU officials have questioned how a joint EU special forces would effectively combat the "increase in so-called asymmetric wars".
"Who would give the orders?" One asked Politico.
The source added: "And what's about the rules of engagement that would be different from country to country?"
Others told the publication that politicians would "hardly be ready to accept casualties, no matter how low they might be".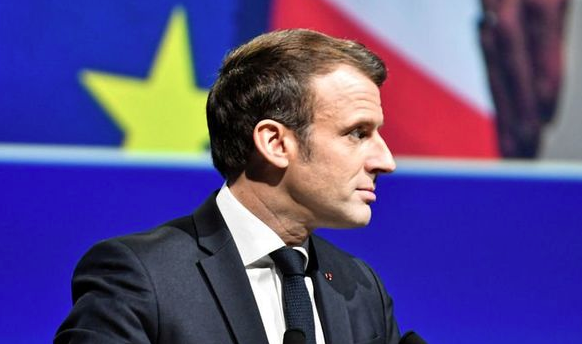 French President Emmanuel Macron's grand vision of a European army is under threat (Image: Daniel Pier/NurPhoto via Getty Images)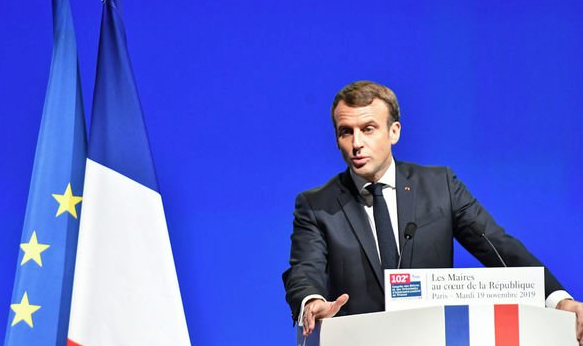 Mr Macron has been spearheading the EU's push towards a European Union-led army (Image: Daniel Pier/NurPhoto via Getty Images)
The £900 million pot put aside for the European Peace Facility (EPF) is also reported to be in danger after three senior diplomats said they expected the money to actually be lower
The  EPF  fund  was  proposed  last  year  to  be  used  to  bolster  the  EU's  ability  to "safeguard  European  security  interests  and  prevent  conflicts,  build  peace  and strengthen international security."
It is understood that many EU countries are hostile to putting the EPF under the European Commission.
One official said ambassadors would discuss the issue at the so-called Coreper meeting next week "to provide direction for further work.
READ MORE: US condemns Macron's Nato criticism – and warns EU can't defend itself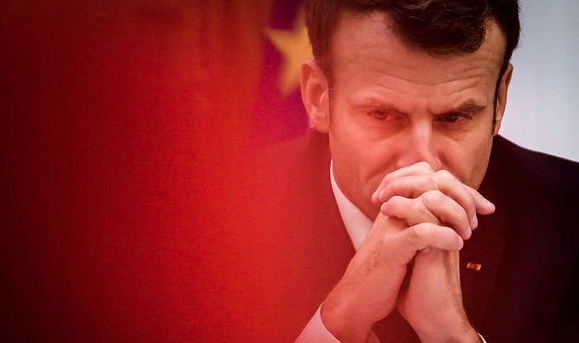 EU officials cast doubt on how realistic Mr Macron's fully fledged European armed forces would be (Image: ELIOT BLONDET/POOL/AFP via Getty Images)
European  leaders  are  seeking  to  enhance  the  Continent's  defence  and  security credentials following Mr Macron's push for a French-inspired, European Union-led army.
France will play a huge role in PESCO's 47 projects, participating in future EU defence planning, operations and weapons development in no fewer than 60 percent of the programmes.
The latest wave of projects include high-tech developments, such as sophisticated weapon jamming systems, an unmanned anti-submarine device and technology to track ballistic missiles.
Several training programmes will also be rolled out to improve the bloc's capacity to handle cyber and seaborne threats, and an integrated European joint training and simulation centre.
Ursula von der Leyen demands 30 percent rise in foreign policy budget [LATEST]
EU accused of 'dangerous' plan to diminish Nato while creating EU army
[INSIGHT] Election poll tracker: Labour's misery cemented as one in five back [POLL]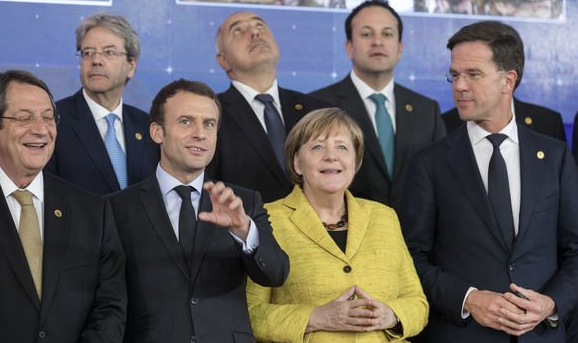 Nothing united about this group, They are all looking at different targets!
EU leaders announced the Permanent Structure Cooperation (PESCO) in December 2017 (Image: Thierry Monasse/Getty Images)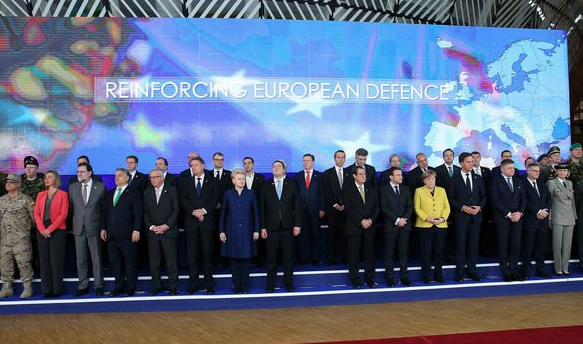 The PESCO scheme features 25 EU member states, alongside the £11 billion European Defence Fund (Image: Dursun Aydemir/Anadolu Agency/Getty Images)
Incoming European Commission President Ursula von der Leyen, another advocate of a European army, earlier this week said she wanted the bloc to "flex its muscles".
The next European Council chief, Charles Michel, has also urged the bloc to boost its defence capabilities to secure a new global role.
He called for the bloc to "act boldly" on the global stage in order to not become "collateral damage" in a tussle between China and the US.
"It's important for us to have our own capacities in order to have more weight," the former Belgian prime minister said.
"We will never be aggressive or offensive but we have to be more self-confident."
---
News Update:
Weak EU faces Macron military takeover and NATO split, writes Brigadier Geoffrey Van Orden. The EU is rudderless at the moment but France's President Macron is one person with a clear view of what he wants – European "strategic autonomy" backed by an EU Army, under French leadership.

By GEOFFREY VAN ORDEN, CONSERVATIVE MEP
DAILY EXPRESS - PUBLISHED: 06:01, Sat, Nov 23, 2019
---
WHO and WHAT is behind it all ? : >
---
The bottom line is for the people to regain their original, moral principles, which have intentionally been watered out over the past generations by our press, TV, and other media owned by the Illuminati/Bilderberger Group, corrupting our morals by making misbehavior acceptable to our society. Only in this way shall we conquer this oncoming wave of evil.
Commentary:
Administrator
All articles contained in Human-Synthesis are freely available and collected from the Internet. The interpretation of the contents is left to the readers and do not necessarily represent the views of the Administrator. Disclaimer: The contents of this article are of sole responsibility of the author(s). Human-Synthesis will not be responsible for any inaccurate or incorrect statement in this article. Human-Synthesis grants permission to cross-post original Human-Synthesis articles on community internet sites as long as the text & title are not modified.
The source and the author's copyright must be displayed. For publication of Human-Synthesis articles in print or other forms including commercial internet sites. Human-Synthesis contains copyrighted material the use of which has not always been specifically authorized by the copyright owner. We are making such material available to our readers under the provisions of "fair use" in an effort to advance a better understanding of political, economic and social issues. The material on this site is distributed without profit to those who have expressed a prior interest in receiving it for research and educational purposes. If you wish to use copyrighted material for purposes other than "fair use" you must request permission from the copyright owner.