Vardene brenner for vårt Fedreland og vår Grunnlov.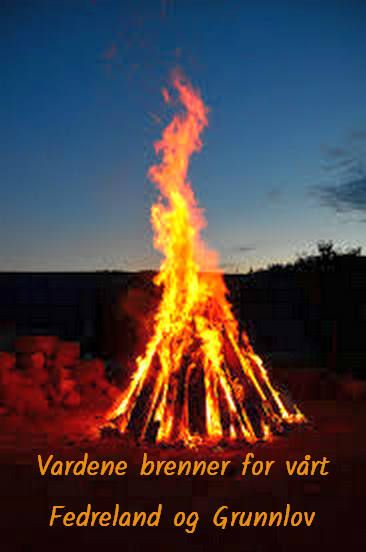 FB - Tor Sørensen 17 oktober 42 min
DA FRU SOLBERG VAR KOMMUNALMINISTER HOS BONDEVIK I 2003, foreslo hun å innføre sh/ aria. Dette kan du blant annet lese om i professor Terje Tvedt sin eminente og viktige samtidshistoriebok, "Det internasjonale gjennombruddet".
Nå er unevneligheten helt inne i det norske rettssystemet i den forstand at aktor og forsvarer i norske rettssaler fritt kan stille med hij/ ab under utførelsen av sitt arbeid.
I NRK kan ikke medarbeidere lenger stille med et beskjedent smykke formet som et lite synlig kors, mens hij/ abkledde damer brukes hyppig.
Unevneligheten blir også stadig mer aktiv på Stortinget, og vi har - under Ap - også hatt den i regjeringen.
På stadig flere områder i vårt samfunn vinner unevneligheten raskt terreng. Den kan ikke kritiseres, for da kalles det hat mot mennesker.
Tegner du en strekmann og kaller tegningen med Pro/ fetens navn, kan du bli drept, og det samme kan skje om du forlater unevneligheten.
Myndighetene ser mellom fingrene med at unevnelige menn kommer hit med en 13-årig kone, eller har én offisiell kone og tre uoffisielle.
Kristendommen og kristne kan derimot hånes, og Bibelen kan fritt brennes på riksdekkende TV.
Kristne menigheter trues stadig med tap av statsstøtte, mens den alle verste grupperingen, unevneligheten, ikke en gang nevnes i denne sammenhengen.
Kristne kirker legges ned og gjøres deretter om til mo/ skéer. Også mo/ skéer som fronter vold og undertrykkelse, støttes fullt ut med norske skattepenger.
Enkelte liberale prester trekker unevneligheten og deres bok inn i DNK, og ber til deres gud, uten at deres liberale bisp reagerer. Enkelte liberalere ville sågar trekke unevneligheten inn på Stiklestad.
Unevneligheten støttes og deres hal/ al innføres på stadig flere områder i samfunnet, som også godtar at man ikke en gang vil håndhilse på en person med motsatt kjønn.
Unevnelige migranter, som det faktisk kommer omtrent 20 000 av i året, hvis vi regner med de mange familiegjenforeningene - og det må vi jo - selv om ikke Eliten selv tar dem med i regnskapet, kommer sjelden i betalt arbeid. Bare én av 20 syriske kvinner - 5% - kommer i fullt arbeid. I stedet trygdes de etter norsk - og verdens høyeste - standard fra dag én. En nordmann må derimot ha arbeidet i tiårsvis for å oppnå det samme. Dette har sågar Faktisk.no slått fast.
Mange seriøse politikere fra mange partier innrømmer at Frp hele tiden har hatt rett mht. innvandringspolitikken.
Dessverre er toget gått både for Sverige og Norge, og ennå stemmer Ap-indoktrinerte velgere på partier som står for utstrakt globalisme og vil ødelegge nasjonalstaten. Dessverre har vi nå Norges mest globalistiske, unevnelig-vennlige og sløsende statsminister gjennom norsk historie.
Fru Solberg har gjort det tidligere konservative partiet Høyre om til et globalistisk "Ap light", unntatt i skatte- og fordelingspolitikken, og hun er blitt GHB sin arvtaker.
Vi som er godt voksne nå, vil vel klare oss, men hva med dem som kommer etter oss? Dystre perspektiver, for jeg frykter at Støre, SV, MDG og Rødt, er enda verre
---
Kronesvekkelsen fortsetter etter «marerittdag»: – Kronen har enda tøffere tider i vente.  
Grunnen er vel de forutsigbare utgiftene med den økende mengde migranter samt vår allerede enorme utenlandsgjeld. I tillegg enorme utbetalinger fra Solberg til forskjellige utenlandske fond. ALT setter stort press på Oljefondet.
---
Det Internasjonale gjennombruddet - Terje Tvedt  (lenke til boken)
---
WHO and WHAT is behind it all ? : >
---
The bottom line is for the people to regain their original, moral principles, which have intentionally been watered out over the past generations by our press, TV, and other media owned by the Illuminati/Bilderberger Group, corrupting our morals by making misbehavior acceptable to our society. Only in this way shall we conquer this oncoming wave of evil.
Commentary:
Administrator
All articles contained in Human-Synthesis are freely available and collected from the Internet. The interpretation of the contents is left to the readers and do not necessarily represent the views of the Administrator. Disclaimer: The contents of this article are of sole responsibility of the author(s). Human-Synthesis will not be responsible for any inaccurate or incorrect statement in this article. Human-Synthesis grants permission to cross-post original Human-Synthesis articles on community internet sites as long as the text & title are not modified.
The source and the author's copyright must be displayed. For publication of Human-Synthesis articles in print or other forms including commercial internet sites. Human-Synthesis contains copyrighted material the use of which has not always been specifically authorized by the copyright owner. We are making such material available to our readers under the provisions of "fair use" in an effort to advance a better understanding of political, economic and social issues. The material on this site is distributed without profit to those who have expressed a prior interest in receiving it for research and educational purposes. If you wish to use copyrighted material for purposes other than "fair use" you must request permission from the copyright owner.