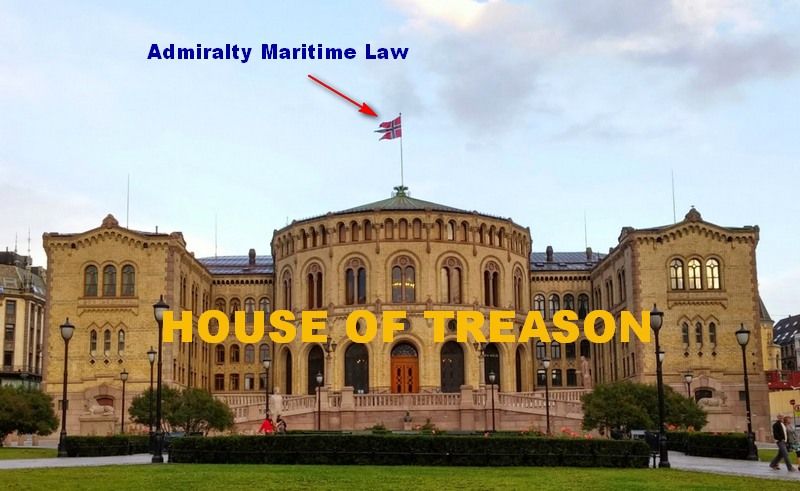 Speakers Corner Norway - Published on Jan 5, 2018
Justismord i Norge
Norway is a "de facto" rogue territory which has been under Soviet rule since the early 20th century. Here is evidence which confirms this fact, showing the agreement between the then Crown Prince of Norway, Olav, handing Norway over to the Soviet union in 1944.
This document can also be found in Norway's National Archives.
Norway has been under secret soviet administrasjon as a hidden dual state since way back in the 1920s, and is still controlled by their network through a few Norwegian families and Norway's criminal freemason elements. Norway is a de facto, lawless territory whose last legal election was held in 1936.
The Constitution has not been practiced since 10th January, 1940, when the coup d'etat of winter 1939/1940 offically came into place. Norway has no legitimate legal system as the courts are directly operated by freemasons fronting the FSB (KGB). No judge in Norway seems to have valid authority to work as judge. Check for yourself on regjeringen.no. All guarantees and oaths are illegitimate. They do not meet the demands of Common Law.
NO courts in Norway are legitimite.
ALL COURT DECISIONS IN NORWAY ARE NULL AND VOID.
Norway is the only country is the industrialized "west" forbidding both stenographers and sound- and picture  recordings of court proceedings. Norway's courts are frequently, and without notice, closed for audiences. KGB/FSB control the legal system in its entirely with court cases verdicts being decided in advance.
Orlogsflagget (splittflagget) vaier fra flaggstangen på Stortinget istedenfor det norske landsflagg, hvilket betyr at Norge per definisjon er en «de facto» stat underlagt Havets Lov og ikke Landets Lov, hvilket i praksis betyr at Norge som land er underlagt fremmed makts administrasjon. Bak dette åpenbare parlamentariske angrep på Norge og Norges befolkning ligger et politisk svik uten sidestykke i Norges historie.
Det norske folk lærer ingenting om hva Splittflagget og Havets Lov presenterer i skolen, hvilket gjør det ekstra viktig for alle å dele informasjon. Når et land er underlagt maritim rett har ingen rettigheter overhodet (unntatt de som styrer dette landsforræderiet = bankansatte, statsansatte og de innenfor rettssystemet samt frimureriet) fordi du behandles som en handelsvare fremfor et menneske i retten. Nordmenn er 100% rettsløse uten at befolkningen vet om det, pga hjernevask og indoktrinering i norsk media og skole om menneskerettigheter som INGEN i Norge har tilgang til. Norsk media støtter opp om landsforræderi mot eget land og folk.
Norge ble 27. desember, 1946 gjort om fra et suverent land til en korporasjon (foretak). Norge finnes ikke. Søk på Brønnøysundregisteret og skriv inn Stortinget eller Statsministerens kontor, eller hvilket som helst annen statlig "foretak". Alle er nemlig foretak med hvert sitt organisasjonsnummer.
Det er stort press overalt i Norge i dag å oppgi sitt personnummer i alle transaksjoner. Personnummeret er hovedårsaken til at staten kidnapper og fengsler utallige barn daglig og i økende omfang. Hver gang du oppgir ditt personnummer utløses det mer penger fra sentralbankene (Federal Reserve) til den norske stat (digipenger). Barnevern kidnapper barn for å gi staten mer penger = menneskehandel.
Admiralty Law and how to defeat Admiralty Courts
STATEN A/S NORGE - MARITIME ADMIRALTY LAW - STATLIGE OVERGREP
ALDRI oppgir personnummer. Spør de/den som ber om det grunnen til at de vil ha det, og HVA UTLØSER denne handlingen når du oppgir dette nummeret. Ta opptak på samtalen. Ring din bank og spør dem om hvilken handling utløses ved at du legger inn ditt personnummer i nettbanken. Aldri opprett bankkonto adskilt for barna. Konti må stå under foreldrenes ansvar og aldri på barnets navn alene. Barn med adskilte bankkonti (sparekonto for eksempel) er spesielt utsatt for statlig kidnappingsforsøk.
Barn holdes bak lås og slå (fengslet) av barnevern fordi staten får betalt for hvert barn som kidnappes. All den tiden barnet bor et annet sted enn hjemme hos far og mor får staten daglig påfyll fra Federal Reserve til sine konti via ditt barns personnummer. Dette er den REELLE grunnen til at barna returneres ikke før barna er fylt 18 år, samt selvsagt å ødelegge familier, og for at alle parter i Norges pillråtne rettsystem kan tjene seg rik på forsøk å få barna ut av barnevernets klør.
ALLE ANSATTE i Norges rettssystemet er klar over at Norge er underlagt maritim rett, men holder tyst om dette for å tjene penger. Jo flere barn som kidnappes, jo mer penger strømmes ut fra sentralbankene (Federal Reserve) via Norgesbank til Norge A/S = staten.
Informer flest mulig om alle fakta over. Jobb for, og stem for innføring av ekte folkestyre for å frigjøre barna. Norgespartiet jobber mot dette målet, ved å legge seg selv ned som parti så snart folkeflertallet velger ekte folkestyre.
Category
People & Blogs
---
WHO and WHAT is behind it all ? : >
---
The bottom line is for the people to regain their original, moral principles, which have intentionally been watered out over the past generations by our press, TV, and other media owned by the Illuminati/Bilderberger Group, corrupting our morals by making misbehavior acceptable to our society. Only in this way shall we conquer this oncoming wave of evil.
Commentary:
Administrator
All articles contained in Human-Synthesis are freely available and collected from the Internet. The interpretation of the contents is left to the readers and do not necessarily represent the views of the Administrator. Disclaimer: The contents of this article are of sole responsibility of the author(s). Human-Synthesis will not be responsible for any inaccurate or incorrect statement in this article. Human-Synthesis grants permission to cross-post original Human-Synthesis articles on community internet sites as long as the text & title are not modified.
The source and the author's copyright must be displayed. For publication of Human-Synthesis articles in print or other forms including commercial internet sites. Human-Synthesis contains copyrighted material the use of which has not always been specifically authorized by the copyright owner. We are making such material available to our readers under the provisions of "fair use" in an effort to advance a better understanding of political, economic and social issues. The material on this site is distributed without profit to those who have expressed a prior interest in receiving it for research and educational purposes. If you wish to use copyrighted material for purposes other than "fair use" you must request permission from the copyright owner.