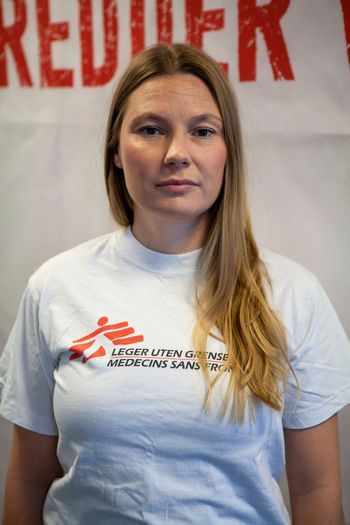 Sissel Roksvåg jobbet i verdens største flyktningleir
Støtt Leger Uten Grenser
PRODUSERT AV BRAND STUDIO FOR LEGER UTEN GRENSER
Flyktningleiren i Cox's Bazar i Bangladesh er så enorm at det er vanskelig å ta inn over seg. Hvis man tar seg en tur på en av de mange høydene i leiren, ser man små bambusskur i alle himmelretninger – så langt øyet kan se.
Det som tidligere var et relativt lite jungelområde, på størrelse med bykjernen i Kristiansand, er på kort tid omgjort til verdens mest folkerike flyktningleir. Til sammen bor det nesten én million mennesker her. Halvparten er barn.
De aller fleste forteller at de har blitt tvunget til å flykte dit fra Myanmar, fordi de er rohingyaer – en folkegruppe som er uønsket i landet de flyktet fra.
Som verdens største statsløse folkegruppe har rohingyaene siden 70-tallet blitt utsatt for forfølgelse, segregasjon og undertrykkelse. I 1982 ble folkegruppen over natten fratatt statsborgerskapet sitt i Myanmar og har siden da hatt svært begrenset tilgang til helsehjelp, utdanning, arbeid eller mulighet til å eie eller leie land.
I 2017 forverret situasjonen seg kraftig da militæret i Myanmar gikk til angrep mot og drepte flere tusen rohingyaer. 25. august i år var det to år siden flere hundre tusen rohingyaer flyktet til Bangladesh.
Sissel Roksvåg, feltarbeider for Leger Uten Grenser  (video)

– Levevilkårene i leiren er så dårlige at menneskene blir syke. Dette var ikke et sted man skulle bo lenge, men nå har mange vært der i to år. Hva slags fremtid som venter dem, er det ingen som vet, sier Sissel Roksvåg.
Hun er feltarbeider i Leger Uten Grenser og jobbet et halvt år i flyktningleiren i Bangladesh.
Under oppdraget fikk hun høre forferdelige historier fra rohingyane – om drap, voldtekter og tortur. Landsbyer ble påtent, rohingyaer ble henrettet. Veldig mange som overlevde og klarte å flykte til Bangladesh, har fortalt Leger Uten Grenser at de har opplevd å miste noen av sine nærmeste. Mange sliter med traumer og psykiske problemer som følge av det de har sett.
Flyktningene vil at hun skal fortelle
– Jeg bærer med meg historiene. De fortalte meg disse historiene fordi de ville at verden skulle vite, sier Roksvåg.
Hun husker spesielt godt historien til Tanbin, en kvinne i 20-årene, som så at landsbyen sin brant ned. Det bodde 142 mennesker der - bare 39 overlevde. Tanbin klarte å gjemme seg. Det hun så da hun kom tilbake, var helt forferdelig.
Historien Roksvåg forteller i videoen over, er bare én av mange.
– Da jeg ble bedt om å reise til Bangladesh av Leger Uten Grenser, sa jeg ja med en gang. Når du er i felt, er det store utfordringer og man jobber knallhardt hele tiden. Selvfølgelig opplever man mye kjipt, men man får gjort utrolig mye med begrensede ressurser, sier hun.
I flyktningleiren hadde hun ansvaret for over 200 lokalt ansatte, rekruttert fra lokalbefolkningen i Bangladesh. I tillegg fikk hun hjelp fra omkring 200 rohingyaflyktninger på frivillig basis. Rohingyane har ikke lov til å ha en ordentlig jobb.

Med enorme utfordringer i leiren var arbeidsmengden nærmest uoverkommelig, og teamet hennes jobbet i perioder opptil 16 timer i døgnet.
Vil du bli feltarbeider i Leger Uten Grenser? Les om mulighetene som finnes.
Fakta: Rohingya
Ifølge FN er rohingyaene en av verdens mest forfulgte minoriteter og i august 2017 forverret situasjonen seg da militæret i Myanmar gikk til angrep mot rohingyaene i landet. Siden da har flere enn 700.000 rohingyaer flyktet til Bangladesh.   Rohingyaene er statsløse og har ikke flyktningstatus i Bangladesh. Det begrenser mulighetene deres til å arbeide, ta utdanning, tilgang på helsehjelp og andre grunnleggende tjenester.  
Til sammen er det i dag flere enn 900.000 rohingyaer i Cox's Bazar i Bangladesh. De aller fleste bor i verdens største flyktningleir, Kutupalong-Balukhali-leiren, og flere hundretusen bor i leirer rundt i Cox's Bazar. I denne artikkelen har vi valgt å fokusere på alle flyktningene som bor i Cox's Bazar. Det bor også et stort ukjent antall rohingyaer fremdeles i Rakhine-delstaten i Myanmar, og også en del i Malaysia.  Les mer om rohingyaene her.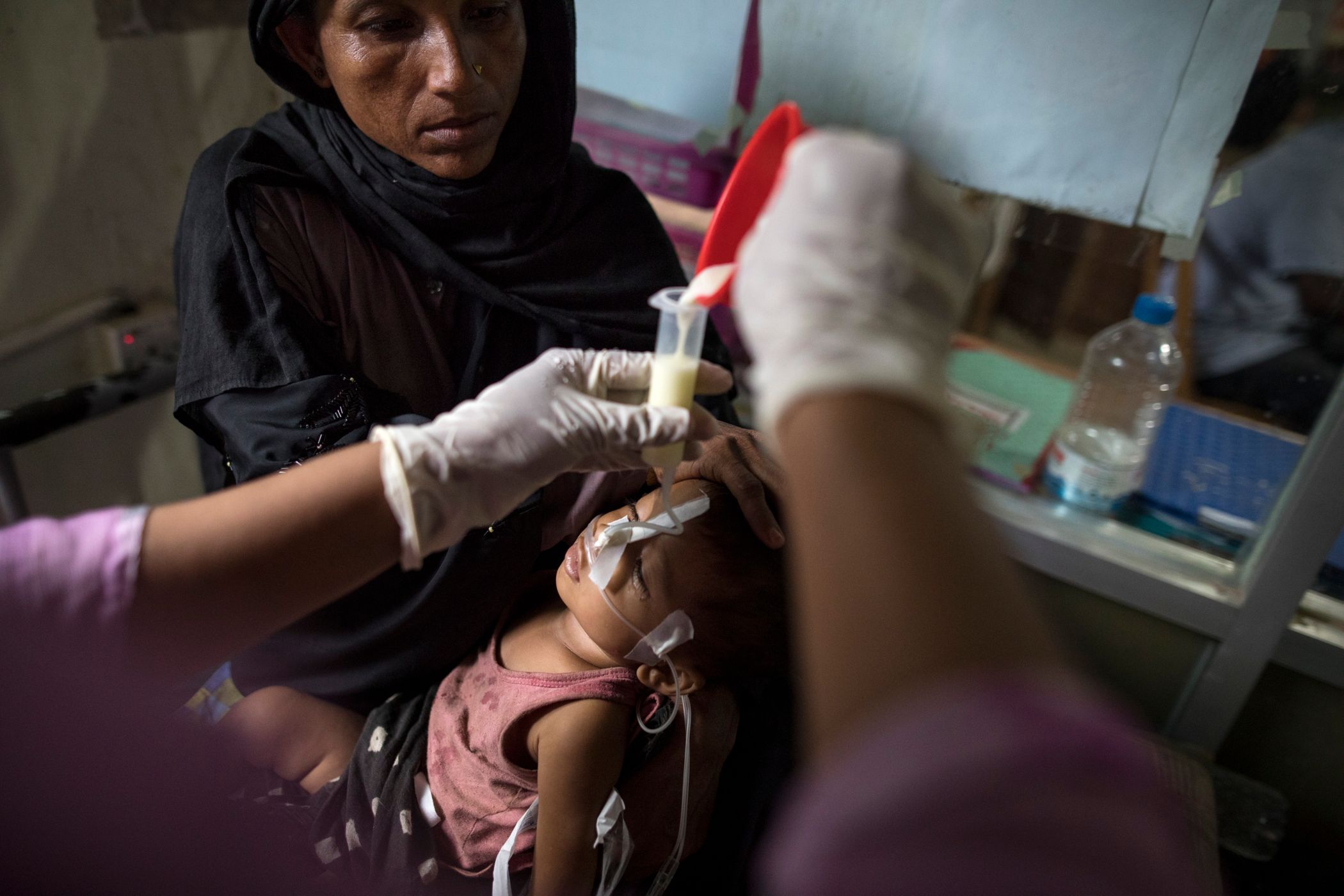 FIKK HJELP: Da Hatea Ullah kom til Bangladesh sammen med moren sin, hadde han akutt lungebetennelse. Lungebetennelse og andre livstruende sykdommer er vanlig blant flyktningene på grunn av manglende tilgang til helsehjelp og vaksiner i Myanmar. Foto: Leger Uten Grenser
Fra akutt til kronisk krise
I 2017 var situasjonen i Myanmar og Bangladesh en stor humanitær krise som fikk mye mediedekning. Mange internasjonale organisasjoner samlet inn penger, kom på plass og satte opp prosjekter.
Nå i 2019 er situasjonen en annen. Det har gått fra en akutt krise til en kronisk krise. Mot slutten av 2018 hadde flere organisasjoner trukket seg ut eller trappet ned prosjektene sine. Nå er det ikke nok penger til å dekke de store behovene, og det skrives mindre om situasjonen i media.
– Men menneskene er der fortsatt, og krisen fortsetter uansett. Flyktningene bærer med seg historier om forfølgelse, tortur, voldtekt og drap. Vi behandler skadene. Vi hører historiene deres, og vi forteller dem videre, sier Roksvåg.
Rashida mistet hele familien sin da militæret gikk til angrep på landsbyen hennes i Myanmar. Vi advarer om sterke inntrykk i videoen
– Det er helt forferdelig at mennesker kan begå slike overgrep mot andre. Og det er frustrerende at folk ikke vet om denne katastrofen, sier Roksvåg.
Blir syke av å bo leiren
– Hva gjør Leger Uten Grenser i flyktningleiren?
– De forferdelige forholdene forverrer helsen til rohingyaene – fysisk og psykisk. Vi vaksinerer barn, rykker ut under sykdomsutbrudd, gir fødselshjelp og tilbyr omfattende mental helsehjelp. Dette arbeidet jobber vi med hver dag, og vi fortsetter så lenge behovene er der.
– Hvordan er det for deg å møte mennesker i en så tragisk situasjon?
– Det er forferdelig, og noe jeg aldri ble vant til. Jeg tar med meg historiene til menneskene jeg har møtt, og det vanskeligste var å komme hjem. Man kommer plutselig tilbake til Norge etter å ha sett så mye grusomt, og her hjemme skriver media bare om bompenger. Det er utrolig frustrerende, sier Roksvåg.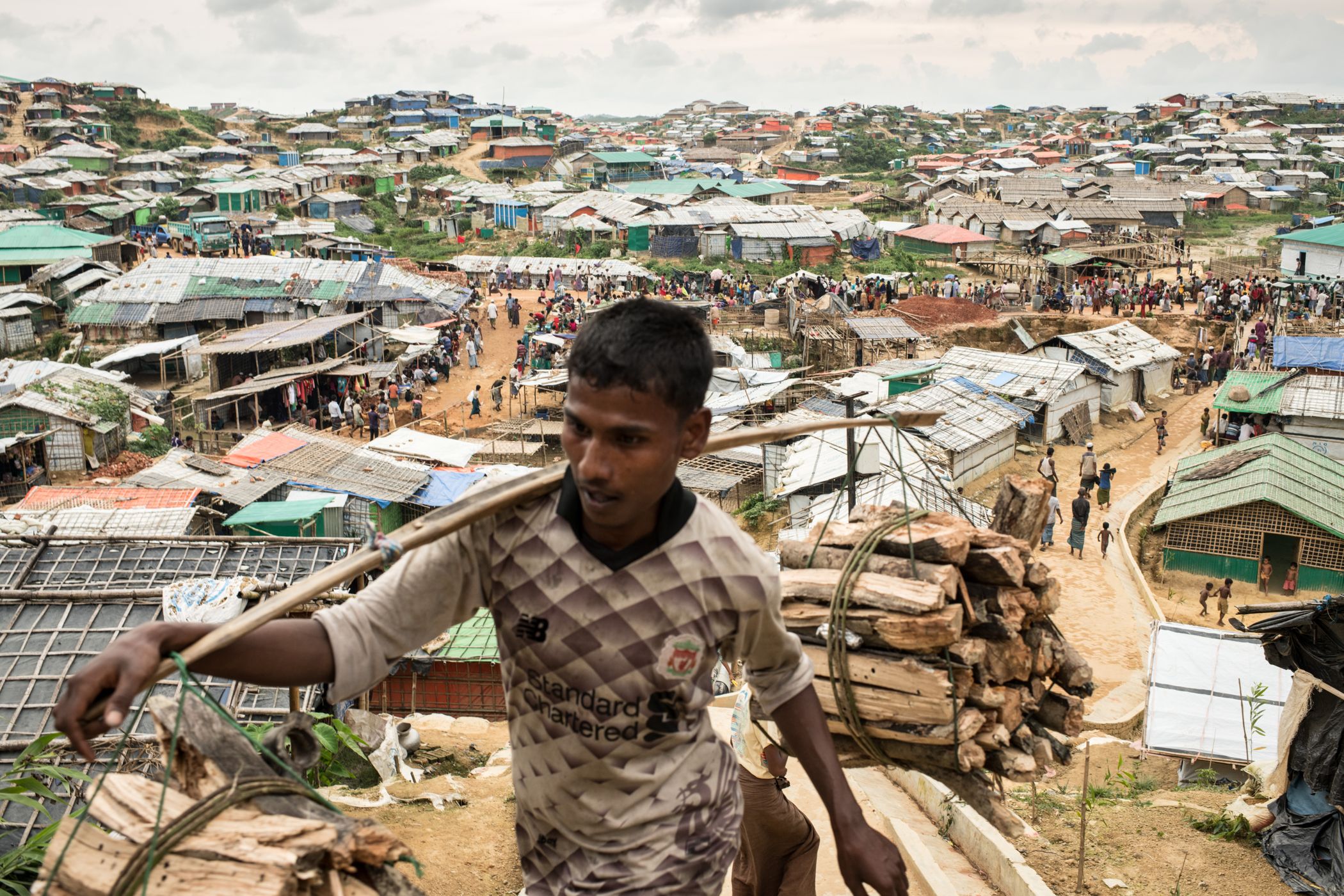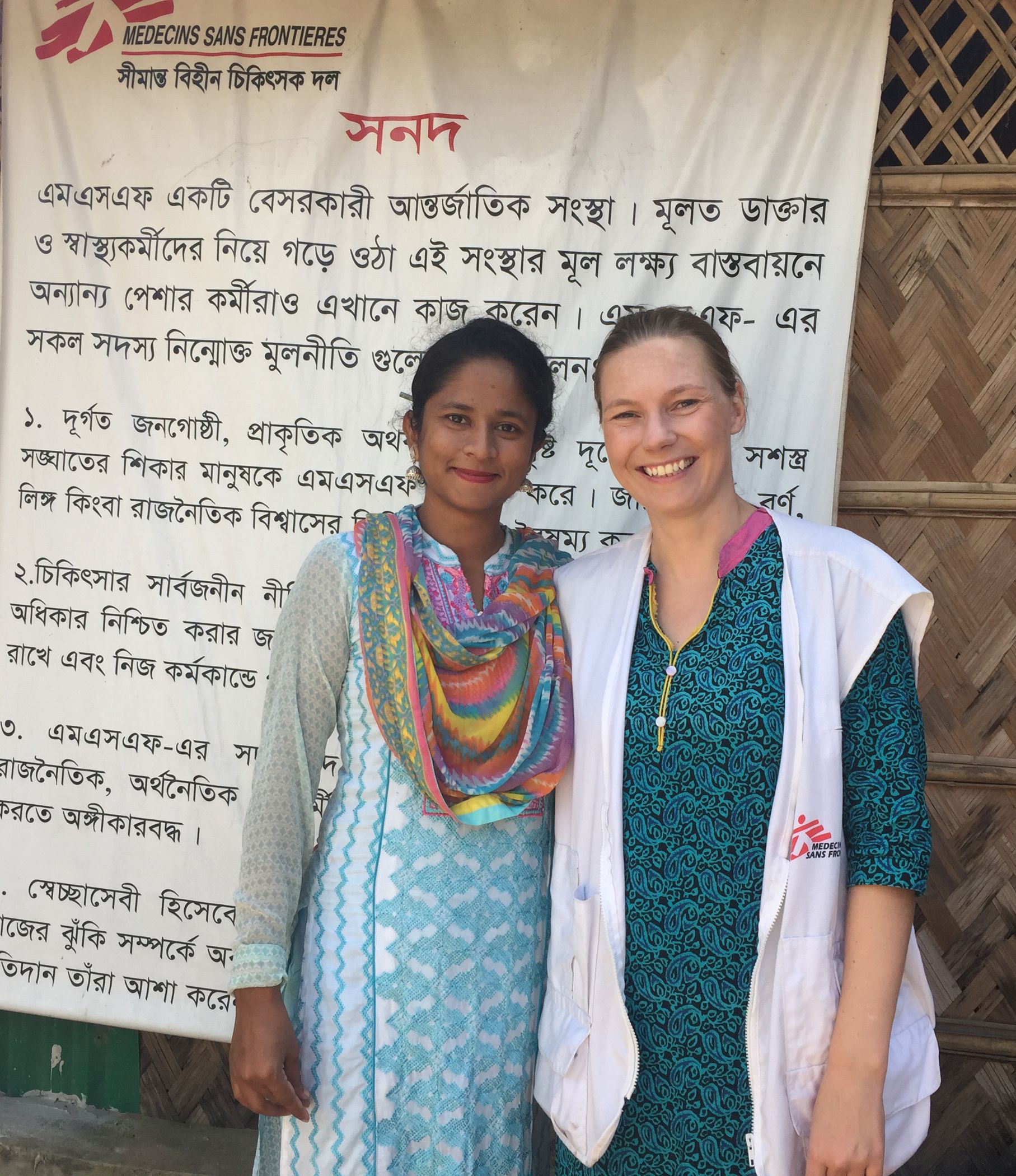 Her er Sissel Roksvåg sammen med én av sine ansatte i flyktningleiren i Bangladesh. Foto: Privat
Foto over: Når du kommer opp på en av de mange høydene i flyktningleiren i Bangladesh, ser du slike bebodde bambushus i alle retninger. Totalt bor det over 900 000 flyktninger i leiren. Foto: Leger Uten Grenser
– Hvordan kan verden hjelpe rohingyane i Bangladesh?
– Leger Uten Grenser ønsker å bli værende i Cox's Bazar. Våre private givere gir oss frie midler, og vi er dermed uavhengig av mediers og myndigheters prioriteringer. Vi prioriterer innsatsen der nøden er størst.

– Hvordan fremtiden ser ut for rohingyaene, er vanskelig for meg å si fordi det krever politisk handling for å løse krisen. Men inntil det skjer, jobber vi for å gjøre forholdene for menneskene som bor i leiren mer levelige og humane. Rohingyaene er fratatt muligheten til å hjelpe seg selv, så de er helt avhengige av ekstern hjelp. Leger Uten Grenser trenger flere faste givere for å kunne bli i Bangladesh og gi rohingyaene livreddende helsehjelp, avslutter Roksvåg.
(Kilder: Leger Uten Grenser, FN og Store norske leksikon)
---
WHO and WHAT is behind it all ? : >
---
The bottom line is for the people to regain their original, moral principles, which have intentionally been watered out over the past generations by our press, TV, and other media owned by the Illuminati/Bilderberger Group, corrupting our morals by making misbehavior acceptable to our society. Only in this way shall we conquer this oncoming wave of evil.
Commentary:
Administrator
All articles contained in Human-Synthesis are freely available and collected from the Internet. The interpretation of the contents is left to the readers and do not necessarily represent the views of the Administrator. Disclaimer: The contents of this article are of sole responsibility of the author(s). Human-Synthesis will not be responsible for any inaccurate or incorrect statement in this article. Human-Synthesis grants permission to cross-post original Human-Synthesis articles on community internet sites as long as the text & title are not modified.
The source and the author's copyright must be displayed. For publication of Human-Synthesis articles in print or other forms including commercial internet sites. Human-Synthesis contains copyrighted material the use of which has not always been specifically authorized by the copyright owner. We are making such material available to our readers under the provisions of "fair use" in an effort to advance a better understanding of political, economic and social issues. The material on this site is distributed without profit to those who have expressed a prior interest in receiving it for research and educational purposes. If you wish to use copyrighted material for purposes other than "fair use" you must request permission from the copyright owner.