FN-Meteorolog-sjefen selv advarer mot grønn ekstremisme
Lederen for Verdens meteorologi­organisasjon (WMO) Petteri Taalas. Foto: Denis Balibouse / Reuters / Scanpix
Document - Av: Tore Kristiansen   9. september 2019, 09:02
De voksne er endelig på banen
Hysteri fra skoleelever, politikere og livsfjerne aktivister har dominert «klimadebatten». De mest vanvittige påstander har fått stå uimotsagt. Men nå synes ledende eksperter at det får være nok vrøvl. Det er på tide.
Spådommene om dommedag har kommet som perler på en snor i klimasaken. Barn blir livredde og skulker skolen for å «brøle» ut sin angst. Mens diverse kyniske politikere, aktivistgrupper og uetiske kvasiforskere står i kø for å utnytte denne galskapen til siste trevl.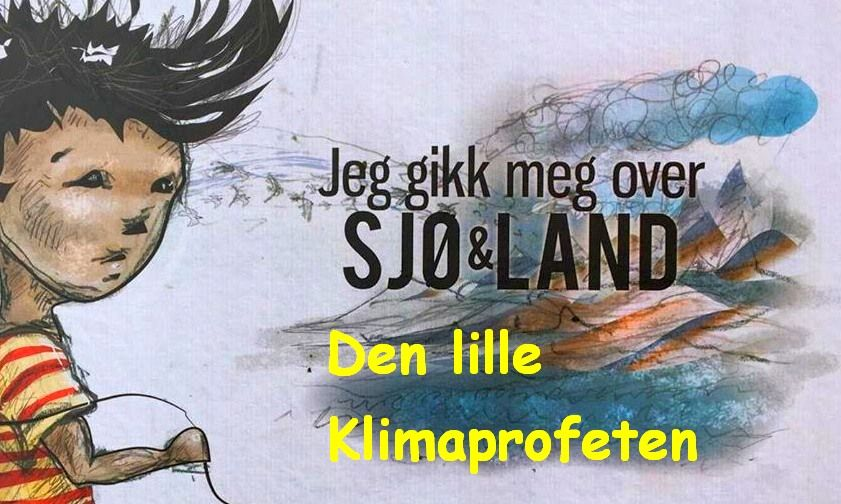 For her er det både penger (bevilgninger), posisjoner, ære og ikke minst velgere å hente for den som spiller med og skummer fløten av den elleville galskapen.
Mistenkeliggjøring og hets
Men endelig har nå seriøse vitenskapsfolk sett seg lei av disse overdrivelsene og skremslene. De har begynt å reagere på hvordan deres forskning er blitt grenseløst misbrukt og tatt ut av alle proporsjoner. Flere har sagt tydelig fra.
Men slike «avvik» aksepteres ikke av de rettroende. Kvasiekspertene, aktivistene, de «grønne» politikerne og ikke minst den totalt ensidige pressen jobber på høytrykk med å mistenkeliggjøre og hetse alle og enhver som opponerer mot vedtatte «sannheter».
Etter hvert som stadig «tyngre» fagpersoner slår i bordet og vil ha slutt på tullpratet om klimaet, blir det imidlertid stadig vanskeligere for koalisjonen av skremselsforkynnere å føre folk bak lyset.
En av de siste vitenskapsmenn som sier stopp, er slett ingen hvem som helst, og vel verdt å lytte til.
Verdens meteorolog-sjef sier nok er nok
Det er generalsekretær Petteri Taalas i Verdens meteorologiorganisasjon (WMO) som i et intervju advarer mot den alarmistiske mediedekning av klimaendringer. Han mener dette har sporet helt av.
Taalas er faktisk «sjefen for alle meteorologene» i verden, og er antagelig ikke en person det er så lett å ignorere for skremselshysterikerne. Skjønt, de greier det nok.
Intervjuet er gjengitt på nettsiden til organisasjonen Klimarealistene ,  og har fått internasjonal oppmerksomhet.  Taalas går sterkt ut mot nyhetsmediene for å ha skapt ubegrunnet angst, og han advarer mot grønne dommedagsprofeter og klimaekstremister.
Hos Klimarealistene skrives det blant annet følgende:
«I et intervju med finsk presse 6. september ber Talaas om at mainstream media blir mer kritiske, og særlig ønsker han en mer mangfoldig presentasjon av alle sider i klimadebatten.»
Hører dere, NRK, VG, TV2, Dagbladet, Aftenposten (ikke minst!) og alle andre som løper i flokk for så spre skremsler dag ut og dag inn? Skal dere snart begynne å opptre som en seriøs presse?
Her det klippet noen flere sitater fra saken på Klimarealistenes side:
«Kritikken er mye rettet mot finske medier, men alle som følger litt med er klar over at media både i Norge og Sverige er enda mer useriøse enn i Finland», skriver Klimarealistene, og fortsetter:
«Talaas er svært klar på at vi ikke står ovenfor noen endetid og at befolkningen ikke trenger å redusere sin levestandard .Han advarer mot dommedagsprofeter og ekstremister, og påpeker at de grønneste har misbrukt rapportene fra FNs klimapanel».
-Religiøs ekstremisme
Taalas uttaler selv dette:
"The IPCC reports have been read in a similar way to the Bible: you try to find certain pieces or sections from which you try to justify your extreme views. This resembles religious extremism.»   Ekstremistene gjør som ´fanden leser Bibelen´
Det som refereres her kan vel neppe kalles annet enn en temmelig knusende salve mot klimahysteriet. Spesielt bør jo dette være interessant for det klima-misjonerende fagmiljøet hos NMI (Norsk meteorologisk institutt) og andre meteorologer i Norge.
Man kan eksempelvis lure på hvordan meteorologene på Blindern i Oslo og værmelderne i TV2 vil stille seg til at generalsekretæren i deres egen, internasjonale organisasjon nå knuser de mytene de så ivrig har spredt i til et norsk publikum de seneste årene.
Kan vi vente oss en unnskyldning fra disse miljøene?
Det er antagelig å tro på julenissen. Det kommer nok heller bortforklaringer – eller taushet.
Men de burde faktisk tenke litt over hva «sjefen» sier. Det er en grunn til at det er han, og ikke noen av dem, som leder Verdens meteorologiorganisasjon WMO.
---
Plimer Interview: The Climate Change Delusion & Great Electricity Ripoff
---
Les FN´s tidligere utsagn om klimafarene:

---
---
WHO and WHAT is behind it all ? : >
---
The bottom line is for the people to regain their original, moral principles, which have intentionally been watered out over the past generations by our press, TV, and other media owned by the Illuminati/Bilderberger Group, corrupting our morals by making misbehavior acceptable to our society. Only in this way shall we conquer this oncoming wave of evil.
Commentary:
Merkelig hvordan FN som var pådriver i klimahysteriet plutselig snur den andre veien etter at de har erfart at de har skutt seg selv i foten etter meget stort påtrykk fra de VIRKELIGE værekspertene som ikke lenger lar seg kneble og latterliggjøre.
Administrator
All articles contained in Human-Synthesis are freely available and collected from the Internet. The interpretation of the contents is left to the readers and do not necessarily represent the views of the Administrator. Disclaimer: The contents of this article are of sole responsibility of the author(s). Human-Synthesis will not be responsible for any inaccurate or incorrect statement in this article. Human-Synthesis grants permission to cross-post original Human-Synthesis articles on community internet sites as long as the text & title are not modified.
The source and the author's copyright must be displayed. For publication of Human-Synthesis articles in print or other forms including commercial internet sites. Human-Synthesis contains copyrighted material the use of which has not always been specifically authorized by the copyright owner. We are making such material available to our readers under the provisions of "fair use" in an effort to advance a better understanding of political, economic and social issues. The material on this site is distributed without profit to those who have expressed a prior interest in receiving it for research and educational purposes. If you wish to use copyrighted material for purposes other than "fair use" you must request permission from the copyright owner.