Queen agrees to suspend Parliament! Victory for Boris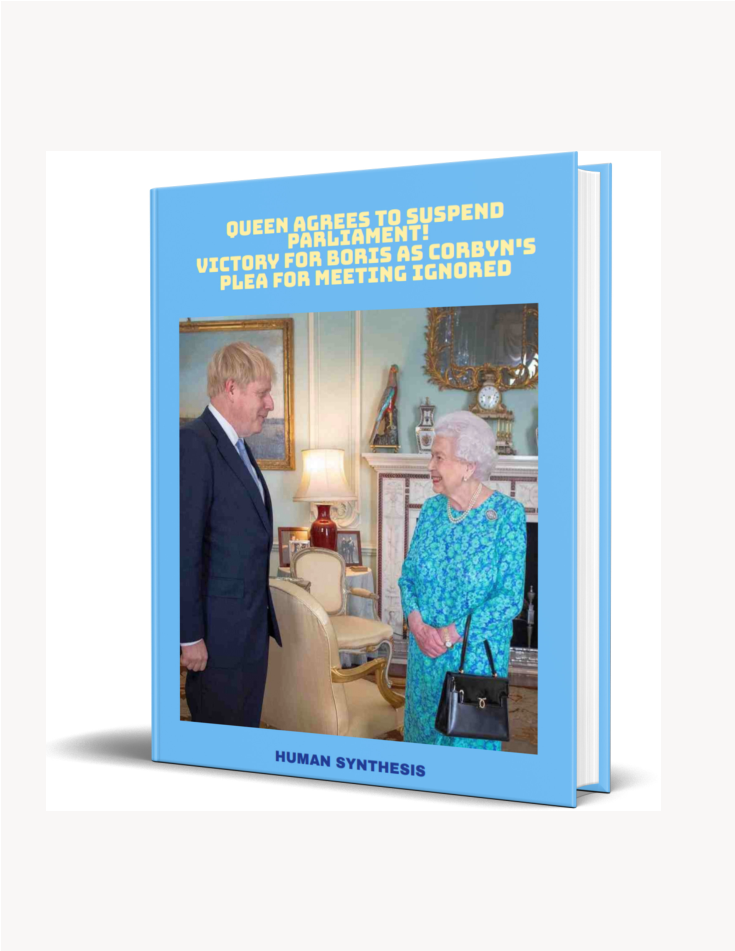 Prime Minister Boris Johnson sparked panic among Remainers after he
confirmed he asked the Queen, who is currently in Balmoral, to agree to
suspend parliament days after MPs have returned to work next week. The
Privy Council met at Balmoral today to discuss Mr Johnson's new
administration holding a Queen's Speech on October 14. In a letter to MPs
outlining his Government's plans, Mr Johnson denied it was to force through
a no deal Brexit and said he was bringing forward a "bold and ambitious
domestic legislative agenda" which MPs would be able to vote on in October.

He said: "This morning I spoke to Her Majesty The Queen to request an end
to the current parliamentary session in the second sitting week in September,
before commencing the second session of this Parliament with a Queen's
Speech on Monday 14 October. "A central feature of the legislative programme will be the Government's number one legislative priority, if a new deal is forthcoming at EU Council, to introduce a Withdrawal Agreement Bill and move at pace to secure its
passage before 31 October.

"I also believe it is vitally important that the key votes associated with the
Queen's Speech and any deal with the EU fall at a time when parliamentarians
are best placed to judge the Government's programme. "Parliament will have
the opportunity to debate the Government's overall programme, and
approach to Brexit, in the run up to EU Council, and then vote on this on 21
and 22 October, once we know the outcome of the Council. Queen agrees to suspend Parliament! Victory for Boris as Her Majesty ignores Corbyn's plea.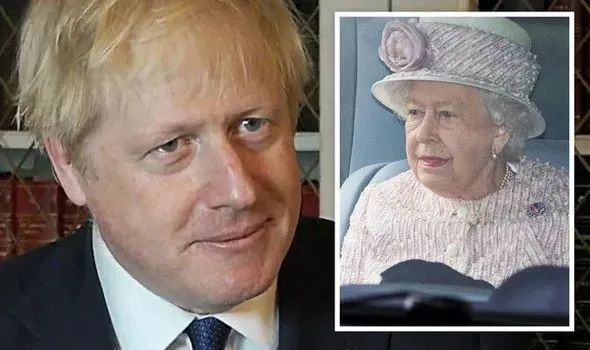 The Queen could be asked to agree to prorogue parliament (Image: EXPRESS)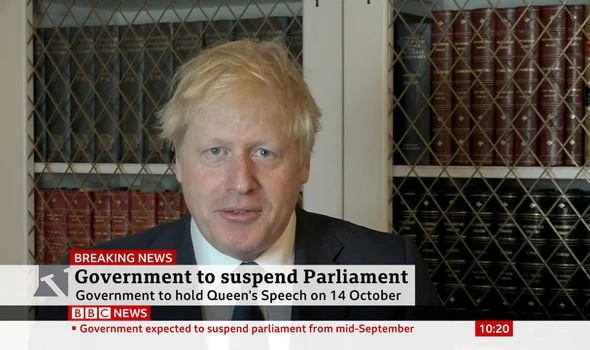 Brexit news: Boris Johnson denied he is plotting to stop MPs blocking a no deal Brexit  (Image: BBC)

"Should I succeed in agreeing a deal with the EU, Parliament will then have
the opportunity to pass the Bill required for ratification of the deal ahead of
31 October." The Commons is expected to break again for the party conferences then
return in early October after the Conservative gathering had finished, but Mr
Johnson has sought to extend that break until the Queen opens a new
session of Parliament. The Queen approved the request this afternoon that the act of proroguing Parliament would take place "no earlier than Monday 9th September and no later than Thursday 12th September".

The move means the Queen's Speech – formally opening Parliament and
laying out the Government's plans - would take place on October 14.
But Remainers have reacted in fury as the move will mean they have little or
no time to block a no deal Brexit and accused Mr Johnson of mounting a
"coup" against Parliament. Labour leader Jeremy Corbyn said he immediately wrote to the Queen, requesting a meeting with her.  Mr Corbyn said in a statement: "I am appalled at the recklessness of Johnson's government, which talks about sovereignty
and yet is seeking to suspend parliament to avoid scrutiny of its plans for a
reckless No Deal Brexit .  "This is an outrage and a threat to our democracy."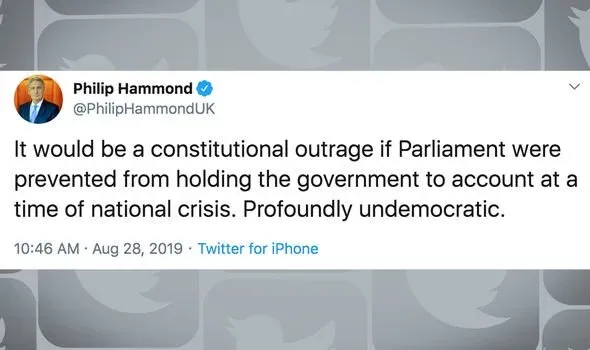 Brexit news: Remainer Philip Hammond has reacted with outrage Image:TWITTER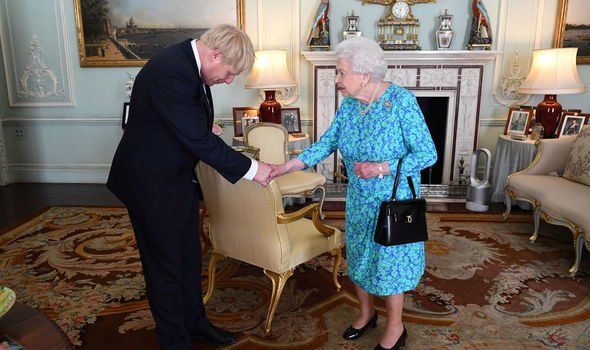 Brexit news: The plan will spark a huge row according to political commentators
(Image: PA)

But Mr Johnson rejected claims his decision is designed to block MPs from
considering ways to thwart his Brexit plans. The Prime Minister said it was "completely untrue" that Brexit was the motivation for the move, insisting it was time for a new session of Parliament to set out his "exciting agenda". But a furious Commons Speaker John Bercow joined a chorus of outrage over the plan, saying he had not been consulted about the move, which he labelled a "constitutional outrage".

Under the Prime Minister's plan Parliament will be temporarily shut down
from around September 11 until the state opening on October 14. The move led to accusations Mr Johnson was acting like a "tin pot dictator" and dragging the monarch into a bitter constitutional row. Mr Bercow said: "However it is dressed up, it is blindingly obvious that the purpose of prorogation now would be to stop Parliament debating Brexit and performing its duty in shaping a course for the country."

READ MORE: BREXIT LIVE: Bercow and Grieve furious at Boris's 'outrageous act!'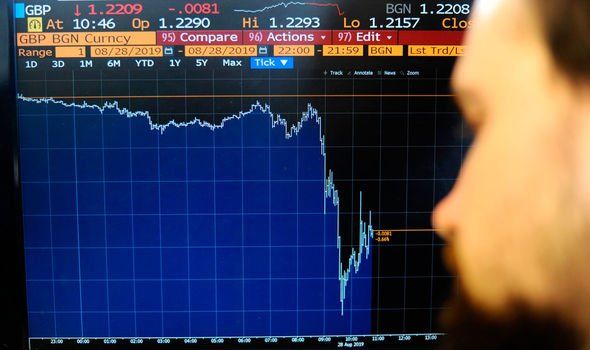 Brexit news: The pound has slumped over no deal Brexit fears (Image: GETTY )

The Speaker said "at this early stage in his premiership, the Prime Minister should be seeking to establish rather than undermine his democratic credentials and indeed his commitment to Parliamentary democracy". A former minister told The Times: "It's outrageous and profoundly undemocratic. It's not the action of someone who is serious about getting a deal." A Downing Street source told the BBC it would be a "bog-standard" Queen's Speech process about "improving the NHS, helping police fight violent crime, stopping violent criminals getting out early, investing in science infrastructure, and attacking the cost of living with aggressive tax cuts +
other measures".

And a Number 10 source told the BBC: "It's time a new government and new
PM set out a plan for the country after we leave the EU.
" When will Queen's speech be if parliament is prorogued? [ANALYSIS]
Brexit news: What is proroguing parliament? What happens? [INSIGHT]
Laura Kuenssberg outlines Johnson's Brexit plot - to cause 'HUGE
row' [COMMENT]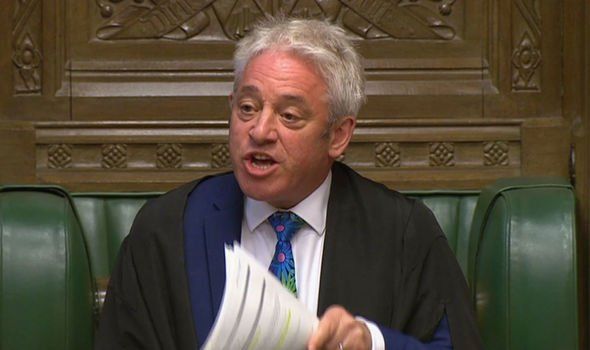 Brexit news: John Bercow has reacted with fury (Image: PA)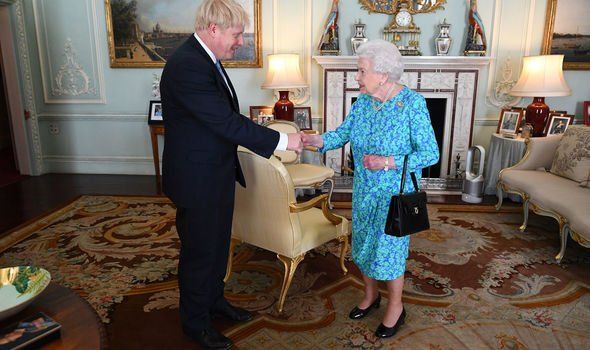 Brexit news: The move means MPs would have less time to block a no deal Brexit
(Image: GETTY )

But Downing Street sources insisted only around four Commons sitting days
would be lost due to the suspension of Parliament before the speech, a move
known as prorogation. And Mr Johnson said there would be "ample time" for MPs to debate Brexit either side of a crunch EU summit on October 17.  Asked whether the move was because he was planning an early general election before the end of the
year, Mr Johnson said: "No, what you should take from this is we are doing
exactly what I said on the steps of Downing Street which is that we must get
on now with our legislative domestic agenda."

But Labour's shadow chancellor John McDonnell said: "Make no mistake, this
is a very British coup. "Whatever one's views on Brexit, once you allow a Prime Minister to prevent the full and free operation of our democratic institutions you are on a very precarious path."  Former chancellor and Remainer Philip Hammond, who is opposed to a no- deal Brexit, said: "It would be a constitutional outrage if Parliament were prevented from holding the government to account at a time of national crisis."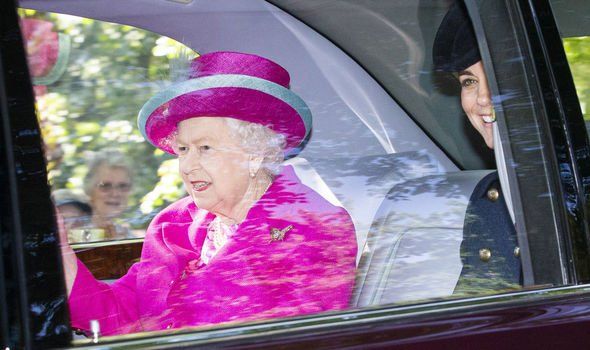 Brexit news: The Queen could be asked to prorogue Parliament (Image: GETTY)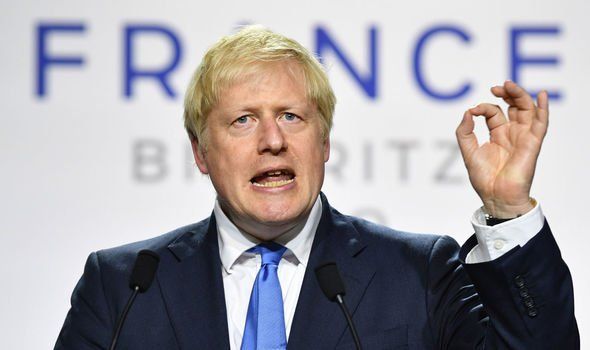 Brexit news: Boris Johnson is ploughing ahead with his plans for a no deal Brexit
(Image: GETTY )

The reports sparked outrage from opponents of Mr Johnson's approach and led to claims the monarch was being dragged into a political row. It comes just a day after opposition MPs and Remainers met with Labour leader Jeremy Corbyn to agree tactics to prevent a no-deal Brexit. More than 220,000 people have signed a petition demanding Mr Johnson ditch his plan to suspend parliament until the Queen's Speech. The petition was signed by almost 90,000 people in just one hour after Mr
Johnson announced his plan, which will make it more difficult for MPs to block plans for a no deal Brexit .

Labour leader Mr Corbyn branded the Prime Minister 's move "an outrage and
a threat to our democracy". Reacting to the news, Mr Corbyn said: "I am appalled at the recklessness of Johnson's government, which talks about sovereignty and yet is seeking to suspend parliament to avoid scrutiny of its plans for a reckless no deal
Brexit. Tthis is an outrage and a threat to our democracy." Tory MP Simon Hoare said: "This is not 'taking back control' it's certainly not respecting/restoring Parliamentary Sovereignty. "Rather it's an executive seeking to abuse one of its (perfectly proper)powers." Chief Remainer and former attorney general Dominic Grieve told BBC Radio 5 Live: "If the prime minister persists with this and doesn't back off, then I think the chances are that his administration will collapse.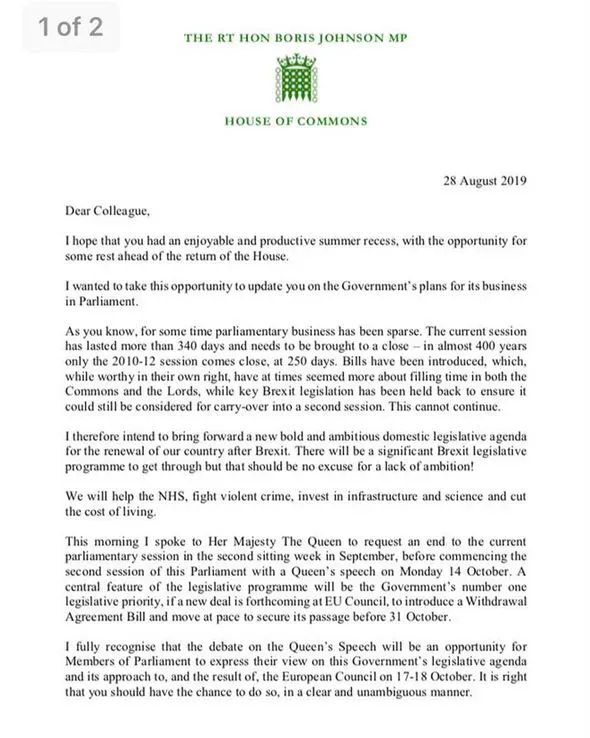 Boris Johnson's letter to MPs suspending parliament (Image: Express)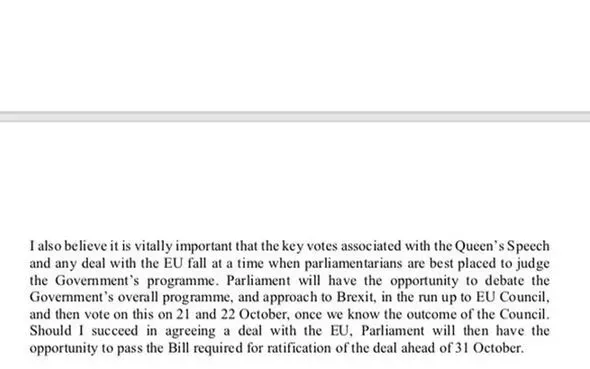 The last paragraph of Boris's letter calls for the delay to parliament (Image: Express)

"There is plenty of time to do that if necessary and I will certainly vote to bring down a Conservative government that persists in a course of action which is so unconstitutional."Labour's deputy leader Tom Watson posted on Twitter: "We do not have a 'new government.' This action is an utterly scandalous affront to our
democracy. We cannot let this happen." Scotland's First Minister Nicola Sturgeon tweeted: "So it seems that BorisJohnson may actually be about to shut down Parliament to force through a no deal Brexit.

"Unless MPs come together to stop him next week, today will go down inhistory as a dark one indeed for UK democracy." Senior Labour MP Yvette Cooper said: "Boris Johnson is trying to use the Queen to concentrate power in his own hands - this is a deeply dangerous and irresponsible way to govern."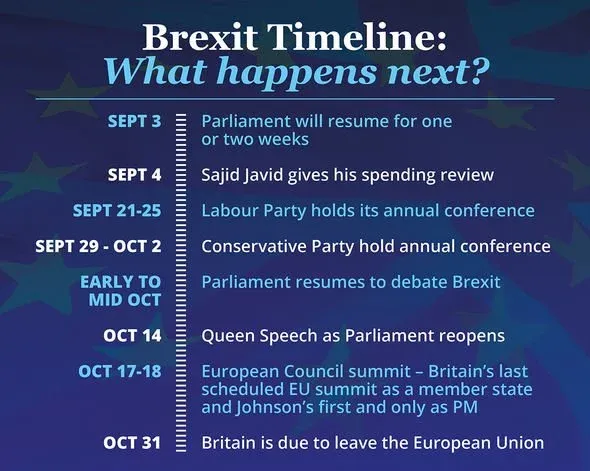 Brexit timetable: What happens next as Boris Johnson suspends parliament (Image:
Express)

And fellow Labour former cabinet minister Ben Bradshaw said: "This would be a coup, plain and simple, against our parliamentary democracy and drag the monarch into an unprecedented constitutional crisis." Liberal Democrat leader Jo Swinson, who was one of the MPs at a meeting with Mr Corbyn on Tuesday to agree tactics to prevent a no-deal Brexit, said the Prime Minister was embarking on a "dangerous and unacceptable course of action". She said: "Shutting down Parliament would be an act of cowardice from Boris Johnson. "He knows the people would not choose a no deal and that elected representatives wouldn't allow it. He is trying to stifle their voices."

SNP Westminster leader Ian Blackford tweeted: "Boris Johnson is acting like
a dictator by attempting to shut down democracy to impose an extreme
Brexit. He has no mandate, no majority, and he must be stopped. The SNP
will be doing everything we can to stop Brexit and prevent a No-Deal disaster.
"These disgraceful and undemocratic actions really do underline just how
broken Westminster is. Scotland has been completely ignored throughout the
Brexit process, and we now face being dragged out of the EU against our will
on the hardest terms. "Its no wonder that support for independence and a
fresh referendum is higher than ever.

It's now beyond doubt, that the only way to properly protect Scotland's
interests is by becoming an equal and independent European country."
Independent Group for Change leader Anna Soubry, herself a former Tory MP,
tweeted: "Outrageous that Parliament will be shut down at a moment of crisis
as we face crashing out of the EU with no deal and for which there is no
mandate.  "Our democracy is under threat from a ruthless PM elected by less
than 100K Con members. Email your MP now & demand Parliament sits."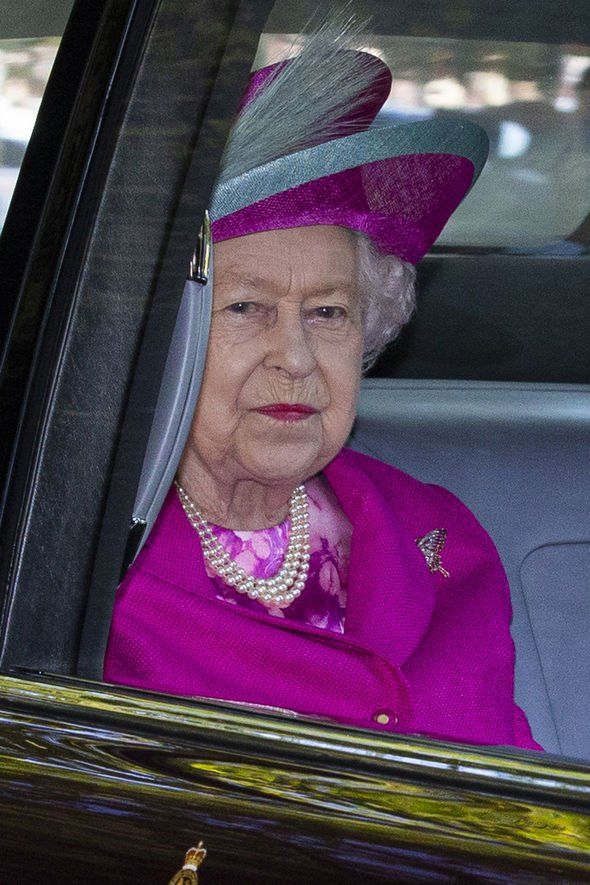 Brexit news: The Queen's Speech could take place on October 14 (Image: GETTY )

Lib Dem MP Sarah Wollaston - a former Tory - said: "Johnson behaving like tin pot dictator. "Time for ministers to resign and Conservative MPs to cross the floor rather
than be tainted with this outrage." Tory MP James Cleverly played down the plans, tweeting: "Or to put it another way: Government to hold a Queen's Speech, just as all new Governments do." Meanwhile, the value of the pound has crashed lower after traders were spooked by news that the Government is expected to suspend Parliament from mid-September. Although sterling recouped some of its losses after going into "freefall" when the news was first announced on Wednesday morning, it still slumped to a six-day low.

BBC's Nick Robinson tweeted: "Hearing that the Queen could be asked to
agree to prorogue parliament as early as today. She's in Balmoral. Would be
done by Order in Council. Only one source. Not confirmed. Watch this
space."  BBC's political editor Laura Kuenssberg tweeted: "Johnson govt to
hold Queen's speech on 14th October, will be confirmed by privy council at
Balmoral today - No 10 says it's all biz as usual for a new govt, but has useful
political side effect that denies MPs time to try to stop no deal

"Parliament likely to meet therefore from next Monday until around the 11th
of September - understand Downing St thinks they have some legal
protection from court cases if they are suspending Parliament to come back
with a Queen's Speech - there is going to be HUGE row."

Sky News political editor Beth Rigby tweeted: "Cabinet yet to be informed.
Understand there is going to be a cabinet call this morning."
Prominent Tory Brexiteer Jacob Rees-Mogg is thought to have been among
the Privy Councillors who requested the Queen's approval for the plans.
---
WHO and WHAT is behind it all ? : >
---
The bottom line is for the people to regain their original, moral principles, which have intentionally been watered out over the past generations by our press, TV, and other media owned by the Illuminati/Bilderberger Group, corrupting our morals by making misbehavior acceptable to our society. Only in this way shall we conquer this oncoming wave of evil.
Commentary:
Administrator
All articles contained in Human-Synthesis are freely available and collected from the Internet. The interpretation of the contents is left to the readers and do not necessarily represent the views of the Administrator. Disclaimer: The contents of this article are of sole responsibility of the author(s). Human-Synthesis will not be responsible for any inaccurate or incorrect statement in this article. Human-Synthesis grants permission to cross-post original Human-Synthesis articles on community internet sites as long as the text & title are not modified.
The source and the author's copyright must be displayed. For publication of Human-Synthesis articles in print or other forms including commercial internet sites. Human-Synthesis contains copyrighted material the use of which has not always been specifically authorized by the copyright owner. We are making such material available to our readers under the provisions of "fair use" in an effort to advance a better understanding of political, economic and social issues. The material on this site is distributed without profit to those who have expressed a prior interest in receiving it for research and educational purposes. If you wish to use copyrighted material for purposes other than "fair use" you must request permission from the copyright owner.