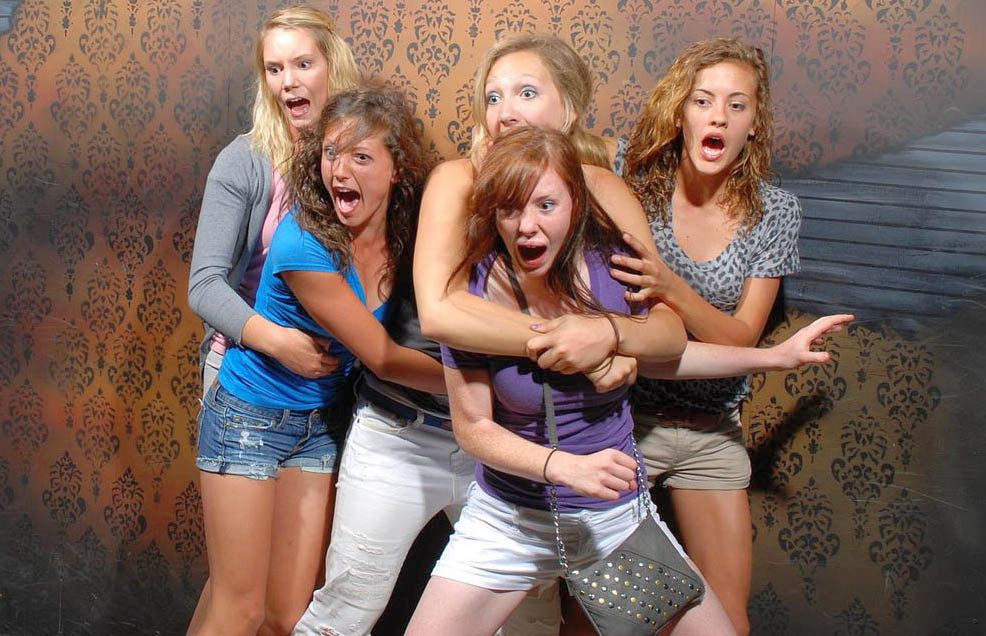 Sitert Due Brynjulfsen:
«Erna, du sa i går at det er viktig å sikre at folk føler seg trygge på å kunne gå til bønn og oppsøke moskeer rundt omkring i landet uten å være redd for angrep eller trakassering.
Det er fint og flott, Erna, men kan du da også si at det er viktig å sikre at etn. nordmenn kan føle seg trygge på å gå på gatene rundt omkring i landet uten å være redd for angrep eller trakassering?
For du skjønner det, Erna, at etn nordmenn daglig blir trakassert av de du nå vil sikre tryggheten for.
At det daglig forekommer ran av norske ungdommer utført av innvandrer gjenger.
At etn nordmenn daglig opplever hat og trakassering fra våre nye landsmenn og venstreekstremister.
At trakasseringen også kommer fra alle partiene som er representert på Stortinget.
Kan du love meg at dette vil stoppe? Eller gjelder din forsikring kun for ikke etn nordmenn?
At jeg i det hele tatt skriver denne bønnen til deg, Erna, viser hvor langt vi har kommet i endringene av vårt Norge.
Det dere på Stortinget kaller hatprat er faktisk kun er et rop om hjelp og en frustrasjon som stiger opp fra deres eget folk.
Du sier at det vil være farlig å innskrenke ytringsfriheten mens du samtidig klassifiserer innvandringsskepsis og islamkritikk som hatprat, noe som dere vil stoppe.
Skjønner du ikke at du da samtidig sier at etn nordmenn som ikke hyller multikulturen og den totalitære ideologien islam er kun høyreekstreme som dere vil fjerne fra det offentlige rom?
For sannheten er, Erna, at våre stemmer er viktige.
Våre stemmer er høye for at dere inne på Stortinget skal våkne opp og se realiteten i øynene.
Våre stemmer er mange og våre stemmer teller.
Vi ønsker vårt land tilbake.
Vi ønsker å kunne leve i fred med vår kultur, våre norske verdier og våre skikker.
Vi roper høyt for å fortelle dere at vi ikke ønsker å bli en minoritet i vårt eget land!
Når var det dere bestemte at vi skulle gi fra oss vårt land til fremmede?
Når var det dere fant ut at Norge, slik det var, ikke var godt nok for dere?
Hvorfor kaller dere den beviselige utviklingen som nå skjer for konspirasjonsteorier?
Når var det det ble en skam å ha solide grenser rundt vårt eget land?
Når fant du og dine medpolitikere ut at etn nordmenn ikke har livets rett?
Og når var det å skulle verne om ens eget folk ble høyreekstremt?
Dere snakker hele tiden om skam.
Flyskam, bilskam, kjøttskam – men når ble det egentlig en skam å være en hvit nordmann?
Vi er fortvilte, Erna, og vi er redde.
Vi er hverken ekstremister, høyreekstreme, nazister eller rasister. Vi anerkjenner alle kulturer og alle folkeslag – men vi ønsker ikke at de alle skal bosette seg her.
Er det virkelig så galt å ønske at vårt land skal forbli på norske hender?
Det er tragisk når syke mennesker forsøker å drepe muslimer. Det er tragisk når syke mennesker skal sette dagsordenen her i landet. Ja, det er tragisk når muslimer føler seg redde. Men forstår du ikke Erna at det gjør nordmenn også?

Vi er redde for å miste vårt land.
Vi er redde for å miste vår frihet.
Vi er redde for å miste vår rett til å tale.
Vi er redde for å gå på gaten der vi blir trakassert.
Vi går ikke ut om kvelden for ikke å bli voldtatt, slått ned og drept.
Vi er redde Erna!
Vi går inn i en valgkamp nå og dere vil alle komme med løfter dere overhodet ikke har intensjoner om å holde. Men vær så snill, Erna, lov oss at du endrer ditt standpunkt og ikke gir oss bort til dine venner i EU og dine venner som ønsker globalismen velkommen som en venn.
Jeg er en etn nordmann, Erna, Jeg er kvinne, jeg er verd noe for dette landet jeg elsker. Dette landet som har vært mine forfedres land i generasjoner. Så fortell meg hvorfor min stemme ikke er like viktig som migrantenes stemme.
Ingen av dere som nå sitter og bestemmer vil få min stemme ved dette valget. Det har dere selv sørget for ved å gjøre meg til en ikke person, til en avart som dere hverken vil se eller høre fra. Dere har ruinert mitt land og kastet meg ut til ulvene.
Mitt hjerte gråter for mine barn og barnebarn som går en slik utrygg fremtid i møte i et av verdens vakreste land.»
---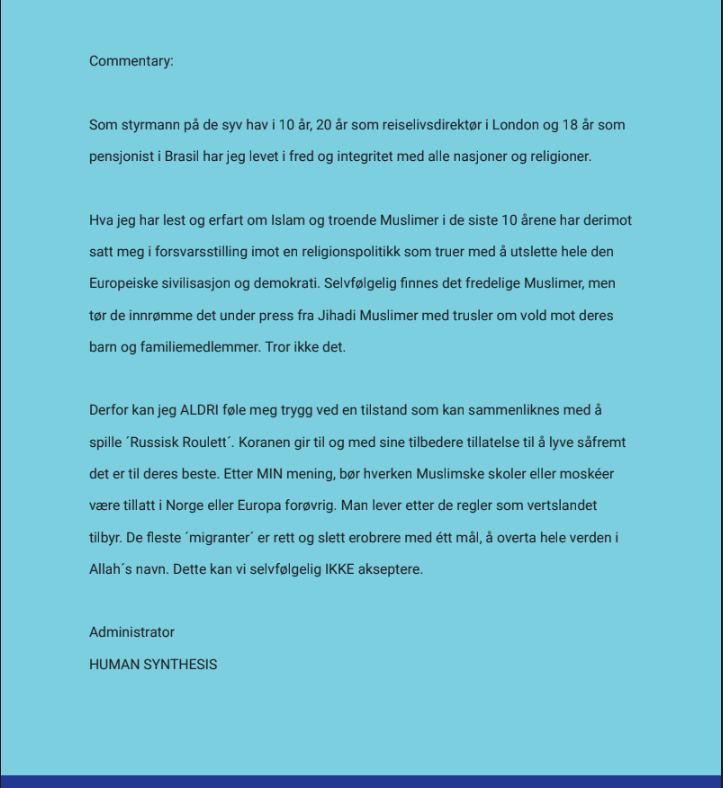 ---
---
WHO and WHAT is behind it all ? : >
---
The bottom line is for the people to regain their original, moral principles, which have intentionally been watered out over the past generations by our press, TV, and other media owned by the Illuminati/Bilderberger Group, corrupting our morals by making misbehavior acceptable to our society. Only in this way shall we conquer this oncoming wave of evil.
Commentary:
Administrator
All articles contained in Human-Synthesis are freely available and collected from the Internet. The interpretation of the contents is left to the readers and do not necessarily represent the views of the Administrator. Disclaimer: The contents of this article are of sole responsibility of the author(s). Human-Synthesis will not be responsible for any inaccurate or incorrect statement in this article. Human-Synthesis grants permission to cross-post original Human-Synthesis articles on community internet sites as long as the text & title are not modified.
The source and the author's copyright must be displayed. For publication of Human-Synthesis articles in print or other forms including commercial internet sites. Human-Synthesis contains copyrighted material the use of which has not always been specifically authorized by the copyright owner. We are making such material available to our readers under the provisions of "fair use" in an effort to advance a better understanding of political, economic and social issues. The material on this site is distributed without profit to those who have expressed a prior interest in receiving it for research and educational purposes. If you wish to use copyrighted material for purposes other than "fair use" you must request permission from the copyright owner.