Solberg stoler ikke på sitt folk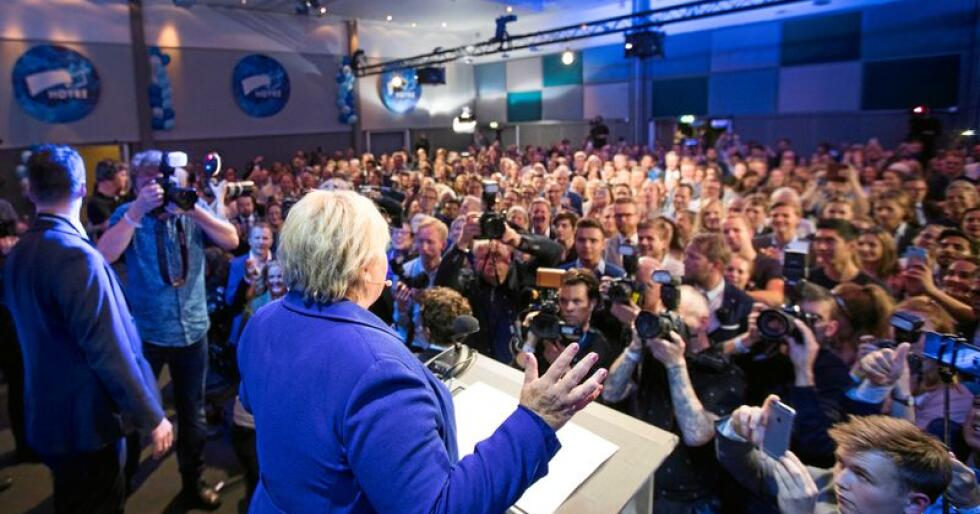 Kato Nykvist - Politisk redaktør - Publisert: 30.06.18, 00:00
Statsminister Erna Solberg synes ikke folkeavstemninger er egnet til å avgjøre viktige politiske spørsmål. Det kom fram i et intervju hun gjorde med Politico i Brussel tidligere denne måneden. Dette er hva hun sa:
«Det er et problem med folkeavstemninger for å løse spørsmål om EU-medlemskap, fordi velgere tar stilling på et følelsesmessig nivå i stedet for å gjøre seg opp en mening bygd på økonomiske fordeler og ulemper.»
Ergo, folk skjønner ikke sitt eget beste. De lar følelsene styre. De er ikke i stand til å ta rasjonelle valg.
Dette er ikke nytt tankegods i partiet Høyre. Den samme mistroen til folks evne til å treffe reflekterte valg kom tydelig til uttrykk i et brev som Høyres partikontor sendte til partiets lokalpolitikere i forbindelse med kommunereformen i 2015:
«Folkeavstemninger i denne type spørsmål utarter ofte til synsing, usakligheter og splittelse i lokalsamfunnet og kan føre til at det bli tatt en beslutning som ikke er kunnskapsbasert», het det i brevet, som rådet lokale Høyre-politikere til å motarbeide lokale folkeavstemninger om kommunesammenslåinger.
Høyre vil nødig at folket skal blande seg opp i spørsmål som angår dem.
Og hvis det likevel ble gjennomført folkeavstemning, burde Høyre-representantene stille krav om minst 75 prosent valgdeltakelse og et resultat på minst 60 prosent overvekt for å følge folkets råd. Til sammenligning er valgdeltakelsen i et vanlig kommunevalg litt over 60 prosent.
Med andre ord, Høyre vil nødig at folket skal blande seg opp i spørsmål som angår dem. Folk legger ikke fakta og kunnskap til grunn. De lar seg forføre av egne følelser og andre usakligheter.
Eirik Løkke, rådgiver i høyreideologiens høyborg Civita, er i et innlegg i Nordlysinne på det samme når det gjelder motstanden mot fylkessammenslåing i Finnmark. Han mener opprøret i nord er en del av en «global megatrend», der økende motstand mot globalisering og sentralmakt har gitt oss fenomener som Brexit og Donald Trump.
Finnmark er dermed Norges Trump-land, der retorikken som framføres i Facebook-gruppen «Vi som vil ha Finnmark som egen region» reflekterer er saklighetsnivå «som neppe bidrar til annet enn å undergrave egen posisjon». I mange tilfeller framstår finnmarkingene som en parodi på seg selv, skriver Løkke.
Hvem som er en parodi på hva skal være usagt.
Oppsummert
Uegnet
1 Folkeavstemninger er uegnet i EU-spørsmål, mener statsministeren, fordi følelsene tar overhånd.
Også uegnet
2 Høyre frarådet folkeavstemninger i kommunereformen, fordi det gjerne utarter i "synsing, usakligheter og splittelse" i lokalsamfunnet.
Egnet?
3 Det er nesten rart at statsministeren aksepterte mandatet hun fikk fra folket i folkeavstemningen om Stortingets sammensetning.
Når det gjelder Finnmark, avviser statsminister Erna Solberg å anerkjenne folkeavstemningen som viste at 87 prosent sier nei til sammenslåingen med Troms. Begrunnelsen er som hentet fra en Kafka-roman:
«Dette er en folkeavstemning som kommer etter at Stortinget faktisk har fattet vedtak to ganger. Det er et forsøk på en overprøving av et stortingsvedtak som er fattet. Det er en annen situasjon enn hvis det hadde vært en folkeavstemning hvor man ba om et råd på forhånd», sa Solberg forleden på spørsmål fra Nationen.
Altså: Solberg hevder at hun ville ha lyttet til folkets råd hvis det kom før stortingsvedtaket. Problemet er bare at Solberg slett ikke ville ha noe råd. Hun, Høyre og høyresiden har med all tydelighet demonstrert hva de mener om folks manglende forutsetninger til å treffe rasjonelle og kunnskapsbaserte beslutninger.
Det hun anser som et forsøk på å overprøve et stortingsvedtak kan like gjerne ses på som et betimelig ønske om medvirkning. Sammenslåingen med Troms ble foretatt i et bakrom på Stortinget, dels av partier som i bunn og grunn synes fylkespolitikk er noe tøys.
Finnmarkingene ble aldri spurt til råds, fikk aldri føre sine motargumenter, fikk ingen innflytelse over egen skjebne.
Så arrangerte Finnmark en folkeavstemning, av høyrefolk betraktet som et sammensurium av føleri, synsing og elitemotstand – et slags Trump på norsk.
Hva om finnmarkingene faktisk har rasjonelle argumenter for sitt syn? At avstandene i seg selv er så store at en sammenslåing med Troms er uhensiktsmessig? Finnmark er tross alt ti ganger så stort som Akershus fylke i areal.
Hva om finnmarkingene har en berettiget mistanke om at Tromsø suger til seg makt og midler som en svamp? Vil motstanden da være uttrykk for følelser eller en mening bygd på økonomiske fordeler og ulemper?
Med den grad av mistro statsministeren og hennes krets nærer til sitt eget folk, er det nesten rart at hun har akseptert folkets mandat til å styre landet. Stortingsvalget var en folkeavstemning det også.
---
WHO and WHAT is behind it all ? : >
---
The bottom line is for the people to regain their original, moral principles, which have intentionally been watered out over the past generations by our press, TV, and other media owned by the Illuminati/Bilderberger Group, corrupting our morals by making misbehavior acceptable to our society. Only in this way shall we conquer this oncoming wave of evil.
Commentary:
Ingen i regjeringen Solberg har noe mer erfaring og kunnskaper enn den gjennomsnittelige nordmann, heller mindre, da de har liten eller ingen arbeidserfaring og lite utdanning.  De fleste avgjørelsene må da bli tatt av kostbare, innleide rådgivere samt lover og instrukser fra EU, som har sin egen agenda for et Europas Forenede Stater med et påfølgende dystopisk New World Order.
Solberg har jo allerede kneblet lokale kommuner fra å ta noen som helst nye avgjørelser lokalt, som nå først må sendes i all hemmelighet til regjeringen, som så i følge EU lover må sendes til Brussels 3 måneder før noen tar en avgjørelse, som da sendes tilbake til kommunene som et ´fait accompli´. Gud hjelpe oss!!
Administrator
All articles contained in Human-Synthesis are freely available and collected from the Internet. The interpretation of the contents is left to the readers and do not necessarily represent the views of the Administrator. Disclaimer: The contents of this article are of sole responsibility of the author(s). Human-Synthesis will not be responsible for any inaccurate or incorrect statement in this article. Human-Synthesis grants permission to cross-post original Human-Synthesis articles on community internet sites as long as the text & title are not modified.
The source and the author's copyright must be displayed. For publication of Human-Synthesis articles in print or other forms including commercial internet sites. Human-Synthesis contains copyrighted material the use of which has not always been specifically authorized by the copyright owner. We are making such material available to our readers under the provisions of "fair use" in an effort to advance a better understanding of political, economic and social issues. The material on this site is distributed without profit to those who have expressed a prior interest in receiving it for research and educational purposes. If you wish to use copyrighted material for purposes other than "fair use" you must request permission from the copyright owner.