Dropp straffelovens forbud mot hatefulle ytringer!
Elin Ørjasæter. Foto: Frida Marie Grande - 27.06.19 18:27
F. 1962. Dosent i arbeidsliv og HR på Høyskolen i Kristiania. Hun har skrevet flere bøker om arbeidsrett og ledelse og er en aktiv foredrags
Jeg har underskrevet et opprop for å få fjernet en paragraf i straffeloven. Såkalte «hatefulle ytringer» og «ringeakt» kan gi opp til tre års fengsel. Jeg mener vi må tåle slike ytringer i offentligheten.
Nylig ble en 70 år gammel kvinne dømt til to ukers ubetinget fengsel av Gulating lagmannsrett. Hun hadde kalt samfunnsdebattanten Sumaya Jirde Ali en korrupt kakerlakk på Facebook. Paragrafen hun ble dømt etter er § 185 i straffeloven.
Her er et utdrag av bestemmelsen, hentet fra lovdata.no:
Med bot eller fengsel inntil 3 år straffes den som forsettlig eller grovt uaktsomt offentlig setter frem en diskriminerende eller hatefull ytring. (...) Med diskriminerende eller hatefull ytring menes det å true eller forhåne noen, eller fremme hat, forfølgelse eller ringeakt overfor noen på grunn av deres
a) hudfarge eller nasjonale eller etniske opprinnelse,
b) religion eller livssyn,
c) homofile orientering, eller
d) nedsatte funksjonsevne.
Den 70-årige kvinnen deltok på en tråd hos en «Keith Hernandez» som for øvrig var en falsk profil. Og der haglet skjellsordene over Sumaya Jirde Ali. Hun ble kalt «apekatt», «niggerkjerring», «jævla svin» og fikk fra 70-åringen følgende tirade: «Fandens svarte avkom reis tilbake til Somalia og bli der din korrupte kakerlakk».
Dette var ifølge dommeren i saken en utvilsom overtredelse av straffelovens § 185, og ganske særlig fordi det var rettet mot hudfarge og landbakgrunn, altså punkt a) i paragrafen.
Dommeren pekte på allmennpreventive hensyn, og at Sumaya Jirde Ali selv har uttrykt at hun trekker seg tilbake fra offentligheten fordi hun ikke orker mer sjikane.
Kjerringskinn og kloakkrotter
Spørsmålet er: Går det an å beskytte særlig utsatte debattanter på en annen måte enn ved å sende skabbete, gamle kjerringskinn i fengsel?
Er det i strid med § 185 å omtale kvinnen slik? Eller er det greit å kalle folk skabbete kjerringskinn så lenge de hverken er innvandrere, fargede, homofile eller funksjonshemmede? Jeg vet ikke. Og det er nettopp problemet med § 185, ord som «hatefull» og «ringeakt» er så vage. En domfellelse vil i for stor grad avhenge av dommerens subjektive forståelse av kontekst.
Jeg er ikke alene om å mene dette. Grensen mellom hvilke ytringer som er vernet av ytringsfriheten og hvilke som er straffbare kan være meget vanskelig å trekke. I tillegg vil grensen endre seg med samfunnsutviklingen, heter det i denne rapporten fra politiet. Videre: Det er knapt mulig å gi en presis beskrivelse av hvor grensen går (s 34).
Advokaten Jon Wessel-Aas, ekspert på ytringsfrihet, kalte nylig leserne av Resett for «kloakkrotter» på Twitter. Han, av alle, bør jo vite hvor grensene går. Som kloakkrotte reiser jeg meg stolt på mine hårete bakben, slår forlabbene for brystet i en liten trommevirvel og bekjenner at jeg leser Resett med jevne mellomrom.
KZ-leir, hjemmesnekret galge og sultedøden
Tidligere har jeg mottatt sms-er om at jeg bør henges midt på Karl Johan i hjemmesnekret galge (debatten gjaldt sykelønn) og en annen om at jeg bør sulte ihjel i et trangt lite bur langt inne i skogen (debatten gjaldt pelsdyr).
For ikke å snakke om brevene med skjelvende gammelmannsskrift om at jeg skal brenne i helvete. Samt talløse kommentarer om hvor stygg jeg er, påstander om at jeg er i skyld i små barns død (i brann!) og at jeg hadde elsket å være kommandant i en KZ-leir.
Spørsmålet er om folk som skriver slikt har injurierende kraft. Sumaya Jirde Ali, som har vunnet flere priser og er en hyllet samfunnsdebattant og forfatter, kunne valgt å trekke på skuldrene og gå videre. Hun valgte i stedet rettssak, og hun vant.
For det er altså straffbart, med inntil tre års fengsel, å «forhåne noen» eller «vise ringeakt». Ordet ringeakt er forklart i wikipedia som et synonym for «forakt». Religion er spesielt nevnt i loven som noe man ikke kan vise ringeakt for. Men vi kan takke dem som viste "ringeakt" for kirkens menn for at vi fikk en opplysningstid.
Gode og dårlige metaforer
Både gode og dårlige metaforer er en del av et offentlig ordskifte. Når Jon Wessel-Aas kaller Resett-leserne for kloakkrotter gir han på en effektiv måte uttrykk for sitt syn på Resett, og han deltar dermed i mediedebatt. Hvem skal bestemme hvor grensen går mellom treffende metaforer som gagner samfunnsdebatten, og hatefulle ytringer som altså er straffbart?
Ytringsfrihet handler både om å tillate ytringer vi ikke liker, men også om å imøtegå ytringer vi ikke liker. Damen som kalte Sumaya Jirde Ali for «fandens svarte avkom» bør møtes med - nettopp - ringeakt. I stedet blir denne lurvete gamle sjakalen av et patetisk kvinnfolk sendt i fengsel. Dommen blir riktignok anket til Høyesterett, så om hun faktisk må sone vet vi enda ikke.
Vekk med rasismeparagrafen
Jeg vil altså ha vekk § 185 (omtalt som rasismeparagrafen, red.anm.). Vi vil da fortsatt ha en rekke paragrafer som gjerder inn ytringsfriheten på en fornuftig måte. Dette gjelder blant annet straffeloven § 183 om forbud mot oppfordring til straffbare handlinger, §§ 263 og 264 om forbud mot trusler og grove trusler, og §§ 266 og 267 om forbud mot hensynsløs atferd og krenkelse av privatlivets fred.
Videre er det en rekke begrensninger i ytringsfrihet i arbeidsforhold, blant annet arbeidsmiljølovens § 4 som forbyr trakassering. Vi har også en egen lov mot diskriminering.
De fleste reglene som begrenser ytringsfriheten er fornuftige, slik jeg ser det. Det er bare straffelovens § 185 som ikke har har en god nok begrunnelse. Paragrafen handler om å forby folks uttrykk for sine følelser, sitt hat og sin ringeakt. Følelser kan ikke forbys og det å gi uttrykk for dem bør ikke forbys.
Utsagn basert på følelser er enda mer kontekst-avhengige enn andre utsagn. Disse kontekstene vil forstås ulikt av ulike dommere. Dermed skaper § 185 i straffeloven mer usikkerhet, ikke mer klarhet, om hvor ytringsfrihetens grenser egentlig går.
---
LES OGSAA: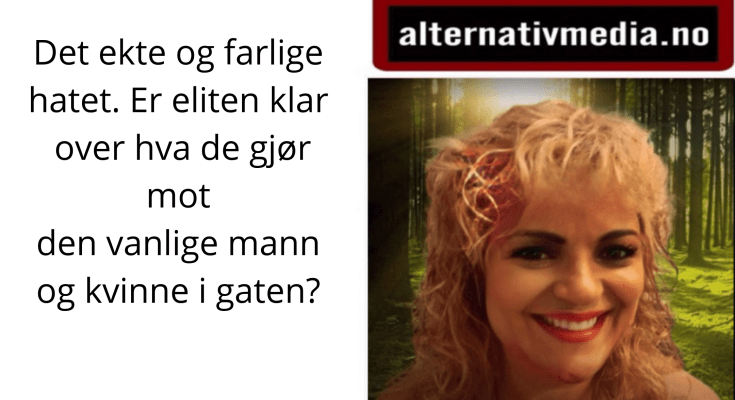 1 juli 2019 - by Merete Hodne
Det kostet meg 1,5 millioner å prøve å stå opp for meg selv mot nazist stempel. Jeg har hatt en ansatt fra Kenya og aldri hatt problemer med andre raser. Jeg hater hijab som jeg ser på som det samme som nazisymbol eller IS flagg om du vil. Om jeg så ender i rennesteinen helt flådd vil jeg ALLTID mene det!
Selv om det har kostet meg alt jeg har spart opp gjennom årene og enda flere lånte penger, mener jeg at jeg var i min fulle rett til å stå opp for meg selv. Hvem står på for deg om du ikke står opp for deg selv? Jeg har heldigvis engler rundt meg som gjør at den lille rest av vett fortsatt har et bittelite fotfeste hos meg enda, men det er rett før det revner aldeles kjenner jeg.
Dråpen var brevet fra politiet som har satt opp et møte for å ta fra meg huset, selv om jeg ikke har nektet å betale det jeg skylder! Advokaten jeg hadde utnyttet meg på det groveste selv om han visste at jeg ikke har mer penger. Han ville bruke meg til å ta Facebook. Jeg kommer ALDRI til å snakke med han igjen etter 10 milliærder stuntet der han hang ut mitt navn uten at jeg visste om en eneste krone eller pressemelding!
Jeg er så sint og oppgitt for tiden at jeg er redd jeg er farlig både overfor meg selv og andre. Det jeg føler nå er faktisk hat. Det er ekte hat mot elitesystemet som skal knekke enkeltpersoner som bare ønsker likestilling og rettferdighet for alle.
Er også utestengt fra Facebook igjen uten oppgitt grunn, og det er umulig å nå dem for å få et svar. Noen mister barna, så ja jeg vet at andre har det verre. Jeg hater eliten minst like mye på disse stakkars foreldrene sine vegne! Er dette måten å bekjempe hat hos mennesker på så har eliten totalt misforstått.
Dette er det farlige hatet. Urettferdig behandling skaper det farlige hatet.
---
In his interview with Andrew Wilkow of BlazeTV, Tommy Robinson speaks out about the death of free speech in England and the real-life consequences, saying that he genuinely believes he will be killed in prison.
Tommy Robinson's Long Walk - to court and to prison - with Katie Hopkins. (video)
---
Ann Widdecombe at Oxford Union   (video)
Kate Hopkins at Oxford Union    (video)

---
MEDIA FREEDOM OF SPEACH CONFERENCE IN LONDON THIS WEEK  (VIDEO)
Every week the Canadian President Justin Trudeau and his Liberals infringe on our freedom of speech a little bit more. From pressuring social media companies to censor conservatives, to slowly turning "Islamophobia" into a crime, to bringing back the section 13 censorship provision of the Canadian Human Rights Act, it just keeps getting worse.
So I nearly spat out my coffee when I learned that Chrystia Freeland, part of Trudeau's cabinet, was co-hosting a media freedom conference this week in London, England, along with her UK counterpart, Jeremy Hunt.
What a laugh! Hunt is part of the UK government that is throwing a citizen journalist named Tommy Robinson into prison this very week, for the "crime" of reporting outside a rape trial.
As you know, free speech has been a central issue for us at The Rebel. So when we heard about this conference, Sheila Gunn Reid and I applied to attend as accredited journalists.
Would we be allowed in? Both the Canadian and UK governments hate us — and Chrystia Freeland really hates us. Her office literally asked the United Nations to refuse to allow us to attend big UN conferences on global warming and immigration, just to punish us for having the wrong point of view.
HERE'S OUR PLAN TO COVER IT:
To our surprise, Sheila and I were both accredited — they let us know at the last minute! So we'll both be in the conference, starting TODAY, along with a cameraman. I think we might be the only independent media they let in — I see stories in the UK press about other reporters who were banned!
I don't know what to expect — but I do know that the conference organizers promised a chance to ask Freeland some questions.
What do you think — do you think Freeland will actually let us ask her questions? And will she answer?
We're about to find out! (We'll upload all of our videos from the conference to this page.  
---
WHO and WHAT is behind it all ? : >
---
The bottom line is for the people to regain their original, moral principles, which have intentionally been watered out over the past generations by our press, TV, and other media owned by the Illuminati/Bilderberger Group, corrupting our morals by making misbehavior acceptable to our society. Only in this way shall we conquer this oncoming wave of evil.
Commentary:
Dette hatet er en naturlig utvikling under Muslim erobringen av Norge, som sannsynligvis til slutt vil resultere i borgerkrig. Dette er en REALITET våre styresmakter IGNORERER men vil ikke unngå resultatet derav.
Administrator
All articles contained in Human-Synthesis are freely available and collected from the Internet. The interpretation of the contents is left to the readers and do not necessarily represent the views of the Administrator. Disclaimer: The contents of this article are of sole responsibility of the author(s). Human-Synthesis will not be responsible for any inaccurate or incorrect statement in this article. Human-Synthesis grants permission to cross-post original Human-Synthesis articles on community internet sites as long as the text & title are not modified.
The source and the author's copyright must be displayed. For publication of Human-Synthesis articles in print or other forms including commercial internet sites. Human-Synthesis contains copyrighted material the use of which has not always been specifically authorized by the copyright owner. We are making such material available to our readers under the provisions of "fair use" in an effort to advance a better understanding of political, economic and social issues. The material on this site is distributed without profit to those who have expressed a prior interest in receiving it for research and educational purposes. If you wish to use copyrighted material for purposes other than "fair use" you must request permission from the copyright owner.