Det store norske medietrollet
Tegning: Karine Haaland.

Av: Karine Haaland  11. juli 2019, 17:52
I Norge kunne vi kanskje greid oss med én avis og én rikskringkaster. Den kunne hett Statsnyheter AS, og der kunne alle norske journalister jobbet under én og samme redaksjon.
Norsk medieverden fremstår utad som et mangfold av nyhetsformidlere, med mange kanaler og publikasjoner. Men når du leser, ser eller hører nyhetene som blir servert, ser du at det er langt fra noe mangfold. Sakene og vinklingene er de samme. Det er kanskje ikke så rart i en medieverden hvor alle eier hverandre, og også hverandres nyhetsleverandører.
Nyhetsleverandøren NTB, som leverer til alle norske medier, eies av også av disse – NRK, Schibsted, Edda Media og Amedia. Amedia eier også Edda Media. Amedia eier i tillegg bl.a. Nettavisen. Schibsted eier Aftenposten og VG. Sammen med bl.a. Schibsted-eide VG, Dagbladet, TV2 og Amedia, som de eier NTB sammen med, eier NRK også kontrollorganet Faktisk.no!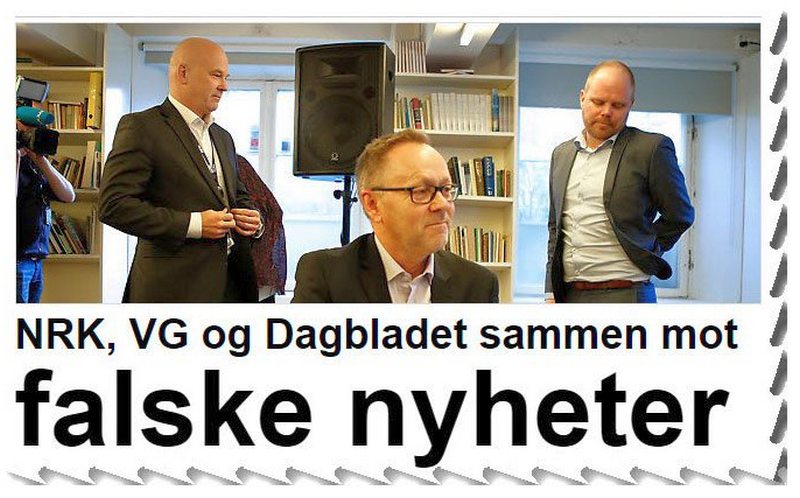 Faktisk.no samarbeider med Facebook om å kontrollere – og senke hastigheten på og begrense tilgjengeligheten til –konkurrerende uavhengige nyhetsformidlere som Document, Resett og Rights.
De store nyhetsformidlerne i Norge formidler nyheter til seg selv, som de får levert av seg selv, de eier hverandre, ligger med hverandre og med politikere de liker og som liker dem, og de kontrollerer og går god for at hverandres nyhetssaker er ekte og sanne, og at alle andres er tvilsomme, hatefulle og rasistiske, og det de serverer, kommer fra samme sted og har samme politiske ståsted og vinkling. Og alt stammer fra venstresiden i norsk politikk.
Det er et sammensurium av medieselskaper som eier hverandre og hverandres nyhetsleverandører, og som i hovedsak formidler samme politiske budskap. Utad fremstår det som et mediemangfold.  Men dét er det ikke.
Det er ett stort troll med flere forskjellige hoder og én og samme kropp. Og trollet koker sin egen grøt i sin egen gryte og serverer seg selv, og alle hodene får den samme grøten. Og den som ikke vil spise grøten, er mistenkeliggjort og kontroversiell. Det heter seg at troll er rike og mektige. Akkurat som det norske mediekonglomeratet også er.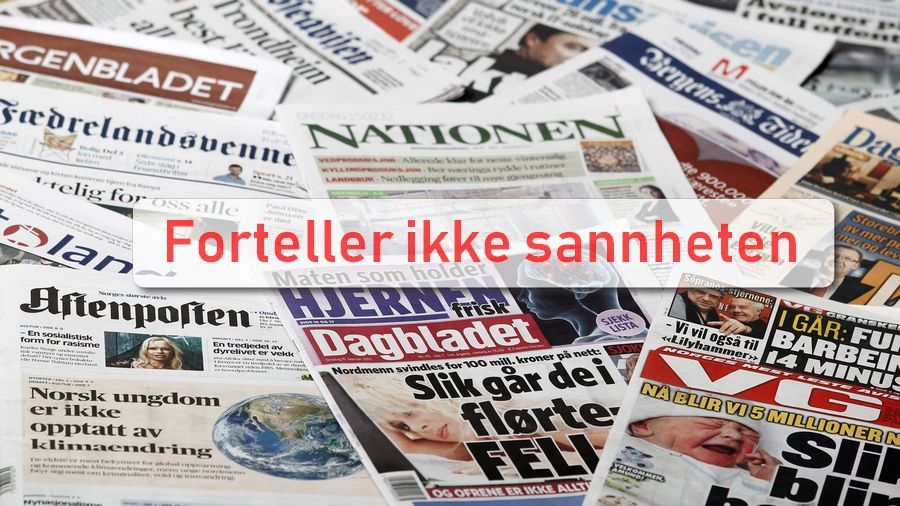 Men troll er også dumme. Om en for eksempel får narret trollet til å være ute så lenge at sola treffer det, vil det sprekke, heter det. Troll har heller ikke magemål. En kan narre trollet ved å oppmuntre det til å ete seg fordervet på sin egen grøt, slik at det velger å skjære opp sin egen mage for å kunne stappe i seg mer.  Troll er umettelige.
Og idet trollet kreperer, med sin egen grøt tytende ut av halsen, vil det kanskje skrike opp og rette en siste dirrende, advarende pekefinger mot sin største trussel – den snartenkte og intelligente Askeladden, mens alle hodene gurgler i kor: «Pass deg for ham! Han er gæren!»
Eller andre slike ting som folk og troll gjerne sier når de skjønner at de har kokt og kokt og servert den samme grøten så lenge at den til slutt er blitt stiv og seig som bikkjeskinn og sitter som lim i gryta og er helt aldeles umulig å få løs.
---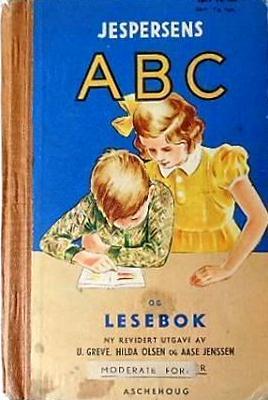 Nyhetene i vår presse og TV er like kjedelig som ABC´en
---
In his interview with Andrew Wilkow of BlazeTV, Tommy Robinson speaks out about the death of free speech in England and the real-life consequences, saying that he genuinely believes he will be killed in prison.  (video)  
---
MEDIA FREEDOM OF SPEACH CONFERENCE IN LONDON THIS WEEK  (VIDEO)
Every week the Canadian President Justin Trudeau and his Liberals infringe on our freedom of speech a little bit more. From pressuring social media companies to censor conservatives, to slowly turning "Islamophobia" into a crime, to bringing back the section 13 censorship provision of the Canadian Human Rights Act, it just keeps getting worse.
So I nearly spat out my coffee when I learned that Chrystia Freeland, part of Trudeau's cabinet, was co-hosting a media freedom conference this week in London, England, along with her UK counterpart, Jeremy Hunt.
What a laugh! Hunt is part of the UK government that is throwing a citizen journalist named Tommy Robinson into prison this very week, for the "crime" of reporting outside a rape trial.
As you know, free speech has been a central issue for us at The Rebel. So when we heard about this conference, Sheila Gunn Reid and I applied to attend as accredited journalists.
Would we be allowed in? Both the Canadian and UK governments hate us — and Chrystia Freeland really hates us. Her office literally asked the United Nations to refuse to allow us to attend big UN conferences on global warming and immigration, just to punish us for having the wrong point of view.
HERE'S OUR PLAN TO COVER IT:
To our surprise, Sheila and I were both accredited — they let us know at the last minute! So we'll both be in the conference, starting TODAY, along with a cameraman. I think we might be the only independent media they let in — I see stories in the UK press about other reporters who were banned!
I don't know what to expect — but I do know that the conference organizers promised a chance to ask Freeland some questions.
What do you think — do you think Freeland will actually let us ask her questions? And will she answer?
We're about to find out! (We'll upload all of our videos from the conference to this page.
---
Ann Widdecombe at Oxford Union   (video)
Kate Hopkins at Oxford Union    (video)

---
Det er ganske alvorlig, så alvorlig at vi bør ta grep! Torgeir Knag Fylkesnes, Stortingsrepresentanten fra SV har sete i kontroll- og konstitusjonskomiteen – stortingskomiteen som skal kontrollere regjeringen. Fra innsiden har han behandlet flere saker som har vært alvorlige for regjeringen, blant annet SSB-saken og saken om objektsikring.
Han advarer mot permanent skade på den offentlige samtalen – og demokratiet. Fylkesnes, som er utdannet filosof, mener det er grunn til å være alvorlig bekymret.
➡️I sak etter sak fra regjeringen fordreies fakta, informasjon tilbakeholdes, og sannheten spinnes til noe ugjenkjennelig, mener Torgeir Knag Fylkesnes (SV).
Jeg tenker at vi lever i en tid der ting er i vanvittig endring. Og jeg tror at noe av det viktigste vi må passe på, er at de demokratiske institusjonene ikke svekkes.
At ikke sentrale søyler i det vi kaller det åpne demokratiet svekkes. Og fra min plass på Stortinget, på innsiden, så ser jeg mange tegn til at det er i forvitring.
I dette intervjuet med Dagsavisen snakker han om at standarden i den offentlige samtalen senkes. Og han langer ut mot en presse han mener er for servil overfor regjeringen.
– Dette er et fundamentalt spørsmål. Det handler om hvorvidt vi i Norge skal ta steget ned noen divisjoner, og senke standarden, der vi synes at det er greit at vi har en regjering som feilinformerer offentligheten og som feilinformerer Stortinget, sier han.
Stortinget skal få det regjeringen har av best og mest riktig informasjon, som det står i Grunnloven at den skal gi – altså opplysningsplikten. Det er et fundament for at forholdet mellom storting og regjering skal fungere.
Men her virker det som om det er PR-bransjen som har gjort sitt inntog i regjeringen og at det styrer mye av den informasjonen Stortinget får. Og da står sannheten ikke spesielt høyt i kurs.
---
WHO and WHAT is behind it all ? : >
---
The bottom line is for the people to regain their original, moral principles, which have intentionally been watered out over the past generations by our press, TV, and other media owned by the Illuminati/Bilderberger Group, corrupting our morals by making misbehavior acceptable to our society. Only in this way shall we conquer this oncoming wave of evil.
Commentary:
Administrator
All articles contained in Human-Synthesis are freely available and collected from the Internet. The interpretation of the contents is left to the readers and do not necessarily represent the views of the Administrator. Disclaimer: The contents of this article are of sole responsibility of the author(s). Human-Synthesis will not be responsible for any inaccurate or incorrect statement in this article. Human-Synthesis grants permission to cross-post original Human-Synthesis articles on community internet sites as long as the text & title are not modified.
The source and the author's copyright must be displayed. For publication of Human-Synthesis articles in print or other forms including commercial internet sites. Human-Synthesis contains copyrighted material the use of which has not always been specifically authorized by the copyright owner. We are making such material available to our readers under the provisions of "fair use" in an effort to advance a better understanding of political, economic and social issues. The material on this site is distributed without profit to those who have expressed a prior interest in receiving it for research and educational purposes. If you wish to use copyrighted material for purposes other than "fair use" you must request permission from the copyright owner.