DOCUMENTING EARTH CHANGES DURING THE NEXT GSM AND POLE SHIFT
THE INCREASING GALACTIC COSMIC RAY SITUATION
JULY 31, 2018 CAP ALLON   ( *) Artikkel fra Anders Brunstad under.
The sun has been without sunspots for 32 of the past 33 days.
To find a similar stretch of blank suns, you have to go back to 2009 when the sun was experiencing the DEEPEST SOLAR MINIMUM IN A CENTURY.
During solar minimum, the sun's magnetic field weakens and the outward pressure of the solar wind decreases.
This allows more cosmic rays from deep space to penetrate the inner solar system and our planet's atmosphere.
Solar minimum has returned, bringing with it extra Galactic Cosmic Rays.
Every USA weather balloon launch has exhibited the same pattern.
The Cosmic Ray upward trend is coast to coast:
Cosmic Rays come from outside the solar system.
They are a mixture of high-energy photons and sub-atomic particles accelerated toward Earth by supernova explosions and other violent events in the cosmos.
Here on Earth, we have two additional lines of defence: the magnetic field and atmosphere of our planet.
Earth's current magnetic excursion is further amplifying the GCR situation.
Our magnetosphere is waning at an increasing rate as north and south magnetic poles continue their wander, with some predictions putting a meeting point over Indonesia within the next few years.
Previous magnetic excursions and reversals have led to increased cosmic rays, volcanic and seismic activity and the onset of ice ages.
When ice ages begin, they begin incredibly fast.
At the end of the Eemian, for example, the climate descended from a period of warmth such as today's into full-blown glacial severity in less than twenty years.
EXACTLY WHAT AFFECT DO COSMIC RAYS HAVE?
Cosmic rays penetrate commercial airlines, dosing passengers and flight crews so much that pilots are classified as occupational radiation workers by the ICRP.
The time astronauts can 'safely' spend in space has been cut over the years, from 1000 days in 1990 to 700 days in 2010 (N. A. Schwadron et al.) — making any ideas of manned missions to Mars non-starters.
More crucially, however, the work of H. Svensmark, M.B. Enghoff, N. Shaviv and J. Svensmark attributes Cosmic Rays to cloud nucleation here on earth.
"Clouds are the Earth's sunshade, and if cloud cover changes for any reason, you have global warming — or global cooling," Dr. Roy Spencer.
The implications of Svensmark's study suggests that the mechanism have affected:
The climate changes observed during the 20th century
The coolings and warmings of around 2°C that have occurred repeatedly over the past 10,000 years, as the Sun's activity and the cosmic ray influx have varied.
The much larger variations of up to 10°C occurring as the Sun and Earth travel through the Galaxy visiting regions with varying numbers of exploding stars.
These two independent factors occurring simultaneously — Solar Minimum and Magnetic Excursion — will have a dramatic impact on the Cosmic Ray count here on earth.
Cloud nucleation, or Earth's Sunshade, will increase and the upshot is a cooling of the planet.
The addition of a magnetic excursion during a Grand Solar Minimum is throwing us something of a curve ball.
Modern civilisation is entering uncertain times.
Stay tuned for updates.
---
MERE FAKTA PAA NORSK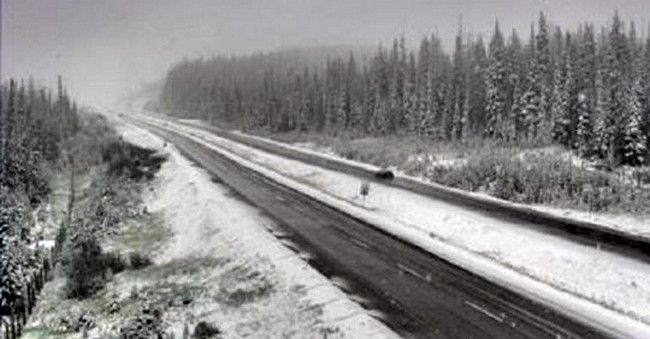 (*) KALDERE KLIMA KOMMER MED SVAK SOL.
Det er faktisk en sammenheng mellom en svakere sol, og snefall langt inn i juni, som denne artikkelen fra 19.6., viser. Litt øst for Vancouver, British Columbia, Canada.
Vi har nå i følge sol- og kosmos forskerne Valentina Zharkowa, Henrik Svensmark og Piers Corbyn, en historisk "lat sol", som har svært få solspotter ved utgangen av solsyklus nr 24 og inngangen til solsyklus nr 25.
Dette skal ha tre effekter som påvirker klimaet, temperaturen, og til og med været på kloden:
1. En svakere sol kan gi redusert varme effekt på hele 8 Watt per m2, eller 8 Megawatt per kvadrat kilometer, hevder Zharkowa.
2. Henrik Svensmark har dokumentert at et svakere magnetfelt fra solen, som korresponderer med færre solspotter, som er pluss og minus magnetfelt, vil medføre en sterk økning av kosmisk stråling fra såkalte supernova eksplosjoner svært langt borte. Økt kosmisk stråling treffer atmosfæren, og er årsak til at det dannes meir skyer, som reflekterer sollys, slik at det blir kaldere temperatur på jorda.
3. Et betydelig svakere magnetfelt, som nå, gir i følge den britiske vær og klimaspesialisten Piers Corbyn, utslag i at polare vortex, eller jetstreams fra polare strøk, i dette tilfellet langt nord i Canada, lar kuldevind få rase langt lenger sør, som resulterer i snø etter midten av juni.
Dette hevder han ikke vil kunne skje med en sterk solmagnet, som holder jetstreamene mer på plass i sine normale leier.
4. Zharkowa, er en av de to beste til å beregne med vitenskaplige metoder, hvordan solsyklusene antas å bli fremover, på basis av matematiske modeller som treffer hvordan de har vært tidligere. Ho traff med 97% nøyaktighet hvordan inneværende solsyklus 24 blei. Og har sterke utsagn om at både solayklus nr 25 og 26 vil bli historisk svake.
5. Zharkowa har dokumentert i hennes forskning, at solen fungerer som en gigantisk dynamo, som avgir hele 4 ulike magnetfelt, mot tidligere antatt bare 2. Ho har påvist at under den forrige kalde perioden på kloden, under Maunder minimum, fra 1350-1850, med den såkalte "lille istiden" som kaldest, fra 1645-1710, så var 2 av 4 av solens magnetfelt på minimum. Og det ble skikkelig kaldt, med opptil fem grader kaldere hav, og Thamsen frøs.
6. Zharkowa har nå påvist at ALLE 4 av solens magnetfelt, nå er historisk på bunnen. Dermed vil jorden, og andre planeter i svært liten grad beskyttes av kosmisk stråling fra solens svært svake magnetfelt.
7. Dette vil eller skal bety at langt meir kosmisk stråling slipper inn i atmosfæren, og det blir en hel del vekst i skydekket, og et kaldere klima. Som kommer først litt langsomt, da det er enorme mengder hav som først skal kjøles ned.
8. Dette svake magnetfeltet fra solen, vil føre til en drastisk økning av kalde luftstrømmer lenger mot ekvator, og til at det kan bli mye nedbør på nye steder, og mer tørke på andre steder. Som i Norge i fjor. Med rekordlite regn på sommeren.
9. Det er også påvist en mulig eller sterk sammenheng, med svakere magnetfelt fra solen, og økt vulkansk aktivitet på gigant vulkaner på jorden. Disse vil kunne trigge enorme utslipp av sot og aske i atmosfæren, og påvirke klima og avlinger svært dramatisk.
10. Det er historisk påvist at det er temperaturen som er driver av økt C02, og ikke omvendt. Som FN, EU, Al Gore og Erna lyver om. Dette er påvist i 500.000 års is i Antarktisk. Først går temp opp, så C02. Så går temp ned, og så C02. Dette er ikke kontroversielt. Men påviste fakta.
11. Dette forklarer i hovedsak økningen av C02 fra 1850 til nå. At økt temperatur, som følge av en meir aktiv sol, er årsak til økningen av C02 fra ca 0.03% til nå ca 0.04%.
12. Denne økningen av C02 på ca 30%, skyldes altså et naturlig forhold, og i svært liten grad menneskelige utslipp, som er påvist fra Karbon isotop analyse å utgjøre ca 4% av total mangde C02.
13. Denne økningen av C02 har utelukkende vært positivt for kloden og oss mennesker, da økt C02, som er en knapp faktor for fotosyntesen, både i lufta og i havet, betyr en sterk økning av både plante- og plankton produksjon.
14. I perioden etter 1850 har klodens befolkning økt fra ca 1 mrd menneske, til snart 8 mrd menneske. Det er i dag egentlig tilstrekkelig med matvareproduksjon til en nokså overbefolket klode.
15. De siste 20 -30 åra har FN lansert den falske påstanden om at det er økt C02 som er årsak til den globale oppvarmingen som kloden hadde i perioden 1980-1998. Selv om det de siste 20 åra ikke har vært en høyere temperatur etter 1998, selv om C02 har økt fra ca 360 ppm til ca 415 ppm nå.
16. Forskeren Ernst Bech påviste at det var like høyt C02 nivå i 1943, som etter år 2000. Som en følge av de varme 1930 åra.
17. Sammenhengen er koblet til Henrys lov, og K konstanten, som varierer med temperatur. Denne kjente sammenhengen forklarer at økt temperatur, vil C02 gass som er oppløst i havet, gå til lufta. Som er forklaringa på at C02 har gått opp etter den kalde perioden som slutta ca 1850.
18. Den samme kjemiske ,lova" vil medføre eller bety, at det ved en fallende temperatur, som Zharkowa, Svensmark og Corbyn nå hevder vi skal få de neste 5- 30 åra, som følge av en langt svakere sol, bli at C02 fra lufta, i økende grad vil gå tilbake i hava, som også blir kaldere.
Og som er påvist allereie er i ferd med å bli nedkjølt.
19. Et lavere C02 nivå i lufta, er dermed en varsla og kjent effekt av et kaldere hav og klima.
20. Dette vil heilt klart påvirke klodens kapasitet til å produsere mat til en befolkning på 7 mrd menneske meir, enn forrige globale matvarekrise, som varte fra 1350-1850. I samme periode som solen var i «dvale» sist.
Dette er ikke en konspirasjonsteori, men ein sterk logisk hypotese, basert på teorier fra de aller fremste og ikke korrumperte klimaforskere.
Som alle har fokus på solens viktige rolle historisk for klodens og planetenes klima.
Det er viktig at flest mulig forstår at C02 kampanjen er pill råtten og falsk, og egentlig handler om en globalist marxistisk politikk,
Som del av FNs totalitære Agenda 2030,
for å overføre arbeid, aktivitet, velferd fra Vesten til Kina, Russland og India. Som ikke har forplikter seg til å redusere C02 utslipp, men i staden bygger 2.000 nye kullkraftverk for å utnonkurrerer Vestens industri og arbeidere.
Denne falske C02 kampanjen gjør ubotelig skade på vestlig industri.
Enorme avgifter flytter arbeidsplasser til Kina, India og Russland.
Det er det som faktisk er konsekvensen.
Derfor må Norge melde oss ut av EØS, som lar EU kjøre den falske C02 kampanjen, med ACER, Vindmøller, og en totalitær politikk basert på løgner og bedrageri utgått fra et sykt og farligt FN.
Som har som målsetting å avvikle nasjonale demokratier og erstatte det med elitens diktatur.
Med Kina og Russiske interesser som vinnere.
Med sovjetisk utdanna Merkel i tospann med EUs marxister og EU kommisjonens «politbyrå».
Og med en globalist Erna Solberg som venter å få sine sølvpenger for sitt bedrageri av Nordmenns interesser, betalt av en smellfeit skattefri FN jobb.
Som ho har kjøpt seg ved å strø om seg med titalls milliarder kr til FNs mange prosjekter, slik som «regnskogsprosjekter» til mer enn 20 mrd kr.
Som indirekte skal «dekkes inn» med bompenger?
Stutum og Totto Osvold, Hallo i Luken, hadde nok i Agurknytt, på 1980 tallet, sagt fra om galskapens virkelighet, eller virkelighetens galskap.
Men så lenge det yngler Grønne Zombier ut av Statens Totalitære Skoler, som tror på C02 kampanjens skremselspropaganda, og stemmer på MDG, Miljøpartiet for De Gærne,
Så har FN og EUs totalitære skolepolitikk lykkes
Slik er nemlig sammenhengen; Skolen utdanner nå inndoktrinerte Grønne Zombier.
Og dette skjer ganske så koordinert i FN regi over store deler av den Vestlige og ikke lenger særlig opplyste verden. Forsterket på mikrofonstativer i et nesten Hjernedødt Vestlig og totalitært Pressekorps.
---
WHO and WHAT is behind it all ? : >
---
The bottom line is for the people to regain their original, moral principles, which have intentionally been watered out over the past generations by our press, TV, and other media owned by the Illuminati/Bilderberger Group, corrupting our morals by making misbehavior acceptable to our society. Only in this way shall we conquer this oncoming wave of evil.
Commentary:
Administrator
All articles contained in Human-Synthesis are freely available and collected from the Internet. The interpretation of the contents is left to the readers and do not necessarily represent the views of the Administrator. Disclaimer: The contents of this article are of sole responsibility of the author(s). Human-Synthesis will not be responsible for any inaccurate or incorrect statement in this article. Human-Synthesis grants permission to cross-post original Human-Synthesis articles on community internet sites as long as the text & title are not modified.
The source and the author's copyright must be displayed. For publication of Human-Synthesis articles in print or other forms including commercial internet sites. Human-Synthesis contains copyrighted material the use of which has not always been specifically authorized by the copyright owner. We are making such material available to our readers under the provisions of "fair use" in an effort to advance a better understanding of political, economic and social issues. The material on this site is distributed without profit to those who have expressed a prior interest in receiving it for research and educational purposes. If you wish to use copyrighted material for purposes other than "fair use" you must request permission from the copyright owner.