'The System Hasn't Worked' — Corporate Leaders Grapple With Elite Angst At Davos

ARUN SUDHAMAN 22 JAN 2019 // 10:17AM GMT
Outgoing Unilever CEO Paul Polman believes we will see more citizen unrest until growth becomes more inclusive, in comments at Edelman's Trust Barometer panel in Davos.
DAVOS — Big business will continue to pay the costs for a loss of trust, including rising citizen unrest and environmental instability, unless it rapidly reorients itself towards a more inclusive growth model, said outgoing Unilever CEO Paul Polman today at the World Economic Forum in Davos.

Polman made the comments at Edelman's Trust Barometer session, during which he bemoaned the slow pace of many companies in adapting to rising anger towards business and political elites. That trend was again underscored by this year's Trust Barometer research which moderator Gillian Tett from the Financial Times dubbed as "an absolute scream of anger and pain by ordinary populations against the elites."

"The idea that only one in five people think the system is working for them, is terrifying," said Tett. "The fact that so many people are scared of the future is startling."

Polman pointed out that the costs of inaction are real, as Oxfam reportsthat the world's 26 richest people own as much as the poorest 50%. "We have to create a system that is more inclusive," he said. "All of this is happening at a time when global governance is falling short."

In addition to income inequality, Polman also called on business to tackle climate change. "It's an issue of partnerships," he explained. "We all know to do these partnerships...requires a different level of trust."

He also noted that popular protests, such as the gilets jaunes movement in France, will only increase in the current environment. Polman framed the cost of inaction as a "trust tax" that companies seem happy to pay. "We've become strange human beings - we'd rather pay for the consequences than take the time to build the partnerships and attack these underlying issues."

"I'm surprised that companies keep going like this," added Polman. "Goodwill used to be 15% of asset base, now it's 70%. Anytime trust is violated, not only does the CEO lose his or her job, but 30% of the value of the company is being wiped out."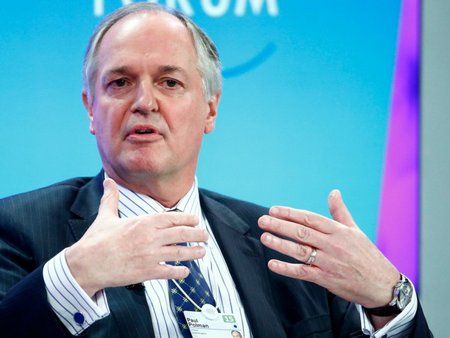 Former US commerce secretary Penny Pritzker added that we should not be surprised about the level of fear revealed by the Trust Barometer research. "Frankly, I think the root cause is this lack of real inclusive growth; the system hasn't worked," she said. "For the average man in the US, they are behind and losing ground every day. I don't blame people for being terrified."

Like Polman, Pritzker called on business to work with governments to tackle problems. "I think the solutions are local and require partnership," she said. "That's why they are hard. What is the role that people are looking for the CEO to play? I think it's an ability to put together partnerships that can solve problems."

But Save the Children CEO Helle Thorning-Schmidt, cautioned that companies must be willing to address their own policies towards inclusive growth if they want to rebuild trust. "Is big business ready to go the extra mile to create that trust?" asked Thorning-Schmidt. "Do they understand what that means? New standards for transparency, accountability, asset sharing, living wage for employees, taxation to a completely different level. We forget the big picture that will actually change the world."

"It is about big corporations making sure they play by the rules, and pay their tax," added Thorning-Schmidt. "Are we actually changing the way we govern globalisation, in a way that it becomes much more trustworthy…to be more fair?"

Both PayPal CEO Dan Schulman and new Unilever CEO Alan Jope reiterated the view that companies can only deliver change by thinking clearly about their values and then behaving on them. That kind of attitude, they said, becomes more important in an era when employees, as Richard Edelman put it, are emerging as the most important stakeholder group, with "two-thirds of workers afraid of being replaced by machines."

"You've got to inform your employees first, not last," said Edelman. "You've got to make them your primary objective. If they are informed, they will speak on your behalf."

"If you have employees that are proud to be there, they serve customers better, you serve shareholders well," responded Schulman. "We have to focus on what our mission and vision is, and what our values are. What can we make a difference in?"

Jope pointed to the benefits Unilever has experienced by putting 20k of its employees through a programme that aligns their personal values with the company's mission. "Engagement shoots up and retention shoots up," said Jope. "When we can expand it to the 3m ppl who work with our business every single day, I think we can have an impact that goes beyond the elites at Davos."

"I think it's time for business to take the responsibilities we've been given," concluded Jope. "Companies with purpose last, brands with purpose grow, people with purpose thrive."
---
WHO and WHAT is behind it all ? : >
---
The bottom line is for the people to regain their original, moral principles, which have intentionally been watered out over the past generations by our press, TV, and other media owned by the Illuminati/Bilderberger Group, corrupting our morals by making misbehavior acceptable to our society. Only in this way shall we conquer this oncoming wave of evil.
Commentary:
Mr Polman has hit the nail on the head.  Non-inclusion is one of the biggest problems in the relationship between the global elite and employees.
Firstly, moving their large corporations overseas to attain cheaper production cost i a stab in the back for the employees they leave behind. Secondly, abolishing the earlier compulsory profit sharing scheme has also had a general effect of minimizing normal salary increases, which, together with escallating living cost, has made it unbearingly tough for most employees. This has also caused a mistrust of the companies leadership, who, apparently only care for their OWN welfare.
As we all know the unescapable formula between employers and employees to create a successful business based on hard work rather than playing the stock market, all future business growths must become considerably more inclusive.  
Administrator
HUMAN SYNTHESIS
All articles contained in Human-Synthesis are freely available and collected from the Internet. The interpretation of the contents is left to the readers and do not necessarily represent the views of the Administrator. Disclaimer: The contents of this article are of sole responsibility of the author(s). Human-Synthesis will not be responsible for any inaccurate or incorrect statement in this article. Human-Synthesis grants permission to cross-post original Human-Synthesis articles on community internet sites as long as the text & title are not modified.
The source and the author's copyright must be displayed. For publication of Human-Synthesis articles in print or other forms including commercial internet sites. Human-Synthesis contains copyrighted material the use of which has not always been specifically authorized by the copyright owner. We are making such material available to our readers under the provisions of "fair use" in an effort to advance a better understanding of political, economic and social issues. The material on this site is distributed without profit to those who have expressed a prior interest in receiving it for research and educational purposes. If you wish to use copyrighted material for purposes other than "fair use" you must request permission from the copyright owner.
TILBAKE TIL HOVEDMENYEN - BACK TO THE MAIN MENU