Eksperter: EU kan være på vei til graven
22. februar 2019 24 - NYT – NI Internationalt, Tophistorie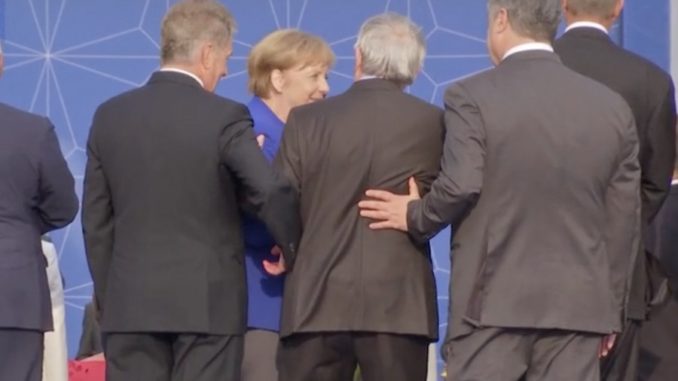 Økonomisk krise i eurosonen og populær etterspørsel etter mer demokrati vil føre til EU-død, spår eksperter. Eksperter spår at EU kan være i graven. Unionens populære mandat blir stadig mer utbredt. Et stort antall østeuropeiske land har uttrykt sterk misnøye med regimet i Brussel og krever gjeninnføring av demokrati på en rekke områder. Og Italia kan være ute av euro.

Britisk politiker og Brexit-støtte Craig McKinley mener at EU-kommisjonen har et nærmest religiøst forhold til de traktatene som skiller seg for stykket av medlems-landenes demokratiske selvbestemmelse. "Kommisjonen er verneforvalterne. Traktatene har blitt en kvasi-religion for dem, "mener han. Hvis Europa-kommisjonen ikke begynner å la velkjemerne snakke veldig snart, kan det bli den ultimate union, mener Craig McKinley. Britiske politikere påpeker at velgere i mange EU-land, inkludert Italia og Hellas, er svært kritiske for EU.
Og dette kan føre til jordskredssjanse for EU-kritiske partier ved det kommende europeiske valget, mener han: "Hvis (EU-kommisjonen, red.) Ikke lar folk snakke, det går mot svært vanskelige tider. EU som vi kjenner i dag, kan være ganske annerledes EU om 10 år, sier han. LES OGSÅ: Clum: Politikere har importert krigen, men vasker hendene innvandringspolitikk EU-kommisjonens hærer med de østeuropeiske medlemslandene om utenrikspolitikk var det første tydelige tegn på EUs dødelighet.
Visegrad-landene, Ungarn, Polen, Tsjekkia og Slovakia nekter å godta innvandrere, og til tross for truslene har EU ikke klart å gjøre de øst-europeiske demokratiene riktig. Saken avslørte at EU-kommisjonen ikke har mer makt enn den velger å gi den. Østerrike og Italia har allerede likt EU-blodet og nektet å følge EU-dekretene innen utlendinger, og flere land kan følge.

Øst-Europas utenrikspolitikk er veldig populær. En paneuropeisk studie viser at 52 prosent av europeerne foretrekker Visegrad-landenes løsning. Bare 24 prosent foretrekker utenrikspolitikken som kommer fra EUs hovedkvarter i Brussel. Blant de danske velgere velger 43 prosent Visegrad-veien, mens bare 28 prosent fortsatt vil følge EUs innvandringspolitikk. Selv om et stort antall EU-land har bevist at man bare kan nekte å følge EUs innvandringspolitikk, har endrede danske regjeringer hittil fulgt diktatet fra Brussel. Euroen fortsetter å falle.

Men det er ikke bare EUs forakt for nasjonale demokratier og de åpne grensenes utenrikspolitikk som forårsaker EU-problemer. Også i økonomisk sfære kan EUs ambisjoner bli en pinne i eget hjul. En ekspert i EU Rem Korteweg sier: LES OGSÅ: Samuelsen åpner ny dansk generalkonsulat i Houston, Texas ."Den såkalte Hanseatic League består av de tre baltiske landene, Finland, Danmark, Sverige, Irland og Nederland. Disse åtte små landene motsetter seg europeiske kommisjonens planer for stadig økende makt over euroområdet. "

Ifølge Rem Korteweg, leder av organisasjonen Europa i verden, er eurosonen, som sliter med lav økonomisk vekst, ekstremt sårbar og kan bryte ned når som helst:
"Eventuelle tremor i Eurosystemet, f.eks. Brexit, en ny handelskrig eller en økonomisk krise i Sør-Europa, kan undergrave euro-prosjektet, mener han.
Vil Italia bli EU-bankett? En annen EU-ekspert, Ian Kearns, mener at den siste spiken i EU-kisten kan bli Italias utgang fra euro. Italia er Europas 4 største økonomi etter Tyskland, Storbritannia og Frankrike. Og hvis italienerne trekker seg fra fellesskapssamarbeidet, vil det skape en skred som slutter med EUs død:
"Da tror jeg (hvis Italia trekker seg fra euroen, ed.) At euroen vil bli oppløst. Dette vil føre til en sammenbrudd i EUs interne betalingssystem og det felles markedet vil bli oppløst. Og dette vil virkelig være slutten av EU, sier Ian Kearns, grunnlegger av det europeiske lederskapsnettet. LES OGSÅ: KLIMA: Jeg vil ikke stemme på noe Integrationsråd.
Og dette er nettopp dødsfallet som EU har blitt presentert av Italias særegne videopresident, Matteo Salvini. Han oppfordrer EU-kommisjonen til å gi Italia en rekke demokratiske rettigheter, ellers vil han trekke seg fra Italia fra den felles valuta. "Våre eksperter jobber med en" Plan B "hvis Brussel (EU-kommisjonen, red.) Sier nei til våre krav, sa Salvini 2018. I 2013, som leder av Lega Nord-partiet, sa Matteo Salvini at euroen er "en forbrytelse mot menneskeheten". EU er klar over sin egen dødelighet.

Dette er tilsynelatende en fare som tas svært alvorlig av EU. Etter Salvinis trussel om å trekke Italia fra euro, endret EU-kommisjonen seg og valgte å overraske Italia til å godkjenne den italienske finansloven det året. De meget store innrømmelsene til de migrasjonskritiske østeuropeerne og eurosceptiske italienere har avslørt at selv EU-kommisjonen er klar over EUs dødelighet. Det er valg til EU-parlamentet i mai 2019.
...
Hva mener du? Tror du at EU vil overleve hvis EU-kommisjonen fortsetter sitt nåværende kurs mot stadig mer makt over medlemslandene?
---
WHO and WHAT is behind it all ? : >
---
The bottom line is for the people to regain their original, moral principles, which have intentionally been watered out over the past generations by our press, TV, and other media owned by the Illuminati/Bilderberger Group, corrupting our morals by making misbehavior acceptable to our society. Only in this way shall we conquer this oncoming wave of evil.
Commentary:
Administrator
HUMAN SYNTHESIS
All articles contained in Human-Synthesis are freely available and collected from the Internet. The interpretation of the contents is left to the readers and do not necessarily represent the views of the Administrator. Disclaimer: The contents of this article are of sole responsibility of the author(s). Human-Synthesis will not be responsible for any inaccurate or incorrect statement in this article. Human-Synthesis grants permission to cross-post original Human-Synthesis articles on community internet sites as long as the text & title are not modified.
The source and the author's copyright must be displayed. For publication of Human-Synthesis articles in print or other forms including commercial internet sites. Human-Synthesis contains copyrighted material the use of which has not always been specifically authorized by the copyright owner. We are making such material available to our readers under the provisions of "fair use" in an effort to advance a better understanding of political, economic and social issues. The material on this site is distributed without profit to those who have expressed a prior interest in receiving it for research and educational purposes. If you wish to use copyrighted material for purposes other than "fair use" you must request permission from the copyright owner.
TILBAKE TIL HOVEDMENYEN - BACK TO THE MAIN MENU