UN agenda 21 for a controlled NWO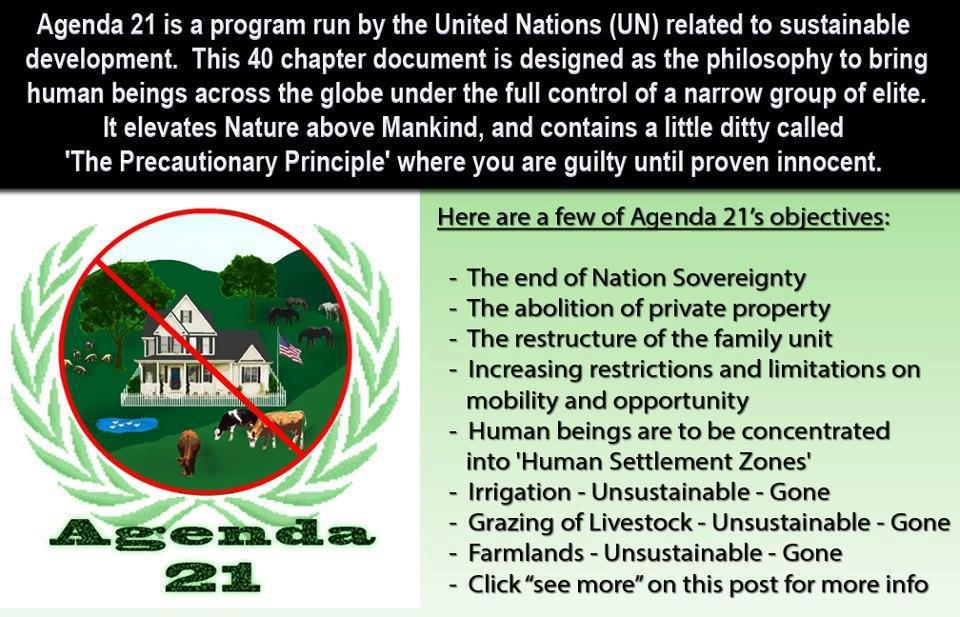 United Nations Conference on Environment & Development Rio de Janerio, Brazil, 1992
PREAMBLE 1.1.
Humanity stands at a defining moment in history. We are confronted with a perpetuation of disparities between and within nations, a worsening of poverty, hunger, ill health and illiteracy, and the continuing deterioration of the ecosystems on which we depend for our well-being. However, integration of environment and development concerns and greater attention to them will lead to the fulfilment of basic needs, improved living standards for all, better protected and managed ecosystems and a safer, more prosperous future. No nation can achieve this on its own; but together we can - in a global partnership for sustainable development. 1.2.
This global partnership must build on the premises of General Assembly resolution 44/228 of 22 December 1989, which was adopted when the nations of the world called for the United Nations Conference on Environment and Development, and on the acceptance of the need to take a balanced and integrated approach to environment and development questions. 1.3. Agenda 21 addresses the pressing problems of today and also aims at preparing the world for the challenges of the next century. It reflects a global consensus and political commitment at the highest level on development and environment cooperation. Its successful implementation is first and foremost the responsibility of Governments.
National strategies, plans, policies and processes are crucial in achieving this. International cooperation should support and supplement such national efforts. In this context, the United Nations system has a key role to play. Other international, regional and subregional organizations are also called upon to contribute to this effort. The broadest public participation and the active involvement of the non-governmental organizations and other groups should also be encouraged. 1.4. The developmental and environmental objectives of Agenda 21 will require a substantial flow of new and additional financial resources to developing countries, in order to cover the incremental costs for the actions they have to undertake to deal with global environmental problems and to accelerate sustainable development.

Financial resources are also required for strengthening the capacity of international institutions for the implementation of Agenda 21. An indicative order-of-magnitude assessment of costs is included in each of the programme areas. This assessment will need to be examined and refined by the relevant implementing agencies and organizations.
1.5. In the implementation of the relevant programme areas identified in Agenda 21, special attention should be given to the particular circumstances facing the economies in transition. It must also be recognized that these countries are facing unprecedented challenges in transforming their economies, in some cases in the midst of considerable social and political tension.
1.6. The programme areas that constitute Agenda 21 are described in terms of the basis for action, objectives, activities and means of implementation. Agenda 21 is a dynamic programme. It will be carried out by the various actors according to the different situations, capacities and priorities of countries and regions in full respect of all the principles contained in the Rio Declaration on Environment and Development. It could evolve over time in the light of changing needs and circumstances. This process marks the beginning of a new global partnership for sustainable development.
When the term "Governments" is used, it will be deemed to include the European Economic Community within its areas of competence. Throughout Agenda 21 the term "environmentally sound" means "environmentally safe and sound", in particular when applied to the terms "energy sources", "energy supplies", "energy systems" and "technology" or "technologies".  Agenda 21 -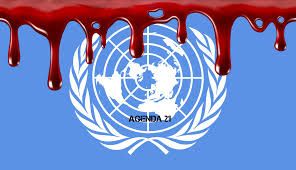 Chapter 2 INTERNATIONAL COOPERATION TO ACCELERATE SUSTAINABLE DEVELOPMENT IN DEVELOPING COUNTRIES AND RELATED DOMESTIC POLICIES
2.1. In order to meet the challenges of environment and development, States have decided to establish a new global partnership. This partnership commits all States to engage in a continuous and constructive dialogue, inspired by the need to achieve a more efficient and equitable world economy, keeping in view the increasing interdependence of the community of nations and that sustainable development should become a priority item on the agenda of the international community.
It is recognized that, for the success of this new partnership, it is important to overcome confrontation and to foster a climate of genuine cooperation and solidarity. It is equally important to strengthen national and international policies and multinational cooperation to adapt to the new realities.
Download PDF copy of the full Rio de Janeiro agreement 1992
---
WHO and WHAT is behind it all ? : >
---
The bottom line is for the people to regain their original, moral principles, which have intentionally been watered out over the past generations by our press, TV, and other media owned by the Illuminati/Bilderberger Group, corrupting our morals by making misbehavior acceptable to our society. Only in this way shall we conquer this oncoming wave of evil.
Commentary:
Administrator
---
HUMAN SYNTHESIS
All articles contained in Human-Synthesis are freely available and collected from the Internet. The interpretation of the contents is left to the readers and do not necessarily represent the views of the Administrator. Disclaimer: The contents of this article are of sole responsibility of the author(s). Human-Synthesis will not be responsible for any inaccurate or incorrect statement in this article. Human-Synthesis grants permission to cross-post original Human-Synthesis articles on community internet sites as long as the text & title are not modified.
The source and the author's copyright must be displayed. For publication of Human-Synthesis articles in print or other forms including commercial internet sites. Human-Synthesis contains copyrighted material the use of which has not always been specifically authorized by the copyright owner. We are making such material available to our readers under the provisions of "fair use" in an effort to advance a better understanding of political, economic and social issues. The material on this site is distributed without profit to those who have expressed a prior interest in receiving it for research and educational purposes. If you wish to use copyrighted material for purposes other than "fair use" you must request permission from the copyright owner.
TILBAKE TIL HOVEDMENYEN - BACK TO THE MAIN MENU