French Presidential Debate 2017 - Emmanuel Macron and Marine Le Pen/amp
HUMAN SYNTHESIS
Published on May 4, 2017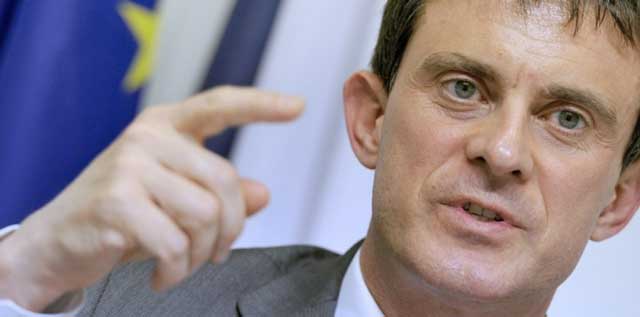 French Presidential Debate 2017
Emmanuel Macron pays homage to his illuminati masters by throwing up the satanic 666 sign an infinite number of times. Here's a sample.
Two and a half hours of broadcast, and the impression of having attended a boxing match more than a presidential debate. Emmanuel Macron and Marine Le Pen clashed on Wednesday (May 3rd) on TF1 and France 2, for the only debate before the second round of the presidential, Sunday, May 7th. They were interviewed by Christophe Jakubyszyn (TF1) and Nathalie Saint-Cricq (France 2) on economics, Europe, international and finally social issues.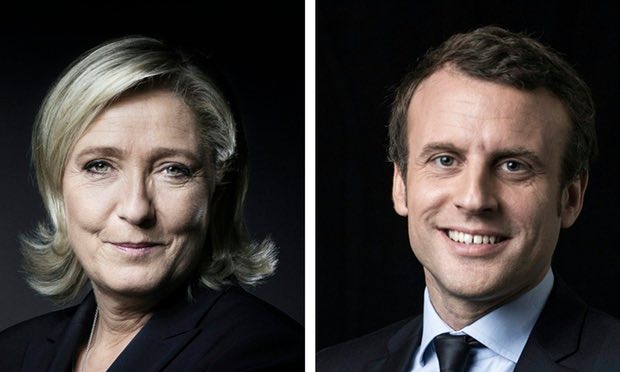 But in reality, it was difficult to hear real discussions because each candidate followed his own roadmap, attacking his opponent. Emmanuel Macron reminded the candidate of the National Front her origins as "heiress" and above all he pointed out his many approximations and errors.
The candidate of the National Front has put forward the "wild globalization" of which she accuses the candidate, as well as his passage to the government, even if to make him pay balance sheets that are not really his. She nevertheless went further in the attacks, hesitating to make allusions to rumors, for example that of "an off-shore account in the Bahamas", or even to the private life of his opponent.
---
Emmanuel Macron: France's enigmatic President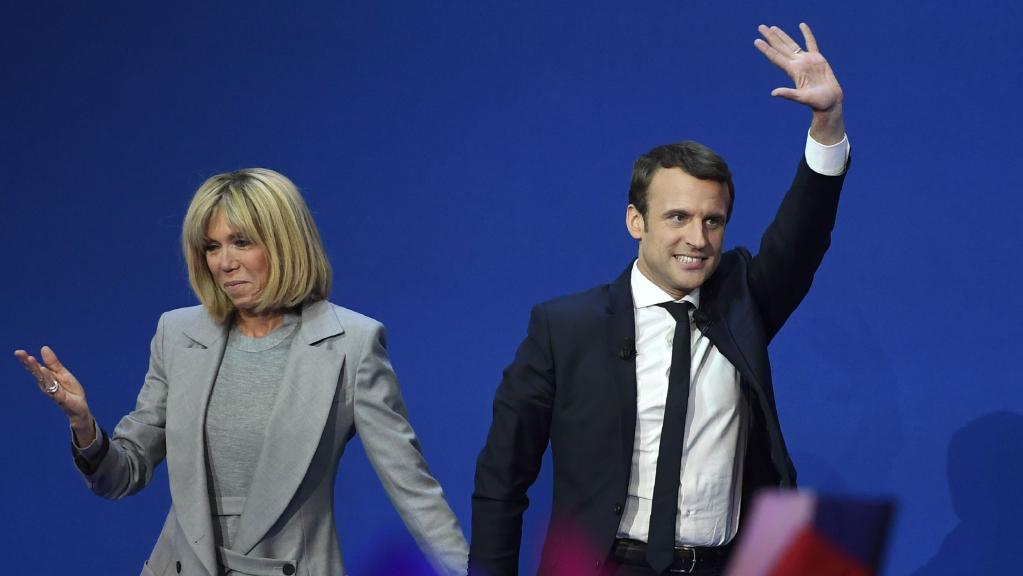 Emmanuel Macron and his wife, Brigitte after yesterday's victory.
BEN JUDAH - The Times 12:00AM April 25, 2017
Three years ago, nobody had heard of Emmanuel Macron. Today he is on the verge of becoming the president of France in the most spectacular style: not even 40 and with a new centrist party, En Marche!, that he founded last April.
We settle into second class for the next train ride of his campaign and the 39-year-old politician who thinks he can beat Marine Le Pen and break the populist wave shakes my hand. Macron's eyes are the clearest blue and his piercing, lingering stare is so dissecting, after a few moments it makes you glance away.
He is in a great mood. Polls released the day we meet last month have put him ahead of far-right National Front leader Le Pen for the first time, while increasing his lead over floundering Republicans candidate Francois Fillon. On Sunday, running in his first election, Macron was projected to win about 24 per cent in the first round of the presidential poll, guaranteeing him a place in the second round on May 7 against Le Pen.
The election comes against a backdrop of surging anti-EU feeling, mass unemployment, terrorism and ethnic tensions in France. A series of attacks has sparked fears of Islamist enclaves and lawless banlieues. Of France's top 10 most visited political websites, seven are Islamophobic or anti-Semitic hate sites. Yet as his rivals talk about societal collapse, Macron's sales pitch is one of optimism.
Macron wants France to be young and confident again. And everywhere he goes, there are young people listening. He runs En Marche! like a start-up — its office is full of les jeunes, tapping enthusiastically on MacBooks and wearing Macron T-shirts. He gives speeches like they are TED talks. And he keeps repeating this mantra: the left and right are exhausted, outdated, clapped out. We need to break, innovate, dare — or risk failing completely.
"What I am trying to do is gather the maximum amount of French people around a progressive offering," says the former minister of the economy, who split from the Socialists last year to unshackle himself from the traditional left. So far, it appears to be working. With En Marche! he has done what many progressive politicians can only fantasise about: created a new centrist party that is leading in the polls.
As we pull out of Paris, Macron sits reading an article about himself in a news magazine. They say he is the luckiest man in France — an outsider who has soared to first place while the centre-right Fillon sees his campaign go up in flames, fanned by corruption scandals and a criminal investigation. Meanwhile, Socialist candidate Benoit Hamon, weighed down by a hard-left agenda, has failed to fly.
Through the train window, villages and churches flash past. But Macron's mind is now in the France of banlieues, burning tyres and Charlie Hebdo — "I don't want to fall into civil war," he says. "The argument coming from the right and far right, singling out Islam and blurring Islam with terrorism, is an error. This is falling into the ­jihadis' trap. That means pushing us towards civil war. Pushing us towards the point of saying these 4.5 million French citizens of Muslim faith are the problem."
We are on the way to an En Marche! rally in the southwestern city of Bordeaux. Sitting next to him, looking like a French Jane Fonda, is the woman who is always at his side: Brigitte Macron, 63. She is his wife, not his mother — 24 years his elder. Scandalously, she was his drama teacher at school; they grew intimate when he was only 17, and he was in the same year as one of her children. The mother of three children went on to divorce her husband and marry the young prodigy in 2007.
"Emmanuel is a very good actor," she says. "He was in my class." But while Macron has transformed himself from boyish upstart into presidential hopeful, she remains every bit the retired provincial schoolteacher, clucking about what her husband was like as a young man.
She beams maternally and says she is shocked by the reality of the race. "I've been gripped," she says, "both by the enthusiasm of people, but sometimes also by the violent passions that politics can stir up. I wasn't ready. I hadn't expected it. There is a great, great violence."
They look odd together in matching silver wedding rings. Yet the closer you watch them, as they touch, exchange glances and joke with each other, the more you can see of their love, and that it is a connection you cannot fake.
Macron is already planning his first phone call to the White House. "Trump was elected by the American people," he says. "I'm waiting to see what he confirms in terms of strategy. Above all, I am waiting to see if he clarifies his strategy as concerns international relations, as I don't have the feeling it's completely clear today. Yet I have always said we need a strong partnership with the United States, and they remain strong. Europe must defend its values without weakness and hesitation."
Macron puts forward his unabashedly EU-first world view. "Russia, Iran, Saudi Arabia and, to a great extent, Turkey are emerging as powers that don't share the same values as us," he says. "Our world is becoming more uncertain. We need more Europe. China is knocking on our doors as an economic power. Who will protect France's great industries? Who will protect France's security?" He sees Le Pen as a threat to France's credibility: "Many people across Europe are concerned about the rise (of the National Front)."
To meet Macron is to meet an enigma, both unsettling and attractive. This unknowability has lent itself to countless conspiracy theories. The most demented hold that Macron has a double life as a freemason and, apparently because he once worked at a Rothschild investment bank, is an agent of a Jewish conspiracy to take over the world, despite the fact he went to a Catholic school.
He is certainly one of the most closed people I've met, and so smooth he could slip out of handcuffs. Many of Macron's acolytes, old schoolfriends and, indeed, many of his supporters can't put a finger on who he really is, either. Before our train ride together, I tracked down some of the friends who knew him best. From our conversations, three things are striking. The first is that everyone says he is brilliant — exceptional, talented, gifted. The second is that Macron is his own man, servant only to Brigitte. He has left everyone else — family and friends — behind. The third is that he is as ambiguous as a 17th-century cardinal. Is he really who he says he is? Is he really left or truly right? This mystery feeds persistent rumours — which he denies — about his sexuality. Macron rubbishes them, mocking the gossip of Parisian high society about him having had liaisons with Radio France chief executive Mathieu Gallet. There is nothing to back up these whispers.
Arnaud Dartevelle was Macron's closest friend at school at Amiens, in northern France. Now he is living in a scruffy banlieue 40 minutes from Paris. It hits me instantly: this is where the boys of their class who were not brilliant wind up. Macron may look and speak like a son of the Parisian bourgeoisie, but that's not how he began. In fact, he is the son of two provincial doctors.
"He kept part of himself secret," says Dartevelle, a history teacher. "He had this gift for easy acquaintance from a very young age while never revealing his whole personality, keeping his distance."
Born in 1977, Macron was his parents' second child after a stillborn elder sister. Two more siblings followed. His schoolfriends remember him playing the piano. They describe his relationship with his parents as distant and say the family atmosphere was strained. Macron says he was closest to his bookish grandmother: a socialist headmistress, child of peasants, who instilled in him a love of classical French culture.
Classmates say Macron seemed older than his years: he read 19th-century novels, listened to Brahms rather than Nirvana, adored hanging out in the staff­room, not the playground, and seemed to love his grandmother more than his parents.
Macron says he was a bookish escapist obsessed by novels when young. He has his grandmother's bookcase at his seaside house in Le Touquet. His city home is a flat in the chic 7th arrondissement, near the Eiffel Tower.
The early 1990s were an optimistic time in France: the Channel Tunnel opened, TGV trains arrived and the Maastricht Treaty on EU was signed. Anything seemed possible and the young Emmanuel was enthralled by French politics. "We discussed politics every day from a very early age," Dartevelle says. "I'm not surprised to see him as a politician … He always liked being the centre of attention." Touching the crowds, relishing every handshake, he is in his element, but with his advisers he seems oddly distant. "He never had symmetrical friendships," says Dartevelle. "They were never on an equal footing." He always seemed unapproachable. While other boys gossiped and bragged about girls, the young Emmanuel never did. "He wouldn't talk to me about love, life or things like that."
As a teenager, Macron already dazzled. Aged 14, his love letters were passed around and read by boys in the year above. That Macron was brilliant was taken as a given — but still some of his friends did not see politics as the obvious choice for him. "He was literary, philosophical, with a very soft voice and long, tumbling hair," says his former classmate Antoine Joannes, who now works on a television shopping show. "And then I clap eyes on him on TV, turned out all straight, with a very tight tie, talking about the economy as an adviser to President Hollande."
Amiens is a conservative place, but nowhere more so than where Macron went to school: the Jesuit-run lycee La Providence, bastion of the city's provincial bourgeoisie. A fee-paying independent school with playing fields and arts facilities, La Providence prides itself on instilling Catholic values into its pupils. Here, Dartevelle and Joannes were in the same theatre group as Emmanuel, under the supervision of Brigitte Auziere. About 17, they watched him fall in love with their teacher. "She was luminous," says Joannes. "His accelerator and his launching pad."
Scion of one of the grandest families in Amiens, five generations of chocolatiers specialising in macaroons, Brigitte, so classmates suggest, was Macron's ladder out. They remember her as a hip teacher who invited her favourite students to dinner at home. It was her daughter, born like Macron in 1977 and in the same year at the school, who first told Brigitte about the brilliant boy so charming and different from the others.
The forbidden love affair between Emmanuel and his teacher began over a play about a politician driven mad by a dramatist. He was 17. There were not enough roles for the whole troupe, so Emmanuel proposed to Brigitte they rewrite it. "We knew they were close," says Joannes. "I saw this fusion happening between them. But I imagined then that it was platonic love." Their affair scandalised their Jesuit lycee and petit bourgeois Amiens. Brigitte convinced Emmanuel to listen to his horrified parents, who insisted he leave for Paris to study at the Lycee Henri-IV and cool off their affair. At first Emmanuel refused, but she insisted. Leaving her at the station, Emmanuel swore this was not the end: she would never be rid of him. He is now step-grandfather to Brigitte's seven grandchildren.
Macron twice failed entrance exams to the elite Ecole Normale Superieure literary academy. Why? In interviews he brushes off the question: "I was too in love …" He would spend hours on the phone to Brigitte, who was knee-deep in provincial scandal, attempting, and slowly succeeding, to convince her to leave her husband. A literary failure, Macron began working as a research assistant for philosopher Paul Ricoeur. Dazzled, Ricoeur pushed Macron towards politics and he enrolled at Sciences Po, France's premier academy of political science.
You don't have to spend long with Macron to understand his message for progressives: grab and wave your flag. "To project yourself," he says, "you have to be rooted. Therefore, to be able to build a future, to seize opportunities, one must be rooted in a history, in geography, in a language." He invokes Joan of Arc in his speeches.
Talking to Macron on the train, a pattern becomes clear. He is evasive when it comes to actual politics, turning everything into a philosophical question, abstracting it outwards, or deflecting with reams of facts. When talking about French history he is completely in control, looking me straight in the eye, but on foreign policy I get the impression he is reciting a script. I notice this again during the first televised debate between the five main presidential candidates. Le Pen launched a zinger at Macron right at the end: "You are madly talented. You spoke for seven minutes and said nothing." Aides fret that she has a point.
To understand how Macron vaulted through a French political system designed to take decades to climb, I drive to the bijoux Paris suburb of Neuilly-sur-Seine to meet Jacques Attali, the legendary consigliore to French presidents Francois Mitterrand, Nicolas Sarkozy and Francois Hollande. He points towards his dining table. "This is where I introduced Macron to Hollande." Attali discovered the young civil servant in 2007 when heading a commission for Sarkozy on economic growth. "He was exceptionally brilliant and competent."
Attali was so impressed by Macron that he promoted him from an aide to a commission member, then introduced him to Hollande, who won the presidential election in 2012.
Though he campaigns against the system, Macron is really its finest product. What makes him stand out from the rest of France's ENA-trained ruling caste is that he left state service to work as an investment banker at Rothschild between 2008 and 2012, amassing a fortune of about £2.4 million.
Macron still sounds like a social democrat.
"What we are really suffering from," he says, "is a deregulated Europe that has let go of its primary vocation, which was to hold aloft our values of freedom and solidarity, a ­Europe that protects people, that has become ultra-liberal and uniquely primed towards the free market. This is what we must change."
Macron entered the Elysee in 2012 as Hollande's second closest aide, deputy secretary-general of his staff. Dissatisfied, he resigned two years later, fearing that because he had never been elected, he would never become a minister. Macron imagined he would spend time in London as a visiting research fellow at the London School of Economics and Political Science and as a consultant. He was working on the website for a planned consultancy when Hollande lost his minister of the economy. Macron was pessimistic about his chances. He was third choice for the job but got it.
Telegenic, the new minister quickly became the most popular in the government. He was an optimist. Against a backdrop of terror attacks and growing Islamophobia, Macron called for reconciliation with, rather than repression of, the Muslim minority. This is why Le Pen calls him a soft touch. He bristles at the accusation.
"Let me tell you that I am not a soft touch. My manifesto is one of zero tolerance in security matters," he says. "I want to be absolutely rigorous, but at the same time I do not confuse different issues. I do not want to fall into civil war, and protecting is not dividing. Otherwise it means arming one part of society against another."
Convinced that the system run by both main political parties rewarded only zealots, he broke with the Socialists to found En Marche!. His success was due to his systematic seduction of a whole elite: the billionaires, bankers, media ­tycoons and administrators they call le tout Paris. Macron "betrayed me methodically", Hollande said last year.
Macron says this was nothing personal. "I have built my approach on a fundamental strategic disagreement with Francois Hollande that is almost philosophical in its nature," he says. "Because he believes in political parties and this is where we disagree."
He gushes about En Marche!: "What we are carrying today in the clearest way is a political answer that takes the country forward into a new century, that promises to transform it, to face up to new risks and at the same time seize new opportunities, while giving everyone their place without preserving a real or imagined order."
Even many close to him find this a bit much. Attali says that despite the slogans, there is nothing revolutionary about Macron's employer, finance and technology-friendly manifesto of liberal structural reform and modest fixes to the system. Yet the man impresses: "He combines the culture of Mitterrand and the ­capacity for action of Sarkozy with the subtle intelligence of Hollande."
What is the secret of Macron? As the train approaches Bordeaux, I ask him what made him so attracted to risk. Up close are grey hairs and frown lines you would never imagine from TV. "That's a good question," he muses to his reflection in the window. "Taking risks is part of life. Wishing that away is to start lying to yourself … and to give in to the gloom. Succumbing to indifference, to the morose, to the day-by-day — that is the gravest risk. You only change things by taking risks, you only build things by taking risks."
In Bordeaux, I watch Brigitte watching Emmanuel. They look at each other constantly as he speaks. The drama teacher continually evaluating him and shaking her head. Emmanuel's eyes telling her he is trying as hard as he can. Sounding like Barack Obama on a bad day, he suddenly shifts gear. Two steps ahead, he is already fighting Le Pen in the run-off: "Cede nothing to the party of hate." Something fills his eyes, Brigitte bursts into tears, but as the crowd begins to chant "Macron president!" and wave the flag, you can tell they are frightened of what will come if he fails.
The Sunday Times
---
Who are Marine Le Pen and Emmanuel Macron?
Macron background claims: (French)
Emmanuel Macron: France's 'Rothschild Candidate'?
Emmanuel-Macron-Brigitte-Trogneux-parents-love-affair
---
WHO and WHAT is behind it all ? : >
---
Commentary:
Macron is a well groomed Bilderberg - Illuminati contestant for the French Presidency. Marine Le Pen fights for the opposite and supports Frexit.
Administrator
HUMAN SYNTHESIS