Biden To Announce Patriot Missiles For Ukraine As Zelensky Arrives In D.C.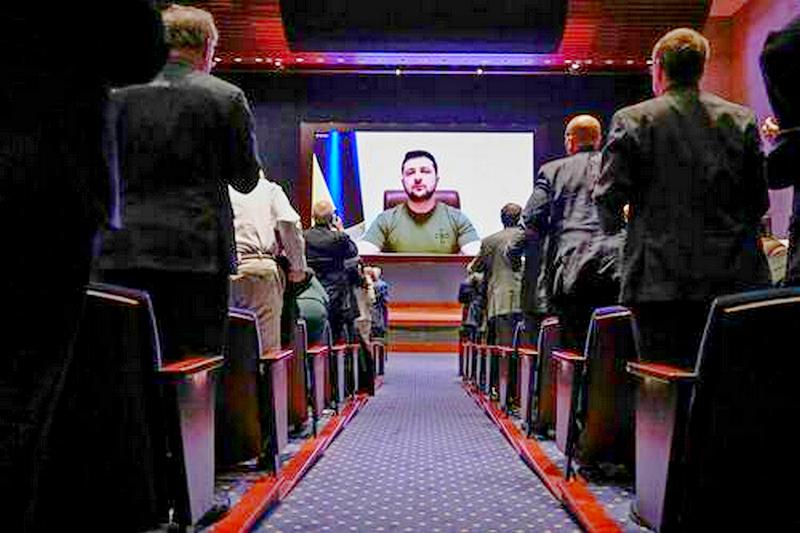 BY ZeroHedge - TYLER DURDEN - WEDNESDAY, DEC 21, 2022
With Ukraine's Zelensky reportedly in the air en route to Washington where he is to deliver a "very special" in-person speech to US lawmakers, it's being widely reported Wednesday morning that President Biden is expected to announce the US will deliver the Patriot missile defense system, along with another $2 billion in defense aid.
An admin official quoted in Axios said Zelensky's visit to Washington is expected to last just "a few short hours," and marks the first known trip the Ukrainian leader has taken outside the country since the war began. He's expected to hold an "in-depth, strategic discussion" with Biden, and the Congressional address is set for 7:30 pm EST.
The unnamed official further said the White House wants to put on a "big show of bipartisan support for Zelensky" in hopes of shoring up political "momentum" for continued assistance to Kyiv, which is also coming in the form of the enormous omnibus spending package which includes $45 billion in the military, economic, and other foreign aid to Ukraine.
White House Press Secretary Karine Jean-Pierre said in a statement that the Ukrainian president's visit will be received with "strong, bipartisan support for Ukraine."
She said, "The visit will underscore the United States' steadfast commitment to supporting Ukraine for as long as it takes, including through the provision of economic, humanitarian, and military assistance."
Zelensky in the meantime tweeted confirmation while en route...
Meanwhile, some initial reactions coming out of Moscow...
PUTIN: INTERBALLISTIC MISSILES SARMAT WILL BE DEPLOYED FOR COMBAT DUTY IN NEAREST FUTURE
RUSSIAN DEFENCE MINISTER SHOIGU: WE ARE READY FOR TALKS
RUSSIAN DEFENCE MINISTER SHOIGU: JOINT FORCES OF THE WEST ARE FIGHTING RUSSIA IN UKRAINE
WEST TRIES TO OVERLOOK NUCLEAR BLACKMAIL, INCLUDING OVER ZAPORIZHZHIA NUCLEAR POWER STATION
WEST TRIES TO DRAG ON THE FIGHTING IN UKRAINE
RUSSIAN DEFENCE MINISTER SHOIGU: WE ARE FIGHTING TO SAVE PEOPLE IN UKRAINE FROM GENOCIDE AND TERROR
THE MILITARY POTENTIAL OF UKRAINE IS BEING DESTROYED
It will be interesting to see whether Zelensky's appearance before Congress is greeted with the same level of enthusiasm from all corners of the GOP.
---
Zelensky To Address Congress In Person Wednesday As $45BN More In Aid Set For Approval
The D.C.-based online political news daily Punch Bowl revealed late Tuesday that Ukrainian President Volodymyr Zelensky is set to address Congress on Wednesday, but this time in person, as his plane has also possibly already arrived in the US.
It's believed the special address is the hidden subject of a letter circulated to lawmakers by House Speaker Nancy Pelosi on Tuesday which encouraged them to "be present for a very special focus on Democracy Wednesday night."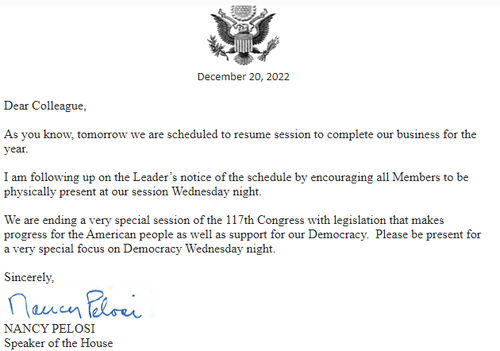 His appearance on Capitol Hill would mark the first time since the Feb.24 Russian invasion that he's left Ukraine. He's likely to use the occasion to "thank" lawmakers for proposing a gargantuan omnibus spending package that includes $45 billion in the military, economic, and other foreign aid to Ukraine.
But without doubt, he'll also quickly pivot to his "asks" - just like the first time he addressed Congress (virtually) on March 16 - which is likely to include another plea for the US military and NATO to "close the skies", as well as to send more advanced weaponry such as long-range missiles and warplanes.
Currently, there are fears that Russia is planning a large-scale further invasion alongside Belarusian forces, as Putin has been visiting Minsk this week for talks. Ukraine is also struggling to keep the power on amid devastating energy infrastructure attacks.
If Zelensky does again press for the US to "close the skies" - which would be tantamount to imposing a No Fly Zone (and bringing the US directly into the war with Russia) - it's likely to come couched in deeply emotional language, as the first speech to Congress was.
Zelensky's March address, it should be recalled, was laced with American patriotic references from Pearl Harbor to memories of 9/11 to Martin Luther King Jr, and even an appeal for Americans to "remember" the heroism and leadership etched on Mt. Rushmore. The speech further had a consistent theme that Russia had not just attacked Ukraine's people and values - but that it was an attack on "basic human values" and thus the West itself.
Likely Wednesday's new in-person appearance will include themes of suffering during Christmas, given on Tuesday that top Ukrainian officials alleged Russia is attempting to "steal" Christmas and impose maximum levels of suffering on the population. Lawmakers will meanwhile likely vote on the massive omnibus bill, which includes tens of billions of dollars for Ukraine, within days after Zelensky makes his speech.

developing...
---