Liz Truss reverses plan to scrap rise in corporation tax in latest U-turn after sacking chancellor and appointing Jeremy Hunt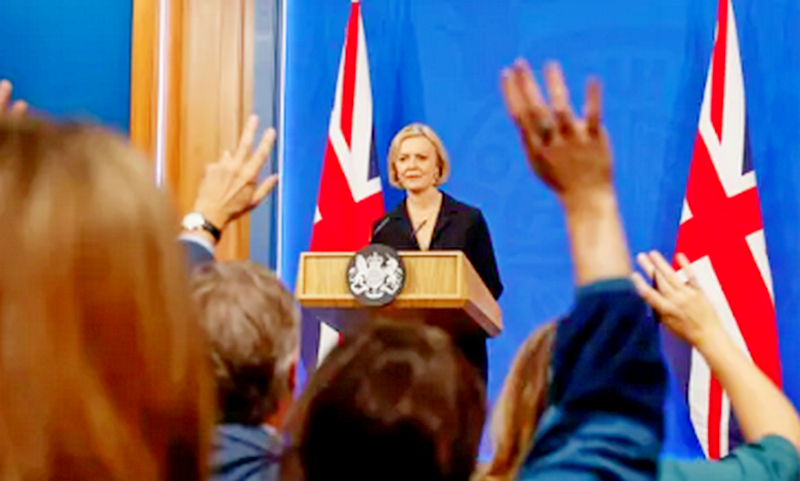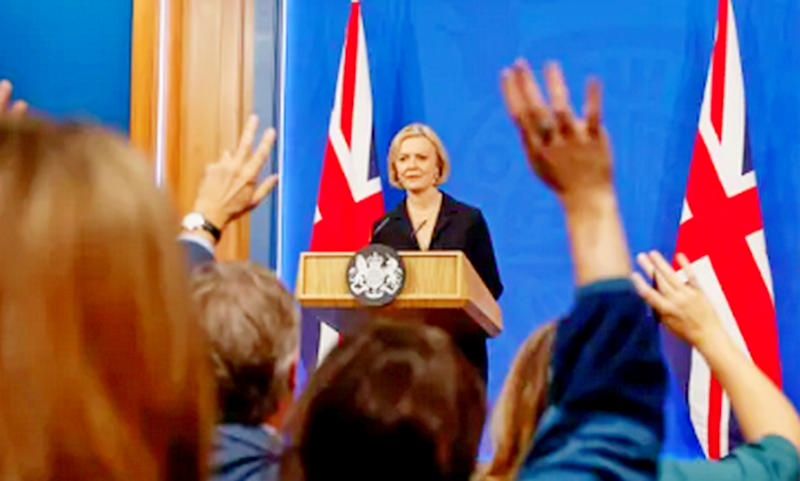 Guardian - Léonie Chao-Fong /Andrew Sparrow. 14 Oct 2022
Prime minister announces U-turn over corporation tax after sacking chancellor and appointing Jeremy Hunt
Liz Truss to raise corporation tax in U-turn
The prime minister, Liz Truss, is now speaking at the press conference in Downing Street.
Truss has bowed to intense pressure from Conservative MPs and the markets by scrapping her signature corporation tax cut from the government's mini-budget.
She says it is clear that parts of her government's mini-budget "went further and faster than markets were expected". She says:
So the way we are delivering our mission right now has to change. We need to act now to reassure the markets of our fiscal discipline.

I have therefore decided to keep the increase in corporation tax tat was planned by the previous government.
Labour's shadow chancellor, Rachel Reeves, says her newly appointed Tory counterpart, Jeremy Hunt, signs up to the same "trickle-down" model of economics as his predecessor which has "resulted in the instability and the insecurity and volatility" that we have seen in the past few weeks.
Reeves said:
Jeremy Hunt, when he ran to be leader of the Conservative Party, proposed even bigger cuts to corporation tax than what the Prime Minister and Kwasi Kwarteng brought in, so the idea that somehow this is a break with the failed trickle-down economics that we've seen from the Conservatives in recent weeks is just for the birds.
On whether the removal of Kwasi Kwarteng as chancellor would make any difference, she said:
We're now on the fourth Conservative chancellor this year, in fact on the fourth Conservative chancellor since July of this year, but the truth is another change in who is running the Treasury, another Tory chancellor, isn't the answer to the challenges we face as a country.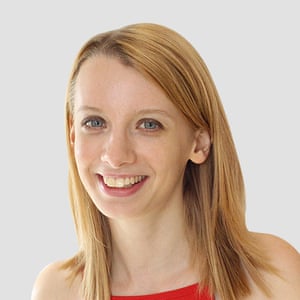 Jessica Murray
A Leicester council byelection resulted in a huge swing towards the Conservatives. They took the seat from Labour, who was knocked into third place in an area gripped by civil unrest last month.
The Conservatives won 49.6% of the vote in North Evington, with a 32.7-point swing in their favour, while Labour received just 22.5% of votes.
The Green party came second with 25.8% of the vote in a ward that was previously a Labour stronghold. Overall turnout in North Evington, a majority-Asian area dominated by the textiles industry, was 45%.
Some have attributed Labour's loss to the fact its candidate, Rajul Tejura, was widely reported as supporting India's Bharatiya Janata party (BJP) government. A picture of her in front of a lifesize cutout of Narendra Modi, at an event she organised to celebrate his election victory in 2019, was shared widely on social media.
Her candidacy was endorsed by the disgraced former Leicester East MP Keith Vaz, who appeared on a number of her campaign leaflets.
Huge swing to Tories in the local byelection for Leicester area hit by unrest
Support the Guardian
Elected by fewer than 0.2% of voters, British prime minister Liz Truss has a thin mandate for someone facing such a fat pile of problems: energy, inflation, strikes, the NHS, recession, and climate.
These are urgent issues for Guardian readers. So every day, we will report on Truss and her team, vetting her administration for competence, fairness and judgement in these matters.
Our editorial independence means we are free to expose the failings of those in power, and our journalism is always free from commercial and political influence. And because we believe everyone deserves access to truthful, trustworthy information, we choose to keep Guardian reporting open and free for all.
The new chancellor, Jeremy Hunt, has arrived at Downing Street to meet Liz Truss.
Hunt was photographed earlier leaving his house in Pimlico, London, on his way to meet the PM.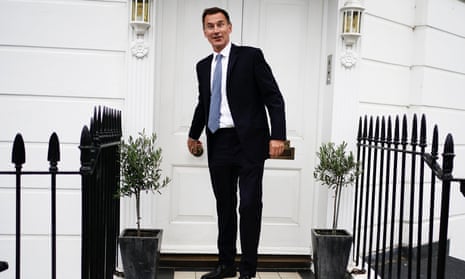 Philip Hammond, who was chancellor under Theresa May, said the Conservative party under Liz Truss had "thrown away years and years of painstaking work to build and maintain a party of fiscal discipline and competence in government". The arguments the Tories normally used against Labour on the economy would now look "extremely limp", he said, in an interview on the World at One.
Scotland's first minister, Nicola Sturgeon, said Liz Truss was now a "lame duck prime minister" who "forced" her former chancellor, Kwasi Kwarteng, to "carry the can for her decisions".
Speaking to BBC News, Sturgeon said:
I think the only decent thing that Tory backbenchers can do now is call time on Liz Truss and this entire UK government, and allow people across the UK to have a general election.

This was beyond a joke, it was never funny, but Liz Truss has already, through her own decisions, crashed the economy and heaped misery on people who were already struggling with the cost of living crisis.
Truss had shown herself to be "completely out of her depth" as PM, she continued. She added:
The sooner she goes and the sooner people get the chance to get rid of this Tory government that is doing so much damage, once and for all, the better.
Last night the Conservative MP and Liz Truss supporter Sir Christopher Chope told Newsnight that the PM was not going to U-turn on her mini-budget. Asked specifically if there would be a U-turn on corporation tax, he replied:
She's not going to. I would feel that this was a complete betrayal of all that she believes in. Liz Truss is a calm, considered, very clever, intelligent person and she is not going to pursue a policy which is totally inconsistent with her policy of promoting growth and one where promoting growth is by keeping tax low.
Now Chope is saying his party has become a "laughing stock". This is from Bloomberg's Emily Ashton.
With her former chancellor and "great friend" Kwasi Kwarteng gone, how long with Liz Truss survive in her position? Will she last longer than a 60p Tesco lettuce? That's the big question.
The Daily Star has set up a live "lettuce-cam" YouTube feed with a portrait of the PM next to lettuce wearing googly eyes.
Who do you think has a longer shelf life? Lettuce knows (sorry).
(The Daily Star was inspired by the Economist, which earlier this week published an editorial saying that, if you ignore the period set aside for mourning the Queen, then Liz Truss had just seven days in control as prime minister – "the shelf-life of a lettuce".)
The former Labour leader, Ed Miliband, has reposted an old tweet by David Cameron who warned Britain faced a choice between "stability and strong government" with him, "or chaos with Ed Miliband".
Miliband has retweeted Cameron's 2015 tweet, along with the clown face emoji.
Here is the full text of Liz Truss's opening statement at her press conference.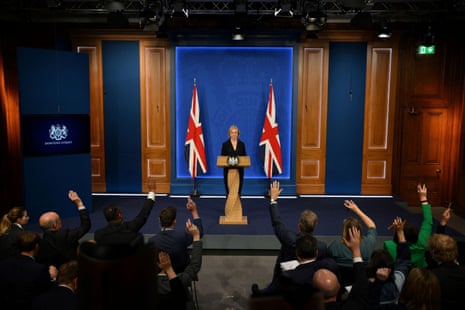 The Liz Truss press conference has failed with one of her key audiences, the Conservative parliamentary party, according to reporters taking soundings from MPs. My colleague Pippa Crerar is picking this up. (See 3.35pm.) And other journalists are too.
From the Sun's Harry Cole
Government bond, FTSE rally fades, sterling slides after Truss's press conference
Despite the climbdown on corporation tax, which the markets were expecting, Liz Truss failed to give the reassurances the public and investors were looking for.
The FTSE 100 index has now pared gains and is only 42 points ahead at 6,891, a 0.6% gain. The pound has dropped 1.2% to $1.1191.
Government bonds were rallying before the press conference, pushing yields sharply lower, but the yield on the 30-year gilt has since ticked up 5 basis points to 4.6%.
The rise in corporation tax from 19p to 25p next April, originally announced by then-chancellor Rishi Sunak March and which Truss attacked during the leadership contest, will now go ahead.
For more market reactions to the PM's latest U-turn announcement, please follow my colleague Julia Kollewe's business live blog. Pound selloff intensifies, government bond, FTSE rally fades after Liz Truss press conference – as it happenedRead more
Here's the prime minister, Liz Truss, announcing in this afternoon's press conference that she will raise corporation tax in the government's mini-budget, marking yet another humiliating U-turn.
Truss said it was clear that parts of her government's mini-budget "went further and faster than markets were expecting".
Tory MPs have been texting the Guardian's Pippa Crerar to say they think that Liz Truss's press conference has made things worse.
Sam Coates from Sky News has shared a screenshot reportedly showing WhatsApp messages between Tory MPs.
The screenshot apparently shows the former culture secretary Nadine Dorries telling Crispin Blunt he needs "a lie down" if he thinks the party can impose a new leader without a general election.
Blunt allegedly calls for Rishi Sunak and Penny Mordaunt to take over as leader, a move Dorries describes as "the most undemocratic proposal imaginable."
The new chancellor, Jeremy Hunt, was spotted arriving at his house in Pimlico in London just an hour after his appointment was announced.
Asked what he hoped to achieve as chancellor, he said:
We'll have lots of chances to talk later.
Hunt did not reply when journalists asked him if he thinks Liz Truss "has any credibility".
William James from Reuters news agency reports that Hunt briefly shut his wife out of the house as he tried to get away from the cameras.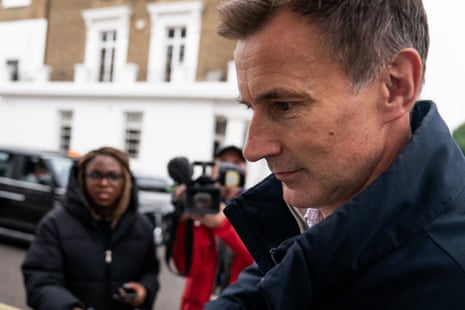 Truss's press conference following mini-budget U-turn and sacking of chancellor - snap verdict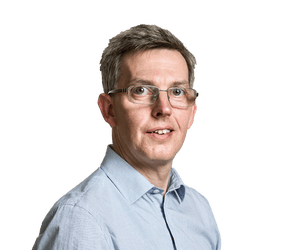 Andrew Sparrow
Was that it? By the time Liz Truss stood up to start her press conference (although a briefing where only four questions were allowed barely counts), we already knew that she was about to abandon the key thrust of her mini-budget and that her chancellor had been sacked. The big question was whether Truss would be able to survive herself. Her performance will have done little or nothing to persuade her MPs, or anyone else, that she will, or even that she should.
Truss said that the corporation tax rise planned by Rishi Sunak, which she campaigned to abandon during the Tory leadership campaign, would go ahead anyway. She said this was in response to the fact that her mini-budget "went further and faster than markets were expecting". (Until today she has implied that global factors, not the mini-budget, were mainly to blame for the recent market turmoil.)
But then she tried to explain that she was being consistent with the mission she set out during the leadership contest (boosting growth), even though it is obvious that her strategy has gone up in flames. And – crucially – she failed to explain why, if the chancellor had to go, she should not quit too.
In so far as she did have an answer to this, it was that she is "absolutely determined to see through what I have promised, to deliver a higher growth, more prosperous United Kingdom, to see us through the storm we face".
Her problem was not just that this line does not explain why she should stay on in No 10 when they are plenty of other people who share her commitment to growth and who have a lot more credibility as leaders likely to deliver it. Her whole manner during the press conference advertised a lack of confidence and authority.
She started with a personal plea about how she knew what it was like growing up "somewhere that isn't feeling the benefits of growth". This was a reference to the time she spent in Paisley as a child, but she had a middle-class upbringing and spent her teenage years living in one of the nicest parts of Leeds. This implied sob story sounded phoney.
Then she only took four questions. Normally politicians who feel the need to persuade the press, or the public at large, are well advised to keep taking questions at a press conference like this until they run out. Not only did Truss fail to do that, she also deliberately started with questions from the two papers most likely to be favourable, the Daily Telegraph and the Sun. Only then did she take questions from the BBC and ITV, who normally get priority at the events.
If Truss was hoping for soft questions first, it didn't work. But the hardest question was probably the final one, from ITV's Robert Peston. He asked if she would apologise to her party. She wouldn't.
The lack of contrition matters because, if Truss is going to survive, she is going to need to secure the goodwill of Tory MPs. With this sort of responsibility-dodging and blame avoidance, she won't get it.
Meanwhile, the former Conservative minister Michael Gove appears to be enjoying himself away from the turmoil of Westminster politics.
He says he has spent the day in his constituency speaking to local headteachers about "providing strong leadership".
He says he also spent the morning discussing "trip hazards" and said, hopefully, that "all should be fixed by mid-November".
We have some market reaction to Liz Truss's press conference where she announced that the government will scrap the planned rise in corporation tax.
---