Russia-Ukraine war: at least 10 killed in Russian missile strikes as Putin threatens more retaliation for Kerch bridge bombing – live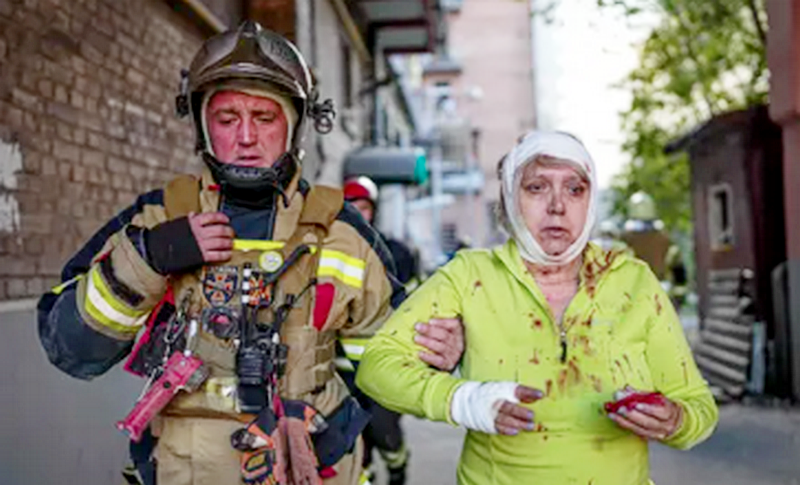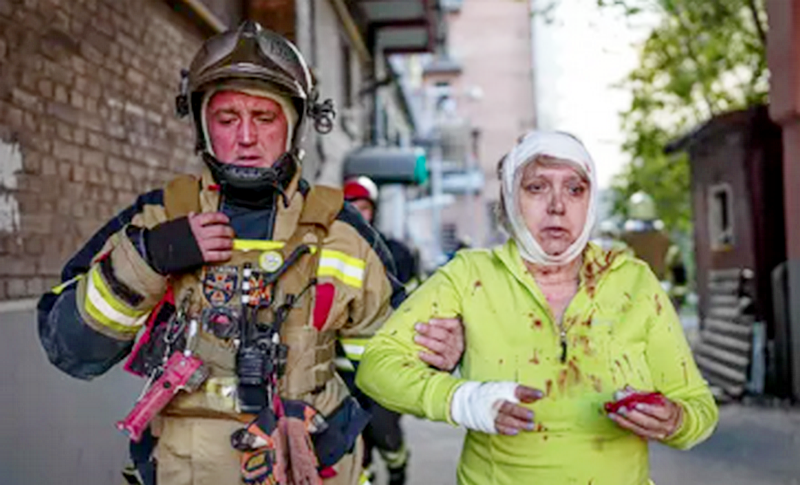 The Guardian - Léonie Chao-Fong (now); Martin Belam and Samantha Lock (earlier)Mon 10 Oct 2022 13.42 BST
At least 10 people were killed and 60 wounded in Russian missile strikes across Ukraine
Russia-Ukraine war: at least 10 killed in Russian missile strikes as Putin threatens more retaliation for Kerch bridge bombing – live
A wave of attacks on Ukrainian cities injures at least 60 people; Russian president talks of 'harsh response' to Kerch Bridge attack
Show key events only from 1h ago12.46
Earlier, authorities in Kyiv said eight people had died and 24 were injured in Russia's missile strike on the capital's Shevchenkivskyi district this morning.
In a statement, Ukrainian interior affairs adviser, Rostyslav Smirnov, said:
Kyiv. As of 08:45 a.m., eight people were killed and 24 injured in Russia's shelling of the capital city's Shevchenkivskyi district. Six cars caught fire, and over 15 cars were damaged.
Updated at 12.50 BST3m ago13.41 BST
Death toll from Russian missile strikes in Ukraine rises to 11
The death toll from today's Russian missile strikes targeting cities across Ukraine has risen to at least 11, according to Ukraine's state emergency service.
Ukrainian police had earlier said at least 10 people and 60 people were injured as a result of Russian attacks. In Kyiv, authorities said a missile strike on the capital's Shevchenkivskyi district left eight people dead.
The number of wounded has risen to 64, Ukraine's state emergency service said.
Updated at 13.42 BST8m ago13.36 BST
Red Cross has paused its operations in Ukraine for security reasons, according to a spokesperson, after Russia launched a massive wave of strikes across the country.
An International Committee of the Red Cross spokesperson told Reuters that their teams in Ukraine have temporarily halted work today.
The Norwegian Refugee Council have also said that it has paused its aid operations in Ukraine until it is safe to resume.
Vladimir Putin said missile strikes on Kyiv and other Ukrainian cities on Monday were a response to what he called "terrorist action", referring to the attack on Kerch bridge on Saturday, which connects Russian-occupied Crimea to Russia.
"It is simply impossible to leave crimes of this kind unanswered," he said, adding that the decision was taken to strike various Ukrainian cities after the Russian defence ministry put forward a proposal.
Speaking at a Russian security council meeting, Putin also said Russia would respond harshly to any continued threats. "Russia's response will be harsh and its scale will correspond to that of the threat made against the Russian Federation," he said.
Support the Guardian
Where will it all end? The conflict in Ukraine appears further than ever from resolution. Nuclear threats, mass graves, the sense that both sides are "all in". With correspondents on the ground on both sides of the Ukraine-Russia border, in Kyiv, Moscow, Brussels and other European capitals, the Guardian is well placed to provide the honest, factual reporting that readers will need to understand this perilous moment for Europe, the former Soviet Union and the entire world. Free from commercial or political influence, we can report fearlessly on world events and challenge those in power.
We believe everyone deserves equal access to accurate news. Support from our readers enables us to keep our journalism open and free for everyone, including in Russia and Ukraine.
27m ago13.17 BST
Air raid sirens were reported again in Kyiv
Air raid sirens are being reported in Kyiv once again.
From the Kyiv Independent's Illia Ponomarenko:
Ukraine World's Volodymyr Yermolenko also reported hearing air raid sirens:
Updated at 13.21 BST32m ago13.12 BST
Outside Taras Schevchenko University in the centre of Kyiv, the main junction was cratered by a blast from a rocket that destroyed three cars, killing several occupants, with images from the immediate aftermath of the attack showing burning cars and first aiders treating the wounded.
Seconds later another missile struck a neighbouring park and children's playground, opposite the university, ploughing up paving stones, bending the play furniture and snapping a nearby tree.
Watching the clean-up outside the university, Viktoria Morozova, aged 17, said she had been walking to her own nearby college when the attack took place.
I was just leaving home for university when I heard the explosions. I went back to where I live and went up to the roof of my apartment block to see what was going on.

My father lives very close to the park with my brother but luckily they weren't home. It's an atrocity. A terrorist act. This should not be happening. I don't know what the point is of all this. Maybe it's their answer for the Crimean bridge.
Tetiana Kononir, aged 58, who lives nearby, was also watching the clean-up.
It's terrible. I don't know what to say. Who can know what Putin is thinking? I can't even say whether he's sick or whether he's trying to frighten us or not.

I don't know what's in his head, what's in his heart. This happened right in the middle of the rush hour. And other places were hit too. They also hit a business centre not far from my home, by the train station. We cannot be frightened. This only unites us even more. He will never defeat us. He will never put us on our knees.
A short walk away, across the nearby park with its plane trees and now damaged coffee kiosks, Dmytro Olyzko and his daughter Kamila, eight, had been visiting a nearby children's hospital when the missiles struck.
The parents there told me that all children at the hospital come here to play. If it happened two hours later the playground would have been full of children. I don't know where were they aiming or what were they targeting here.

They are just trying to scare people. As far as I know, they didn't strike any military objects.
As extraordinary as the evidence of the destruction, however, was how quickly Kyiv returned to normal life after the attack.
Within a handful of hours and within 200 metres from the site of the attack near the university, a boy was doing tricks on his skateboard on the plinth of a sandbagged statue outside the opera house, shops and restaurants were opening again, and in the park, people walked their dogs.
Even at the height of the waves of missiles and drones, residents of Kyiv, who survived the weeks of Russian onslaught at the beginning of the war, seemed largely unphased by the latest assault, singing songs in the metro stations where they took cover, while cafe workers handed out drinks.
Updated at 13.19 BST38m ago13.06 BST
NATO chief condemns Russia's 'horrific and indiscriminate attacks in Ukraine
Nato's secretary general, Jens Stoltenberg, has condemned the "horrific and indiscriminate" missile attacks by Russia on civilian targets in Ukraine.
Stoltenberg said he had spoken with Ukraine's foreign minister, Dmytro Kuleba, and pledged Nato's continued support for Ukraine against Russian aggression "for as long as it takes".
Updated at 13.18 BST42m ago13.02 BST
Ukrainian military intelligence has said that Russia had been planning Monday's missile strikes on Ukrainian cities since the start of October.
Russian troops "received instructions from the Kremlin to prepare massive missile strikes on the civilian infrastructure of Ukraine on October 2 and 3", the intelligence arm of the Ukrainian defence ministry said in a statement.
The statement continued:
The military units of the strategic and long-range aviation received orders to prepare for the task of massive missile attacks. The objects of critical civil infrastructure and the central areas of densely populated Ukrainian cities were identified as targets.
The head of Ukraine's railways expressed his regret that some of the trains on his network faced delays as a result of Russian missile attacks across the country.
Alexander Kamyshin, chief executive of state-owned Ukrainian Railways, tweeted this morning:
Serhiy Leshchenko, an adviser to President Zelenskiy, shared a video of staff at Kyiv's main train station clearing up hours after the city centre was shelled.
Updated at 13.14 BST1h ago12.48 BST
Volodymyr Zelensky said his country was "dealing with terrorists" after several Ukrainian cities, including the capital, were hit by Russian missiles on Monday.
Speaking outside the presidential office near where some of the missiles hit, Zelenskiy accused Russia of targeting power facilities and civilians. "They deliberately chose such a time, such goals, in order to cause as much harm as possible," he said.
Earlier, authorities in Kyiv said eight people had died and 24 were injured in Russia's missile strike on the capital's Shevchenkivskyi district this morning.
In a statement, Ukrainian interior affairs adviser, Rostyslav Smirnov, said:
Kyiv. As of 08:45 a.m., eight people were killed and 24 injured in Russia's shelling of the capital city's Shevchenkivskyi district. Six cars caught fire, and over 15 cars were damaged.
Updated at 12.50 BST1h ago12.38 BST
Residents in Kyiv are returning to the streets of the Ukrainian capital after the air raid alert ended after nearly six hours.
Ukrainian warfare expert Liubov Tsybulska shared an image of people sitting outside a cafe after the air raid alert was lifted:
Kyiv's mayor, Vitali Klitschko, said train services on all metro lines had resumed after they were suspended due to Russian missile strikes across the city.
The New York Times's Megan Specia tweeted images of people back on the Kyiv metro.
The Ukrainian MP Lesia Vasylenko also shared photos of the streets of Kyiv after the air raid alert ended, vowing that the resilience of people will only grow because "Ukraine just wants to live and live it shall".
Updated at 13.01 BST1h ago12.28 BST
The president of the United Arab Emirates, Sheikh Mohamed bin Zayed al-Nahyan, will visit Moscow tomorrow to meet Vladimir Putin, UAE state media reported.
Mohamed "will discuss with President Putin the friendly relations between the UAE and Russia along with a number of regional and international issues and developments of common interest", the UAE's state-owned news agency WAM said.
The UAE leader's visit comes days after the Saudi-led Opec oil cartel and its allies, including Russia, agreed to lower their oil output in an attempt to raise prices, despite appeals from the US to increase production.
Updated at 13.00 BST1h ago12.16 BST
Romania's foreign minister, Bogdan Aurescu, said a Russian missile strike on Kyiv landed 850 metres from the Romanian embassy in the Ukrainian capital this morning.
Ukrainian journalist Olga Tokariuk writes that it is important not to equate the attack on the Kerch bridge on Saturday with Russian missile attacks on civilian targets this morning.
It comes after President Vladimir Putin said Russia had struck military and infrastructure targets across Ukraine in retaliation for the bridge attack.
The European Union condemned Russia's "heinous attacks" on Kyiv and other Ukrainian cities earlier today, and said Russian missile attacks on civilians in Ukraine "amounts to a war crime".
The attacks were "barbaric and cowardly" and a contravention of international humanitarian law, Peter Stano, a spokesperson for the European Commission, told reporters.
He said:
Indiscriminately targeting people in a cowardly, heinous hail of missiles on civilian targets is indeed a further escalation.
The European Union condemns in the strongest possible terms these heinous attacks on the civilians and civilian infrastructure.... This is something which is against international humanitarian law and this indiscriminate targeting of civilians amounts to a war crime.
Asked about Belarus agreeing to deploy a joint military task force of Russian and Belarusian troops on the country's western borders, Stano warned Minsk to "refrain" from further helping Moscow in Ukraine.
He said:
We don't have the details [on the joint deployment] but if this proceeds, this will be yet another escalation" of the "illegal war" in Ukraine.
Belarus's actions "will not be unanswered from the side of the European Union", he warned.© 2022 Guardian News & Media Limited or its affiliated companies. All rights reserved.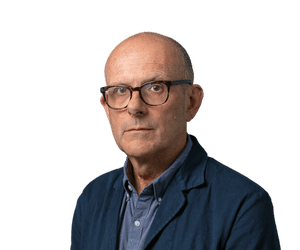 Peter Beaumont
Our correspondent, Peter Beaumont, reports for us from Kyiv:
---