Russia-Ukraine war with Russia's Depleted Forces Stalled, Putin Expands Army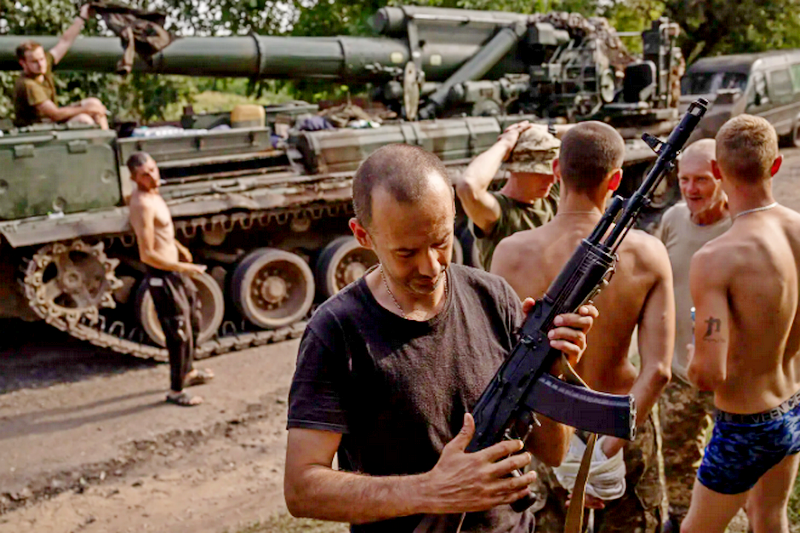 The New York Times - 25 August 2022
Here's what we know:
A decree signed by the Russian president will add 137,000 service members to the military starting next year. The expansion averts mass Russian conscription. Ukraine is hitting Russian forces behind the front lines but has a long way to go, a top official cautions.
Biden and Zelensky reaffirm their alliance as the war enters its seventh month.
The Zaporizhzhia nuclear plant was briefly cut off from Ukraine's grid, leading to outages, officials say.
A strike on a train station is one of the deadliest on Ukraine's railways since April.
War gives the fight to preserve Ukraine's cultural identity new urgency.
The expansion averts mass Russian conscription.
President Vladimir V. Putin on Thursday ordered a sharp increase in the size of his armed forces, a reversal of years of efforts by the Kremlin to slim down a bloated military and the latest sign that the Russian president, despite heavy battlefield losses, is bracing for a long war in Ukraine.
The decree, signed by Mr. Putin and posted on the Kremlin website, raised the target number of active-duty service members by about 137,000, to 1.15 million, as of January of next year, and ordered the government to set aside money to pay for the increase. Military analysts were puzzled over how such a sharp increase could be managed.
It was the first time in five years that Mr. Putin had issued an order changing the overall head count of the Russian armed forces. Officials offered no explanation for the move, and there was little mention of it on state television. U.S. military officials estimate that Russia has suffered up to 80,000 casualties — including both deaths and injuries — during Mr. Putin's invasion of Ukraine.
Some analysts described the move as a clear signal that, after a full six months of fighting, Mr. Putin had no plans to relent.
"This is not a move that you make when you are anticipating a rapid end to your war," said Dara Massicot, a senior policy researcher at the RAND Corporation. "This is something you do when you are making some kind of plan for a protracted conflict."
There is mounting evidence that the war in Ukraine could stretch to next winter and beyond. Russia's offensives in the east and south have slowed to a crawl. And neither side has shown any readiness to negotiate or compromise — not Russia, which had initially moved to topple the Kyiv government and now aims to seize large swaths of Ukraine's territory, nor Ukraine, whose freedom and sovereignty are at stake.
While enjoying a significant superiority in artillery and in long-distance missiles, Russia's forces have been unable to capture significant territory since the beginning of July, when the city of Lysychansk in the country's Luhansk region fell.
Military analysts and reporters on the ground have been attributing the slowing pace of Russia's offensive to a lack of manpower. Over the past months, Russia has been scrambling to recruit volunteers to serve in Ukraine in what some analysts called a "stealth mobilization."
Currently, Russia requires men aged 18 to 27 to do one year of active military service, although the precise number called up at any given time fluctuates. But the army also has career soldiers who serve under contract, including women.
So far, Mr. Putin has avoided mass conscription to provide soldiers for the war in Ukraine. One reason is that declaring a national draft would destroy the veneer of normalcy that the Kremlin has been able to maintain despite economic sanctions and continuing fighting.
Instead, the Russian authorities have been luring recruits to join combat by offering them hefty cash incentives and other perquisites. At the end of May, Mr. Putin also signed a law that scrapped the age limit of 40 for contract soldiers.
Pavel Luzin, a Russian military analyst, said that he was skeptical about Russia's ability to increase its armed forces without major changes.
He said that Mr. Putin's decree would only increase the number of troops "on paper against the reality on the ground," unless Russia is forced to increase the duration of compulsory service from one year to 18 months. Another solution, he said, would be absorbing some of the country's national guard forces into the army.
— Ivan Nechepurenko and Anton Troianovski
Ukraine is hitting Russian forces behind the front lines but has a long way to go, a top official cautions.
KYIV, Ukraine — Even as the Ukrainian government sought to bolster the nation's resolve with defiant commemorations of its Independence Day, military leaders tried to brace the public for a long, bloody slog ahead as Russia appeared to be aiming to strengthen its grip on Ukrainian territory it has seized.
"It's going to be very difficult; it's not going to be easy," the head of Ukraine's National Security and Defense Council, Oleksiy Danilov, said in an interview aired Wednesday with Radio Liberty, a U.S.-funded independent news organization. "And if someone thinks that we have already passed some kind of Rubicon and that the rest will be like clockwork, unfortunately, it will not be."
The Russian Ministry of Defense has said it was slowing the pace of its military campaign — a reflection, Western military analysts say, of the Kremlin's need to explain the lack of military progress at home after going weeks without gaining significant new ground in Ukraine.
But Moscow continues to rain rocket strikes on the country, including on Wednesday, when two dozen people were killed in an attack on a train station in the east. And the United States warned that Moscow may try to stage "sham" referendums, possibly as soon as this weekend, in order to provide a veil of legitimacy as it moves to annex parts of the country under its control.
"We expect Russia to try to manipulate the results of these referenda under the false claim of the Ukrainian people wanting to join Russia," John F. Kirby, the National Security Council spokesman, told reporters on Wednesday. "It will be critical to call out and counter this disinformation in real-time."
He did not offer more detail on why the United States thinks referendums could move so quickly, or what effect such a move could have on efforts to negotiate an end to the fighting. President Volodymyr Zelensky of Ukraine has previously said he would end talks with Russia if Moscow holds referendums in occupied areas.
The Ukrainian government has been urging people living under occupation to resist pressure to participate in the referendums. Its network of partisan fighters has stepped up its attacks on local Russian proxy administrations.
The Ukrainian military's southern command said on Thursday that "local resistance prevents the Russians from taking organizational measures to prepare a fake demonstration of will."
The concern about Moscow's referendum planning underscores the steep challenges Ukraine faces as it seeks to translate losses it has recently inflicted against Russian forces into successfully regaining territory. Moscow is now estimated to control some 20 percent of Ukraine.
Strikes against ammunition depots and command centers — along with the work of partisans targeting Russian occupation forces behind enemy lines — are part of a counteroffensive as the Ukrainians seek to both degrade Russian forces and sow chaos.
But as Mr. Zelensky and other leaders have vowed that Ukraine will win the war, they have also repeatedly urged Ukrainians living under Russian occupation to be patient.
Ukrainian forces have yet to make any major push to drive the Russians from occupied territory, and officials have said they understand they have a limited amount of time to take advantage of Russia's apparent struggles. And Ukraine, too, has lost fighters and equipment, as its civilians have suffered through frequent Russian strikes.
Mr. Danilov said the hardest days may yet lie ahead.
"We will have a big war with this country," he said, "and we will have to put a lot of effort in order to win."
To our readers:
Stories like this are possible because of our deep commitment to original reporting, produced by a global staff of over 1,700 journalists who have all dedicated themselves to helping you understand the world. That work is only possible because of the support of our subscribers. We hope you'll consider becoming one today.
Biden and Zelensky reaffirm their alliance as the war enters its seventh month.
WASHINGTON — President Biden talked with President Volodymyr Zelensky on Thursday, White House officials said, reaffirming U.S. support for Ukraine as Russia's invasion stretches into its seventh month.
In a statement after the call, the officials said that both leaders expressed concern about ongoing fighting around the Zaporizhzhia nuclear power complex in Ukraine, which Russian forces seized several months ago. Shelling at the plant damaged power lines on Thursday, briefly cutting it off from Ukraine's grid and causing lasting outages in some areas.
The leaders called for Russia to return full control of the complex to Ukraine and for inspectors with the International Atomic Energy Agency, the U.N.'s nuclear watchdog, to access the plant. The agency's director, Rafael M. Grassi, intends to lead the inspection team himself and said on Thursday that necessary agreement from both Ukraine and Russia could come within days.
Mr. Biden's call with Mr. Zelensky came as Ukraine's forces continue to battle Russians in the eastern and southern parts of the country. On Wednesday, as the war ended its sixth month on Ukraine's Independence Day, Mr. Biden announced that the United States would deliver nearly $3 billion worth of arms and equipment to Ukraine, its largest single package of military aid during the war.
Since Russia invaded on Feb. 24, the United States has given Ukraine more than $13 billion in security assistance.
Mr. Biden "congratulated Ukraine on its Independence Day and expressed his admiration for the people of Ukraine, who have inspired the world as they defended their country's sovereignty over the past six months," the White House statement said.
Asked by reporters whether Mr. Biden retained full confidence in Mr. Zelensky, Karine Jean-Pierre, the White House press secretary, said that the administration supported "Zelensky, the president, and his fight for freedom."
Mr. Zelensky, who has repeatedly swung from chiding Western allies for delivering aid too slowly to expressing his deep appreciation, said on Twitter that he had "a great conversation" with Mr. Biden and thanked him for "the unwavering U.S. support for the Ukrainian people."
"We discussed Ukraine's further steps on our path to the victory over the aggressor and the importance of holding Russia accountable for war crimes," Mr. Zelensky said.
The Zaporizhzhia nuclear plant was briefly cut off from Ukraine's grid, leading to outages, officials say.
KYIV, Ukraine — Ukraine's largest nuclear power plant was briefly disconnected from the nation's power grid for the first time in its history, according to Ukrainian officials, leading to large-scale power outages in nearly all the Russia-occupied cities of southern Ukraine.
The Zaporizhzhia Nuclear Power Plant — which provides one-fifth of Ukraine's electricity but has been occupied by Russian forces for months — was still able to generate power to meet its own needs and to keep essential systems working safely, according to the Ukrainian energy agency, Energoatom.
The agency blamed the Russians for shelling key infrastructure around the plant that led to its "complete disconnection" from the power grid, "the first in the history of the plant."
The lines connecting the plant to infrastructure that helps transmit the power it generates to more than four million homes have come under repeated assault in recent weeks. The Ukrainians and Russians have traded blame over who is responsible for the shelling, which has continued despite international calls for the creation of a demilitarized zone around the plant. Russia has rejected that proposal.
The International Atomic Energy Agency is trying to negotiate a visit to the plant by its experts to verify its safe operation. The head of the United Nations agency, Rafael Mariano Grossi, said that an agreement on a visit could be reached within days.
"We are very, very close to that," Mr. Grossi told the France 24 news network, although he emphasized that the terms of the visit, and security arrangements to allow the inspectors to travel through a zone of active fighting, were yet to be finalized.
In recent days, shelling has hit infrastructure outside the plant, damaging three of the four lines connecting the nuclear facility to the national grid.
On Thursday, Energoatom said the fourth and last line was damaged twice, briefly disconnecting the plant entirely from the power grid. Each time engineers raced to repair the lines. The line was cut for about seven minutes at shortly after noon and then again for a brief period at 2:14 p.m.
The precarious working conditions at the plant and recent shelling at the facility have raised global alarm. The British military intelligence agency on Thursday released new satellite photos showing Russian military equipment parked close to the working reactors.
But the most immediate impact of the fighting around the plant is being felt by hundreds of thousands of Ukrainians living in Russia-occupied towns and cities across southern Ukraine.
The exiled mayor of Enerhodar, Dmytro Orlov, said the city was "once again on the verge of a humanitarian disaster."
"Today, as a result of enemy shelling, the city was completely left without electricity and water," he said.
Several hours later, he said that workers at the nuclear power plant managed to restore power to the city. But outages in other southern cities remained, including in the Russia-controlled port city of Berdyansk, more than 130 miles to the south.
Residents in the city said cellphone service on the Russian-installed mobile network was not working and there were long lines for fuel and drinking water. Similar conditions were reported in other towns and cities across the occupied south.
A strike on a train station is one of the deadliest on Ukraine's railways since April.
Death Toll Climbs After Russian Missile Strike in Eastern Ukraine Russian missile strike at a train station in Chaplyne, Ukraine, was the deadliest attack on Ukraine's railway since April. credit...
Leo Correa/Associated Press
KYIV, Ukraine — As rescue workers sifted through twisted metal wreckage on Thursday, officials said the death toll from Russian strikes in and around a train station in eastern Ukraine had risen to 25, including at least five people who had burned to death inside a train car. It was the deadliest attack on Ukrainian civilians in weeks and a grisly reminder that the grueling war, now in its seventh month, continued to exact a bloody toll.
The attacks, which came as Ukraine celebrated its Independence Day, highlighted "how we live every day," President Volodymyr Zelensky of Ukraine told the United Nations Security Council in a remote address on Wednesday. Mr. Zelensky said that 22 people had been killed in the strike on the train station, in Chaplyne, about 74 miles east of the city of Dnipro in Ukrainian-controlled territory, during his address.
"There is no such war crime that the Russian occupiers have not yet committed on the territory of Ukraine," he told the assembled world leaders.
Several rockets struck Chaplyne on Wednesday, Kyrylo Tymoshenko, an official in Mr. Zelensky's office, said on Telegram. In the same area, Mr. Tymoshenko said, an 11-year-old died when a missile hit the village and destroyed his house.
Four Russian rockets later struck in and around the train station, Mr. Tymoshenko said, causing five passenger cars to catch fire. It was among the deadliest attacks on the country's railways since April, when more than 50 people were killed when a rocket slammed into a crowded train platform in the eastern city of Kramatorsk.
Russia's Defense Ministry said the target of the strike in Chaplyne was a military train delivering equipment to the front lines, although the claim could not be verified. Mr. Tymoshenko said that the rockets hit passenger cars.
While Ukraine braced for intensified Russian bombardment on its Independence Day, by Thursday morning, the ledger of long-range missile strikes looked much the same as it had in recent weeks.
In addition to the strikes on Chaplyne, Ukrainian officials said that Russians had used cluster munitions in the Kharkiv region in northeastern Ukraine, wounding two civilians, and also in the city of Kryvyi Rih in the south, where the damage was still being assessed. Missiles hit near the central Ukrainian town of Poltava, officials said, as well as in the Kyiv region. No casualties were reported in those strikes.
Ukrainian National Railways had no immediate comment. But the railway has played an outsize role during the war, providing a critical lifeline for millions fleeing the fighting. Trains have also helped bring in more than 100,000 tons of humanitarian aid. Strikes on moving train cars have been exceedingly rare, and the circumstances of Wednesday's strike were not immediately clear.
After a day spent making defiant speeches and paying tribute to those killed in the war, Mr. Zelensky used his evening address to urge the country to stay united in the face of constant sorrow.
"There are no such bombs that can erase freedom," he said, "and there will never be such missiles that can break the will of the people who believe in themselves."
— Marc Santora and Dan Bilefsky
Citigroup put its Russian consumer bank up for sale. Now it's just closing it.
Citigroup announced on Thursday that it would wind down the retail and local commercial banking services in Russia that it had earlier hoped to sell.
The bank will close 15 branches and lay off or move 2,300 workers, according to a statement.
"We have explored multiple strategic options to sell these businesses over the past several months," said Titi Cole, the Citi executive in charge of getting the bank out of a group of overseas consumer businesses that Citi calls "legacy franchises."
"It's clear that the wind-down path makes the most sense given the many complicating factors in the environment," Ms. Cole said. "We are focused on supporting our impacted colleagues, clients, and partners during this period of transition."
Citi's exit from Russia began even before Russia invaded Ukraine on Feb. 24. The decision to try to sell its consumer banking business was originally part of a "global refresh" ordered by its chief executive, Jane Fraser, in April 2021. Ms. Fraser had recently taken over and announced that Citi would extract itself from retail banking operations in 14 countries, including Mexico, and various locations in Europe, Asia, the Middle East, and Africa.
After Russia's invasion, which spurred a series of international sanctions that severed Russia's economy from much of the global financial system, the bank stepped up its efforts to untangle its ties to Russia, vowing in March to stop taking on new clients and exit other lines of business besides retail banking.
Closing its consumer and local commercial business would cost Citi about $170 million over the next year and a half, the bank said and would cut about $1 billion from its remaining $8.4 billion exposure to the country.
Thursday's statement from the bank said that the wind-down would "affect" bank deposits, investments, and credit cards that Citi's local business has provided to customers, but it did not explain exactly what would happen to them.
In general, winding down a banking business means returning customer deposits and letting loans roll off the bank's balance sheet as they mature.
War gives the fight to preserve Ukraine's cultural identity new urgency.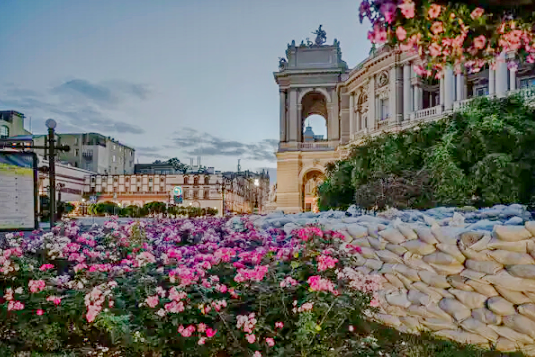 KYIV, Ukraine — At the thousand-year-old Cathedral of Saint Sophia here, standing on an easel in front of a towering Baroque golden altar, is a new, freshly painted icon that is just a foot square.
It depicts a 17th-century Cossack military commander with a long gray beard. He looks humble beneath the immense mosaics that have glinted since the 11th century — through Kyiv's sacking by the Mongols, its absorption into Poland, and its domination by the Soviet Union.
This icon has been painted on three planks of knotty wood: the planks of an ammunition box recovered from the devastated Kyiv suburb of Bucha. Out of Bucha's mass graves, in the wake of terrifying Russian atrocities against civilians, something new has come to Saint Sophia: an image of mourning and resolve, of horror and courage, of a culture that will not give up.
As Ukraine celebrates its independence from Russia on Wednesday, many Ukrainian artists, intellectuals and writers have sought to emphasize Ukraine's unique culture as a form of protest against President Vladimir V. Putin's claims that Ukraine and Russia "are one people" and his efforts to abolish their statehood.
"This is a war about cultural identity," said the curator Leonid Maruschak. With Russia actively trying to erase Ukraine's national identity, this country's music, literature, movies, and monuments are not recreations. They are battlefields. Ukrainian culture, past and present, has become a vital line of defense for the whole liberal order.
Every war endangers cultural heritage. Walk through Kyiv or Lviv today, and on every other corner is a statue bundled in flame-retardant blankets. Hapsburg stained glass is sandwiched between particle boards, and Soviet mosaics are overlaid with plywood. The appalling damage to theaters, libraries, and religious sites in these past six months alone broadens a horrendous tide of cultural destruction this century, in Syria, Iraq, Ethiopia, Mali, Armenia, and Afghanistan.
But the risks to Ukrainian culture are more than mere collateral damage. For Mr. Putin, there is no Ukraine as such; he maintains that Ukraine is a Soviet fiction, that the Ukrainian language is a Russian dialect, and that Russians and Ukrainians are "one people." And so since February — indeed, since 2014, when the war first began in the east of Ukraine — cultural manifestations of Ukrainian independence have been directly in the cross hairs.
The war has turned contemporary Ukrainian culture into an archival enterprise — one in which preservation is everyone's job, and new creations are rooted in history the enemy would deny.
PHOTOGRAPHS FROM UKRAINE
A medic is killed while treating two wounded soldiers. 'I would give my life to replace his,' one mourner said.
Friends and family lay to rest Oleg Marinchenko, 57, who was killed while working as a medic and chaplain with the Ukrainian military. Credit...Lynsey Addario for The New York Times
KYIV, Ukraine — When Ukraine's top military commander said this week that almost 9,000 Ukrainian soldiers had been killed since Russia's invasion six months ago, it was a rare public accounting of the nation's losses.
The numbers are hard to verify. Ivan Marinchenko's grief was not.
As his son, Oleg, was laid out in the church before his burial, the 85-year old father was a broken man. "Forgive me," he said as he wept. "I could not save you."
Oleg, 57, was killed on Friday. His call sign was Architect and he was a chaplain and a combat medic serving in the Kherson region in southern Ukraine. He was treating two wounded soldiers in a bunker when a mortar round exploded.
He died. The two wounded soldiers lived. At his funeral on the outskirts of Kyiv, the mourners said he had been the shield that protected his comrades. His death gave them life.
His death left his 34-year-old daughter, Ira, without a father and his wife, Tatiana, 54, without a husband.
While it is often the young who die in war, in Ukraine, the ranks of the soldiers are filled with people of all ages and all backgrounds.
Oleg had more than five decades to forge friendships.
"I would give my life to replace his," said Valentina Sadovska, 76, convulsing with grief. "I didn't even cry this much when my own husband died."
Speaking at a forum for veterans on Monday, Valeriy Zaluzhny, the commander of Ukraine's armed forces, said that this war was being fought by the entire country, not just the army. Children and wives have watched their fathers and husbands go to the front, he said, and they may be among "the nearly 9,000" who never returned.
Ukraine is cautious in releasing information about military casualties and it was unclear whether the number he gave was a full accounting. Moscow classifies military deaths as state secrets and has rarely updated its official casualty figures.
None of that mattered at the funeral on Friday, as Oleg's father, wife, and daughter reached into his coffin to touch him and hold him close one last time.
— Marc Santora and Lynsey Addario
---
Editors Comments: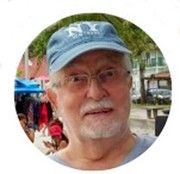 *Follow the WEF trail to Switzerland to discover the Khazarian Mafia hiding behind Klaus Schwab and his cohorts. The US and its people have nothing to do with the disasters caused to the ordinary people of the Earth.
The Khazarians have once again constructed an intricate web, whose aim is to destroy the world's economy by setting people up against each other, blocking each other's supply chains, leaving just death and ruins.
What everybody must be aware of is that this is not a war to prevent Putin from occupying Ukraine, but an attempt by the evil Khazarian Jews/WEF/NATO to control yet another country in their growing New World Order. They are simply using Ukraine as a battlefield. Their plan is to destroy totally the world's economy and turn the population into slaves.
Like the Freemasons, they have also life-threatening rules in their membership, one being REVENGE, 10 times harder than was ever perpetrated on them.
Russia in particular, in the past, has expelled the Khazars several times. I have all of 7 detailed articles in book format on the Khazarian Jews if anybody is interested in further information.
Putin, and earlier also Trump, are the ONLY Presidents who have enough guts to see what they are attempting to do to the world population and have sufficient courage to do something about it.
HUMAN SYNTHESIS
---
COPYRIGHTS
Copy & Paste the link above for Yandex translation to Norwegian.
WHO and WHAT is behind it all? : >
The bottom line is for the people to regain their original, moral principles, which have intentionally been watered out over the past generations by our press, TV, and other media owned by the Illuminati/Bilderberger Group, corrupting our morals by making misbehavior acceptable to our society. Only in this way shall we conquer this oncoming wave of evil.
All articles contained in Human-Synthesis are freely available and collected from the Internet. The interpretation of the contents is left to the readers and does not necessarily represent the views of the Administrator. Disclaimer: The contents of this article are the sole responsibility of the author(s). Human-Synthesis will not be responsible for any inaccurate or incorrect statement in this article. Human-Synthesis grants permission to cross-post original Human-Synthesis articles on community internet sites as long as the text & title are not modified.
HUMAN SYNTHESIS