UK Gas/Water Crisis Set To Plunge British Pound To Historic Lows, UBS Warns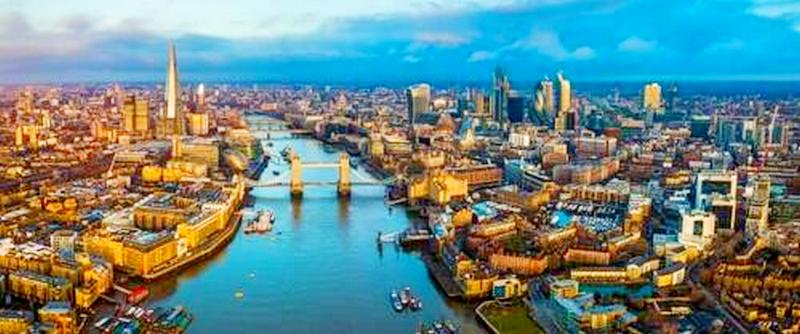 ZeroHedge - BY TYLER DURDEN - SATURDAY, AUG 06, 2022 - 10:20
Authored by Charles Kennedy via OilPrice.com,
The British pound is expected to plunge to a historically low level versus the U.S. dollar in the fourth quarter of this year, when the energy and gas crisis in the UK will worsen, according to strategists at the private banking unit of UBS Group.
"We expect GBP/USD to come under pressure this year," Thomas Flury, head of currency research at UBS Wealth Management, and Dean Turner, UK economist at UBS Private Banking, wrote in a note carried by Bloomberg.

"The euro zone and the UK are both likely to suffer energy supply shortages this winter," the strategists said.
UBS has reduced its outlook for the British pound to $1.15 in the fourth quarter of 2022, down from a previous estimate of $1.26 per pound sterling.
If UBS's target turns out right about its $1.15 call, the GBP will have slumped to the levels seen in the early days of the pandemic and the second-lowest level ever, after the low from 1985, according to Bloomberg's estimates.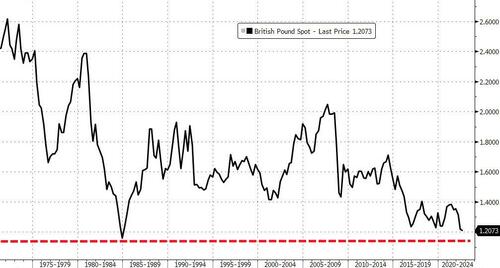 Most analysts expect a relatively stable pound at around $1.22 through the end of the year, but UBS believes that the Bank of England's interest rate hikes will not support the UK currency for long with the looming crisis in the winter when UK energy bills will surge again.
Energy bills in the UK are set to surge more than expected this winter, with many households struggling to be able to pay them after Russia further slashed gas deliveries to Europe, sending gas and energy prices for the winter and for next year soaring, UK-based consultancy BFY Group said last week.
"Huge swathes of the British public aren't going to be able to afford their bills this winter. Average families with two working parents will be in fuel poverty,"
Gemma Berwick, Senior Consultant at BFY Group said, as carried by The Telegraph.  
---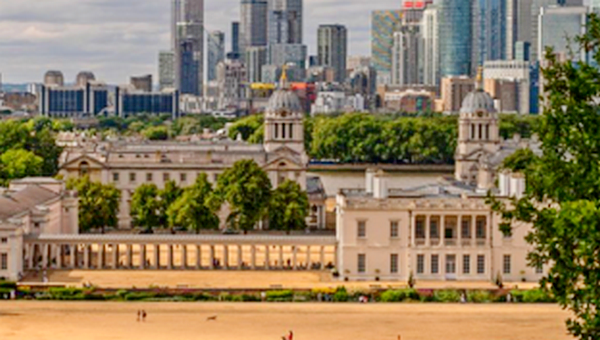 UK Water Restrictions Go Into Effect As Heatwave Persists
ZeroHedge - BY TYLER DURDEN - SATURDAY, AUG 06, 2022
Britain has recorded one of its hottest and driest summers on record. Rivers and reservoirs are drying up as towns in the southern part of the country imposed the first hosepipe ban on Friday.
The country's record heat in July -- above 104 Fahrenheit (40 degrees Celsius) -- melted airport runways, buckled train tracks, and shuttered transportation networks, as London's fire brigade said it had one of the busiest days since World War II. The heat dome resulted in dozens of building structure fires and wildfires.
As of 1700 local time, Friday, Hampshire and the Isle of Wight residents will be placed under emergency water restrictions called "temporary use ban." If residents water their gardens, and yards, and/or clean their vehicles, they could face a stiff penalty of up to $1,200 (£1,000). A similar ban will go into effect for residents in Kent and Sussex from Aug. 12.
"Months of sparse rainfall, combined with record-breaking temperatures in July, have left rivers at exceptionally low levels, depleted reservoirs and dried-out soils," British newspaper The Independent wrote.
London dodged the water restrictions for now as its large reservoirs are at "very comfortable levels," Barnaby Dobson, a research associate on the Community Water Management for a Liveable London project at Imperial College London, told Bloomberg.
However, water reservoirs in London could slump as the metro area faces levels of drought not seen in a decade.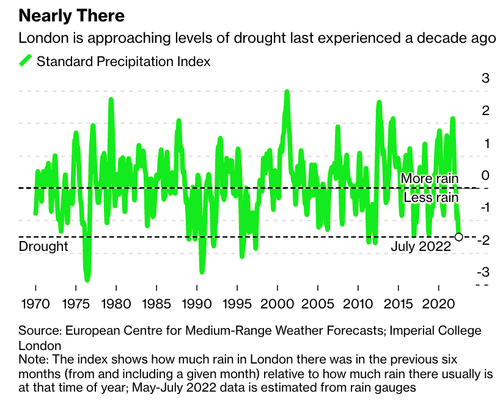 Dobson said rationing is a measure of last resort and would come after hosepipe bans. He said water utilities are very wary of implementing water rationings because it would trigger consumer backlash.
Utilities have other options such as tapping emergency aquifers — rock formations that hold groundwater — or old reservoirs that are no longer in use but still have some water in them. They could also convince the UK's Environment Agency to let them take more water out of the river to avoid any kind of rationing — although that risks resource depletion and other environmental concerns, Dobson said.
"Part of our current issue with low water levels leading to measures like hosepipe bans is that we still think of this as a wet country, treating water as an infinite resource," Christine Colvin, advocacy and engagement director at The Rivers Trust, said.
Private water company Southern Water warned: "We know that we've had the driest July in the southeast since 1891, the temperatures have been really high, and people have been using more water."
Across Europe, this season, drought and dried rivers have emerged in countries like Germany, which has caused economic disruption.
---
Editors Commentary:
HUMAN SYNTHESIS
---
COPYRIGHTS
Copy & Paste the link above for Yandex translation to Norwegian.
WHO and WHAT is behind it all? : >
The bottom line is for the people to regain their original, moral principles, which have intentionally been watered out over the past generations by our press, TV, and other media owned by the Illuminati/Bilderberger Group, corrupting our morals by making misbehavior acceptable to our society. Only in this way shall we conquer this oncoming wave of evil.
All articles contained in Human-Synthesis are freely available and collected from the Internet. The interpretation of the contents is left to the readers and does not necessarily represent the views of the Administrator. Disclaimer: The contents of this article are the sole responsibility of the author(s). Human-Synthesis will not be responsible for any inaccurate or incorrect statement in this article. Human-Synthesis grants permission to cross-post original Human-Synthesis articles on community internet sites as long as the text & title are not modified.
HUMAN SYNTHESIS