Nancy Pelosi arrives in Taiwan as China puts military on high alert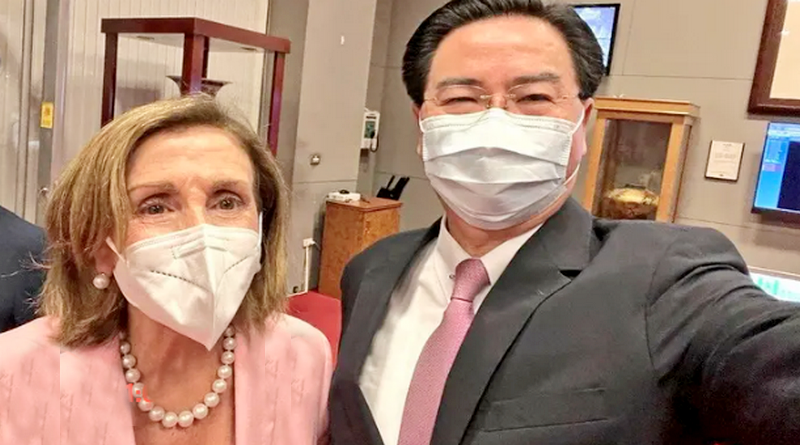 The Guardian - Helen Davidson and Chi Hui Lin in Taipei - Tue 2 Aug 2022 18.50 BST
People's Liberation Army announces targeted military operations as it calls the visit a 'malicious provocation'
Nancy Pelosi has landed in Taiwan for a controversial visit to the self-ruled island, offering "unwavering commitment" to supporting its democracy as already heightened tensions with China escalate.
Timed with her arrival, China's ministry of defence said the People's Liberation Army (PLA) had been put on "high alert" and announced a series of targeted military operations, including missile tests in the waters east of Taiwan and drills encircling the main island for four days after Pelosi leaves.
"The Chinese side has stated on many occasions the serious consequences of visiting Taiwan, but Pelosi knowingly made a malicious provocation to create a crisis," it said.
China, which regards Taiwan as its territory, has repeatedly warned of retaliation for the visit. Shortly before Pelosi's arrival, Chinese state media reported that Beijing's Su-35 fighter jets were flying across the Taiwan Strait.
Taipei subsequently dismissed the announcement as "fake news".
The US House of Representatives speaker's plane landed at Songshan airport in Taipei at about 10.45 pm local time (1545 BST) on Tuesday. She was greeted by Taiwan's foreign minister, Joseph Wu, and the US representative in Taiwan, Sandra Oudkirk, and is expected to meet the president, Tsai Ing-wen, on Wednesday morning.
Pelosi tweeted shortly after her arrival that the visit honored the US's "unwavering commitment to supporting Taiwan's vibrant democracy".
She said: "America's solidarity with the 23 million people of Taiwan is more important today than ever, as the world faces a choice between autocracy and democracy.
"Our visit is one of several congressional delegations to Taiwan – and it in no way contradicts longstanding United States policy."
An opinion piece by the House speaker, published by the Washington Post after she landed, said Beijing had intensified tensions with Taiwan, and "this vibrant, robust democracy – […] proudly led by a woman, President Tsai Ing-wen – is under threat". Her article also referenced China's actions in Hong Kong and Tibet, and a "genocide" against Uyghurs.
She continued: "In the face of the Chinese Communist party's (CCP) accelerating aggression, our congressional delegation's visit should be seen as an unequivocal statement that America stands with Taiwan, our democratic partner, as it defends itself and its freedom."
Taiwan's party of government, the Democratic Progressive party, said it admired and respected Pelosi's "moral courage".
It said: "No threatening remarks or provocative actions can reduce even slightly the determination of Taiwan and its international friends to defend democracy and freedom."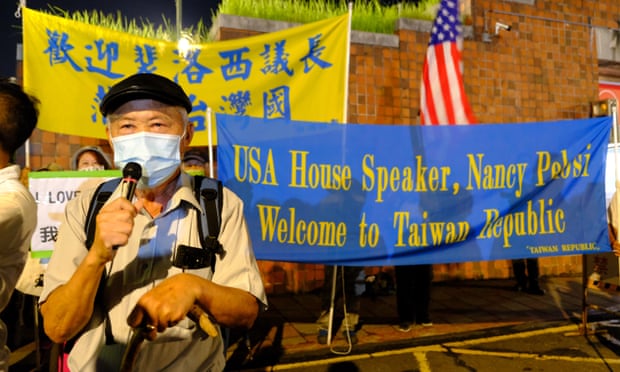 The visit was also welcomed by the opposition Kuomintang party, which has traditionally favored friendlier relations with China.
Even before Pelosi left the runway, China's foreign ministry was posting furiously online. "China firmly opposes separatist moves towards 'Taiwan independence' and interference by external forces," said Hua Chunying, a ministry spokesperson. "The US should give up any attempt to play the Taiwan card."
Earlier on Tuesday, Hua accused the US of "reckless disregard" and said it would be "held liable and pay the price for hurting China's sovereignty and security interests".
In London, the Chinese ambassador voiced his opposition, warning that "those who play with fire will get burnt" echoing a threat by China's president, Xi Jinping, to Joe Biden, his US counterpart, last week during their fifth phone call.
The visit appeared to have prompted high levels of military movement and preparations by the Chinese, Taiwanese, and US militaries.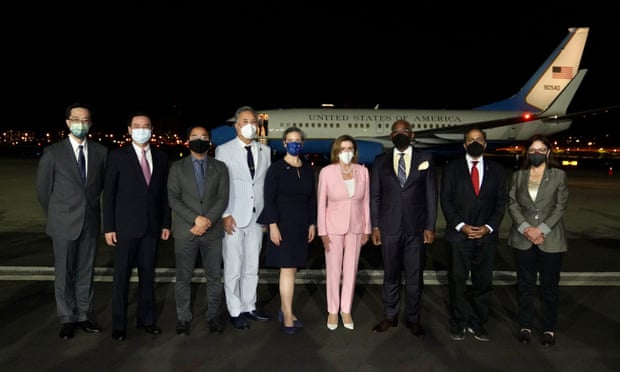 The PLA reportedly moved several warships and planes near the median line – an unofficial border between China and Taiwan in the Taiwan Strait.
According to multiple social media posts, it also drove dozens of tanks and other armored vehicles through the Chinese mainland city of Xiamen, which is 3 miles (5km) across the water from Taiwan's outlying Kinmen Islands.
Taiwan's defense ministry reportedly increased its military alertness for the next four days and warned it would appropriately dispatch forces in reaction to "enemy threats".
In a statement, the ministry said it had the "determination, ability and confidence" to ensure Taiwan's national security, and had made various unspecified plans for an emergency.
Reuters earlier reported that four US warships, including a carrier strike group led by the USS Ronald Reagan, were positioned in waters east of the island on "routine" deployments.
A number of analysts said a hostile military act from China is unlikely but that the response was likely to exceed any others seen in recent years.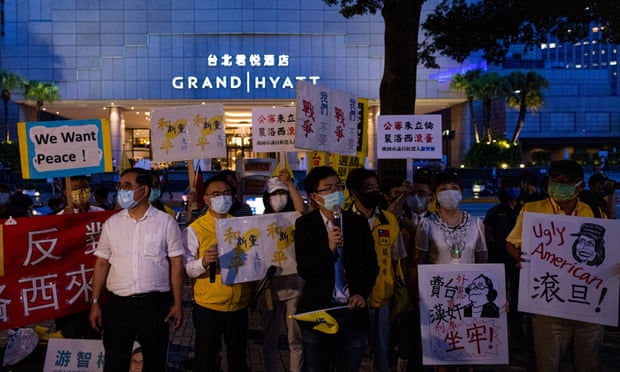 Some, including senior Taiwanese figures who spoke on condition of anonymity, expected any significant action to occur after Pelosi departed, to avoid a confrontation with US military assets.
They also noted that a response could include punitive economic action. On Tuesday, Chinese authorities announced a sudden ban on imports from more than 100 Taiwanese food companies.
Pelosi is expected to stay in the Grand Hyatt hotel in the center of Taipei. The stop was unannounced and not included on the official itinerary of her Asia tour, which included Singapore, Japan, Malaysia, and South Korea.
Taiwan is attempting a balancing act of maintaining the safety of the status quo with China while nurturing international relationships. Taiwanese officials would not comment before Pelosi's arrival, other than to say it always welcomes visits by foreign friends.
Pelosi is the latest in a long line of foreign delegates to visit Taiwan in recent years, but Beijing took significant exception to her seniority as House speaker and appeared not to believe that the US separation of powers meant Biden had no power to order her not to go.
On Tuesday afternoon, almost 300,000 people were tracking a US air force (USAF) flight that was potentially carrying the speaker's delegation. There were two USAF planes in Malaysia after a second was flown in from Japan that morning.
Pelosi's flight took a non-direct path from Kuala Lumpur, with a detour over Indonesia and the Philippines, avoiding the South China Sea, to fly in from Taiwan's east coast. There had been concerns that China might send PLA aircraft to intercept or tail her plane into Taiwanese airspace.
Outside Songshan airport, supporters gathered to welcome Pelosi. Among them was Timothy Lee, who said Pelosi had risked her life to show support for Taiwan. "We should be good hosts," he said.
Pelosi was later mobbed on arrival at the Grand Hyatt. Hundreds of people gathered outside the hotel and across the road, with supporters and protesters separated by a wide cordon and dozens of police officers. Protesters shouted "Yankee go home" and carried signs calling the speaker a warmonger. The nearby opposing camp responded with "CCP get out".
Pelosi and Tsai are scheduled to address the media at 10.53 am on Wednesday morning, via a pool arrangement without reporters, according to the foreign ministry.
The US says Beijing has no reason to turn Pelosi's expected Taiwan visit into a 'crisis'
---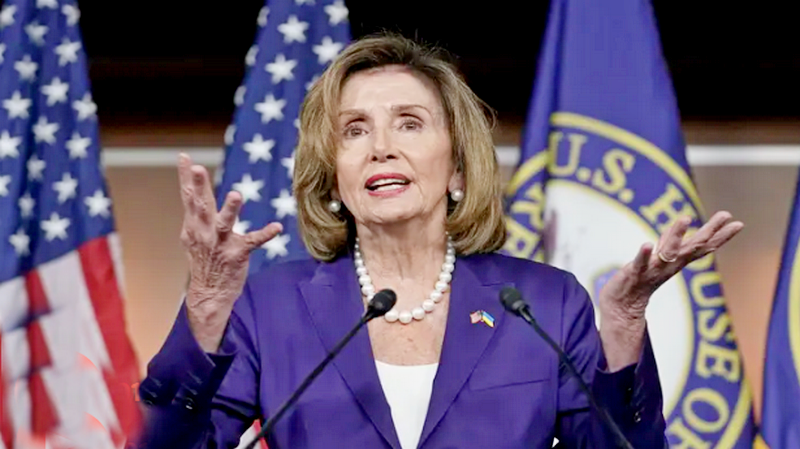 National security council says the speaker has 'right to visit after China warns its military would 'not sit idly by.
The Guardian - Vincent Ni - China affairs correspondent and Ed Pilkington in New York - Mon 1 Aug 2022
The US national security council (NSC) has insisted that House Speaker Nancy Pelosi "has the right to visit Taiwan", amid reports that she will be landing on the island on Tuesday – a move that China has vowed to respond to forcefully.
Speaking at a press conference in Washington on Monday, NSC spokesman John Kirby said Pelosi has visited Taiwan before "without any incident".
"There is no reason for Beijing to turn a potential visit consistent with longstanding US policies into some sort of crisis," he added.
Around the same time, the US secretary of state, Antony Blinken, also told reporters that the speaker "will make her own decisions about whether or not to visit Taiwan," stressing that Congress is independent of the White House.
"Congress is an independent, co-equal branch of government, the decision is entirely the speakers. This is very much precedent in the sense that [a] previous speaker has visited Taiwan. Many members of Congress go to Taiwan, including this year," Blinken said, alluding to Republican House speaker Newt Gingrich's visit in 1997.
Blinken added, of Beijing: "We are looking for them, in the event she decides to visit, to act responsibly and not to engage in any escalation going forward."
Both Kirby and Blinken suggested that Washington will not "take the bait or engage in saber rattling" if China tried to coax an escalation of tensions.
Earlier in the week, US General Mark Milley, chairman of the joint chiefs of staff, said if Pelosi or anyone else is going to travel and they ask for military support "we will do what is necessary to ensure the safe conduct of their visit".
China has been furious about Pelosi's potential visit to Taiwan. On Monday, China's spokesperson warned its military would "not sit idly by" if the visit happened. A few hours later, China's Maritime Safety Administration announced yet another series of military exercises in the South China Sea from 2 August to 6 August.
Taiwan's government has not publicly commented on the reports. But Taiwanese media reported that Pelosi's plane will land in Taipei Tuesday night local time. She will then visit the island's legislative council on Wednesday and is expected to meet Taiwanese President Tsai Ing-wen on the same day.

Should Pelosi go ahead with the Taiwan visit, it would be the first visit of a US House speaker in a quarter of a century. Beijing, which claims the self-governing island as its own province, has made clear it would see such a move as an unacceptable provocation.
Beijing protested Gingrich's trip but eventually swallowed its irritation.
On Monday, a US official told CNN that in the face of China's admonition the Pentagon was "working around the clock" to monitor any Chinese movements in the region.
Pelosi's possible visit at a time of heightened tension with China is a fraught matter for both the US and Chinese. As House speaker, she is third in line for the presidency after Joe Biden and vice-president Kamala Harris.
From the Chinese perspective, a visit from a lawmaker so closely linked in constitutional terms to the presidency increases the offense. China's spokesperson, Zhao Lijian, said that because of Pelosi's status as the "No 3 official of the US government", a visit to Taiwan would "lead to egregious political impact".
China's People's Liberation Army (PLA), the world's largest military, on Monday celebrated the 95th anniversary of its founding.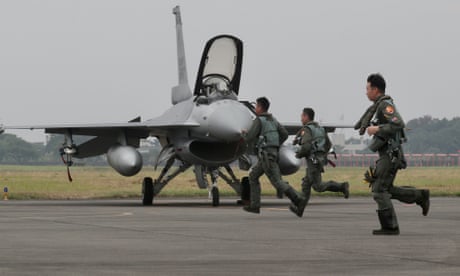 Officially, Pelosi will only visit Singapore, Malaysia, South Korea, and Japan. But Michael McCaul, a Texas Republican on the House foreign affairs committee, and Democrat Anna Eshoo told US media last week that Pelosi had invited them to Taiwan. Both declined, citing scheduling conflicts.
Pelosi's trip comes at a time of extreme geopolitical uncertainty in the region. On Monday, she and a six-member congressional delegation held talks with Singapore's prime minister, Lee Hsien Loong. He "highlighted the importance of stable US-China relations for regional peace and security", according to a statement from Lee's office.
In the run-up to Monday's PLA founding anniversary, the Chinese military conducted "live-fire exercises" near the Pingtan islands off Fujian province, according to the official Xinhua news agency. The Maritime Safety Administration warned ships to avoid the area.
Since reports of Pelosi's potential Taiwan trip emerged a fortnight ago, Beijing's state media outlets have intensified their criticism of US policy on Taiwan. Chinese diplomats have also repeated China's "one China principle" stance on social media.
George Yin, a distinguished fellow at the Center for China Studies at National Taiwan University in Taipei, said the US faced a strategic dilemma when it came to stabilizing the Taiwan strait.
"On the one hand, the US needs to signal its support for Taiwan, particularly since China often portrays the US as a paper tiger who does not have the resolve to come to Taiwan's aid," Yin said.
"On the other hand, the US needs to reassure China that it still abides by the one-China principle. Pelosi's expected visit illustrates how difficult it is to strike a good strategic balance.
Support the Guardian from as little as $1 – it only takes a minute. If you can, please consider supporting us with a regular amount each month.
---
Editors Commentary:
WEF and their cohorts are sending imbeciles and maniacs from the US Democrat party to Taiwan and the East, making malicious provocations to create a crisis
MURDERING top leaders of Al-Qaeda in Kabul from obscure weaponized drones in the night further inflames the risk of a major war.
HUMAN SYNTHESIS
---
COPYRIGHTS
Copy & Paste the link above for Yandex translation to Norwegian.
WHO and WHAT is behind it all? : >
The bottom line is for the people to regain their original, moral principles, which have intentionally been watered out over the past generations by our press, TV, and other media owned by the Illuminati/Bilderberger Group, corrupting our morals by making misbehavior acceptable to our society. Only in this way shall we conquer this oncoming wave of evil.
All articles contained in Human-Synthesis are freely available and collected from the Internet. The interpretation of the contents is left to the readers and does not necessarily represent the views of the Administrator. Disclaimer: The contents of this article are the sole responsibility of the author(s). Human-Synthesis will not be responsible for any inaccurate or incorrect statement in this article. Human-Synthesis grants permission to cross-post original Human-Synthesis articles on community internet sites as long as the text & title are not modified.
HUMAN SYNTHESIS