Russia-Ukraine war update: what we know on day 140 of the invasion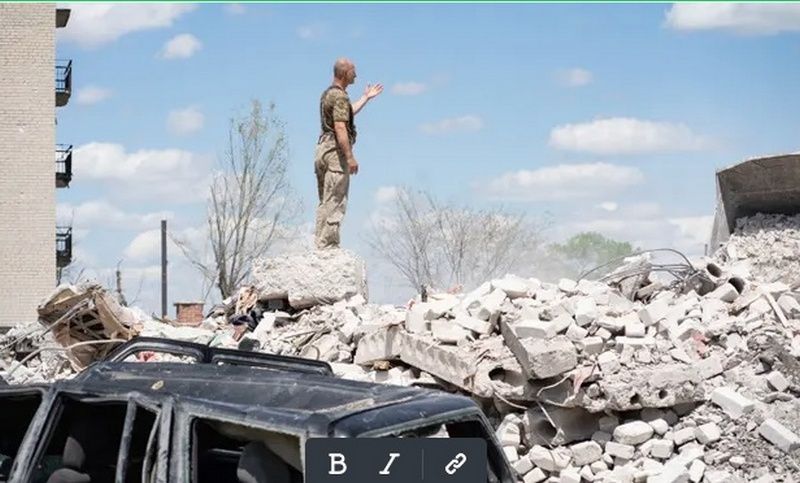 The Guardian - Samantha Lock and Martin Belam Wed 13 Jul 2022 10.48 BST
The death toll from a weekend Russian missile attack on a residential apartment block in Chasiv Yar, eastern Ukraine, rose to at least 45 on Tuesday. Saturday's strike destroyed the five-story building and damaged several others in the Donetsk region city. Nine people had been pulled out alive as the rescue operation continued.
At least seven people were reportedly killed by a Ukrainian missile strike on a large ammunition store in the town of Nova Kakhovka, in Russia-occupied Kherson, in a strike attributed to recently acquired US weapons. The explosion hit a warehouse close to a key railway line and a dam on the Dnieper River. Footage on social media showed a large explosion lighting up the night, burning ammunition and billowing smoke.
Russia has reportedly heavily shelled the eastern town of Bakhmut in the Donetsk region overnight in response to the Nova Kakhovka strike. Kyiv Independent reporter Illia Ponomarenko tweeted alongside footage purportedly of the assault: "Meanwhile, Russia responds by sweeping Bakhmut off the earth with artillery in the night."
The Russian ministry of defense has said that it caused large losses to Ukrainian forces in the last 24 hours, claiming to have killed at least 425 service personnel and shot down three planes and nine unmanned drones.
At least five people have been injured and one killed by Russian shelling in the region of Kharkiv, according to the daily update from regional governor Oleh Synyehubov. He has posted to Telegram this morning to say "The terror of the civilian population of Kharkiv Region by the Russian occupiers continues."
Military delegations from Ukraine, Russia, and Turkey will meet UN officials in Istanbul to discuss a possible deal to resume safe exports of Ukraine grain from the major Black Sea port of Odesa as a global food crisis worsens.
Grain shipments via the Danube river have increased with the reopening of the Bystre canal. The number of foreign ships reaching Ukraine ports to help with grain exports has doubled to 16 within the last 24 hours, according to Ukraine's deputy infrastructure minister Yuriy Vaskov. Ukraine has restored long-decommissioned ports to facilitate the exportation of grain due to Russia's Black Sea blockade and expects to increase monthly exports to 500,000 tonnes.
Ukraine's president, Volodymyr Zelensky, says Russia "doesn't have the courage" to admit defeat. In a nationally televised address, Zelenskiy also mocked the Russian military's apparent reliance on aging weapons and Soviet-era tactics, and insisted the unity of his country's citizenry, combined with the strength of Ukraine's armed forces, meant the outcome of the war was "certain".
Russian forces will likely focus on taking several small Donbas towns during the coming week, including Siversk and Dolyna on the approaches to Slovyansk and Kramatorsk, according to the UK Ministry of Defence. "The urban areas of Slovyansk and Kramatorsk likely remain the principal objectives for this phase of the operation," the British intelligence report said.
The US Treasury announced on Tuesday it was sending an additional $1.7bn (£1.4bn) in economic aid to Ukraine to fund "essential services". European foreign ministers late on Monday approved €1bn (£850m) in aid, the first installment of a €9bn rescue package agreed in May.
The Russian president, Vladimir Putin, is set to visit Tehran next week to hold talks with the Turkish president, Recep Tayyip Erdoğan. The meeting comes as the US has accused Iran of preparing to supply Russia with hundreds of weapons-capable drones for use in Ukraine.
The UN human rights office (OHCHR) said on Tuesday that more than 5,000 civilians have been killed in Ukraine since Russia invaded on 24 February, adding that the real toll was probably much higher.
The European Union has so far frozen €13.8bn (£11.7bn) worth of assets held by Russian oligarchs, other individuals, and entities sanctioned for Moscow's war against Ukraine, the EU's top justice official said on Tuesday.
Russia has claimed to have killed a significant number of foreign mercenaries fighting in Ukraine in the last three weeks, including 23 from Britain.
Russia has launched a criminal case against one of the last opposition figures remaining in the country, for allegedly spreading false information about the Russian army, his lawyer said on Tuesday. Ilya Yashin, 39, a Moscow city councilor, was sentenced to 15 days in jail last month for disobeying police. He had been set to be released in the early hours of Wednesday.
The appeals over the death sentences of captured Aiden Aslin, Shaun Pinner, and Saaudun Brahim will be dealt with within a month, an official from the self-proclaimed Donetsk People's Republic said. The UK foreign secretary, Liz Truss, has said she "utterly condemns" the sentencing, stating: "They are prisoners of war. This is a sham judgment with absolutely no legitimacy."
Brazil is looking to buy as much diesel as it can from Russia and the deals closed "as recently as yesterday", the Brazilian foreign minister Carlos Franca said on Tuesday, without giving further details.
---
Lukashenko's troops begin military command drills at the Ukraine border as Putin goads entry
Express - By PAUL WITHERS  18:58, Wed, Jul 13, 2022
ALEXANDER LUKASHENKO's troops in Belarus have kicked off military command drills near the border with Ukraine as fears grow Vladimir Putin is trying to draw his key ally into war with its neighbor.
Lukashenko says Russia 'must be ready to use the nuclear arsenal
Sign up for our news briefing, including a daily special Russia-Ukraine edition
We use your sign-up to provide content in ways you've consented to and to improve our understanding of you. This may include adverts from us and 3rd parties based on our understanding. You can unsubscribe at any time.
Command and staff military drills involving Belarusian territorial troops began in the Gomel region of Belarus yesterday (Tuesday), and will finish tomorrow (Thursday). The exercises are designed to assess the readiness of troops to perform training and combat tasks, as well as to improve the skills of reserve officers in working at command posts. The Belarusian defense ministry has said that during these drills, troops will practice guarding and defending a territorial defense facility, while also serving at checkpoints in times of martial law.
In late May, the defense ministry announced that on the orders of Lukashenko, a "people's militia" would be created and on June 7, the Belarusian army began "combat readiness" exercises.
Ukraine intelligence has claimed the controversial dictator's regime has also begun training on "the transition from peacetime to wartime".
Lukashenko recently reaffirmed his support of Vladimir Putin's war effort in Ukraine, stating Minsk supported and "will continue to support Russia" in its "fight against Nazism", while also emphasizing Belarus would "remain together with fraternal Russia".
UK intelligence believes the Belarusian leader is weighing up supporting Russia in the war against the desire to avoid direct military involvement in the escalating conflict.
Russia war: Lukashenko's troops have started military command drills near the border with Ukraine (Image: GETTY)
Russia war: Belarusian troops will practice guarding and defending a territorial defense facility (Image: GETTY)
This would carry a huge risk for Belarus with the likelihood of crippling Western sanctions, Ukrainian retaliation, and possible discontent in the Belarusian Armed Forces.
Last month, Ukrainian President Volodymyr Zelensky played down the risks of another invasion of Ukraine from Belarus are minimal, but warned Ukraine continues to be on its guard at all times.
But despite this, Lukashenko has regularly threatened to directly intervene in Russia's war with its neighbor, stating Belarus "will have to fight for the western regions of Ukraine".
He said "what is happening in Ukraine is only the beginning" and allegedly "one of the elements of a major reshaping of the world".
---
Editors Commentary:
*Follow the WEF trail to Switzerland to discover the Khazarian Mafia hiding behind Klaus Schwab and his cohorts. The US and its people have nothing to do with the disasters caused to the ordinary people of the Earth.
The Khazarians have once again constructed an intricate web, whose aim is to destroy the world's economy by setting people up against each other, blocking each other's supply chains, and leaving just death and ruins.
What everybody must be aware of is that this is not a war to prevent Putin from occupying Ukraine, but an attempt by the evil Khazarian Jews/WEF/NATO to control yet another country in their growing New World Order. They are simply using Ukraine as a battlefield. Their plan is to destroy totally the world's economy and turn the population into slaves.
Like the Freemasons, they have also life-threatening rules in their membership, one being REVENGE, 10 times harder than was ever perpetrated on them.
Russia in particular, in the past, has expelled the Khazars several times. I have all of 7 detailed articles in book format on the Khazarian Jews if anybody is interested in further information.
Putin, and earlier also Trump, are the ONLY Presidents who have enough guts to see what they are attempting to do to the world population and have sufficient courage to do something about it.
HUMAN SYNTHESIS
---
COPYRIGHTS
Copy & Paste the link above for Yandex translation to Norwegian.
WHO and WHAT is behind it all? : >
The bottom line is for the people to regain their original, moral principles, which have intentionally been watered out over the past generations by our press, TV, and other media owned by the Illuminati/Bilderberger Group, corrupting our morals by making misbehavior acceptable to our society. Only in this way shall we conquer this oncoming wave of evil.
All articles contained in Human-Synthesis are freely available and collected from the Internet. The interpretation of the contents is left to the readers and does not necessarily represent the views of the Administrator. Disclaimer: The contents of this article are the sole responsibility of the author(s). Human-Synthesis will not be responsible for any inaccurate or incorrect statement in this article. Human-Synthesis grants permission to cross-post original Human-Synthesis articles on community internet sites as long as the text & title are not modified.
HUMAN SYNTHESIS