A Khazarian terrorist who deserved to be hanged before he died (Part VI)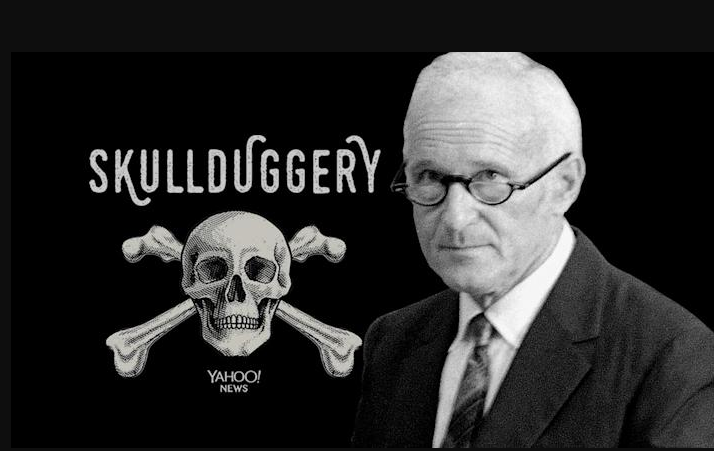 VeteransToday - By Jonas E. Alexis, Assistant Editor -July 8, 2022
If there was one person who deserved to be hanged before he died, then that person should have been Sidney Gottlieb.
In the 1960s, it was widely reported that "heroin began flowing into the United States from Southeast Asia in body bags returning from the war, courtesy of the CIA."
[1] During the same time, John Lennon declared that "We must always remember to thank the CIA and the Army for LSD…They invented the LSD to control people, and what they did was give us freedom."
[2] Virtually all the intellectuals, gurus, drug addicts, and even musicians of the counterrevolution agreed with Lennon. Timothy Leary, who believed that he was Aleister Crowley reborn, said: "The LSD movement was started by the CIA. I wouldn't be here now without the foresight of CIA scientists."
[3] Allen Ginsberg acknowledged: "Am I, Allen Ginsberg, the product of one of the CIA's lamentable, ill-advised, or triumphantly successful experiments in mind control? Had they, by conscious plan or inadvertent Pandora's Box, let loose the whole LSD fad on the US and the world?"
[4] Ginsberg, like Ken Kesey, was part of the "successful experiment" the CIA was conducting in the 1950s and 60s. Kesey was studying creative writing at Stanford when he first took LSD in 1959. When Menlo Park Veterans Administration Hospital offered to give mind-altering drugs to volunteers, Kesey couldn't be more excited: he quickly put his name on the dotted line. His drug trip to the hospital was an epiphany. In order to test his experiment further, he took a job at the same hospital and spread the gospel of LSD to his comrades. Stephen Kinzer writes that Kesey's home "turned into a twenty-four-hour psychedelic party as friends and neighbors got high and danced to loud music, electric rock music."
[5] Under the influence of LSD, Kesey got enough material for his new novel, One Flew Over the Cuckoo's Nest, the book which ultimately became a bestseller. "With the money, he earned from royalties, Kesey bought a new home and began throwing 'acid tests' at which he served LSD to a wild roster of guests including poets, musicians, and bikers from the Hells Angels gang…Kesey gave LSD a new role in American society."
[6]  MK-Ultra
Leary, Kesey, Ginsberg, Aldous Huxley, and Robert Hunter of the Grateful Dead, among others, were all the product of MK-Ultra, a secret program that the CIA brought about through one man, Sidney Gottlieb, who actually was "the Government chemist who dosed Americans with psychedelics in the name of national security."
[7] Under the director of Allen Dulles, both the CIA and Gottlieb deliberately spread LSD virtually everywhere during the 1950s and 60s in order to control people. In fact, Dulles explicitly declared that one of the main purposes for developing MK-Ultra was to control people,
[8] particularly mental patients, prisoners (from Japan, Korea, Germany), and drug addicts, prostitutes, and even children.
[9] As they put it, these people "could not fight back."
[10] What was the false pretense that the CIA and Gottlieb used to dose these people? In the name of "science" and "patriotism," they were trying to find a cure for schizophrenia. One patient in particular "was dosed with LSD continuously for 174 days" in Kentucky. Other patients went mad, others had to suffer psychological damage for the rest of their lives, and others ended up dead because of the diabolical experiment.
[11] And between 1953 and 1963 oligarchic institutions like Princeton, Harvard, Yale, Columbia, Stanford, Columbia University, Cornell, etc., all supported MK-Ultra—directly or indirectly.
[12] Other institutions such as "Massachusetts General Hospital, Mount Sinai Hospital, the Universities of Pennsylvania, Minnesota, Denver, Illinois, Oklahoma, Rochester, Texas, and Indiana as well as Berkeley, Harvard, Columbia, MIT, Stanford, Baylor, Emory, George Washington, Vanderbilt, Cornell, John Hopkins New York University" were all involved in MK-Ultra.
[13] Kinzer calls Gottlieb "the most powerful unknown American of the 20th century—unless there was someone else who conducted brutal experiments across three continents and had a license to kill issued by the U.S. government."
[14] Hunter, who himself experimented with the drug at Stanford under the auspices of the CIA
[15] and who got hypnotized by the drug, eventually came to the conclusion that "the United States government was in a way responsible for creating the 'acid tests' and the Grateful Dead, and thereby the whole psychedelic counterculture."
[16] Like Agave in Euripides' The Bacchae, Hunter eventually realized that he was duped. His moral integrity had awakened, and he eventually realized that he was a guinea pig in a social experiment. But for him and others, it was already too late. An entire culture and indeed a nation was hooked on a drug that was hatched by a man whose diabolical plan was to control much of humanity. That man again was none other than Jewish revolutionary Sidney Gottlieb. John Marks, a sympathizer, declared that if one used the Nuremberg standards, Gottlieb would have been executed on the spot precisely because he did the same thing that the Nazis were allegedly doing.
[17] Gottlieb was aptly called "the Black Sorcerer."
[18] He was a scientist at the US Army's laboratory at Fort Detrick, Maryland, and was specifically assigned by the CIA to create a lethal toxin that would allow the CIA to not only manipulate people at will but to assassinate perceived enemies and dissidents.
Gottlieb also had a plan to upgrade the social engineering that was part of the CIA's program in the United States. He wanted to see how individual behavior could be altered via drugs, most specifically through LSD and other powerful psychoactive drugs. According to Kinzer, the CIA and the psychological warfare program called this "a new era of humane warfare."
[19] Gottlieb joined the CIA in 1951, and he quickly created the poison that they wanted. No, he did not invent LSD; the man responsible for concocting the drug was Albert Hofmann, a Swiss chemist, and author who synthesized the drug with ergot and other supplements in November of 1938. Hoffman also wrote the book LSD: My Problem Child. It was indeed his problem child, for Hoffman tried the drug on himself and, like Aleister Crowley, discovered something powerful. After absorbing the drug, he said that he felt "a remarkable restlessness, combined with a slight dizziness.
At home, I lay down and sank into a not unpleasant intoxicated-like condition, characterized by an extremely stimulated imagination. In a dreamlike state, with my eyes closed (I found the daylight to be unpleasantly glaring), I perceived an uninterrupted stream of fantastic pictures, and extraordinary shapes with the intense, kaleidoscopic play of colors. After some two hours, this condition faded away…. I see the true importance of LSD in the possibility of providing material aid to meditation aimed at the mystical experience of a deeper, comprehensive reality."
[20] This "mystical experience" was again felt by Crowley and a host of black magicians over the centuries. How does the drug work? Simple: "After receiving the toxin orally or by pinprick, a victim first feels a tingling sensation in the fingers and lips and dies ten seconds later from a painless paralysis."
[21] Gottlieb, throughout his life, was never prosecuted for his crime. He was protected by the CIA, oligarchic institutions, and the elite. If there was one person who deserved to be hanged before he died, then that person should have been Sidney Gottlieb.
First published on July 19, 2020.
---
"We Dissolve Minds": Sidney Gottlieb and His Horrific Experiments.
---
LIBRARY OF KHAZARIAN HISTORY - BOOK FORMAT

2.  https://online.fliphtml5.com/qydua/tzso/
3.  https://online.fliphtml5.com/qydua/xxpo/
4.  https://online.fliphtml5.com/qydua/xmwu/
5.  https://online.fliphtml5.com/qydua/mqbe/
6.  https://online.fliphtml5.com/qydua/mjwl/
7.  https://online.fliphtml5.com/qydua/wryr/
8.  https://online.fliphtml5.com/qydua/evth/
9.  https://online.fliphtml5.com/qydua/pkpv/
10.  https://online.fliphtml5.com/qydua/mhya/
---
REFERENCES
[1] Dennis McNally, A Long Strange Trip: The Inside History of the Grateful Dead (New York: Broadway Books, 2002), 341.
Jonas E. Alexis, Assistant Editor
Jonas E. Alexis has degrees in mathematics and philosophy. He studied education at the graduate level. His main interests include U.S. foreign policy
---
Editors Commentary:
What everybody must be aware of is that this is not a war to prevent Putin from occupying Ukraine, but an attempt by the evil Khazarian Jews/WEF/NATO to control yet another country in their growing New World Order. They are simply using Ukraine as a battlefield. Their plan is to destroy totally the world's economy and turn the population into slaves. Like the Freemasons, they have also life-threatening rules in their membership, one being REVENGE, 10 times harder than was ever perpetrated on them. Russia in particular, in the past, has expelled the Khazars several times. I have all of 7 detailed articles in book format on the Khazarian Jews if anybody is interested in further information. Putin, and earlier also Trump, are the ONLY Presidents who have enough guts to see what they are attempting to do to the world population and have sufficient courage to do something about it.
HUMAN SYNTHESIS
---
COPYRIGHTS
Copy & Paste the link above for Yandex translation to Norwegian.
WHO and WHAT is behind it all? : >
The bottom line is for the people to regain their original, moral principles, which have intentionally been watered out over the past generations by our press, TV, and other media owned by the Illuminati/Bilderberger Group, corrupting our morals by making misbehavior acceptable to our society. Only in this way shall we conquer this oncoming wave of evil.
All articles contained in Human-Synthesis are freely available and collected from the Internet. The interpretation of the contents is left to the readers and does not necessarily represent the views of the Administrator. Disclaimer: The contents of this article are the sole responsibility of the author(s). Human-Synthesis will not be responsible for any inaccurate or incorrect statement in this article. Human-Synthesis grants permission to cross-post original Human-Synthesis articles on community internet sites as long as the text & title are not modified.
HUMAN SYNTHESIS