Luhansk, another narrative bites the dust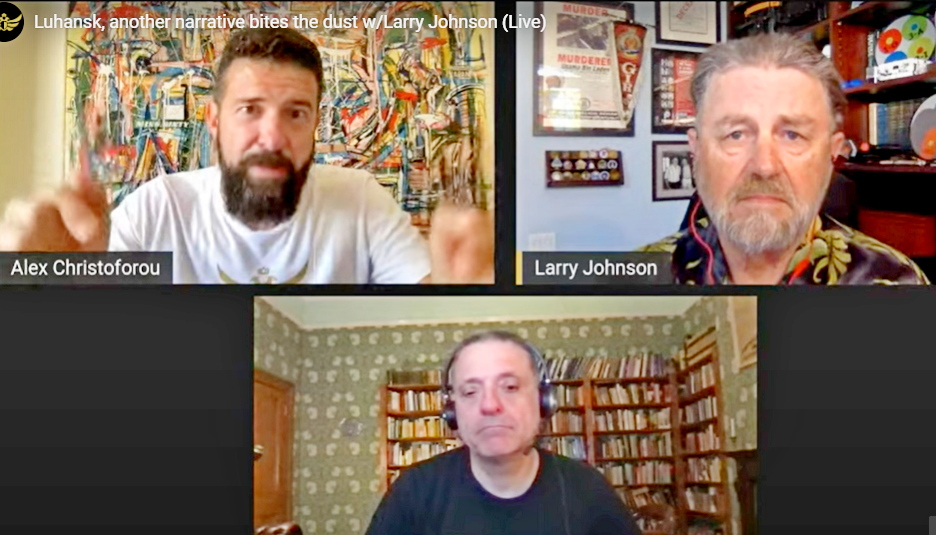 Veterans Today - By Jack Heart - July 5, 2022
Today's Brief, post-independence
In the video below, a brainstorming session between Johnson and self-made military intelligence experts Alex Christoforou and Alexander, Larry Johnson disproves my theory that there is no intelligent life at the CIA. The only one missing here is Gonzalo Lira who has been pointing out the obvious since the beginning.
Russia has proved itself to be a military power beyond the comprehension of the doomed American zombies, who as of yesterday was still cluelessly waving their flags and celebrating American exceptionalism.
Luhansk, another narrative bites the dust w/Larry Johnson
As Johnson confirms Russia went into Ukraine with one-third of the military force of Ukraine and has walked through the best NATO had without even breaking a sweat. America and Great Britain cannot defeat Russia in a war. All Russia needs from China is for them to stay neutral and we are witnessing the last days of the Anglo-American Empire. Good riddance.
We as citizens of those countries, the only real assets they ever did have, need to start thinking about how we will pick up the pieces. There are many of us who are still quite cognizant. Although the mainstream media, the true enemy of our people will not let us speak, and the internet is crawling with intelligence operatives from America, Great Britain, and Israel we still do have a voice. Here in America, its actually quite remarkable how many people have not fallen for the state-sponsored chemical lobotomy euphemistically referred to as a vaccine.
There is a marked decline in cognitive abilities in anyone that has taken that shot and the more of them they get the less coherent they become. But seventy-four million is more than enough to take this country back by the force of arms and that is what it's going to take. As of now, there is 120,000 military personnel who have refused it. There are even more combat veterans no longer on active duty that know what needs to be done here.
In America, we lost our way long ago from the original blueprint of a loosely knit alliance of autonomous states. Not that I believe voting in fixed elections is going to do us any good, but if you must vote the article below is the perfect blueprint for what you should be voting for:
Jack Heart Esoteric Evolution is a reader-supported publication. To receive new posts and support my work, consider becoming a free or paid subscriber.
---
Partial Olive Branch? Putin Says "No Problem" If Finland, Sweden Join NATO

ZeroHedge - BY TYLER DURDEN-TUESDAY, JUL 05, 2022 - 10:20
Now with the 30 member nations have signed the NATO accession protocols for Sweden and Finland on Tuesday, which brings them a huge step closer to entering the alliance, Russian President Vladimir Putin has reacted by downplaying it:
Russia has "no problem" if Finland and Sweden join NATO, President Vladimir Putin said on Wednesday. "We don't have problems with Sweden and Finland like we do with Ukraine," Putin told a news conference in the Turkmenistan capital of Ashgabat. Finland and Sweden will be formally invited to join the alliance after Turkey dropped its opposition on Tuesday.
WATCH: On Russian State TV, President Putin (@KremlinRussia_E) stated that Sweden and Finland are free to join NATO because their circumstances differ from Ukraine's. pic.twitter.com/th4tYmVHQS July 5, 2022
However, he was also quoted as saying he couldn't rule out that new tensions would emerge in Russian relations with Helsinki and Stockholm now that they've abandoned their historic neutrality regarding the Western military alliance.
Additionally, he suggested a further militarization along the 830-mile Russian-Finnish border, in line with prior comments from top Kremlin officials: "President Vladimir Putin said on Wednesday that Russia would respond in kind if NATO set up infrastructure in Finland and Sweden after they join the US-led military alliance," according to AFP, though without explaining further.
The thrust of his comments appeared to focus on the question of Ukraine joining and Sweden-Finland being "two different things".
Putin explained in the televised remarks, "They began turning Ukraine into an anti-Russia bridgehead for trying to destabilize Russia itself. They began fighting against Russian culture and language. They began to persecute individuals who regarded themselves as part of the Russian world," in reference to the Ukrainian government post-2014, following the forced ouster of Russian-friendly President Viktor Yanukovych.
Two months ago as it emerged that Finland would seriously pursue joining NATO, there were fears this could spark a Russia-NATO war, but now these and other comments of Putin on the question strongly suggest Moscow is willing to de-escalate the question.
One more important step forward. ⁰
Today, #NATO Allies signed the Accession Protocols for 🇫🇮 and 🇸🇪. We want to extend a sincere thank you to all Allies.

The next step on the road towards membership is the ratification process in all national parliaments.
#FinlandNATO pic.twitter.com/lUHKBPkncy July 5, 2022
It seems for the first time the Russian leader has offered NATO a partial olive branch of sorts, signaling Russia doesn't wish to stumble into a broader conflict with the Western military alliance, particularly over the Scandinavia countries' accession.
He was also addressing critics who don't buy the Russian arguments that the Ukraine invasion was fundamentally driven by NATO expansion. This was the most detailed that President Putin has been of late in explaining why the Ukraine matter is "different" - or a unique threat to Russia's national security - when it comes to NATO expansion.

---
Commentary:
HUMAN SYNTHESIS
---
COPYRIGHTS
Copy & Paste the link above for Yandex translation to Norwegian.
WHO and WHAT is behind it all? : >
The bottom line is for the people to regain their original, moral principles, which have intentionally been watered out over the past generations by our press, TV, and other media owned by the Illuminati/Bilderberger Group, corrupting our morals by making misbehavior acceptable to our society. Only in this way shall we conquer this oncoming wave of evil.
All articles contained in Human-Synthesis are freely available and collected from the Internet. The interpretation of the contents is left to the readers and does not necessarily represent the views of the Administrator. Disclaimer: The contents of this article are of the sole responsibility of the author(s). Human-Synthesis will not be responsible for any inaccurate or incorrect statement in this article. Human-Synthesis grants permission to cross-post original Human-Synthesis articles on community internet sites as long as the text & title are not modified.
HUMAN SYNTHESIS