Russia has made a decisive break with the West and is ready to help shape a new world order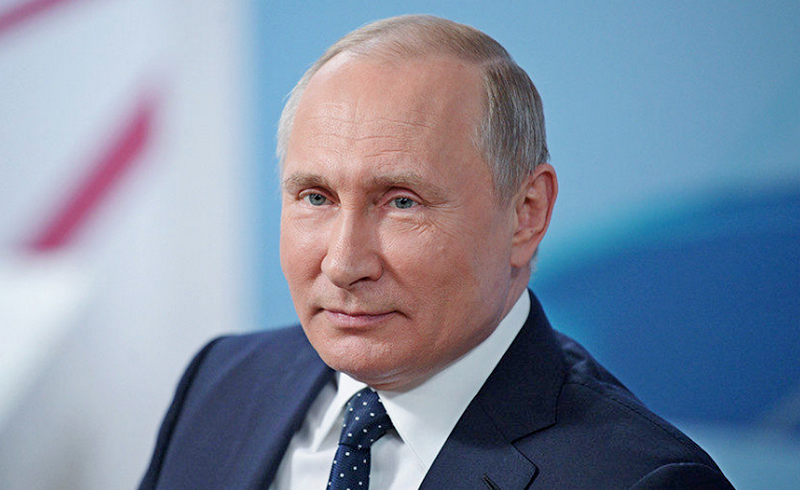 Veterans Today -  Jonas E. Alexis, Assistant Editor - July 4, 2022
By Russia Today
Russia is now focusing on developing its ties with Asia, the Middle East, Africa, and Latin America.
Just before the G7 leaders met at Elmau Castle in Bavaria, last week, their counterparts from the five BRICS countries held an online summit under the Chinese Presidency. Russia had been discussed as a threat at the G7 gathering but was a key participant in the latter.
Long gone are the days when Moscow could straddle the divide between the West and the non-West. Following the 2014 Ukraine crisis, the G8 reverted to its previous G7 format; in the wake of the Russian military action in Ukraine last February, the Russian-Western confrontation degenerated into a full-blown "Hybrid War," complete with an actual confrontation – if so far a proxy one.
Having tried, after the end of the Cold War, to become part of the new West, and having failed at that endeavor, Russia is now focusing on developing its ties with Asia, the Middle East, Africa, and Latin America.
This is both a difficult and a necessary task, for a number of reasons. First, there is powerful inertia from the past. At least since the days of Peter the Great, Russian elites have looked westward, adopting western ways of appearance and behavior (while remaining distinctly Russian beneath the garb and manners); adapting western institutions (even if often only superficially); borrowing western patterns of thinking (while creatively developing them, as with Marxism); seeking to become a great European power; then, in Soviet days, a global superpower; and, more recently, a key component of a Greater Europe from Lisbon to Vladivostok.
This is a pathway hard to wean off from. Yet, now, for the first time ever, Russia is facing a united West, from North America, the European Union, and Britain, to Japan and Australia. What's more, there are no allies in the West that Moscow can turn to – even notionally neutral states such as Finland, Sweden, Austria, and Switzerland, have all ditched their neutrality. Russia's political rupture with the West is thus complete, and any new norm of relations between them can only emerge as a result of the "Hybrid War," which will take years, if not decades, to fight out.
Second, Moscow's economic relations have been largely built with the West. Historically, Russia has been a resource for Western European industry; a breadbasket of the continent; and a major importer of industrial products and technology. Until recently, Russia's trade with the European Union alone accounted for more than half of Russia's foreign commerce, and Germany was the lead exporter of machinery and technology to Russia.
Since the early 1970s, oil and gas pipelines from Russia to Western Europe have formed the backbone of economic ties and provided for general stability on the continent, even in the dangerous decades of the Cold War and in the turbulent times of the disintegration of the Soviet Union itself. This, too, is on the way out, however.
The severe sanctions imposed on Russia by the US, EU and the UK will not be lifted even when the actual fighting in Ukraine stops, and the painful experience of foreign exchange and asset seizures will leave a huge imprint on any future Russian approach to economic ties with the West.
Third, in cultural terms, Russians have traditionally identified themselves with the rest of Europe. Christianity; the legacies of Ancient Greece and Rome; the ideas of French Enlightenment and German philosophy; European literature and the arts, music, and dance – all of this helped shape and form Russia's own culture, giving it a powerful stimulus for self-development. Despite the recent political rupture and the geo-economic shift, the foundations of Russian culture remain definitely European.
However, a number of elements of today's cultural scene in the West, particularly the dominant cult of individual self-expression, runaway liberalism that is turning increasingly oppressive, the erosion of family values, and the proliferation of genders, jars with the more traditional cultural code of the majority of the Russian population.
That said, the obvious necessity for Russia to now look beyond the West means it can probably overcome the historical inertia, the legacy of previous geo-economic priorities, and cultural affinities. With the West shunning Russia, trying to isolate and sometimes "cancel" it, Moscow has no choice but to kick its old habits and reach out to the wider world beyond Western Europe and North America.
In fact, this is something that successive Russian leaders vowed to do repeatedly, even when relations with the West were much less adversarial, but the Europe-oriented mindset, the apparent ease of trading resources for Western goods and technologies, and the ambition to be accepted into Western elite circles prevented that intention from turning into reality.
It has been noted, however, that people start doing the right thing only when there are no other options. And certainly, capitulating to the West is no option for Russia, at this point. Things have gone too far.
Beyond the necessity of an overhaul of Russia's foreign relations, there are real opportunities to pursue. Since the end of the Cold War, the leading countries of Asia, the Middle East, Africa, and Latin America have risen spectacularly in all respects, from economically and politically to technologically and militarily.
Even before the outbreak of the "Hybrid War," China had overtaken Germany not only as Russia's principal trading partner, but also as the leading exporter of machinery and equipment to Russia. India, a traditional importer of Soviet and Russian weapons, is now emerging as a major technology partner for Moscow. Saudi Arabia and the United Arab Emirates are Russia's principal partners in regulating oil output in the OPEC+ format.
Turkey and Iran are major independent players in a key strategic region. The fact that the vast majority of non-Western countries refused to condemn Russia for what it is doing in Ukraine – many of them despite strong US pressure – is most encouraging for Moscow. In the sense that those who are not against us could be considered to be with us.
From Indonesia to Brazil, and from Argentina to South Africa, there are many dynamic and ambitious countries that Moscow is seeking to engage.
To be able to do that, Russia's foreign policy needs to come up with an appropriate strategy. Above all, it needs to give relations with non-Western countries priority over the de facto firmly frozen ties with the West. Being an ambassador to Indonesia should be more prestigious than an ambassadorship in Rome, and a post in Tashkent should be viewed as more important than one in Vienna.
There needs to be an audit of potential economic and other opportunities for Russia in the BRICS countries, and a plan to work on them. Apart from economics, student exchange programs should be expanded, and Russian tourism encouraged to move east, and south. The Russian media would be right to increase coverage of developments in the key non-Western nations, educating the Russian elite and the broader public about the economic realities, politics, and culture of those nations.
Dmitri Trenin is a member of the Russian International Affairs Council.SOURCERussia Today
Jonas E. Alexis, Assistant Editor. He has degrees in mathematics and philosophy.
---
Putin's Coup in the Khazarian Mafia's Back Yard
Veterans Today-By Jonas E. Alexis, Assistant Editor-January 20, 2022
JEA: Whatever you may want to say about Vladimir Putin, he dropped numerous political explosives in the New World Order over the years. He challenged the Powers That Be in Syria, and he never let the war machine destroy the country. Putin also rendered NWO agents virtually powerless, helpless, and hopeless. You may disagree with him on other issues, but we must give credit where it is due.
…by Brother Nathanael Kapner
WHILE the Khazarian Mafia RAMPS UP more sanctions against Russia, Putin still has the last laugh.
And while the Khazarian Mafia is eating its heart out trying to isolate Russia with its laughable slogan, 'mobilizing the international community,' Putin continues to straddle the world stage…this time in the Khazarian Mafia's own backyard in Latin America.
On June 11, Putin brought Russia to the Western Hemisphere with his first stop in Cuba where he met with Fidel and Raul Castro.
After waiving a $32 billion debt owed to Russia, Putin reportedly set his sights on a berth for the Russian Naval fleet at Cuba's new port of Mariel.
This bodes ill for the Jewish neocon clique, especially Nuland's tribal chum, Roberta Jacobson, the Assistant Secretary of State for Western Hemisphere Affairs.
The following day, Putin touched down in Nicaragua for a brief visit with trade and government ministers in Nicaragua.
"Your visit here is a ray of light," President Daniel Ortega told Putin in his opening remarks before the press.
Evidently, talks included Nicaragua approving Russia's navy ships to dock at its ports.
Later in the day, Putin arrived in Argentina where he met with the Argentine president, Cristina Fernandez de Kirchner.
After signing deals that included Russia building a nuclear reactor and talks regarding Russia setting up bases for its satellite system, Kirchner accused America of hypocrisy for its refusal to recognize Crimea's referendum, but not protesting a similar vote in which residents of a British-controlled archipelago, (that is claimed by Argentina), chose to remain British.
Then Putin landed a knock-out punch on America's cheek.
The finishing blow took place in Brazil on July 15 where the leaders of Brazil, Russia, India, China, and South Africa met in the northeastern city of Fortaleza.
(While many other Latin American leaders attended the conference, Obama couldn't convince a single leader to shun the BRICS summit in Brazil, Wayne Madsen pointed out.)
At Fortaleza, Putin and his fellow BRIC leaders created the $100 billion "BRICS Development Bank" with a reserve currency pool worth over another $100 billion.
Both are devised to counter America's pernicious "dollar" influence.
New members such as Mexico, Nigeria, and Indonesia, are waiting in the wings to join the new BRIC Development Bank.
"We are implementing a system of measures that prevent the harassment of countries that do not agree with some foreign policy decisions made by the United States and their allies," Putin told Russian news agency Itar-Tass.
And what Putin told America—in so many words—is that the 'international community' no longer belongs to the United States of America, where the Khazarian Mafia controls much of the political climate.
…BUT to a gathering of nations that are sick and tired of Jewish world hegemony.
---
Commentary:
HUMAN SYNTHESIS
---
COPYRIGHTS
Copy & Paste the link above for Yandex translation to Norwegian.
WHO and WHAT is behind it all? : >
The bottom line is for the people to regain their original, moral principles, which have intentionally been watered out over the past generations by our press, TV, and other media owned by the Illuminati/Bilderberger Group, corrupting our morals by making misbehavior acceptable to our society. Only in this way shall we conquer this oncoming wave of evil.
All articles contained in Human-Synthesis are freely available and collected from the Internet. The interpretation of the contents is left to the readers and does not necessarily represent the views of the Administrator. Disclaimer: The contents of this article are of the sole responsibility of the author(s). Human-Synthesis will not be responsible for any inaccurate or incorrect statement in this article. Human-Synthesis grants permission to cross-post original Human-Synthesis articles on community internet sites as long as the text & title are not modified.
HUMAN SYNTHESIS