NATO cracks exposed: Call for members to be KICKED OUT as alliance 'only inch deep'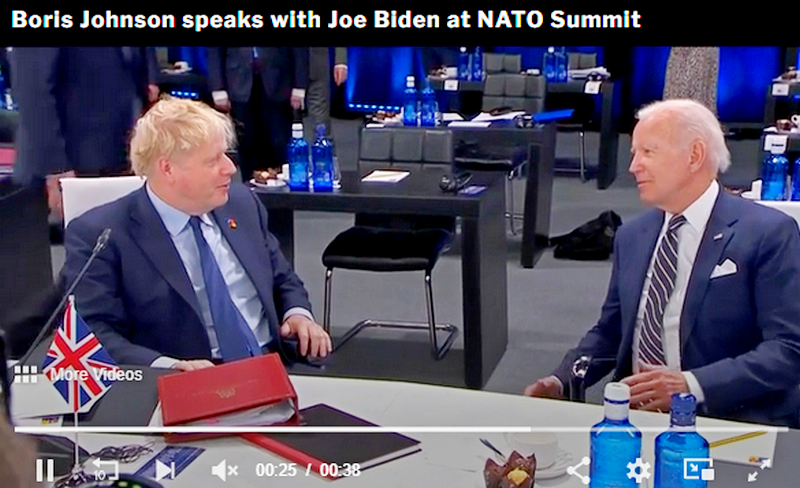 Daily Express - By JAMES LEE11:43, Fri, Jul 1, 2022
CRACKS have appeared within NATO as calls have been made to have members "forced out" as the alliance is "only an inch deep".
Boris Johnson speaks with Joe Biden at NATO Summit
We use your sign-up to provide content in ways you've consented to and to improve our understanding of you. This may include adverts from us and 3rd parties based on our understanding. You can unsubscribe at any time.
The news comes as NATO member leaders conclude a high-level summit in Madrid discussing the priorities of the alliance in light of the ongoing Russian invasion of Ukraine. The summit has attempted to demonstrate the alliance has become ever closer, and in fact, grown with the inclusion of Sweden and Finland being a key example.
RELATED ARTICLES
Russia pundit outlines plot to take over Lithuania 'It will be 3 days
Putin hints at unleashing horror defense pact with Belarus
Calling the summit "transformative" and "far-reaching," NATO Secretary-General Jens Stoltenberg predicted at the close of the three-day affair that the decisions made there would "ensure that our Alliance continues to preserve peace, prevent conflict, and protect our people and our values."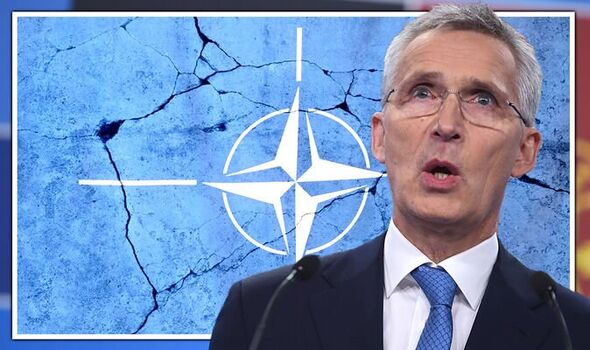 However, the cracks are beginning to show with one commentator suggesting the thinly veiled family photo may not be one of a happy alliance.
Matthew Karnitschnig, Politico's chief European correspondent who was at the summit, said: "Look beyond the staged backslapping, bonhomie, and self-congratulation in Madrid, however, and one can see that while the alliance's unity might be a mile wide, it's also only an inch deep, its collective sense of purpose as varied as its 30 members."
Much discussion has arisen over the financial commitment seen by NATO members.
Former US President Donald Trump made his thoughts clear when he famously addressed the issue suggesting smaller contributors need to step up to the mark.
In fact, at one point, Mr. Trump threatened to pull out of the alliance as a matter of point, resulting in a quick pledge by members to increase their spending.
Germany, France, and the UK have all hinted at increasing defense spending over the next decade, with the UK aiming to hit 2.5 percent of GDP following pressure by Defence Secretary Ben Wallace to increase the budget.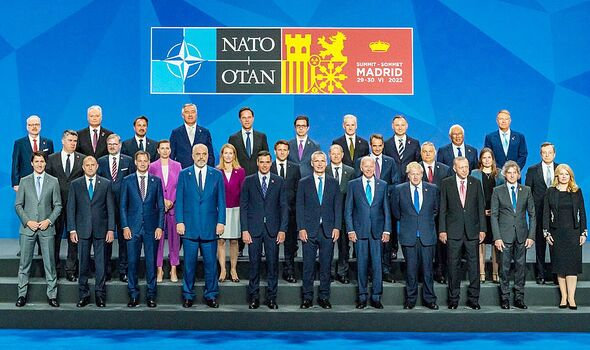 The US is still by far the largest contributor to the alliance, with around 3.5 percent of its GDP dedicated to defense.

Emmanuel Macron's dream of an EU army picks up speed
With the US pledging to commit even more troops and resources to Europe, American leaders will be under immense pressure to justify the expense to the public, especially if, as many anticipate, the country slips into a recession.
Mr. Karnitsching suggested NATO members should now concentrate on shared priorities in order to move forward.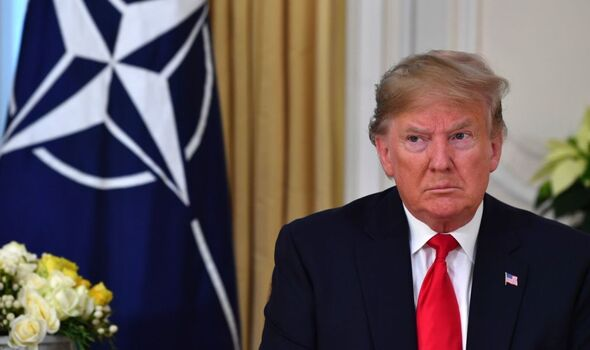 He said: "Instead of making vague promises as it did this week to 'share equitably responsibilities and risks for our defense and security,' NATO would be wise to pursue more radical reform.
"That not only means leaning less on the US but also redefining what NATO is and isn't and practicing what it preaches.
"Put simply, if members don't adhere to basic democratic norms, they should be forced out.
"Similarly, those not willing to contribute to their own defense should be encouraged to seek their security guarantees elsewhere.
"In military circles, the tactic of "destroying a town to save it" is controversial. In NATO's case, there's no other option."
Octopus Energy steps in to save the Netherlands with wind farms after Putin choked supplies
Furthermore, aside from the ongoing threat to NATO members by the Russian invasion of Ukraine, on a global scale, the rising power of China is also causing concern.
The US is soon to be displaced as the world's largest economy with China set to surpass it by the year 2024.
Additionally, tension is mounting in the South China Sea, and in particular, Taiwan, as Beijing could become emboldened by Russia's actions to invade Taiwan.
In spite of NATO members focussing on Russian threats, the notion of a Chinese invasion of Taiwan could drag alliance members into a wider conflict, adding to the already challenging financial commitments of the current conflict.
Follow @JamesLee_DE on Twitter for more stories like this.
---
Commentary:
HUMAN SYNTHESIS
---
COPYRIGHTS
Copy & Paste the link above for Yandex translation to Norwegian.
WHO and WHAT is behind it all? : >
The bottom line is for the people to regain their original, moral principles, which have intentionally been watered out over the past generations by our press, TV, and other media owned by the Illuminati/Bilderberger Group, corrupting our morals by making misbehavior acceptable to our society. Only in this way shall we conquer this oncoming wave of evil.
All articles contained in Human-Synthesis are freely available and collected from the Internet. The interpretation of the contents is left to the readers and does not necessarily represent the views of the Administrator. Disclaimer: The contents of this article are of the sole responsibility of the author(s). Human-Synthesis will not be responsible for any inaccurate or incorrect statement in this article. Human-Synthesis grants permission to cross-post original Human-Synthesis articles on community internet sites as long as the text & title are not modified.
HUMAN SYNTHESIS