Dr. Zelenko Launches the Zelenko Freedom Foundation to Fight Against Medical Tyranny.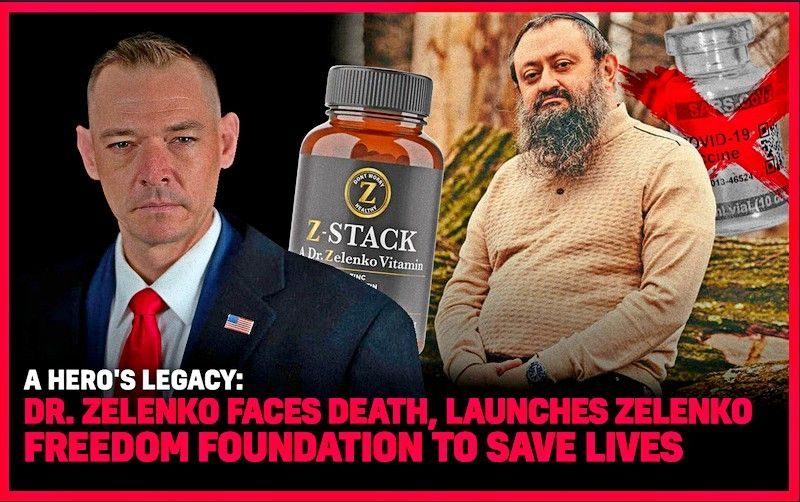 ZeroHedge - BY Z-STACK 29 June 2022
Recently, Dr. Vladimir "Zev" Zelenko, the leading pioneer in the early treatment of COVID-19, the creator of the over-the-counter immune-boosting supplement Z-Stack, and one of the most influential voices for medical freedom, announced the creation of the Zelenko Freedom Foundation.
"We live in a terrifying time, where big tech oligarchs censor what you can see while biased media outlets peddle false narratives in support of self-interested politicians who care more about pushing their own agenda than improving and saving peoples' lives," said Dr. Zelenko.
"This situation is exacerbated when you pile on a cadre of incompetent public health officials who routinely ignore the very evidence their own research organizations provide - which results in a consistent failure to accurately understand, predict, or address the impacts of public health threats like COVID-19," said Zelenko.
"Big tech, big government, big pharma, and a corrupt public health bureaucracy has resulted in a toxic cocktail that is poisoning our healthcare system, undermining our freedoms, and costing the lives of countless Americans," continued Zelenko.
"That is exactly why I am creating the Zelenko Freedom Foundation:  to regain commonsense, access accurate information, and increase awareness. The Zelenko Freedom Foundation will seek to educate the public through medical professionals dedicated to speaking truth to power in order to protect the health of all people," said Dr. Zelenko.
"All of us enjoy a limited amount of time on this planet," continued Zelenko. "I have been blessed by God to extend my life – in spite of a terminal cancer diagnosis – for years. I know my time is short, which is why I am creating the Zelenko Freedom Foundation and instructing my company – Z-Labs – to donate 10% of all proceeds to support the critical work of this foundation."
Support the Fight Against Medical Tyranny by Purchasing Z-Stack, Z-Dtox or Z-Kids**
The Zelenko Freedom Foundation is co-chaired by Kevin Jenkins and Ann Vandersteel.
Kevin Jenkins is an accomplished public speaker, a transformational executive, and a lifelong champion for human rights and is the founder of the Urban Global Health Alliance – whose mission is to educate, empower and release urban communities from decades of indoctrination and suppression, and to create effective public policy which safeguards rights of equality.
Ann Vandersteel is an accomplished new media journalist who pioneered the art of studio broadcasting and boots-on-the-ground reporting to gain a reputation as a dependable truth-teller. Ann's focus has been on exposing the criminals behind the systematic destruction of our God-given freedoms while lighting a solutions-based path forward to freedom. She is fearless and unapologetically serves God and her country.
"Ann and Kevin are the stewards of my legacy – I can think of no two people better qualified and more committed to the work that defines my life than these two incredible individuals," continued Zelenko.
"I am deeply honored to be a part of the Zelenko Freedom Foundation," said Vandersteen. "Zev was one of the first medical professionals who were willing to stand up to the big government and big pharma. The movement to defend medical freedom owes its very existence to Dr. Zelenko."
"I have traveled the country the last two years, talking to grassroots activists and grasstop leaders in almost every state in the union. Everywhere I went I heard one name over and over again – Dr. Zev Zelenko," said Kevin Jenkins. "This foundation will invest in the next generation of medical professionals who are willing to join Zev in telling the truth and putting their patient's health above the profits of big pharma."
Supercharge Your Immune System and Support the Fight For Medical Freedom!**
About the Products:
Z-Stack
Z-Stack™ is one of Dr. Zelenko's premier products that he specifically designed.
With decades of experience in the medical field, the knowledge Dr. Zelenko has gained over the years and his experiences during the pandemic led to him formulating his own supplement, which we now know as Z-Stack™.  After careful examination, Dr. Zelenko put together an all-natural formula design for supporting the natural defense system of the body.
Z-Dtox
Dr. Vladimir Zelenko's groundbreaking work on the immune system has led to this exciting breakthrough. The ingredients in Z-DTox™ are specially formulated to lend a powerful boost to your immune system:
EGCG. Epigallocatechin gallate is an extract of green tea and is a powerful zinc Ionophore (zinc delivery system).
N-acetyl cysteine (NAC) is a supplement form of cysteine. It may prevent blood clots and is an antioxidant.
Zinc is critical for immune cell development. Dozens of different enzymes in the body rely on zinc.
Vitamin C is an essential nutrient involved in the repair of tissue and the enzymatic production of certain neurotransmitters.
Vitamin D is a group of fat-soluble secosteroids responsible for increasing intestinal absorption of calcium, magnesium, phosphate, and many other biological effects.
Detox from a toxic world with Z-DTox™ today! Makes a great gift for friends and family who are concerned they may have a weakened immune system from an immune deficiency, struggle with a healthy lifestyle, or may suffer from adverse vaccine side effects.
Kids Z-Stack
Dr. Zelenko took all of the immune-boosting power of Z-Stack and put in a specially formulated gummy for kids 3 years and up! Help even the smallest members of your family stay healthy by supercharging their immune systems!
10% of All Sales from Z-Labs Will Support this Foundation
This post is sponsored content and Zerohedge has been compensated for its publication.
---
Commentary:
HUMAN SYNTHESIS
---
COPYRIGHTS
Copy & Paste the link above for Yandex translation to Norwegian.
WHO and WHAT is behind it all? : >
The bottom line is for the people to regain their original, moral principles, which have intentionally been watered out over the past generations by our press, TV, and other media owned by the Illuminati/Bilderberger Group, corrupting our morals by making misbehavior acceptable to our society. Only in this way shall we conquer this oncoming wave of evil.
All articles contained in Human-Synthesis are freely available and collected from the Internet. The interpretation of the contents is left to the readers and does not necessarily represent the views of the Administrator. Disclaimer: The contents of this article are of the sole responsibility of the author(s). Human-Synthesis will not be responsible for any inaccurate or incorrect statement in this article. Human-Synthesis grants permission to cross-post original Human-Synthesis articles on community internet sites as long as the text & title are not modified.
HUMAN SYNTHESIS