'Shoot at All Targets on Maidan'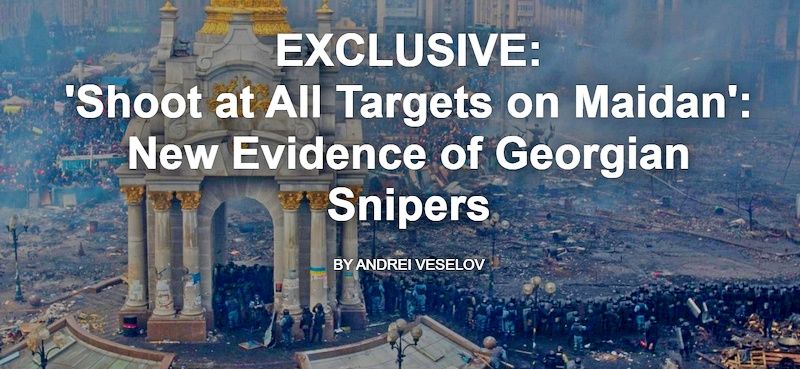 Police officers and opposition supporters are seen on Maidan Nezalezhnosti square in Kyiv, where clashes began between protesters and the police. PHOTO: Sputnik, Andrey Stenin.
SputnikNews- BY ANDREI VESELOV - 28 March 2022
New Evidence of Georgian Snipers

On February 20, 2014, unknown snipers shot at people gathered on Kyiv's central Maidan square killing 49 protesters and four police officers. Local opposition leaders, as well as US and EU representatives, were quick to point a finger at the "regime of Viktor Yanukovych." Still, an official investigation failed to produce any results with the culprits still at large.

A Sputnik correspondent has met with the purported snipers, all of them from Georgia. They insist that they were taking orders from Maidan leaders. Moreover, they had direct orders to fire at police officers AND protesters in order to enrage the crowd and provoke a political crisis.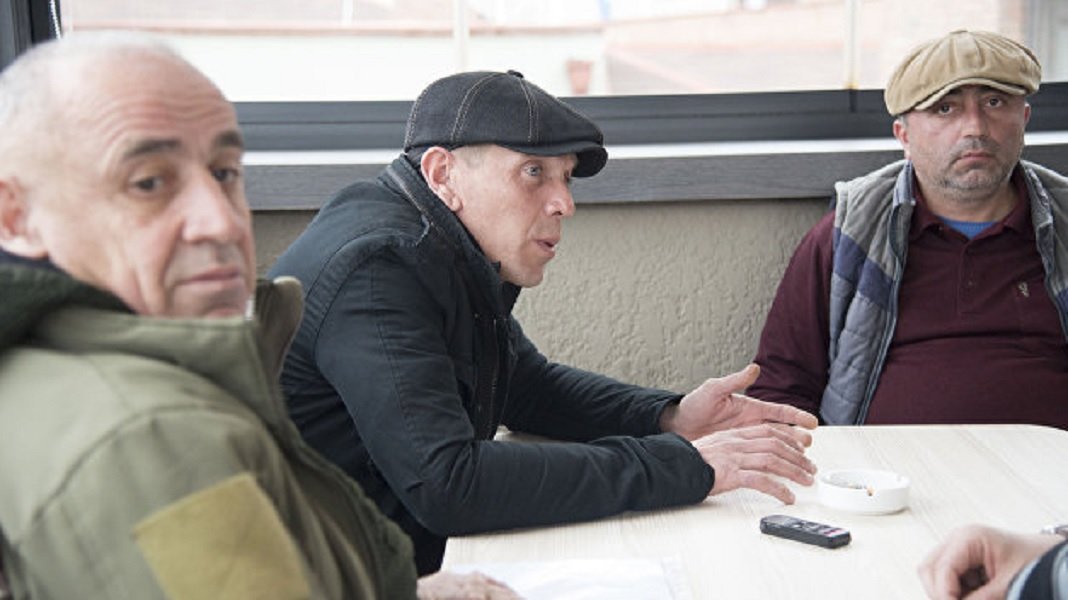 General Tristan Tsitelashvili, Alexander Revazishvili, and Koba Nergadze. PHOTO: Sputnik, Stringer

General Tristan Tsitelashvili, the former commander of the Georgian Army's elite Avaza unit, was the first to say that certain Georgian snipers were involved in the Maidan shooting. Tsitelashvili fought in Abkhazia and took part in the "five-day war" of August 2008, but later became a personal enemy of Mikheil Saakashvili, who tried to blame the military for his fiasco.

Tsitelashvili's house was raided by police who arrested the general and seriously injured his little son. They tried to force him to admit to having played a role in an alleged "plot by generals" which purportedly resulted in Georgia's defeat in the 2008 war. The general did not testify and has since been a sworn enemy of Saakashvili.

I knew already in 2014 about people from Georgia who were present on Maidan square with specific orders to shoot. Some of them served under my command in the Georgian army. Some are still in Ukraine, fighting, others returned to Georgia. They took their time to speak out because they were afraid to. They are still afraid because they can simply be eliminated as unwanted witnesses!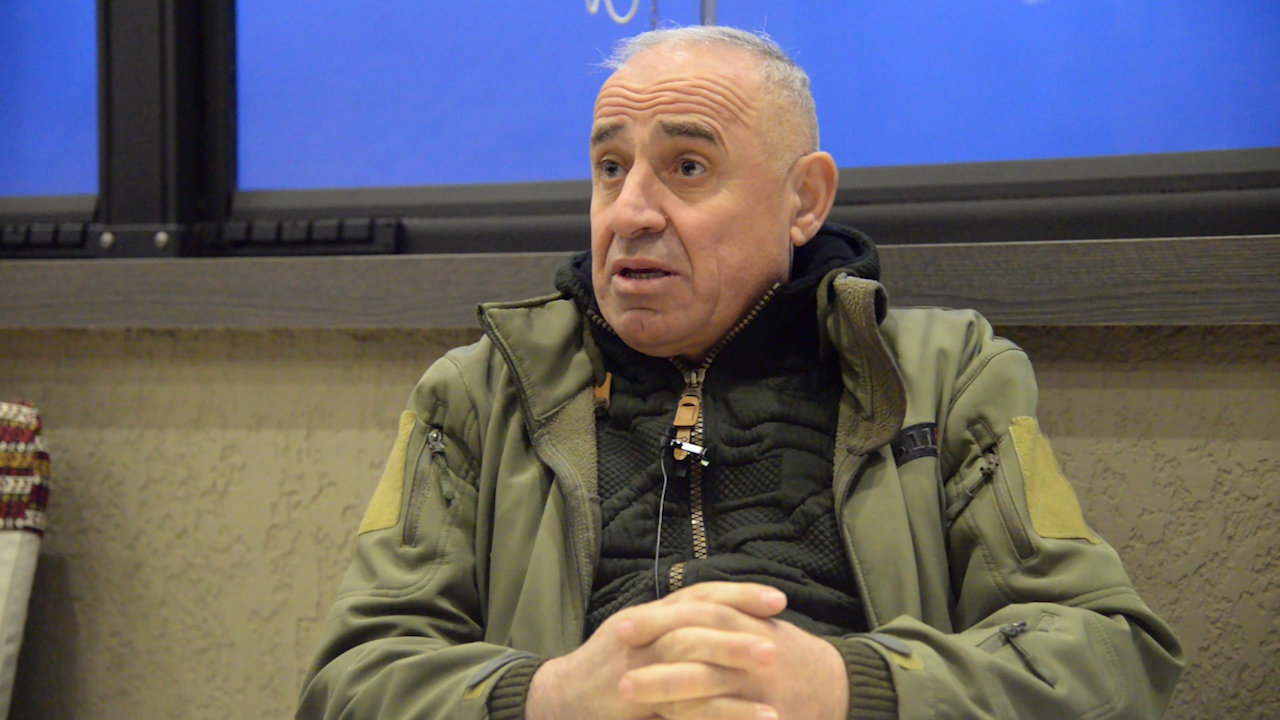 General Tristan Tsitelashvili. Protesters saw in the Independence Square, Kyiv. PHOTO: Sputnik, Andrey Stenin "People Called Us Sonderkommando". Koba Nergadze is one of the people General Tsitelashvili had in mind.

A career officer in the Georgian army, in 2003-2004 he took part in a number of special operations in Ergeneti District, sandwiched between Georgia and South Ossetia.

"We were fighting smugglers. The region was divided into zones controlled by Georgian and Ossetian businessmen. Conflicts occasionally flared up, including real firefights with the Ossetian military. Our brigade suffered 11 or 12 people killed, I can't say for sure. Overall, the Georgian army lost 45 people," Nergadze said.

He left the ranks of the army in 2006 as Senior Lieutenant and, shortly after, with some help from Mamuka Mamulashvili, joined the Defense Ministry's Security Service. Mamulashvili currently serves as the commander of the so-called "Georgian Legion" fighting in eastern Ukraine on Kyiv's side.

"I first met him while in the army, at the birthday party of my friend Bezho," Koba added. "Officially, we also dealt with the protection of the rallies held in Tbilisi, to make sure that there would be no clashes between supporters and opponents of Saakashvili. In fact, we were tasked with suppressing opposition rallies and keeping an eye on the opposition," he admitted.
If necessary, by order of commanders, our service officers beat up opposition leaders. As a rule, we did this while wearing masks. People called us 'Sonderkommando.' Service members were usually tight-lipped about where they worked and what they did.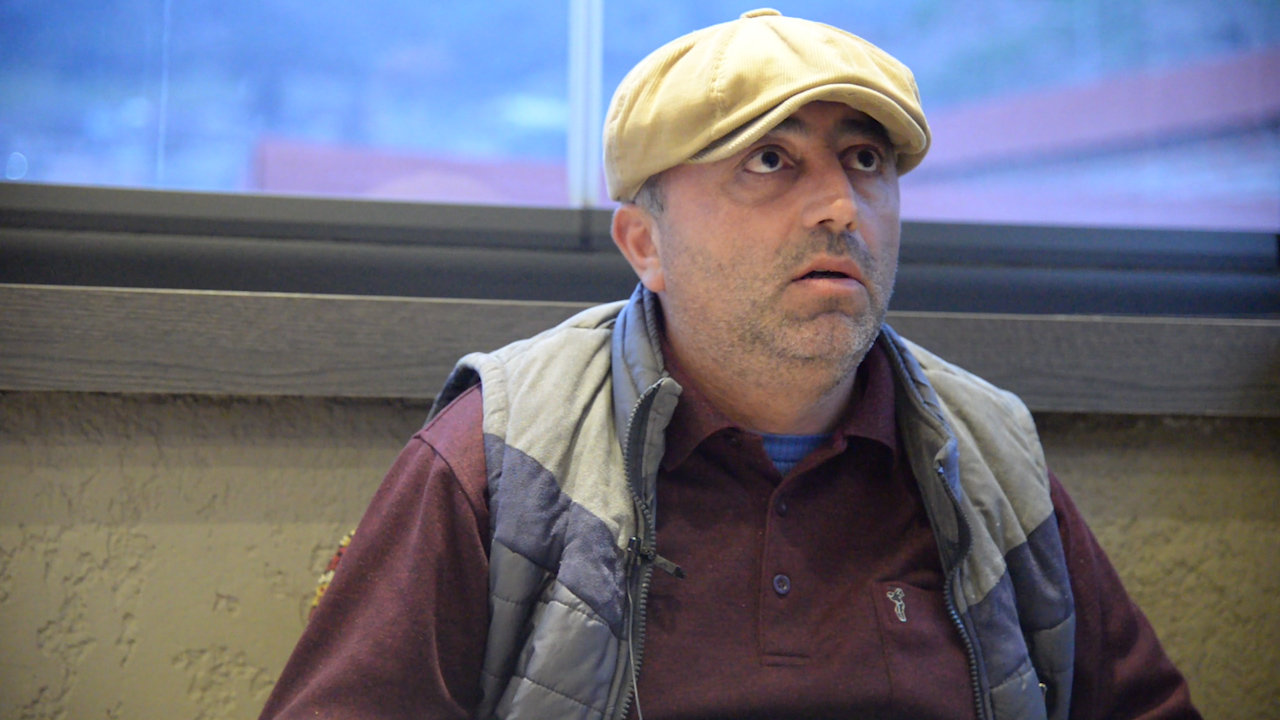 Koba NergadzeThe agents were divided into "tens." Nergadze was one of the foremen. Other foremen he knew are Georgy Saralidze, Merab Kikabidze, and David Makiashvili. In his interview with Sputnik, Koba mentioned some of the "tariffs." He said that they were paid $1,000 for beating up an opposition MP.
Maidan square in Kyiv, Ukraine, February 19, 2014. PHOTO: Sputnik, Andrey Stenin.
In December 2013, Mamulashvili invited the "foremen" to a meeting and ordered them "to immediately go to Ukraine to help the protesters." Nergadze's group was allocated $10,000 with an additional $50,000 promised them upon their return.

They used other people's passports to reach their destination. Nergadze had a passport issued in the name of Georgy Karusanidze (born in 1977).

In Kyiv, the group was accommodated on Ushinsky Street and each day, as if to work, they went to Maidan.

"We were told to ensure order so that there were no drunks, to maintain discipline and identify rabble-rousers sent in by the authorities," the officer recounted.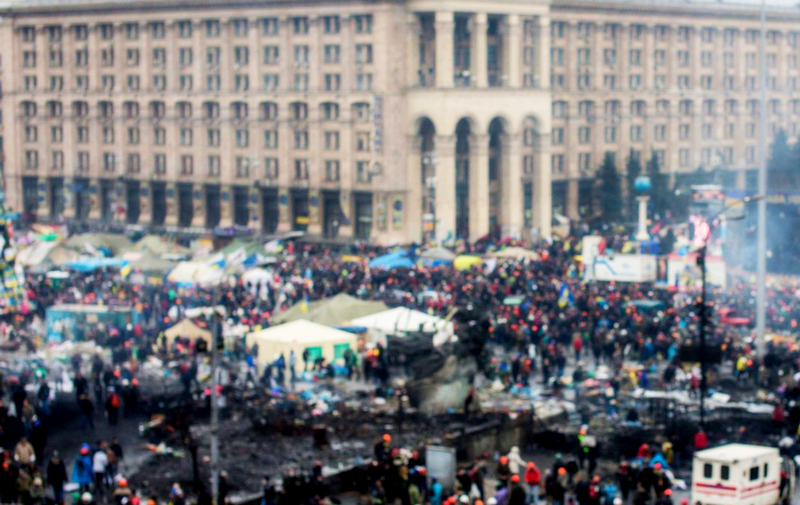 Nergazde celebrated New Year at Hotel Ukraina, which was already controlled by protesters oppositionists saw in the Independence Square, Kyiv. PHOTO: Sputnik, Andrey Stenin.
Alexander Revazishvili is another former Georgian military man, who arrived in Kyiv in the midst of unrest. After serving in the Georgian army, he was an active member of "Free Zone" – an organization of Saakashvili's supporters. In his own words, he "infiltrated the oppositionists' ranks, inciting fights and engaging in other provocations." The organization was led by Koba Khabazi, who introduced Revazishvili to Mamulashvili. He took a great deal of interest in the ex-officers military specialization as a sniper.

In mid-February, Revazishvili, Khabazi, and four other representatives of the Free Zone arrived in Kyiv on a UIA flight. They were accommodated at Vozduhoflotskaya Street before being moved to the city conservatory, which was already controlled by the opposition.

The following day Mamulashvili brought us to Maidan and placed us in a tent set up on the square. Khabazi told us that our task was to provoke the protesters to attack. Our group, along with the protesters, attacked Berkut with stones and Molotov cocktails. Some people were bringing rocks; some were lining up Molotov cocktails, while others assaulted Berkut and the police.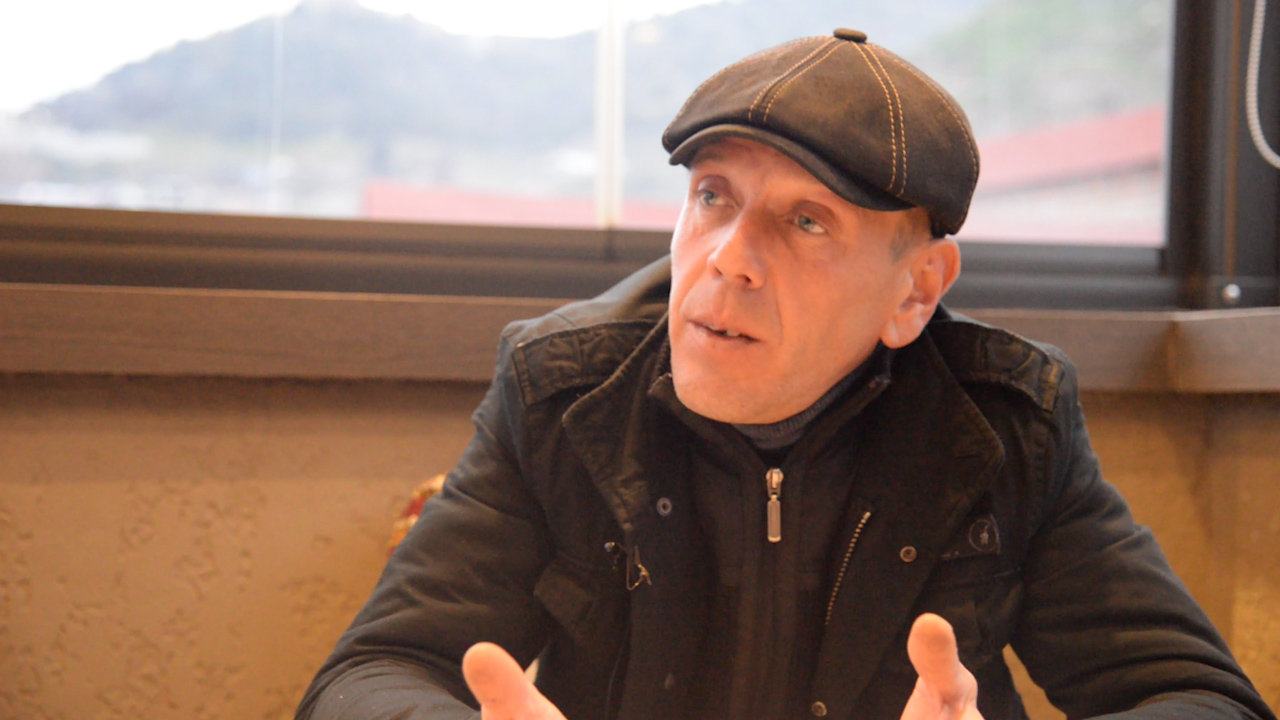 Alexander Revazishvilitestimony
"Sergei Pashinsky Was Bringing the Arms"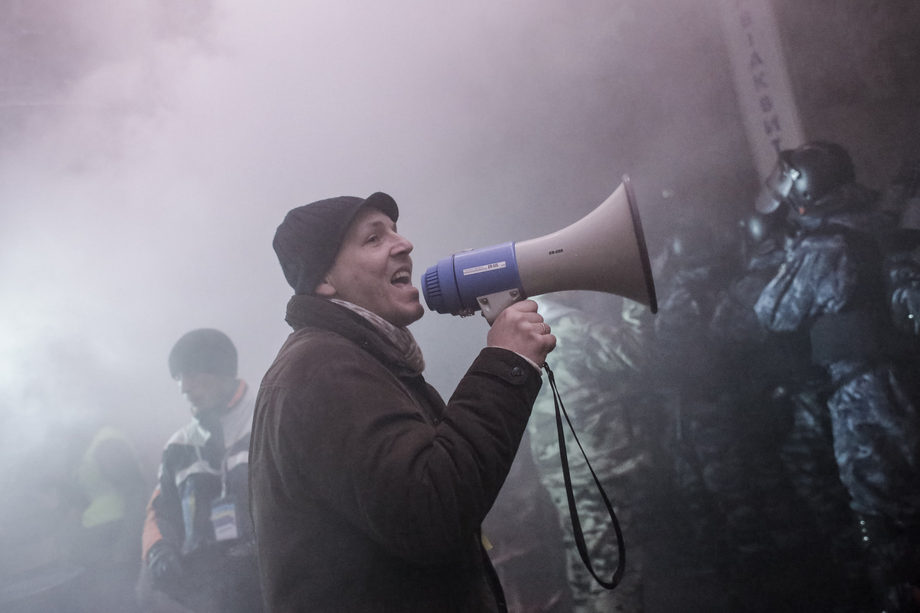 Andriy Parubiy, member of the Yulia Tymoshenko Bloc, on Maidan Square in Kiev. PHOTO: Sputnik, Andrey Stenin.
"On February 14 or 15, the group commanders - me, Kikabidze, Makiashvili, Saralidze, I do not remember the names of the others - were gathered in a suite on the third floor of Hotel Ukraina. Among those present were Parubiy (Andrey Parubiy, right-wing Ukrainian politician, the "commandant of the Maidan" during the period of unrest in Kiev; since 2016 - Speaker of the Verkhovna Rada), and Pashinsky (Sergei Pashinsky, a notorious Ukrainian politician and businessman, a People's Deputy of Ukraine. - Ed.). 'We need to help our fraternal people, and soon we will have an assignment.' He gave no further clarification. By that time I had already seen hunting rifles and pistols, carried by the protesters," "Nergadze said. Also taking part in the meeting was a certain Christopher Brian, who was presented as a former American soldier.

In the evening of February 19, Sergey Pashinsky and several unfamiliar guys with big bags returned to the hotel. They took out SCS carbines, 7.62mm Kalashnikov assault rifles, an SVD rifle, and a foreign-made carbine. Pashinsky explained to us that the weapons would be needed "for self-defense," but when I asked him from whom we were going to defend ourselves, he did not answer and left the room.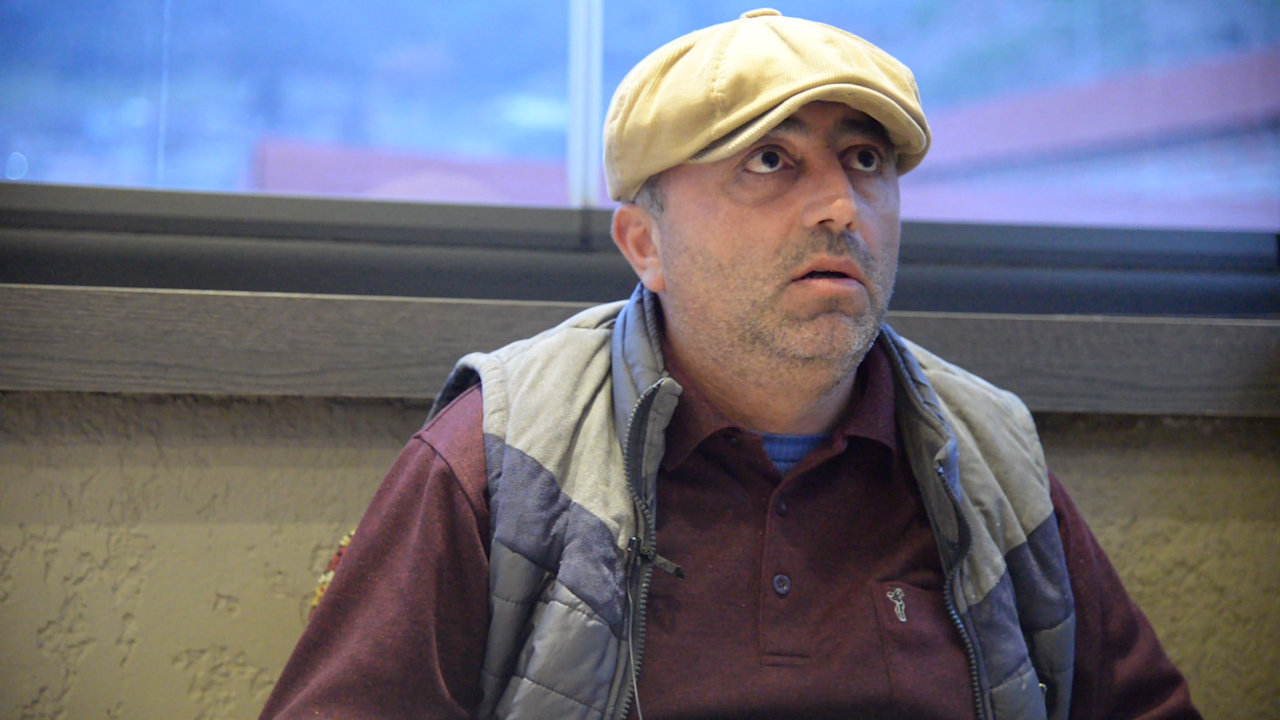 Koba Nergadze
Then Nergadze and Mamulashvili had a conversation. Mamulashvili mentioned a "special task" and that "it is necessary to create chaos on the Maidan, using weapons against any targets, protesters and police - no difference." He said that the money for the "business trip" would be paid once the "assignment" had been completed.

According to Revazishvili, that same day the weapons were brought to the conservatory: "Mamulashvili, Saralidze, nicknamed Kid, and about ten others, have come, I do not know the rest. Mamulashvili inquired about our mood. They laughed. Someone asked Mamulashvili in Georgian: "Where's Misha?" He answered: "With Porokh." Then they left. Sometime later, Pashinsky and several other men brought in a bag with weapons, mostly SCS carbines. Pashinsky himself was holding a Kalashnikov rifle with an open butt.
Among those present was Vladimir Parasyuk, the leader of one of the Maidan "hundreds," who subsequently commanded the 4th Company of the Dnepr Battalion and later became a People's Deputy of Ukraine.

Pashinsky asked me to help choose shooting positions. He said that Berkut [police commandos] could storm the Conservatory during the night and break up the protesters. At night, at about 4 or 5 am, I heard gunshots. I thought they were coming from the October Palace. Pashinsky jumped up, grabbed the walkie-talkie, and started yelling to cease fire, that it was not the right time. The shooting immediately stopped. At about 7.30 am (maybe later) Pashinsky ordered everyone to get ready and open fire, taking two or three shots and immediately changing position. The shooting continued for about 10-15 minutes. After that, we were ordered to drop weapons and leave the building.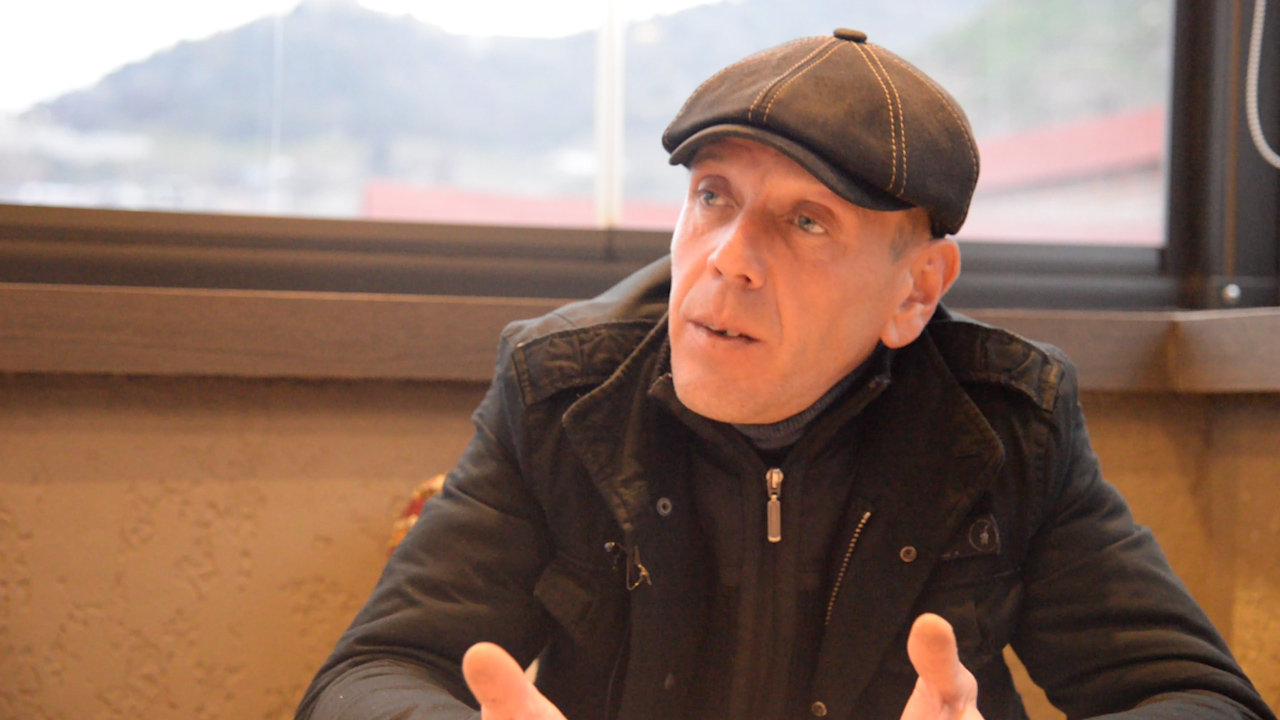 Alexander RevazishviliArmed oppositionists seen in the Independence Square, Kyiv. PHOTO: Sputnik, Andrey Stenin.

Then he returned to Maidan. He heard that people were enraged; some believed that it was the Berkut shooting. Others, on the contrary, thought that it was the protesters who had fired the shots. "I realized that this might end badly, that I was in a real fix, that people could tear me up right here if they only knew the truth. I went out to take a walk on Maidan. I decided that it was time to fly out. I took a taxi to the airport," Revazishvili concluded.

Early in the morning on February 20, at about 8, I heard the sound of gunshots coming from the conservatory; 3 or 4 minutes later, Mamulashvili's group opened fire from windows on the third floor of Hotel Ukraina. They were shooting in pairs. After each shot, they moved to another room and fired again. When it was all over, they told us to get out. That same day Bezho and I flew to Tbilisi.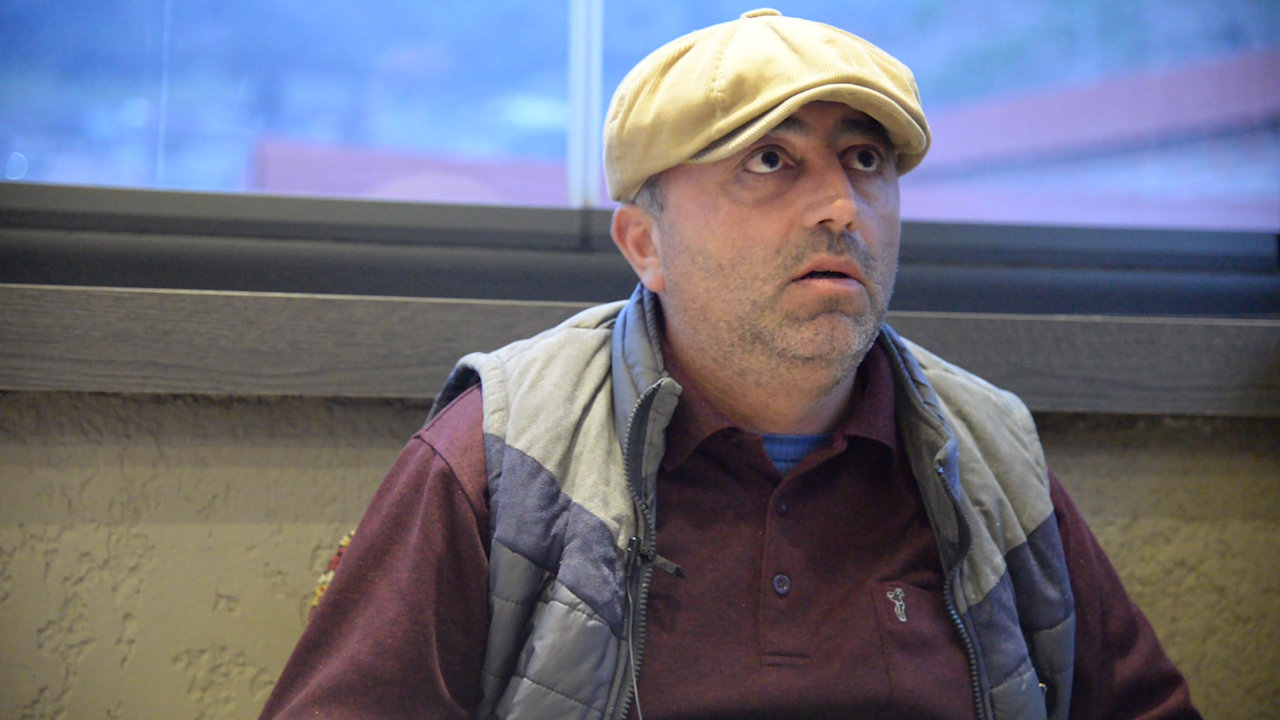 Koba NergadzeThe ex-officer of the Georgian army was never paid the money he was promised. Today, he fears revenge from his former "colleagues."

Koba Nergadze and Alexander Revazishvili are ready to confirm their words in a Ukrainian court. Sputnik has obtained copies of an official testimony that they gave to lawyers Alexander Goroshinsky and Stefan Reshko, who represent the interests of former members of the Berkut police commando unit. Sputnik also has copies of air tickets confirming the arrival of Nergadze and Revazishvili to Kyiv during the Maidan events.
---
COPYRIGHTS
Copy & Paste the link above for Yandex translation to Norwegian.
WHO and WHAT is behind it all ? : >
The bottom line is for the people to regain their original, moral principles, which have intentionally been watered out over the past generations by our press, TV, and other media owned by the Illuminati/Bilderberger Group, corrupting our morals by making misbehavior acceptable to our society. Only in this way shall we conquer this oncoming wave of evil.
Commentary:
Administrator
HUMAN SYNTHESIS
All articles contained in Human-Synthesis are freely available and collected from the Internet. The interpretation of the contents is left to the readers and do not necessarily represent the views of the Administrator. Disclaimer: The contents of this article are of sole responsibility of the author(s). Human-Synthesis will not be responsible for any inaccurate or incorrect statement in this article. Human-Synthesis grants permission to cross-post original Human-Synthesis articles on community internet sites as long as the text & title are not modified