LIVE UPDATES: Russia Says Ukrainian Helicopters Carried out Strikes on Its Territory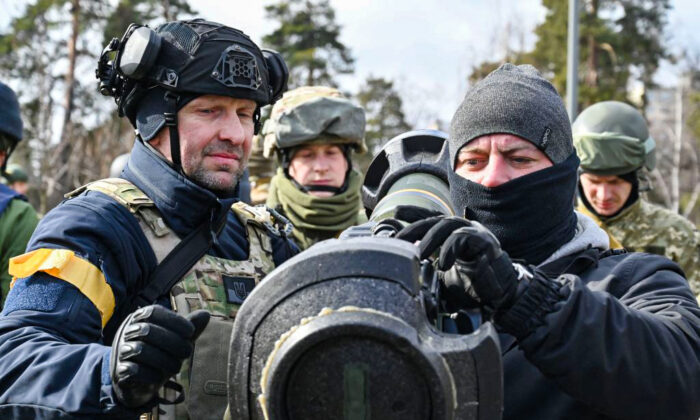 Members of the Ukrainian Territorial Defence Forces examine new armament, including NLAW anti-tank systems and other portable anti-tank grenade launchers, in Kyiv, on March 9, 2022. (Genya Savilov/AFP via Getty Images)
By Epoch Times - Lorenz Duchamps - Staff April 14, 2022
Russia Says Ukrainian Helicopters Carried out Strikes on Its Territory
Russia has claimed that two Ukrainian helicopters were responsible for an attack on the border village of Klimovo in the Bryansk Region on Thursday, which left seven people injured. The incident had earlier been attributed to the Ukrainian military by the region's governor.
An update on the attack was given by Russia's Investigative Committee, which said it was treating the incident as a criminal conspiracy. Its statement said two Ukrainian military attack helicopters crossed into Russian airspace at around midday local time, flying at a low altitude.
The aircraft fired heavy weapons at the village, delivering at least six strikes on residential buildings, the statement said. Seven people were injured and six houses were damaged in the attack, the investigators said.
_____
Putin Warns Against Phasing Out Russian Gas
Russian President Vladimir Putin has warned that Western countries' attempts to phase out Russian gas imports will have a negative impact on their economies.
Speaking Thursday, Putin said European attempts to find alternatives to Russian gas shipments will be "quite painful for the initiators of such policies."
He argued that "there is simply no reasonable replacement for it in Europe now."
Putin noted that "supplies from other countries that could be sent to Europe, primarily from the United States, would cost consumers many times more." He added it would "affect people's standard of living and the competitiveness of the European economy."
The European Union is dependent on Russia for 40 percent of its natural gas and 25 percent of its oil.
____
Russia Imposes Retaliatory Sanctions Against Nearly 400 Members of US Congress
Russia announced on Wednesday that it had imposed sanctions against nearly 400 members of U.S. Congress in retaliation to a similar move by Washington against more than 300 Russian lawmakers last month.
The Russian Foreign Ministry said in an April 13 statement the "mirror sanctions" against 398 members include "the leadership and committee chairmen of the lower house of U.S. Congress."
The announcement comes in response to sanctions against 328 members of the 450-seat Russian State Duma, or lower house of parliament, on March 24. The U.S. put the sanctions in place following the ongoing war in Ukraine in what Moscow calls "a special military operation" in the country.
Read the full article here
____
Russia Says Crippled Warship to Be Towed Back to Port, as Ukraine Claims Missile Hit
Russia's Defense Ministry says the fire at the Moskva cruiser, the flagship of Russia's Black Sea fleet, has been contained. It says the vessel remains afloat and will be towed to the port.
The ministry said in a statement Thursday that there is no open fire at the ship anymore and explosions of the ammunitions have ceased. "The main missile weapons were not damaged," the statement reads.
Ukrainian officials claimed, however, that the ship has sunk, saying it's a "resounding slap in the face" to Moscow's forces. The conflicting accounts couldn't be immediately reconciled.
Oleksiy Arestovych, adviser to Ukrainian president's office, said in a Facebook post that 510 crew were onboard the Moskva cruiser as it sank in the Black Sea, following serious damage from a Ukrainian missile strike.
Military analyst Oleg Zhdanov said the damaging of the Moskva significantly raises the morale of Ukrainian forces on the eve of a new wave of Russian offensive in the Donbas.
In the early hours of Thursday, the Russian Defense Ministry said the ship sustained "serious damage" after its ammunition detonated "as the result of a fire." The ministry did not ascribe the fire to a missile strike.
____
7 Injured in Cross-Border Shelling From Ukraine
Seven people, including a pregnant woman and a child, were injured on Thursday in a shelling that targeted a village in Russia located close to the border with Ukraine, Russian officials said. A separate attack targeting a nearby border crossing was reported by guards.
The first incident happened in the village of Klimovo in Russia's Bryansk Region, some 10 kilometers (6 miles) north of the border. Projectiles fired by Ukrainian troops hit residential buildings, Gov. Aleksandr Bogomaz said.
Seven people were reported injured in the incident by health officials. A list of victims published by Russian media said a 2-year-old boy, a 74-year-old woman, and a 35-year-old man were seriously hurt during the shelling. A later update by the Health Ministry said the toddler's injuries were moderate rather than serious. The baby's 25-year-old pregnant mother was also among the victims.
The second attack hit the Novye Yurkovichi checkpoint, some 40 kilometers (25 miles) southwest of Klimovo, according to a statement released by the local border guard branch of Russia's Federal Security Service. It said mortar shells fired from Ukrainian territory had hit at the moment when a group of refugees from Ukraine were crossing the border. Two vehicles were damaged, but no casualties were reported.
_____
France Freezes 33 Russian-Owned Properties
France's government says it has frozen 33 properties on the French Riviera, Paris, and elsewhere that belong to Russian oligarchs targeted for sanctions over the war in Ukraine.
The Finance Ministry this week published an updated list of Russian-owned properties that have been frozen in France, including a luxury chateau overlooking the Mediterranean on the Cap d'Antibes that reportedly belonged to sanctioned Russian billionaire Roman Abramovich.
Together, the 33 properties are estimated to be worth more than half a billion euros. Unlike property that is seized or confiscated, frozen properties still belong to their owners and they can continue living in them. But they cannot be sold or rented out.
The total value of Russian assets frozen or seized in France is now approaching 24 billion euros ($26 billion), with the bulk of that being nearly 23 billion euros in frozen financial assets for the Russian central bank. Aside from financial assets and properties, French authorities have also frozen or seized three yachts and four transport ships, and frozen six helicopters and three artworks.
_____
Russia Warns of Nuclear Deployment if Sweden and Finland Join NATO
One of Russian President Vladimir Putin's closest allies warned NATO on Thursday that if Sweden and Finland joined the U.S.-led military alliance then Russia would have to bolster its defenses in the region, including by deploying nuclear weapons.
Finland, which shares a 1,300-kilometer (810-mile) border with Russia, and Sweden are considering joining the NATO alliance. Finland will make a decision in the next few weeks, Prime Minister Sanna Marin said on Wednesday.
Dmitry Medvedev, deputy chairman of Russia's Security Council, said that should Sweden and Finland join NATO then Russia would have to strengthen its land, naval, and air forces in the Baltic Sea.
Medvedev also explicitly raised the nuclear threat by saying that there could be no more talk of a "nuclear free" Baltic—where Russia has its Kaliningrad exclave sandwiched between Poland and Lithuania.
"There can be no more talk of any nuclear-free status for the Baltic—the balance must be restored," said Medvedev, who was president from 2008 to 2012.
"Until today, Russia has not taken such measures and was not going to," Medvedev claimed. "If our hand is forced, well … take note it wasn't us who proposed this," he added.
Lithuania claimed Russia's threats were nothing new and that Moscow had deployed nuclear weapons to Kaliningrad long before the war in Ukraine.
"No sane person wants higher prices and higher taxes, increased tensions along borders, Iskanders, hypersonics, and ships with nuclear weapons literally at arm's length from their own home," Medvedev said.
_____
Russia Already Has Nuclear Weapons in Baltic Region, Says Lithuania
Russia already has nuclear weapons in the Baltic region, Lithuanian Defense Minister Arvydas Anusauskas claimed on Thursday.
Anusauskas told Lithuania's BNS wire that nuclear weapons have been deployed in Russia's Kaliningrad exclave on the Baltic Sea since before the current crisis.
"The current Russian threats look quite strange, when we know that, even without the present security situation, they keep the weapon 100 kilometers from Lithuania's border," the minister was quoted as saying by the wire on Thursday.
"Nuclear weapons have always been kept in Kaliningrad … the international community, the countries in the region, are perfectly aware of this … They use it as a threat," he was quoted as saying.
____
Irish Foreign Minister Visits Kyiv for Talks
Ireland's foreign minister is in Kyiv, the latest in a string of senior European politicians to make the trip to show support for Ukraine's fight against Russian invasion.
The Irish government says Simon Coveney, who is also defense minister, is meeting Ukrainian Foreign Minister Dmytro Kuleba and Defense Minister Oleksii Reznikov.
Ireland has sent Ukraine 20 million euros ($22 million) in humanitarian aid and 33 million euros ($36 million) in non-lethal military assistance.
It is also a strong backer of Ukraine's bid to join the European Union, and the government said Coveney would discuss how Ireland can "assist Ukraine in its application for EU candidate status."
_____
German Authorities Say Seized Superyacht Belongs to Sister of Oligarch Usmanov
German authorities claim they have seized a massive superyacht in Hamburg after determining that it belongs to the sister of Russian oligarch Alisher Usmanov.
The Federal Criminal Police Office said Wednesday that, after "extensive investigations" and despite "offshore concealment," it had been able to determine that the owner is Gulbakhor Ismailova, Usmanov's sister.
The German police office said German authorities worked in Brussels to ensure that European Union sanctions applied to the owner. It said the yacht can no longer be sold, rented, or loaded.
The United States and EU last month announced economic sanctions against Usmanov, a metals magnate, over his ties to Russian President Vladimir Putin and in retaliation for the invasion of Ukraine.
_____
UN Says Ukraine War Threatens to Devastate Many Poor Nations
A U.N. task force is warning in a new report that Ukraine conflict threatens to devastate the economies of many developing countries that are now facing even higher food and energy costs and increasingly difficult financial conditions.
U.N. Secretary-General Antonio Guterres launched the report Wednesday stressing that the war is "supercharging" a crisis in food, energy, and finance in poorer countries that were already struggling to deal with the COVID-19 pandemic and a lack of access to adequate funding for their economic recovery.
Rebeca Grynspan, secretary-general of the U.N. agency promoting trade and development who coordinated the task force, said 107 countries have "severe exposure" to at least one dimension of the food, energy, and finance crisis and 69 countries are severely exposed to all three and face "very difficult financial conditions with no fiscal space, and with no external financing to cushion the blow."
____
Zelenskyy 'Thankful' for $800 Million in Military Aid
Ukrainian President Volodymyr Zelenskyy said he's "sincerely thankful" to the United States for the new round of $800 million in military assistance.
In his daily late-night address to the nation, Zelenskyy also said he was thankful for Wednesday's visit by the presidents of Poland, Estonia, Lithuania, and Latvia.
He said those leaders "have helped us from the first day, those who did not hesitate to give us weapons, those who did not doubt whether to impose sanctions."
In his telephone conversation with President Joe Biden, Zelenskyy said they discussed the new weapons shipment and even tougher sanctions against Russia.
____
Pentagon Reveals Weapons to Be Sent to Ukraine
Washington is expanding the range of weapons deliveries to Ukraine to include artillery, armored vehicles, and helicopters, the Pentagon revealed on Wednesday. President Joe Biden credited the $2.6 billion in weapons he has supplied to Kyiv since February with defeating what he called the Russian plan to "conquer and control" Ukraine.
In addition to more of the "highly effective" Javelin anti-tank missiles and Stinger anti-aircraft rockets, the United States will now send "new capabilities tailored to the wider assault" it expects Russian forces to launch in eastern Ukraine, Biden said.
In addition to 500 more Javelins and 300 Switchblade kamikaze drones, the United States plans to send 18 155 mm howitzers and some 40,000 rounds of ammunition, as well as 10 counter-artillery radars, two air surveillance radars, 200 of the M113 armored personnel carriers, 100 Humvee armored cars, and 11 Mi-17 helicopters.
_____
Mayor of Ukraine's Kharkiv Says Bombing of City Has Increased Significantly
Four civilian residents of Ukraine's eastern second city Kharkiv were killed and 10 were wounded on Wednesday as Russian forces stepped up their bombing campaign of the city, local officials claimed.
"The enemy is bombing residential homes, residential areas. Unfortunately, there are civilian casualties—the worst thing is that children are dying," Kharkiv Mayor Ihor Terekhov told Ukrainian national television.
Kharkiv region Gov. Oleh Synehubov later wrote on the Telegram messaging app that four people were killed and 10 wounded by strikes on the city.
Kharkiv has already come under significant Russian strikes, with Terekhov claiming there hadn't been a single day without strikes since the start of the invasion on Feb. 24.
_____
Ukrainian Towns Kramatorsk, Kostiantynivka Likely to Be Russian Targets, UK Says
The Ukrainian towns of Kramatorsk and Kostiantynivka are likely to be targeted by Russia for levels of violence seen in other urban centers since Moscow invaded Ukraine in late February, British military intelligence claimed on Thursday.
_____
Kremlin Says Biden's 'Genocide' Comments Are Wrong and Unacceptable
The Kremlin said on Wednesday it categorically disagreed with President Joe Biden's description of Russia's actions in Ukraine as "genocide," and it accused Washington of hypocrisy.
Biden said on Tuesday that Russia's behavior in Ukraine amounted to genocide in his view, using that word for the first time.
"We consider this kind of effort to distort the situation unacceptable," Kremlin spokesperson Dmitry Peskov said on a conference call with reporters. "This is hardly acceptable from a president of the United States, a country that has committed well-known crimes in recent times."
Biden told reporters on Tuesday, "It has become clearer and clearer that Putin is just trying to wipe out the idea of being able to be Ukrainian and the evidence is mounting."
Under international law, genocide is an intent to destroy—in whole or in part—a national, ethnic, racial, or religious group.
Biden had earlier called Putin a "war criminal," a comment Moscow angrily rejected and said had brought relations with the United States to the brink of collapse.
Putin on Tuesday dismissed accusations that Russia had committed war crimes in the Ukrainian town of Bucha as "fake."
Moscow has said it believed the incident was staged.
_____
UN Agency Voices Concern Over UK's 'Homes for Ukraine' Scheme
The United Nations refugee agency (UNHCR) voiced concern on Wednesday over a UK scheme that allows British residents to house Ukrainians fleeing the Russian invasion, saying the program could be exploited without adequate safeguards.
The British government introduced the "Homes for Ukraine" scheme last month, allowing Britons to sponsor Ukrainians and provide them somewhere to live for a minimum of six months.
The UNHCR said it was aware of an increasing number of reports of Ukrainian women feeling at risk from male sponsors, and that it believed women and mothers with children should be matched with couples or families rather than with single men.
"UNHCR highlights the need for adequate safeguards and vetting measures to be in place against exploitation, as well as adequate support for sponsors," the UNHCR said in a statement.
So far, some 43,600 applications have been made for the scheme, although just 12,500 visas have been issued to Ukrainians, with those involved saying the process was proving slow and complicated, partly due to British security checks on those seeking to come to Britain.
The U.N. agency said it was also worried about the consequences should the refugees' host prove to be a threat, and about the minimum six-month duration.
"Housing a stranger in an extra bedroom for an extended period is not, for some people, sustainable," the agency said, adding the need for background checks and providing financial support was overwhelming local authorities.
The British government said those housing and sponsoring refugees from Ukraine had received background checks and visits by local officials to ensure the accommodation was fit for purpose.
"Attempts to exploit vulnerable people are truly despicable—this is why we have designed the Homes for Ukraine scheme to have specific safeguards in place," a government spokesperson said.
_____
Austrian Leader Says Putin Told Him Gas Payments in Euros Can Continue
Russian President Vladimir Putin told Chancellor Karl Nehammer during their meeting this week that Austria's supply of gas can continue to be paid for in euros, Nehammer was quoted as saying by Austrian news agency APA.
Moscow has warned Europe it risks having gas supplies cut unless it pays in rubles as he seeks retaliation over Western sanctions for Russia's invasion of Ukraine, which the Kremlin describes as a "special military operation."
Nehammer said he held "very direct, open, and tough" talks with Putin near Moscow on Monday about the invasion of Ukraine. But the Austrian leader had not publicly mentioned any discussion of Austria's security of gas supply.
Austria gets 80 percent of its natural gas from Russia and opposes an immediate European Union gas embargo on Moscow, arguing it is not possible to suddenly switch to alternative suppliers.
Putin said "that the gas supply is secured, that Russia will deliver the contractually agreed quantities and that payments can continue to be made in euros," APA quoted Nehammer as saying in a joint interview on Wednesday with German news agency DPA.
The European Commission has said those with contracts requiring payment in euros or dollars should stick to that, which Nehammer has said Austria will do.
At the same time, Russia appears to have opened a door to continued payment in euros.
Two weeks ago Moscow decreed foreign buyers of Russian gas would have to open ruble accounts in state-run Gazprombank, which is not under the same crippling sanctions as many other Russian banks, or risk being cut off.
European gas buyers could therefore deposit payments in euros and let Gazprombank buy rubles on their behalf—a work-around that Austria has said appears to make continued payment in euros possible.
Nehammer repeated his opposition to an embargo in Wednesday's interview, which quoted him as saying it "would mean that both [Austrian] industry and households would suffer serious harm from the non-delivery of that gas."
_____
Russia Opens Criminal Cases Into Alleged Torture of Its Soldiers by Ukraine
Russia's Investigative Committee said on Thursday it was opening criminal cases into Ukrainian servicemen's alleged torture of their Russian counterparts as Moscow continues its military campaign in Ukraine.
The committee, which probes major crimes, said some Russian soldiers had been captured by Ukrainian forces in the Zaporizhzhia and Mykolaiv regions and held illegally by Ukraine's security service.
"Russians were subjected to physical violence and torture in order to force them to give false explanations about the actual conditions of their illegal detention on the premises of the Security Service of Ukraine, as well as on [Russia's] special military operation," it said in a statement.
Reuters could not independently verify the committee's allegations.
Ukraine has claimed it checks all information regarding the treatment of prisoners of war and will investigate any violations and take appropriate legal action.
Alexander Bastrykin, head of the Investigative Committee, also ordered a probe on Thursday into Ukrainian forces' alleged shelling of civilians from the self-proclaimed Luhansk People's Republic as they evacuated through the neighboring Kharkiv region.
_____
Satellite Images Show Russian Ship Before Explosion
Satellite images released on Wednesday showed the Moskva Russian missile cruiser in the port of Sevastopol before it was damaged by an explosion.
The images, released by Maxar Technologies, show the vessel in and around Sevastopol on April 7 and April 10.
Moskva, the flagship of Russia's Black Sea fleet, was badly damaged when ammunition on board blew up, according to Russia's Interfax news agency, which it quoted the defense ministry as saying on Thursday.
Interfax said all the crew had been evacuated. It cited the ministry as blaming the blast on a fire and said the cause was being investigated.
A Ukrainian official earlier said the Moskva had been hit by two anti-ship missiles but did not give any evidence. The 12,500-ton ship usually has a crew of around 500.
___
Russia Says Warship Seriously Damaged by Explosion, Ukraine Claims Missile Strike
Russia said on Thursday the flagship of its Black Sea fleet was seriously damaged and its crew evacuated following an explosion that a Ukrainian official said was the result of a missile strike.
Russia's defense ministry said a fire on the Moskva missile cruiser caused ammunition to blow up, Interfax news agency reported.
It did not say what caused the fire but Maksym Marchenko, the Ukrainian governor of the region around the Black Sea port of Odesa, said the Moskva had been hit by two Ukrainian-made Neptune anti-ship cruise missiles.
"Neptune missiles guarding the Black Sea caused very serious damage," he said in an online post.
Ukraine's defense ministry did not respond to a request for comment and The Epoch Times was unable to verify either side's claims.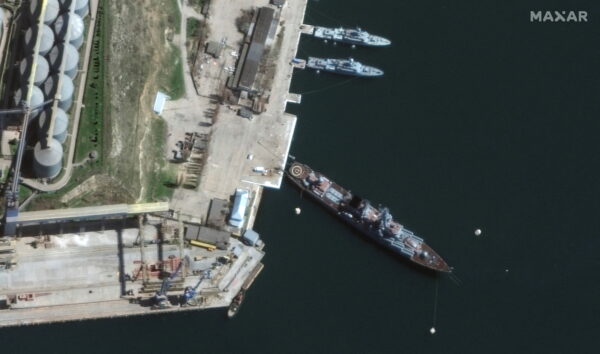 THE US Gives Ukraine $800 Million More in Military Aid, Adds Heavy Weapons
President Joe Biden's administration on Wednesday announced an additional $800 million in U.S. military assistance to Ukraine, expanding the scope of the systems provided ahead of a wider Russian assault expected in eastern Ukraine.
The latest package, which brings the total military aid tally since Russian forces invaded in February to more than $2.5 billion, includes artillery systems, artillery rounds, armored personnel carriers, and unmanned coastal defense vessels, Biden said in a statement after a phone call with Ukrainian President Volodymyr Zelenskyy.
Biden said he had also approved the transfer of additional helicopters, saying equipment provided to Ukraine "has been critical" as it confronts the invasion.
The new security assistance package, according to the Defense Department, includes 11 Mi-17 helicopters that had been earmarked for Afghanistan before the U.S.-backed government collapsed and 18 155-mm howitzers, along with counter-artillery radars and 200 armored personnel carriers.
This was the first time howitzers have been provided to Ukraine by the United States.
Pentagon spokesman John Kirby said some of the systems, like the howitzers and radars, will require additional training for Ukrainian forces.
The new aid will be funded using the Presidential Drawdown Authority, or PDA, in which the president can authorize the transfer of articles and services from U.S. stocks without congressional approval in response to an emergency.
___
Russia Says US – NATO Arms Convoys in Ukraine Legitimate Targets
Russia will perceive convoys delivering arms from NATO states to Ukraine as legitimate targets for its military once they reach Ukrainian territory, Deputy Foreign Minister Sergey Ryabkov warned in an interview published on Wednesday.
Regular contact with the United States is impossible for Russia, considering "Washington's unabashed support for militaristic intentions of the Kyiv regime, the pouring of modern weapons" into the country by NATO members, the diplomat said. Moscow's goal now is to make it abundantly clear for the United States and its allies that Russia will use harsh methods in response to attempts to hurt its military in Ukraine.
"We are warning that American–NATO transports carrying weapons across the Ukrainian territory are considered legitimate military targets," he stressed.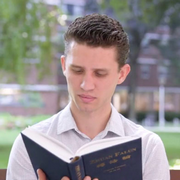 Lorenz Duchamps, The Associated Press, and Reuters contributed to this report.
---
COPYRIGHTS
Copy & Paste the link above for Yandex translation to Norwegian.
WHO and WHAT is behind it all ? : >
The bottom line is for the people to regain their original, moral principles, which have intentionally been watered out over the past generations by our press, TV, and other media owned by the Illuminati/Bilderberger Group, corrupting our morals by making misbehavior acceptable to our society. Only in this way shall we conquer this oncoming wave of evil.
Commentary:
Administrator
HUMAN SYNTHESIS
All articles contained in Human-Synthesis are freely available and collected from the Internet. The interpretation of the contents is left to the readers and do not necessarily represent the views of the Administrator. Disclaimer: The contents of this article are of sole responsibility of the author(s). Human-Synthesis will not be responsible for any inaccurate or incorrect statement in this article. Human-Synthesis grants permission to cross-post original Human-Synthesis articles on community internet sites as long as the text & title are not modified