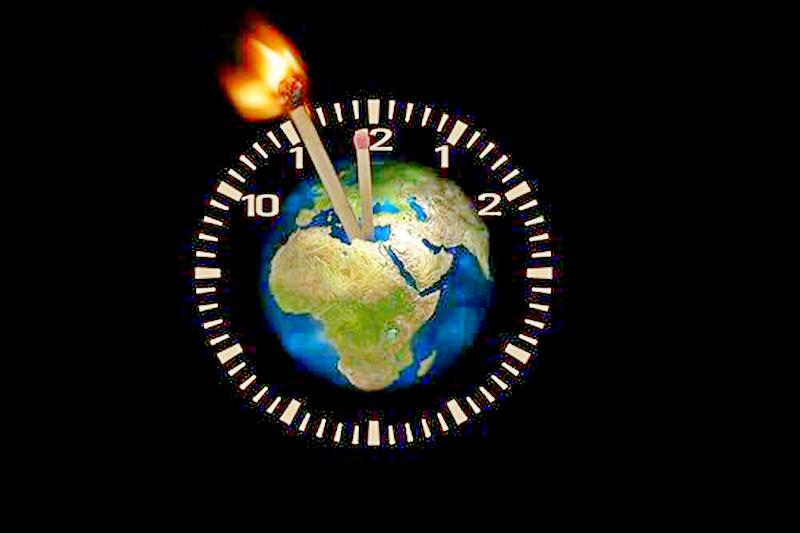 ZeroHedge - POR TYLER DURDEN - SÁBADO, 09 DE ABRIL DE 2022
De autoria de Michael Snyder através do blog The Economic Collapse,
Nunca imaginei que escreveria tanto sobre fertilizantes em 2022. Quando eu era criança, só sabia duas coisas sobre fertilizantes. Eu sabia que isso ajudava as coisas a crescer e eu sabia que cheirava mal. Mas hoje em dia, os especialistas estão nos dizendo que uma escassez global de fertilizantes pode resultar em fomes horríveis em todo o mundo.
No momento, em grande medida, ainda estamos comendo alimentos produzidos em 2021. Mas até o final do ano, em grande parte, estaremos comendo alimentos produzidos em 2022.
Infelizmente para todos nós, parece que a falta de fertilizantes significará que muito menos alimentos serão cultivados em 2022 do que o inicialmente previsto.
Graças a uma explosão sem precedentes nos preços da energia, já estávamos enfrentando uma crise de fertilizantes antes mesmo da guerra na Ucrânia, mas agora essa guerra definitivamente levou as coisas para o próximo nível.
Em condições normais, grande parte do fertilizante do mundo vem da Rússia, Bielorrússia ou Ucrânia …
A escassez de fertilizantes aumentou as crescentes preocupações sobre o impacto da guerra na Ucrânia sobre o preço e a escassez de certos alimentos básicos.

Juntas, a Rússia e a Bielorrússia forneceram cerca de 40% das exportações mundiais de potássio, segundo o Morgan Stanley. As exportações da Rússia foram atingidas por sanções. Além disso, em fevereiro, um grande produtor da Bielorrússia declarou força maior - uma declaração de que não seria capaz de cumprir seus contratos devido a forças além de seu controle.

A Rússia também exportou 11% da uréia do mundo e 48% do nitrato de amônio. Rússia e Ucrânia juntas exportam 28% dos fertilizantes feitos de nitrogênio e fósforo, além de potássio, segundo o Morgan Stanley.
A fome global aumentou significativamente em 2020 e 2021, mas o que vamos lidar nos próximos meses será completamente diferente de tudo com que lidamos no passado.
Na verdade, um especialista em commodities que foi entrevistado pela CNBC é extremamente pessimista sobre o que está por vir…
"Tudo isso é um golpe duplo, se não triplo", disse Bart Melek, chefe global de estratégia de commodities da TD Securities. "Temos risco geopolítico, custos mais altos de insumos e basicamente escassez."
Nós nunca vimos algo assim antes.
Desde o início de 2021, alguns preços de fertilizantes "mais que dobraram", e alguns preços de fertilizantes mais que triplicaram …
Alguns fertilizantes mais que dobraram de preço. Por exemplo, Melek disse que o potássio negociado em Vancouver custava cerca de US$ 210 por tonelada no início de 2021 e agora está avaliado em US$ 565. Ele acrescentou que a ureia para entrega no Oriente Médio estava sendo negociada a US$ 268 por tonelada métrica na Chicago Board of Trade no início de 2021 e foi avaliada em US$ 887,50 na terça-feira.
E em algumas partes do globo, é ainda pior.
No Peru, os preços dos fertilizantes aumentaram "quase quatro vezes" …
O aperto global de fertilizantes exacerbado pela invasão russa da Ucrânia está colocando em risco a produção de arroz no Peru, onde a semente é um alimento básico para dezenas de milhões de pessoas.

Os preços do nutriente uréia aumentaram quase quatro vezes em meio à escassez de oferta, aumentando a inflação de custos para os produtores, de acordo com a Associação Peruana de Produtores de Arroz.
Esse mesmo artigo continua explicando que muitos agricultores no Peru não terão condições de plantar este ano.
Se isso soa familiar, é porque isso é algo sobre o qual venho alertando há meses.
Em particular, aqui nos Estados Unidos, simplesmente não será lucrativo para muitos agricultores cultivar milho este ano, porque o milho precisa de uma grande quantidade de fertilizantes.
Em todo o mundo, muito menos fertilizante será usado em 2022, e isso significa que muito menos alimentos serão cultivados.
Haverá fome, e um especialista está até alertando que a escassez de alimentos "tocará as pessoas na distribuição de baixa renda na América do Norte" …
"Estamos falando de uma erosão da segurança alimentar em uma escala que não víamos há muito tempo, e acho que isso afetará as pessoas de baixa distribuição de renda na América do Norte" , acrescentou.
Mas, desde que você tenha uma renda decente, ainda poderá ir à loja e comprar comida nos próximos meses.
Só pode custar-lhe muito mais.
Durante uma entrevista recente com Tucker Carlson , o agricultor Ben Riensche alertou que os americanos em breve poderão pagar mil dólares a mais por mês por suas compras…
"Os preços crescentes dos fertilizantes provavelmente causarão aumentos nos preços dos alimentos. Se você está chateado porque a gasolina subiu um dólar ou dois por galão, espere até que sua conta de supermercado suba $ 1.000,00 por mês, e isso pode não se manifestar apenas em termos de preço. Pode ser quantidade também. A síndrome da prateleira vazia pode estar começando."
Você pode pagar US $ 1.000 a mais por mantimentos todos os meses?
Se não, é melhor você estocar agora enquanto os preços ainda são relativamente razoáveis.
Claro, há certas coisas que você não poderá estocar porque elas simplesmente não estão lá.
A escassez está se intensificando em todo o país e, em particular, vimos uma escassez alarmante de massas começar a acontecer em algumas lojas.  O seguinte vem de um artigo que acabou de ser postado no All News Pipeline …
Primeiro, eram Ovos e agora também é Pasta.

Os ovos estão desaparecidos há mais de uma semana e ontem de manhã fiquei surpreso ao ver que a massa também estava quase nua. Além disso, algumas das prateleiras têm o velho truque do COVID de juntar tudo e até a frente da prateleira!

Este é Sioux Fall SD!

Sem ovos por mais de uma semana!

Restou muito pouca massa!
É claro que a escassez de ovos está relacionada à escassez de massas, porque os ovos são usados ​​na fabricação de massas.
Eu tenho tentado explicar aos meus leitores que essa nova pandemia de gripe aviária vai ser muito, muito grande. Como mencionei ontem , 28 milhões de frangos e perus já estão mortos em menos de dois meses, e as coisas já estão tão ruins que as massas estão começando a desaparecer das prateleiras das nossas lojas.
Se as coisas já estão tão loucas, como serão as condições daqui a seis meses?
Você pode querer pensar sobre isso.
Eu tenho tentado soar o alarme sobre uma fome global que se aproxima há anos, e agora está aqui.
Os distúrbios alimentares globais já começaram , mas o que vimos até agora é apenas a ponta do iceberg.
Como eu disse no início deste artigo, por enquanto, ainda estamos comendo alimentos que foram produzidos no ano passado em grande parte.
Apenas espere até chegarmos ao final deste ano e além.
Não vai ser bonito.
Tempos sem precedentes exigem medidas sem precedentes, e espero que este artigo lhe dê um senso de urgência para agir. Infelizmente, a maioria das pessoas ainda assume que tudo vai acabar bem de alguma forma, e então eles não farão nada para se preparar até que seja tarde demais.

---
Você não vê como estamos fazendo o jogo de Klaus Schwab e dos outros globalistas que não terão problemas de alimentação em seus bunkers subterrâneos bem preparados, enquanto a Terra sofre um despovoamento causado pela falta de alimentos/ água/energia e efeitos da vacinação? Devemos EXIGIR uma parada IMEDIATA de todas as barreiras de ambos os lados.
---
COPYRIGHTS
Copy & Paste the link above for Yandex translation to Norwegian.
WHO and WHAT is behind it all ? : >
The bottom line is for the people to regain their original, moral principles, which have intentionally been watered out over the past generations by our press, TV, and other media owned by the Illuminati/Bilderberger Group, corrupting our morals by making misbehavior acceptable to our society. Only in this way shall we conquer this oncoming wave of evil.
Commentary:
Administrator
HUMAN SYNTHESIS
All articles contained in Human-Synthesis are freely available and collected from the Internet. The interpretation of the contents is left to the readers and do not necessarily represent the views of the Administrator. Disclaimer: The contents of this article are of sole responsibility of the author(s). Human-Synthesis will not be responsible for any inaccurate or incorrect statement in this article. Human-Synthesis grants permission to cross-post original Human-Synthesis articles on community internet sites as long as the text & title are not modified