LIVE UPDATES: Russia Warns Against 'Games' Around Its Western Exclave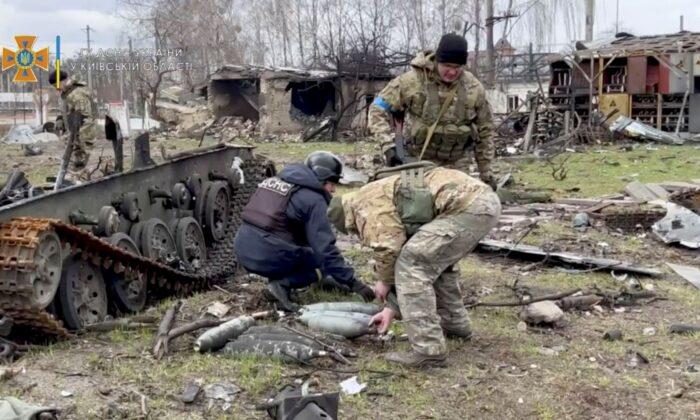 State Emergency Service members collect ordnance after Russia's withdrawal from the area, in Bucha, Ukraine, in this still image taken from a video uploaded to a social media website on April 4, 2022. (State Emergency Service in Kyiv Oblast/Handout via Reuters)
By Epoch Times Staff April 6, 2022. Updated: April 6, 2022
Russia Warns Against 'Games' Around Its Western Exclave
Moscow has cautioned neighboring European countries against the closure of their borders with Russia and Belarus, pointing out that such a scenario would mean the blockade of Russia's westernmost exclave Kaliningrad.
Earlier this week Latvian and Lithuanian officials made statements regarding the possible closure of their borders with Russia and Belarus in response to Moscow's military operation in Ukraine.
On Wednesday, commenting on the matter, Russian Deputy Foreign Minister Alexander Grushko expressed hope that "common sense" would prevent the Europeans from "playing with fire." Such a measure would deprive Kaliningrad residents of the opportunity to reach Russia's main territory by land.
"I very much hope that common sense in Europe will not allow any games to be played around Kaliningrad. I think many people understand that this is playing with fire," the deputy minister told the media.
_____
Hungary's Orban Says He Asked Putin to Apply Ceasefire in Ukraine
Hungarian Prime Minister Viktor Orban said on Wednesday he had spoken at length with Russian President Vladimir Putin and asked him to announce an immediate ceasefire in Ukraine.
Orban said he had invited Putin for talks in Hungary to be held with the Ukrainian and French presidents as well as the German chancellor. He said Putin's response was "positive," but that the Russian leader said this would carry conditions.
"I suggested to President Putin that he should announce a ceasefire immediately," Orban told a news conference, adding that it was Putin who called him. He said European leaders had not yet been informed of the proposal.
Orban said the talks he proposed in Budapest should focus on an immediate ceasefire, as peace talks would take a longer time.
"The response was positive but the Russian president said this had conditions," he said. "I cannot negotiate to meet those conditions—it should be him and the Ukrainian president agreeing on those."
Orban, who won a fourth consecutive term with a landslide in an election on Sunday, again condemned the Russian invasion of neighboring Ukraine. But he has so far refrained from any criticism of Putin himself.
"This is a war that the Russians started, they attacked Ukraine, and it's aggression, this is the joint stance of the European Union, and Hungary shares that stance," he said.
Orban also said Hungary was prepared to pay roubles for Russian gas, breaking ranks with the European Union which has sought a united front in opposing Moscow's demand for payment in the currency.
____
UK: No Russian Oil, Coal Imports by Year-end
Britain says it will end imports of Russian oil and coal by the end of the year and ban UK investment in Russia as part of a new set of sanctions in response to the invasion of Ukraine.
The British government also announced a freeze on the assets of Credit Bank of Moscow and Sberbank, Russia's largest bank, and slapped travel bans and asset freezes on eight more wealthy Russians. They included Andrey Guryev, founder of the fertilizer company PhosAgro, and Sergey Sergeyevich Ivanov, president of diamond producer Alrosa.
UK Foreign Secretary Liz Truss said the measures were coordinated with Britain's allies. The U.S. also sanctioned Sberbank on Wednesday, and the European Union plans to ban imports of Russian coal.
Britain had already announced a plan to phase out Russian oil, which accounts for 8 percent of the UK supply. Russia is the top supplier of imported coal to the UK Britain has not ended imports of Russian natural gas, which accounts for 4 percent of its supply, saying only that it will do so "as soon as possible."
Meanwhile, Kremlin announced that the UK will no longer be able to import Russian gas, in response to the Britain sanctions imposed on Moscow.
____
US Sanctions Russia's PM and Putin's Daughters
Citing "atrocities in Ukraine, including in Bucha," the United States on Wednesday rolled out new sanctions against the "Putin regime" and Russian banks, companies, and government officials—as well as their family members.
President Vladimir Putin's daughters and Foreign Minister Sergey Lavrov's wife and daughter were among the Russians listed in the latest round of "full blocking sanctions," which the White House says intend to impose "severe and immediate costs" on Moscow. Prime Minister Mikhail Mishustin and former President Dmitry Medvedev were likewise sanctioned, for their membership in the Russian Security Council.
_____
If Finland and Sweden Apply to Join NATO, They Would Be Welcomed, Stoltenberg Says
NATO Secretary-General Jens Stoltenberg says Finland and Sweden would be welcomed with open arms should they decide to join NATO, as Russia's war on Ukraine spurs public support in the two Nordic countries for membership.
Russia has demanded that the 30-nation military organization stop expanding, so the prospect of Finland and Sweden joining could anger President Vladimir Putin.
But Stoltenberg says NATO members might be prepared to provide security guarantees for the period from when the two might announce any membership bid and when their applications are approved. He declined to say what kind of protection they might get.
Once members, the two neutral Nordic nations would benefit from NATO's collective security guarantee, which obliges all members to come to the defense of any ally that comes under attack.
Stoltenberg told reporters Wednesday that he is "certain that we will find ways to address concerns they may have regarding the period between the potential application and the final ratification."
A poll commissioned by Finnish broadcaster YLE last month showed that, for the first time, more than 50 percent of Finns support joining the Western military alliance. In neighboring Sweden, a similar poll showed that those in favor of NATO membership outnumber those against it.
______
Russia Reacts to Zelenskyy Assassination Claims
Russia has no plans to kill Ukrainian President Volodymyr Zelenskyy or to remove him from power, Kremlin press secretary Dmitry Peskov has stated.
"No, this is not true," Peskov replied when asked on Wednesday to comment on speculations that Moscow wanted Zelenskyy dead, during an interview with French broadcaster LCI.
He also insisted that regime change in the neighboring country wasn't among the goals of Russia's ongoing military operation.
Zelenskyy "is the President of Ukraine," Peskov noted, and what Moscow wants from him is to agree to the demands that the Russian delegation has put forward during peace.
"Through those talks, we want to put an end to the military operation," Peskov said, adding that Moscow's recent decision to withdraw its troops from areas near the Ukrainian capital Kyiv was a gesture of goodwill aimed at facilitating their positive outcome.
_____
Moscow Says Talks With Ukraine Are Continuing
Kremlin spokesman Dmitry Peskov says negotiations with Ukraine are continuing despite allegations of war crimes against civilians in the Kyiv suburb of Bucha.
Peskov said Wednesday the talks continued with Ukraine but that the Bucha revelations—which he referred to as a "staging"—had hampered talks and there was "a fairly long road ahead."
"The working process continues but it is going much more tough than we would like. Of course, we would like to see more dynamism from the Ukrainian side, but the process has not been broken off and is continuing," Peskov said.
Russia retreated from areas around Kyiv and the northern cities of Chernihiv and Sumy after talks with Ukraine in Turkey last week. Ukrainian troops entering the areas found evidence of widespread killings of civilians. Russia denies any war crimes and has alleged Ukraine has faked the incidents.
Since the talks in Turkey, Russia and Ukraine's delegations have continued talks via video link.
____
Convoy of More Than 500 People Reaches Zaporizhzhia in Ukraine: Red Cross
The International Committee of the Red Cross says one of its teams in Ukraine has led some 500 people who fled Mariupol on their own initiative in a humanitarian convoy of buses and private cars to a safer location in the embattled country.
The ICRC says its team that has been trying to enter Mariupol since last Friday got within 20 kilometers (12 miles) of the besieged city, but security conditions made it impossible to enter. The convoy escorted the civilians from coastal Berdyansk to Zaporizhzhia, to the north.
"This convoy's arrival to Zaporizhzhia is a huge relief for hundreds of people who have suffered immensely and are now in a safer location," said Pascal Hundt, ICRC's head of delegation in Ukraine. "It's clear, though, that thousands more civilians trapped inside Mariupol need safe passage out and aid to come in."
He said the Geneva-based organization remains available as "a neutral intermediary" to help escort civilians out of Mariupol "once concrete agreements and security conditions allow it."
______
Italian Lake Villa Seized From Russian TV Host Set on Fire
Italian firefighters have put out a fire at a villa on Lake Como reportedly owned by the Russian television personality Vladimir Solovyev, who has been hit with European Union sanctions.
An official at the Como fire station confirmed that firefighters extinguished the early morning blaze Wednesday at the villa in Menaggio, one of the picturesque towns that dot the lake in northern Italy.
He said police were investigating the fire as a suspected act of protest. The villa was under renovation and the blaze involved tires at the site said the official who declined to be identified by name, citing official policy.
Italian daily Corriere Della Sera and news agency LaPresse said the villa was owned by Solovyev, a presenter on state-run Channel One.
______
Russian Forces Pound Key Cities as West Prepares New Sanctions
Russian artillery pounded the Ukrainian cities of Mariupol and Kharkiv on Wednesday as the West prepared more sanctions against Moscow in response to alleged civilian killings that Kyiv and its allies have called war crimes.
The besieged southern port of Mariupol has been under almost constant bombardment since the early days of the invasion that began on Feb. 24, trapping tens of thousands of residents without food, water, or power.
"The humanitarian situation in the city is worsening," British military intelligence said on Wednesday.
Reuters could not immediately verify the report.
Ukraine's Deputy Prime Minister Iryna Vereshchuk said authorities would try to evacuate trapped civilians through 11 humanitarian corridors on Wednesday, though people trying to leave the besieged city of Mariupol would have to use their own vehicles.
Russian forces last week pulled back from positions outside Kyiv and shifted the focus of their assault away from the capital, and Ukraine's general staff said the northeastern city of Kharkiv, the country's second-largest, also remained under attack.
Western sanctions over Russia's invasion of Ukraine gained new impetus this week after Russian forces were accused of killing civilians in the northern town of Bucha.
Moscow denied targeting civilians there and called the evidence presented a forgery staged by the West to discredit it.
Speaking a day after the European Union announced new sanctions, including a ban on Russian coal imports and denying Russian ships access to E.U. ports, the head of the E.U. executive, Ursula von der Leyen, said there was more to come.
The White House said it would also unveil new sanctions on Wednesday, in part in response to Bucha.
The new sanctions, coordinated between Washington, the Group of Seven advanced economies, and the E.U., will target Russian banks and officials and ban new investment in Russia, the White House said.
The United States has agreed to provide an additional $100 million in assistance to Ukraine, including Javelins anti-armour systems, the Pentagon said on Tuesday.
_____
West Working to Disrupt Ukraine Peace Talks: Russia
Russia believes the West is enabling "hysteria" around the alleged mass killings in the Ukrainian town of Bucha to derail the peace talks between Moscow and Kyiv, Foreign Minister Sergey Lavrov claimed on Tuesday.
The purported events in the town, which he referred to as a "provocation," have been introduced just as progress was being made at the peace negotiations in Istanbul, he added.
"We tend to think that the reason lies in the desire to find a reason to disrupt the ongoing negotiations. And to do it exactly at the moment when, as they say, the light, even if not very bright, but nevertheless, began to dawn."
Lavrov also accused Ukraine's government of sabotaging talks on ending the fighting in Ukraine, warning that Moscow will not "play cat and mouse."
Lavrov specifically warns that Moscow will not accept the Ukrainian demand that a prospective peace agreement include an immediate pullout of Russian troops to be followed by a referendum in Ukraine on accepting the deal.
In televised remarks Tuesday, he says that if the peace deal fails to win approval in a referendum, a new deal will have to be negotiated. He says that "we don't want to play such cat and mouse."
Lavrov pointed at a 2015 peace deal for eastern Ukraine signed in Minsk, Belarus, that was brokered by France and Germany but never implemented. He says that "we don't want a repeat of the Minsk agreements."
He also says Ukraine is "sabotaging" the talks by stonewalling Russian demands for "demilitarization" and "denazification" of the country.
The tough statements from Lavrov contrasted with optimistic signals made by both Ukrainian and Russian representatives after the latest round of talks in Istanbul, Turkey, on March 29.
_____
Russian Border Guards Came Under Fire on Ukraine Border, Schools Evacuated: Officials
A Russian regional official said on Wednesday that frontier guards in the Kursk region bordering Ukraine had come under fire, while schools in nearby Belgorod were evacuated after a bomb threat, according to the city's mayor.
Moscow has accused Ukraine of targeting Russian assets across the border.
"Yesterday … they tried to fire mortars at the position of our border guards in the Sudzhansky district," said Roman Starovoit, the governor of the Kursk region.
"Russian border guards returned fire. … There were no casualties or damage on our side."
Reuters could not immediately verify the report.
In response to a question about it, a spokesman for the general staff of Ukraine's armed forces said: "We do not have such information."
Starovoit said officials were in touch with the defense ministry and urged citizens to remain calm. In separate comments to the RIA news agency, he said the mortars fired at the Sudzha border crossing did not reach Russian territory.
The mayor of the Russian city of Belgorod, some 35 km (22 miles) from the border with Ukraine, said schools had been evacuated after receiving bomb threats.
"We understand that this is part of the information pressure [campaign] against our region," mayor Anton Ivanov said, without saying who he thought was responsible for the threats.
Russia last week accused Ukrainian military helicopters of carrying out an airstrike against a fuel depot in Belgorod, one of Russia's main logistics hubs for its military campaign in Ukraine. A senior Ukrainian official denied responsibility.
The Kremlin said at the time that the incident did not create comfortable conditions to continue peace talks with Kyiv.
_____
Norway Expels Russian Diplomats
Norway is following other European nations and expelling Russian diplomats.
Norway's Foreign Minister Anniken Huitfeldt said Wednesday that three Russian diplomats had carried out activities incompatible with their status.
In recent days, numerous European countries have expelled Russian diplomats and staff at Russian diplomatic missions.
_____
Turkey Finds Third Stray Naval Mine in the Black Sea Amid Ukraine War
Turkey's defense ministry says authorities have detected a third naval mine drifting in the Black Sea and military teams have been dispatched to deactivate it.
The explosive device was detected on Wednesday off the coast of northwestern Kocaeli Province and the area has been "secured," the ministry said.
It was the third mine spotted in Turkish waters since Russia's invasion of Ukraine, including one that forced authorities to close Istanbul's Bosporus Strait to traffic.
Russia and Ukraine have traded accusations about the naval mines that have been threatening to ship in the Black Sea.
_____
Man Dies Crashing Car Into Russian Embassy in Romanian Capital
A driver died ramming his car into the gate of the Russian embassy in Bucharest early on Wednesday, police in the Romanian capital said in a statement.
A video recorded before firefighters arrived showed the front of the car in flames as it remained wedged in the gate.
It was unclear whether the crash was an accident or deliberate.
In recent weeks, several Russian embassies elsewhere in Europe have been targeted by protesters angered by the invasion of Ukraine.
Police said they were investigating and did not release the identity of the driver.
Romania said on Tuesday it would expel 10 Russian diplomats who are not acting in accordance with international rules, joining other European countries to have done so in recent days.
_____
Zelenskyy Says Russian Forces Trying to Push Deep Into Ukraine in East
Ukrainian President Volodymyr Zelenskyy says Russian forces still are trying to push deep into Ukraine in the east, but he claimed the Ukrainian army is holding them back.
In his daily night-time video address to the nation late Tuesday, Zelenskyy said Ukraine was aware that Russia was gathering up reinforcements for another offensive.
"We don't have a choice—the fate of our land and of our people is being decided," he said. "We know what we are fighting for. And we will do everything to win."
_____
Ukrainian Official Claims Russian Missile Hit Fertilizer Tanks
A regional official in western Ukraine claims a Russian missile hit fertilizer tanks, polluting groundwater.
Ternopil region Gov. Volodymyr Trush said Tuesday that the Russian missile strike destroyed six reservoirs filled with fertilizers, resulting in an ammonia leak into groundwater and the Ikva River.
______
Russian Forces Struck a Fuel Depot and a Factory in Ukraine's Dnipropetrovsk: Ukraine
Russian forces overnight struck a fuel depot and a factory in Ukraine's Dnipropetrovsk region, and the number of casualties remains unclear, the region's Governor Valentyn Reznichenko claimed Wednesday on the Telegram messaging app.
"The night was alarming and difficult. The enemy attacked our area from the air and hit the oil depot and one of the plants. The oil depot with fuel was destroyed. Rescuers are still putting out the flames at the plant. There is a strong fire," Reznichenko wrote.
The Russian military continues to focus its efforts on preparing for an offensive in Ukraine's east, according to a Wednesday morning update by Ukraine's General Staff, with the aim "to establish complete control over the territory of Donetsk and Luhansk regions."
Parts of the two regions have been under the control of Russia-backed rebels since 2014 and are recognized by Moscow as independent states.
_____
Zelenskyy Claims Ukraine Will Be a 'Big Israel'
Ukraine President Volodymyr Zelenskyy has warned that Ukraine will look to Israel for inspiration concerning its future security arrangements, arguing that an "absolutely liberal" Kyiv is now "impossible" after Moscow's attack in late February.
Speaking to journalists on Tuesday, the president said security would be the "number one" issue for Ukrainians for the next decade, even going so far as to forecast a lasting armed military presence in the streets.
"Ukraine will definitely not be what we wanted it to be from the beginning. It is impossible. Absolutely liberal, European—it will not be like that," he said. "We will become a 'big Israel' with its own face. We will not be surprised if we have representatives of the Armed Forces or the National Guard in cinemas, supermarkets, and people with weapons."
_____
Ukraine Accuses Moscow of Weaponizing Hunger
Ukrainian President Volodymyr Zelenskyy has accused Russia of using hunger as a weapon of war by deliberately targeting Ukraine's essential food supplies.
In an address to Irish lawmakers Wednesday, Zelenskyy claimed Russian forces "are destroying things that are sustaining livelihoods" including food storage depots, blocking ports so Ukraine could not export food, and "putting mines into the fields."
"For them, hunger is also a weapon, a weapon against us ordinary people," he said, accusing Russia of "deliberately provoking a food crisis" in Ukraine, a major global producer of staples including wheat and sunflower oil.
Zelenskyy spoke by video to a joint session of Ireland's two houses of parliament, the latest in a string of international addresses he has used to rally support for Ukraine.
____
Greece Expels 12 Russian Diplomats
Greece has joined a list of European countries expelling Russian diplomats, with the foreign ministry announcing on Wednesday it had declared 12 diplomats unwelcome.
The ministry said it had declared 12 members of Russian diplomatic and consular missions accredited to Greece as "personae non-gratae," and that the Russian ambassador had been informed.
It did not specify which diplomats were being expelled or state a reason, beyond citing that the move was carried out in accordance with international treaties.
_____
Norway Boosts Intelligence Spending to Beef Up Border With Russia
Norway is beefing up its police and intelligence work, chiefly in the northern part of the country, which has a nearly 200-kilometer (124-mile) land border with Russia- and wants to spend 100 million kroner ($11.5 million) on it.
Norway's domestic intelligence service considers the intelligence threat from Russia in the Scandinavian country to have increased, Justice Minister Emilie Enger Mehl said Wednesday.
The money would be spent on staff and equipment. The government also wants to exert more control over Svalbard, a Norwegian archipelago in the Arctic with a Russian settlement. Under a 1920 treaty, Norway has sovereignty over Svalbard, but other signatory countries have the right to exploit its natural resources—coal.
_____
Intel Suspends Business in Russia
Intel says it is suspending all its business operations in Russia, becoming the latest foreign company to leave because of Moscow's war in Ukraine.
"Effective immediately, we have suspended all business operations in Russia," the U.S. chipmaker said late Wednesday.
The company had already suspended shipments to customers in Russia and neighboring ally Belarus after the war broke out.
Intel said it's working to support its 1,200 employees in Russia and has put in place "business continuity measures" to reduce disruption to its global operations, though it didn't provide details.
"Intel continues to join the global community in condemning Russia's war against Ukraine and calling for a swift return to peace," it said in a statement.
_____
China Urges Investigation Into Bucha Deaths
Chinese Foreign Ministry spokesperson Zhao Lijian said Wednesday that China supports all initiatives and measures "conducive to alleviating the humanitarian crisis" in Ukraine and is "ready to continue to work together with the international community to prevent any harm to civilians."
Zhao's remarks echo those the previous day of China's ambassador to the United Nations, Zhang Jun, who called for an investigation, describing the reports and images of civilian deaths in Bucha as "deeply disturbing."
______
Hungary Summons Ukrainian Ambassador
Hungary's Foreign Ministry summoned the Ukrainian ambassador on Wednesday after days of the two countries' officials trading barbs over Hungary's position in the war.
Hungarian Foreign Minister Peter Szijjarto wrote in a social media post on Wednesday that "we condemn military aggression, we stand by Ukraine's sovereignty," but that "this is not our war, so we want to and will stay out of it."
Hungary's government has refused to supply weapons to Ukraine or allow their transfer across the Hungarian-Ukrainian border.
That position has prompted criticisms of Hungary's government by Ukrainian President Volodymyr Zelenksyy, who on Monday said in an address on Ukrainian television that Hungarian Prime Minister Viktor Orban would need to choose between Moscow and "the other world" of the West.
Orban, who won a landslide victory in Hungarian elections on Sunday, in a victory speech depicted Zelenskyy as one of the opponents he and his right-wing party had defeated.
On Tuesday, Szijjarto called on Ukrainian leaders to "stop insulting Hungary and to take note of the will of the Hungarian people."
_____
Ukraine Makes New Attempts to Evacuate Civilians From Trapped Cities
Ukraine will try to evacuate trapped civilians through 11 humanitarian corridors on Wednesday but people trying to leave the besieged city of Mariupol will have to use their own vehicles, Deputy Prime Minister Iryna Vereshchuk said.
Efforts to get convoys of buses into the southern port city to evacuate residents who are trapped there have repeatedly failed.
_____
Britain Tells Russians to Use VPN
The Russian people "deserve the truth" about Ukraine and should use virtual private networks to "access independent information from anywhere in the world," the British prime minister said in an address on Tuesday.
The recorded speech was partially delivered by Boris Johnson in Russian. He asked Russians to trust Kyiv's unverified civilian murder accusations against Moscow and to be as horrified about them as, what he described as, "the world."
____
Dutch Government Preventing 14 Russian Yachts From Leaving Due to Sanctions
The Dutch government claimed on Wednesday it is currently preventing 14 yachts—including 12 that were under construction—from leaving the country due to sanctions on Russia.
The Ministry of Foreign Affairs made the statement in a letter to parliament, updating lawmakers on the enforcement of sanctions after criticism that the Netherlands had lagged behind other European countries in enforcement and seizures.
Yacht-building is a significant industry in the Netherlands, with the chamber of commerce records showing that major builders Heesen, Feadship, Damen Shipyards and Oceanco had combined sales of around 1.5 billion euros ($1.66 billion) in 2020.
Wednesday's letter said that while no "superyachts" are anchored in Dutch territories, including Caribbean islands like St. Maarten, the 12 yachts under construction for Russian owners "cannot at this moment be delivered due to the current export measures" and their ownership structures are being investigated.
In March, two Russian members of the supervisory board of Heesen Yachts stepped down. Heesen is owned by Morcell Ltd. of Cyprus, the investment vehicle of billionaire Lukoil president Vagit Alekperov, who is not on sanctions lists.
____
Russia's Medvedev Vows International Legal Battle Over Property Seizures
Moscow will fight attempts to seize Russian property abroad in courts around the world, former President Dmitry Medvedev said in a post on the Telegram social network on Wednesday.
"Our opponents … should understand that they will face a large number of cases in courts. Both in the national courts of the United States and Europe and in international courts," said Medvedev, who served as president from 2008 to 2012 and is now deputy chairman of Russia's Security Council.
_____
Website of Russian Oil Firm Gazprom Neft Goes Down After Apparent Hack
The website of Gazprom Neft, the oil arm of Russian state gas giant Gazprom, went down on Wednesday after an apparent hack, in what looked like the latest attack on government-linked sites following Russia's actions in Ukraine.
The website briefly showed a statement purporting to be from Gazprom chief executive Alexei Miller, a close ally of President Vladimir Putin.
Miller last month urged the gas giant's 500,000 employees to rally around Putin to preserve Russia as a great power in the face of foreign hostility.
The statement attributed to him on what looked like a hacked version of the site cited him as making critical comments about Russia's decision to send tens of thousands of troops into neighboring Ukraine.
"The information published on the site on the morning of April 6 … is not true and cannot be regarded as an official statement of the company's representatives or shareholders," Gazprom Neft said.
A Gazprom spokesperson dismissed the statement on the website as nonsense.
_____
EU Will Put More Sanctions on Russia—Commission Head
The European Union will put more sanctions against Russia on top of the latest package announced on Tuesday, likely including measures against imports of Russian oil, the head of the European Commission Ursula von der Leyen said on Wednesday.
"These sanctions will not be our last sanctions," she told European Parliament in a presentation of the latest sanctions package that includes a ban on buying Russian coal.
"Now we have to look into oil and revenues the Russia [sic] gets from fossil fuels," she said.
_____
Ukraine's Luhansk Region Tells Civilians to Evacuate 'While It Is Safe'
Authorities in the eastern Ukrainian region of Luhansk urged civilians on Wednesday to evacuate "while it is safe," warning that Russian bombardments could cut off escape routes.
Ukraine has said Russian troops that invaded on Feb. 24 are regrouping and preparing for a new offensive in the Donbas area, which includes Luhansk.
"I appeal to every resident of the Luhansk region—evacuate while it is safe … While there are buses and trains—take this opportunity. "
Gaidai said rail connections in the Donetsk region of Donbas had been damaged this week and took several hours to repair.
Gaidai claimed separately in a video address that Russian forces had not managed to break through Ukrainian defenses in his region but were destroying "everything in their path" and would "stop at nothing."
Vereshchuk said anyone trying to leave the besieged southern city of Mariupol would have to use their own vehicles.
Mariupol's capture could enable Russia to create a land bridge between two separatists, self-proclaimed people's republics in Donbas and the Crimea region which Russia seized in 2014.
_____
US, Allies to Ban Investments in Russia, Sanction Banks on Wednesday
The United States and its allies will on Wednesday impose new sanctions on Russian banks and officials and ban new investment in Russia, the White House said, after officials in Washington and Kyiv accused Moscow of committing war crimes in the Ukrainian town of Bucha.
The sanctions will increase curbs on financial institutions and state-owned enterprises in Russia and target Russian government officials and their families, White House press secretary Jen Psaki told reporters on Tuesday.
"Tomorrow, what we're going to announce … in coordination with the G-7 and EU, [is] an additional sweeping package of sanctions measures that will impose costs on Russia and send it further down the road of economic, financial, and technological isolation," Psaki said, noting that the G-7 and EU comprised around 50 percent of the global economy.
The measures will "degrade key instruments of Russian state power, impose acute and immediate economic harm on Russia, and hold accountable the Russian kleptocracy that funds and supports [Russian President Vladimir] Putin's war," she said.
She declined to comment on reports that the sanctions would target the daughters of Putin.
___
US Defense Chief Defends Ukraine Response
U.S. Defense Secretary Lloyd Austin defended America's response to the war in Ukraine on Tuesday during a heated exchange with a Republican lawmaker who accused the Pentagon of over-estimating Russia's military capability.
"Has it occurred to you that Russia has not overrun Ukraine because of what we've done? And our allies have done? Have you ever even thought about that?" Austin asked rhetorically Rep. Matt Gaetz (R-Fla.) during testimony to the House Armed Services Committee. Austin and other U.S. officials say U.S. support to Ukrainian forces, along with Ukraine's strong will to fight, has thwarted Russia's plans for a swift victory in its now more than month-long invasion.
___
The US Imposes Sanctions on Russian Darknet Market and Crypto Exchange
The U.S. Treasury Department imposed sanctions on Tuesday on a prominent Russia-based darknet market site and a cryptocurrency exchange that it said operates primarily out of Moscow and St. Petersburg.
The sanctions against Hydra and currency exchange Garantex, published on the Treasury Department's website, "send a message today to criminals that you cannot hide on the darknet or their forums," Treasury Secretary Janet Yellen said.
According to blockchain researchers, approximately 86 percent of illicit bitcoin received directly by Russian crypto exchanges in 2019 came from Hydra, which the Treasury Department described as the world's "largest and most prominent darknet market."
The new sanctions prohibit U.S. persons from making or receiving "any contribution or provision of funds, goods, or services" to Hydra or Garantex, the Treasury said.
The department said the sanctions, which prohibit U.S. transactions with Hydra and Garantex and seek to freeze any assets they may have under U.S. jurisdiction, is part of an international effort to disrupt the proliferation of malicious cybercrime services, drugs, and other illegal offerings, including ransomware activity, that emanate from Russia.
The Associated Press and Reuters contributed to this report.
---
Essential reading to understand all the lies perpetrated by governmental and official chiefs, not forgetting the media. You can hardly believe ANYTHING.
---
COPYRIGHTS
Copy & Paste the link above for Yandex translation to Norwegian.
WHO and WHAT is behind it all ? : >
The bottom line is for the people to regain their original, moral principles, which have intentionally been watered out over the past generations by our press, TV, and other media owned by the Illuminati/Bilderberger Group, corrupting our morals by making misbehavior acceptable to our society. Only in this way shall we conquer this oncoming wave of evil.
Commentary:
Administrator
HUMAN SYNTHESIS
All articles contained in Human-Synthesis are freely available and collected from the Internet. The interpretation of the contents is left to the readers and do not necessarily represent the views of the Administrator. Disclaimer: The contents of this article are of sole responsibility of the author(s). Human-Synthesis will not be responsible for any inaccurate or incorrect statement in this article. Human-Synthesis grants permission to cross-post original Human-Synthesis articles on community internet sites as long as the text & title are not modified