Tonight's events in and around the invasion of Ukraine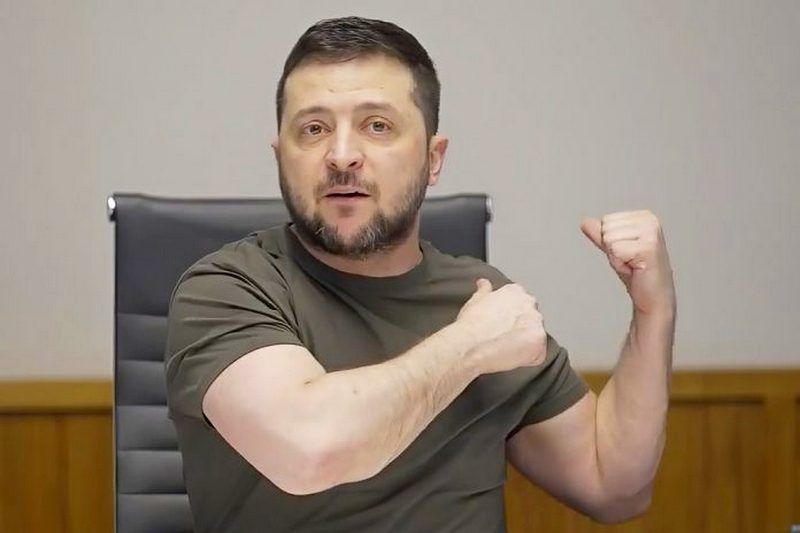 Resett.no - Of NTB-March 28, 2022 | 06:50
Ukraine promises an investigation after a video that allegedly shows that Russian soldiers are shot in the knees. Ukrainian authorities promise immediate investigation after a video allegedly showed Ukrainian soldiers shooting Russian prisoners of war in the knees.
In a video almost six minutes long, you can hear Ukrainian soldiers say that they have captured a Russian reconnaissance group in Olkhovka in Kharkiv. The video allegedly shows Ukrainian soldiers shooting Russian prisoners of war in the knees, reports CNN .
One of the Ukrainian advisers Volodymyr Zelensky's advisers, Oleksiyj Arestovych, said in an interview on YouTube on Sunday that the case should be investigated.ad
- The government takes this very seriously and an immediate investigation is initiated. We are a European army and we do not make fun of our prisoners of war. If this turns out to be genuine, it is completely unacceptable behavior, he says.
In a separate briefing, Arestovych says that Ukraine treats prisoners of war in accordance with the Geneva Convention.
British war crimes lawyer becomes an adviser to Ukraine.
British authorities have appointed war crimes lawyer Howard Morrison as an adviser to Ukraine's attorney general.
The British government's top legal adviser Suella Braveman says Morrison will act as independent adviser to Ukraine's Attorney General Iryna Venediktova reports  the BBC .
Morrison has a twelve-year background as a judge in the International Criminal Tribunal for the former Yugoslavia and the International Criminal Court (ICC).
Earlier this month, Braveman signed a joint statement with Venetiktova pledging support for the collection of evidence of crimes against humanity and war crimes committed by Russian forces in Ukraine.
All the possibilities are on the table when it comes to prosecuting Russian President Vladimir Putin's regime for war crimes, Braveman said in the House of Commons on Thursday. But she stated that Britain's preferred approach would be to use the ICC.
Ukraine claims Russian forces are withdrawing from the Kyiv region
Russia has been forced to withdraw forces from the Kyiv region as a result of heavy losses, the Ukrainian General Staff claims.
Two battalions of tactical groups from the Russian army have been withdrawn from the Kyiv region and into Belarus, which is typical of military units that have suffered significant losses, according to an update from the General Staff of Ukraine, according to the BBC .ad
In addition, there is a large reduction in the number of units moved from Russia into Ukraine, the General Staff claims.
Ukraine is asking the UN to intervene to secure the Chernobyl area
Ukraine's Deputy Prime Minister Iryna Vereshchuk fears radioactive discharges from Chernobyl and calls on the UN to intervene and take control of the area.
Vereshchuk urges the UN Security Council to take immediate action to demilitarize the Chernobyl exclusion zone and send a special delegation.
She accuses Russia of committing irresponsible actions around the decommissioned nuclear power plant. The Russian activity can lead to radioactivity leaking that can affect large parts of Europe, she claims according to  The Guardian, which refers to a post from her on the messaging service Telegram.
Russian forces continue to militarize the area around the decommissioned power plant, where radioactive material was stored after the explosion in 1986. Damage to the structure that protects the plant could lead to the release of significant amounts of radioactive dust, says Vereshchuk.
"Russia ignores these threats, and continues to send and store significant quantities of ammunition in the immediate vicinity of the nuclear power plant and through the city of Pripyat," she writes.
Russia's use of "poor quality old ammunition" increases the risk of detonation even during loading and transport, she claims. In addition, several large fires have started in the area, she points out.
The decommissioned power plant has been under Russian control for a month.
Ukraine claims Russia is deploying new missiles in Belarus
Russia is preparing rocket attacks on Ukraine by sending new missiles to launch pads in Belarus, according to Ukrainian intelligence.
The rockets will be used with the Iskander system by units stationed near Kalinkavichy in southeastern Belarus, according to a statement from the Ukrainian General Staff, quoting Ukrainian military intelligence.
The allegations have not been confirmed by independent sources.
The Iskander system is a mobile ground-based system that can launch short-range missiles and cruise missiles. Experts have pointed out that the projectiles release so-called decoy pigeons after launch to confuse radars and launchers.
Zelensky before Russia talks: Our goal is peace and normal life
Ukraine's goal is to achieve peace and return to a normal life as soon as possible, says President Volodymyr Zelenskyj ahead of new talks with Russia.
"Peace and return to a normal life in our country as soon as possible is an obvious goal," Zelenskyj said in a video speech according to the BBC .
The president also says that sovereignty and territorial integrity will continue to be priority topics in the upcoming round of talks with Russia, which will start in Turkey on Monday or Tuesday.
- Effective security guarantees are a necessity, says the president.
On Sunday, Zelensky had said in an interview with Russian journalists that he was willing to discuss Ukrainian neutrality. Before the war, Russia had demanded that Ukraine never join NATO.
In the interview with Russian media on Sunday, Zelenskyj also said that he excludes the recapture of all areas that are Russian-controlled by force, and said it would have led to World War III. He therefore wants to reach a compromise related to the Donbas region in eastern Ukraine, where Russian-backed forces have been in control since 2014, he said according to  Reuters .
Earlier, Zelenskyj warned that he would not be willing to surrender territories in peace talks, and has pointed out that his forces have inflicted heavy losses on Russia,  Sky News reports.
Air strikes on several Ukrainian cities
Russian forces continued to carry out rocket attacks on several cities in Ukraine on Sunday night, according to one of President Volodymyr Zelensky's advisers.
- More and more rockets every day. Mariupol carpet bombs, says adviser Mykhailo Podoljak on Twitter.
He also mentions cities such as Lutsk, Kharkiv, Zhytomyr and Rivne, reports  CNN
- Russia no longer has language, humanism, civilization. Only rockets, bombs and attempts to wipe Ukraine off the world map, he says.
Air defense sirens were triggered in all regions of the country earlier Sunday night. Sound was heard from several powerful explosions in the capital Kyiv, and in Luzk in the northwest of the country, a fuel depot was allegedly hit in an attack.
Podoljak accuses the Russian army of "inhuman tactics" which include "partial or full blockade of humanitarian corridors and blockade of besieged cities".
France: Mariupol has become a new Aleppo
The world community must intervene immediately to help the besieged port city of Mariupol, which has become a new Aleppo, says France's foreign minister.
- You can see that Mariupol has become a new Aleppo, with what I hope is a collective guilt if we do nothing, says Jean-Yves Le Drian, referring to the Syrian city that was hit by some of the worst fighting in the brutal Syrian war.
- Mariupol is a siege war where Russia has been going on for a month now. Maybe it was not imagined to be a siege war, but today we are in a siege war, and Mariupol is among the examples that stand out the most. Military siege is a cruel war because civilians are massacred, annihilated. The disorders are horrible, says Le Drian according to  the BBC .
One week ago, the Greek Consul General in Mariupol, Manolis Androulakis, also compared the destruction in the city with Aleppo after he managed to escape to Athens.
"Mariupol will be included in a list of cities in the world that were completely destroyed by war, such as Guernica, Stalingrad, Grozny , and Aleppo," said Androulakis when he returned to his homeland.
Britain: Russia has isolated Ukraine from maritime trade
Russia has managed to isolate Ukraine from international maritime trade by blocking the coast of Ukraine, according to the British Ministry of Defense.
In a daily assessment of the war in Ukraine, the Ministry of Defense in London writes that the Russian Navy continues to carry out sporadic rocket attacks on targets in Ukraine.
Ukraine's destruction of the Russian landing craft Saratov in Berdyansk is expected to have destroyed the Russian navy's ability to conduct operations near the Ukrainian coast in the future, the assessment further states.
Berdyansk is located west of the besieged port city of Mariupol. It was on Thursday last week that the Ukrainian navy stated that it had destroyed the landing ship. At first, it was stated that the ship's name was Orsk, but the next day the Ukrainian General Staff stated that the ship's correct name was Saratov.
Scholz: NATO is not looking for regime change in Russia
Regime change in Russia is not a NATO goal, despite the Russian invasion of Ukraine, says German Prime Minister Olaf Scholz.
"It is not NATO's goal, nor is it the American president's goal," Scholz told German broadcaster ARD.
On Saturday, US President Joe Biden said that Russian President Vladimir Putin is a butcher who can not sit in power.
- I have had the opportunity to talk to him in the White House and we have also discussed these questions, says Scholz about Biden.
The White House quickly went out after Biden's speech in Warsaw on Saturday to tone down the message that the president had brought.
"For God's sake, this man can not remain in power," Biden said in the speech.
- Democracy, freedom, and justice have a future everywhere. but it is up to the people and to the countries themselves to fight for this freedom, says Scholz.
Scholz's statements came after French President Emmanuel Macron on Sunday warned of verbal escalation with Putin.
---
COPYRIGHTS
Copy & Paste the link above for Yandex translation to Norwegian.
WHO and WHAT is behind it all ? : >
The bottom line is for the people to regain their original, moral principles, which have intentionally been watered out over the past generations by our press, TV, and other media owned by the Illuminati/Bilderberger Group, corrupting our morals by making misbehavior acceptable to our society. Only in this way shall we conquer this oncoming wave of evil.
Commentary:
Administrator
HUMAN SYNTHESIS
All articles contained in Human-Synthesis are freely available and collected from the Internet. The interpretation of the contents is left to the readers and do not necessarily represent the views of the Administrator. Disclaimer: The contents of this article are of sole responsibility of the author(s). Human-Synthesis will not be responsible for any inaccurate or incorrect statement in this article. Human-Synthesis grants permission to cross-post original Human-Synthesis articles on community internet sites as long as the text & title are not modified