Biden, Western Allies Open 1st of 3 Summits on Ukraine Crisis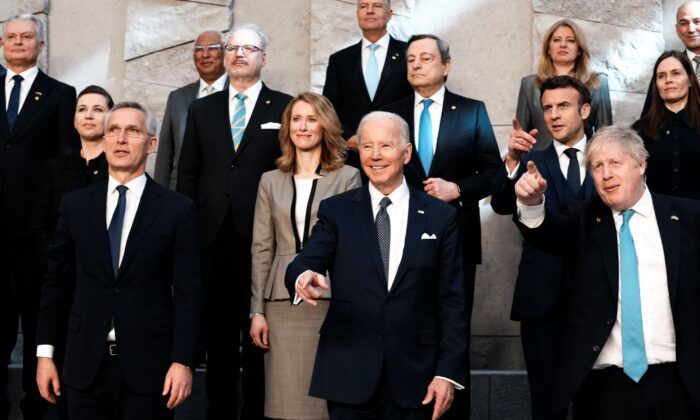 NATO Secretary-General Jens Stoltenberg, center front left, President Joe Biden, center front, and British Prime Minister Boris Johnson, front right, pose during a group photo during an extraordinary NATO summit at NATO headquarters in Brussels, on March 24, 2022. (Thibault Camus/AP Photo)
By Epoch Times Staff March 24, 2022, Updated: March 24, 2022
Biden, Western Allies Open 1st of 3 Summits on Ukraine Crisis. President Joe Biden and world leaders have opened the first in a trio of summits in Brussels focused on pressuring Russia to end its war in Ukraine.
Europe's diplomatic capital is hosting an emergency NATO summit as well as a gathering of the Group of Seven industrialized nations and a summit of the 27 members of the European Union.
Biden is attending all three meetings, beginning with NATO.
The president and the leaders of other NATO countries met for a group photo memorializing their urgent gathering before they went into the meeting, which was expected to last for several hours.
NATO Secretary-General Jens Stoltenberg opened Thursday's meeting by saying the alliance is determined to continue to ratchet up the costs on Russia.
Zelenskyy Addresses Swedish Parliament
Ukrainian President Volodymyr Zelenskyy has invited Sweden to help rebuild his country as he marked one month of the Russian invasion during an address to the Swedish parliament.
"This is a month now," Zelenskyy said during a speech by video link Thursday. "We have not seen a destruction of this scale since World War II."
He called on "Swedish companies and state to come to rebuild" the country.
His speech was broadcast live before members of the 349-seat Riksdagen which gave him a standing ovation.
Russian Stock Market Resumes Limited Trading
The Russian stock market has resumed limited trading under heavy restrictions, almost one month after prices plunged and the market was shut down following Moscow's invasion of Ukraine. Trading of a limited number of stocks including energy giants Gazprom and Rosneft took place under curbs that are meant to prevent a repeat of the massive selloff that took place Feb. 24 in anticipation of Western economic sanctions. Foreigners cannot sell and traders are barred from short selling, or betting prices will fall. The benchmark MOEX index gained 8 percent in the first minutes of trading.
UK Johnson Accuses Putin  of Crossing 'Red Line'
NATO leaders are refusing to rule out retaliation against Russia should it launch a chemical weapons attack on Ukraine—but British Prime Minister Boris Johnson thinks Moscow has already gone too far.
"The reality is that (President) Vladimir Putin has already crossed the red line into barbarism," Johnson told reporters Thursday as he arrived for the summit of NATO leaders.
Johnson says that "it's now up to NATO to consider together the appalling crisis in Ukraine, the appalling suffering of the people of Ukraine, and to see what more we can do to help the people of Ukraine to protect themselves."
As an organization, NATO is not providing weapons to Ukraine. The 30-nation alliance refuses to send troops to Ukraine, either for combat or peacekeeping and has said it will not deploy aircraft to protect civilians or police any no-fly zone.
But member countries are providing weapons and other assistance, individually or in groups.
De Croo warns that "if chemical weapons or anything else could be used, that would have definitely grave consequences." No NATO leader has elaborated yet on what that might mean.
Renault Suspends Russia Operations After Backlash
French carmaker Renault announced Wednesday night it is suspending "activities at the Renault Moscow plant" with immediate effect.
The move came hours after Ukraine President Volodymyr Zelenskyy spoke virtually to the French parliament, calling on Renault and other French companies with a Russian presence to stop indirectly supporting the war against Ukraine.
The Renault Group board of directors met Wednesday to decide to halt production at the plant that produces Arkana, Kaptur, Duster, and Nissan Terrano SUVs amid mounting criticism of its foothold in the Russian Federation.
However, the lion's share of the group's Russian presence goes through its subsidiary AvtoVAZ, through which it sold nearly 500,000 vehicles in Russia in 2021.
Renault said that AvtoVAZ is not immediately withdrawing, but it's "assessing the available options, taking into account the current environment, while acting responsibly towards its 45,000 employees in Russia."
France Claims Successful ASMP Nuclear Missile Test
France's defense ministry announced Wednesday the country successfully tested the modernized version of its nuclear missile, the Air-Sol Moyenne Portée.
In a statement, it said that it was tested "without a military payload" and was fired from a Rafale twin-engine, multirole fighter aircraft that took off from Cazaux Air Force Base 120 in southwestern France."
The medium-range air-to-ground nuclear ASMP missile, developed by arms manufacturer MBDA, represents part of the air component of the French nuclear deterrence. The announcement comes at the height of the war in Ukraine, as some observers fear the potential for a military escalation by Russia.
Stoltenberg: Chemical Attack Would Change War
NATO Secretary-General Jens Stoltenberg says any chemical attack by Russia on Ukraine would change the course of the war but he is not saying whether NATO would take military action.
Asked whether a chemical weapons attack is a red line for NATO, Stoltenberg said, "I will not speculate beyond the fact that NATO is always ready to defend, to protect, and to react to any type of attack on a NATO-allied country."
Stoltenberg says "any use of chemical weapons would fundamentally change the nature of the conflict. It would be a blatant violation of international law, and it will have widespread and severe consequences."
His remarks Thursday came as he arrived at NATO headquarters in Brussels to chair a summit of the military organization's 30 national leaders, including President Joe Biden.
Moscow has denied the allegation of using chemical weapons.
Ukrainian Navy Claims Destroying Russian Landing Ship in Southeastern Ukraine
Ukraine's navy on Thursday reported destroying Russia's large landing ship, Orsk, near the port city of Berdyansk.
A short Facebook statement about the ship was accompanied by photos and videos of fire and thick plumes of smoke in the port.
The Russian military has not commented on what happened to the ship.
Berdyansk has been under Russian control since Feb. 27.
Zelenskyy Calls for 'Unrestricted' NATO Aid
Speaking on the eve of the NATO summit, Ukrainian President Volodymyr Zelenskyy called on the alliance to provide "effective and unrestricted" support to Ukraine, including any weapons the country needs to fend off the Russian invasion.
"We ask that the alliance declare that it will fully assist Ukraine to win this war, clear our territory of the invaders, and restore peace in Ukraine," he said late Wednesday during his nightly video address to the nation.
Zelenskyy will speak to the NATO summit by video, the president's office said.
He appealed to Western countries to stay united in the face of what he says is Russia's efforts to "lobby its interests" with "some partners" to bring them over to its side.
"We will see who is a friend, who is a partner, and who has sold out and betrayed us," he said. "Together we should not allow Russia to break anyone in NATO, the EU or G-7, to break them and drag them to the side of war."
Deemed Theater Director Taken by Russians
Russian troops who occupy the southern Ukrainian city of Kherson seized one of the country's most prominent theater directors "in a fascist manner" and took him to an unknown location, Ukraine's Culture Minister Oleksandr Tkachenko said.
Witnesses said nine Russian military vehicles pulled up to the home of Oleksandr Kniga early Wednesday and led him out. The Russians warned neighbors that if they came out of their homes, they would be killed, the witnesses said.
"The whole world should know about this!" Tkachenko said on Facebook.
Kniga, 62, is one of the most important and respected theater directors in Ukraine. He founded the international theater festival Melpomene of Tavria.
He was among many in Kherson who oppose the Russian occupation. On Monday, Russian troops used stun grenades and fired in the air to disperse a protest.
Russia to Expel More American Diplomats
The U.S. State Department says Russia has begun the process of expelling several more diplomats from the U.S. embassy in Moscow.
The department said it received a list of diplomats on Wednesday who has been declared "persona non grata" by the Russian foreign ministry. It didn't say how many diplomats were affected by the order, which generally results in the expulsion of those targeted within 72 hours.
The Russian foreign ministry summoned U.S. Ambassador to Russia John Sullivan on Monday to protest President Joe Biden's description of Russian President Vladimir Putin as a "war criminal" over the invasion of Ukraine. After that meeting, Russia warned that it was close to severing diplomatic relations with the United States, which would be an unprecedented move.
The State Department called Wednesday's move "Russia's latest unhelpful and unproductive step" in relations between the countries. It urged Russia "to end its unjustified expulsions of U.S. diplomats and staff."
Russian Move on Ukraine Aid Fails at UN Security Council
A Russian-drafted call for aid access and civilian protection in Ukraine that does not mention Moscow's role in the crisis failed at the U.N. Security Council on Wednesday, with only Russia and China voting yes and the remaining 13 members abstaining.
"If Russia cared about the humanitarian situation, it would stop bombing children and end their siege tactics. But they haven't," Britain's U.N. Ambassador Barbara Woodward told the council after the vote. Russia denies attacking civilians.
A Security Council resolution needs at least nine votes in favor and no vetoes by Russia, China, Britain, France, or the United States to be adopted. Russia's U.N. Ambassador Vassily Nebenzia accused those who abstained on Wednesday of doing so "for political reasons."
Britain Giving Ukraine Thousands More Missiles
Britain will send thousands more missiles to Ukraine's government as Prime Minister Boris Johnson urged Western allies to boost the supply of military aid to Ukraine.
Johnson is traveling to Brussels on Thursday for talks with NATO and leaders of the Group of Seven. He is expected to provide further details of the new British aid during the visit, including the donation of 6,000 more missiles comprising anti-tank and high-explosive weaponry.
"The United Kingdom will work with our allies to step up military and economic support to Ukraine, strengthening their defenses as they turn the tide in this fight," Johnson said.
Britain has already sent more than 4,000 anti-tank weapons to Ukraine.
The Associated Press and Reuters contributed to this report.
---
COPYRIGHTS
Copy & Paste the link above for Yandex translation to Norwegian.
WHO and WHAT is behind it all ? : >
The bottom line is for the people to regain their original, moral principles, which have intentionally been watered out over the past generations by our press, TV, and other media owned by the Illuminati/Bilderberger Group, corrupting our morals by making misbehavior acceptable to our society. Only in this way shall we conquer this oncoming wave of evil.
Commentary:
Administrator
HUMAN SYNTHESIS
All articles contained in Human-Synthesis are freely available and collected from the Internet. The interpretation of the contents is left to the readers and do not necessarily represent the views of the Administrator. Disclaimer: The contents of this article are of sole responsibility of the author(s). Human-Synthesis will not be responsible for any inaccurate or incorrect statement in this article. Human-Synthesis grants permission to cross-post original Human-Synthesis articles on community internet sites as long as the text & title are not modified