Truck convoy hits the DC Beltway for the 4th day, this time with Sen. Ted Cruz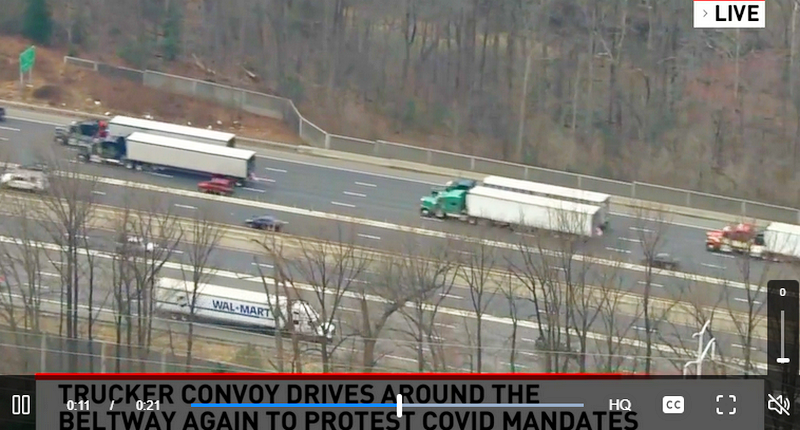 7NEWS - Sonia Dasgupta Thursday, 10 March 2022
A trucker convoy is hitting the DC Beltway for the 4th time after taking a break Wednesday due to the rain. This time, Sen. Ted Cruz, is with them.
"Thank you to The People's Convoy for speaking out for freedom!" tweeted Cruz. "Petty government tyrants shouldn't force people to make private health care decisions."
The group, known as the People's Convoy, has been in Hagerstown since March 4. They are here to protest against COVID-19 mandates.
So far the traffic impacts during the week have been minimal.
RELATED | People's Convoy truckers meet with GOP senators as some loop DC beltway for 3rd day
Organizers met with members of Congress Tuesday. While truckers looped around the beltway for the third day in a row Tuesday, Republican Sens. Ron Johnson, of Wisconsin, and Cruz, of Texas, met with convoy members.
WATCH THE TRUCKER CONVOY AS THEY MAKE ANOTHER LOOP AROUND THE BELTWAYCaption: The Trucker convoy hits the Beltway for the 4th day.
The group discussed "the harmful effects of President Biden's vaccine mandates" with the senators.
The group discussed "the harmful effects of President Biden's vaccine mandates" with the senators.
The truckers, who are staged at Hagerstown Speedway in Hagerstown,  plan to take Rt 40e to Rt 63s to I-70e to I-270 to I-495 to I-270 to I-70 to Rt 63n to Rt 40w and back to the Hagerstown Speedway.
7News spoke to several supporters who had gathered along bridges to cheer on the group over the weekend.
"I'm a patriot. I always have been. I'm really outraged what's been done with the country under COVID," said Lin Bradley, of Bethesda.
The convoy has called the vaccine and mask mandates a "government overreach."
Follow traffic updates in your area: Virginia | Maryland | DC
© Provided by WJLA – Washington D.C.Truck convoy hits the DC Beltway for the 4th day, this time with Sen. Ted Cruz
WHO ARE THE TRUCKERS & WHY ARE THEY PROTESTING?
Hundreds of trucks, many from the cross-country convoy, and more than 1,000 truckers and their supporters converged on Hagerstown's Speedway stadium and parking lot. From the signs they displayed affixed to their pick-up trucks and various other vehicles, the message was: Trump is good, Biden is bad and their protest is all about "freedom."
It began with freedom from mask mandates, but since most states have dropped the mandates, the issue is to end the government's ability to invoke "emergency powers."
Maureen Steele, a spokesperson for The People's Convoy, said of government actions under emergency powers, "the cure was worse than the disease, suicide rates through the roof, divorce through the roof."
Another group, The American Truckers Freedom Convoy, left Washington State on March 1 and were in town on March 6.
DC OFFICIALS SAY THEY ARE PREPARED
According to ABC News, on Monday, Defense Secretary Austin approved requests from Capitol Police and DC Homeland Security to extend National Guard support at traffic control points in the District till Wednesday.
Chris Rodriguez, the Director of Homeland Security and Emergency Management, says officials have been watching the convoys and "took note" of what happened in Ottawa, Canada over the last month. They have been communicating with counterparts across the country and locally in Maryland and Virginia about what to expect.
© Provided by WJLA – Washington D.C.WATCH: Truck convoy hits the DC Beltway for the 4th day after taking break Wednesday
Virginia State Police issued this statement:"Move your money by early 2022," Wall street legend warnsAdAdVisionaryProfit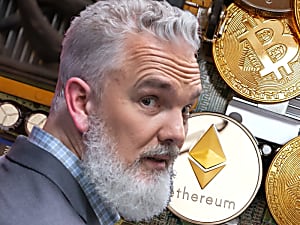 "Virginia State Police continues to monitor and prepare for potential commercial and passenger vehicle convoys affecting traffic in and around the National Capital Region (NCR) through the weekend. State police also continue to communicate with our NCR local, state, and federal partners concerning this developing situation.
Virginia State Police respects the public's First Amendment rights and has been in contact with various groups' organizers to ensure their understanding of Virginia traffic laws. These communications have also enabled us to share our expectations related to keeping traffic flowing safely and efficiently on Virginia highways, especially in the case of emergencies and for first responder vehicles.
In advance of any convoys entering the NCR region, Virginians can expect to see an increased patrol presence by Virginia troopers and our Motor Carrier Safety teams, as part of the department's operational plan for this still-fluid situation. These efforts are to mitigate the impact of additional traffic volume on already congested roadways and Northern Virginia communities."
SEE ALSO | Two people dead after car catches fire after collision with dump truck on I-695 in SE DC
Maryland State Police issued this statement:
"The Maryland State Police continue to monitor developments in preparation of potential commercial, recreational, and passenger vehicle convoys planned by drivers from across the country.
Law enforcement, transportation, and emergency management agencies in Maryland, Virginia, and Washington, D.C. are jointly assessing the situation as it develops. Agencies will allocate personnel and additional resources based upon analysis of the situation to ensure safety on our roadways and minimize potential traffic disruptions throughout the region.
In addition to road patrol troopers, troopers from our Commercial Vehicle Enforcement Division and Automotive Safety Enforcement Division are prepared to assist public safety partners in Maryland and neighboring states to address any violations of law and to maintain the free flow of traffic.
Citizens are also reminded of the potential for misinformation and disinformation that could be spread on social media in regards to potential protests. Local, state, and federal law enforcement agencies in the region will provide pertinent updates as needed. Follow roads.maryland.gov for the latest traffic alerts."
7News will update this story as we get new information. Download our app to get the latest updates to your phone
---
COPYRIGHTS
Copy & Paste the link above for Yandex translation to Norwegian.
WHO and WHAT is behind it all ? : >
The bottom line is for the people to regain their original, moral principles, which have intentionally been watered out over the past generations by our press, TV, and other media owned by the Illuminati/Bilderberger Group, corrupting our morals by making misbehavior acceptable to our society. Only in this way shall we conquer this oncoming wave of evil.
Commentary:
Administrator
HUMAN SYNTHESIS
All articles contained in Human-Synthesis are freely available and collected from the Internet. The interpretation of the contents is left to the readers and do not necessarily represent the views of the Administrator. Disclaimer: The contents of this article are of sole responsibility of the author(s). Human-Synthesis will not be responsible for any inaccurate or incorrect statement in this article. Human-Synthesis grants permission to cross-post original Human-Synthesis articles on community internet sites as long as the text & title are not modified