The number of New patients admitted to the intensive care unit in Norway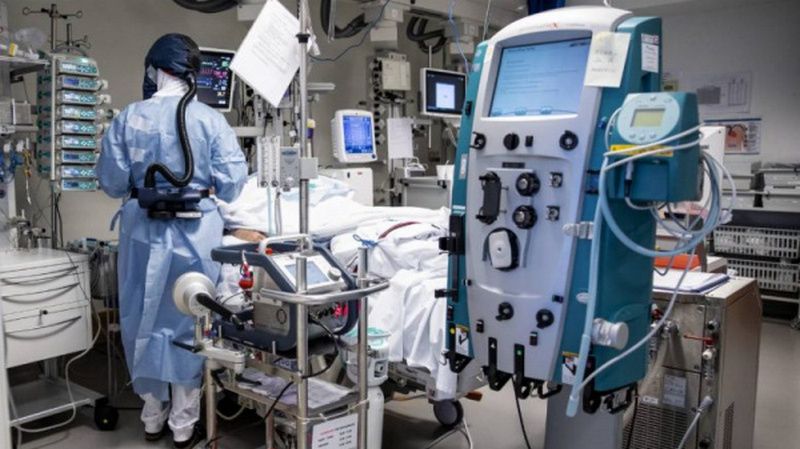 Trond-Gunnar Christiansen - Hot numbers from NIPH... - 12 March 2022

Hot figures from NIPH's weekly report 9. And the number of dead is increasing and increasing !! The number of covid-19 associated deaths has increased over the past 5 weeks.
There are currently 80 deaths recorded at Week 9 after 59 at Week 8, the highest number in a week so far in the pandemic. Work is underway to restructure the monitoring so that deaths without laboratory-confirmed samples in MSIS are included. The figures are expected to be revised next week. As feared, the number of deaths increases drastically every week now. According to the NIPH a mild cold virus in circulation...There have never been as many deaths in a week before as there were in Week 9. Currently, 80... 62 are fully vaccinated. 3 part-vaccinated. 15 unvaccinated. The median age for the last 4 weeks is 84 years lower-upper quartile 73-91. They have removed the usual I usually post about median age etc per week.
How is this possible??? In weeks 7.8 and 9 overall, 187 people have died so far. Only 30 of them unvaccinated... I wrote last week that we would pass 200 in a month now. As it looks now, we will pass at least 250 in 4 Weeks(28 days), if the number of Dead will be just as high in Week 10. But I'm afraid we'll get at least 100 dead in Week 10 and not just 80. 30 days in April 2020 was the previous record as of then,170 died with the most dangerous virus we have ever had in circulation, as well as no vaccinated...I hope someone has a good explanation for this...The health authorities have it, but they probably won't share it with the people.

FHI was out on NRK.no today with a small summary. Amazingly enough, they "forgot" to inform if there was a new weekly record in the number of deaths in Week 9...Why don't they inform about it when they first go out in the media with updates? The answer is simple: they feel a need to hide sannheten...De it says that the pandemic is about to flatten out, but does not mention that the number of dead is going to heaven... See the article from NRK.no in the comments. Everything is just lies and lies...And evasion of facts...I am genuinely disgusted by this.
Among Nye 511 patients with known vaccine status admitted to hospital in Norway with covid-19 at Week 9, 97 (19 %) were unvaccinated, 83 (16 %) were fully vaccinated with two doses, and 331 (65 %) had been vaccinated with booster dose.
The number of new patients admitted to the intensive care unit is currently 44 at Week 9, after 39 at Week 8. This is an increase from week 4-6 NEW when between 16-20 new patients were admitted to the intensive care unit weekly. 51% of the 511 Nye admitted in Week 9 had covid-19 as the main reason for the admission. Little doubt that vaccinated make up the majority of the hospitalized in every conceivable way to calculate at Week 9. Now we are approaching the same numbers and percentages as bl.a Denmark. The numbers regarding unvaccinated admissions have obviously been deliberately inflated in recent months in Norway.
This is pure fraud and deception again, from the health authorities. 95% of cases of infection at Week 9 were among vaccinated people. Those vaccines do not protect against Coronavirus, contagion, disease, and death. The figures here clearly show that you can replace 3 doses with 3 glasses of water to get better protection. 88 % of the dead in the entire population since 1.Aug 2021 has been vaccinated. Those vaccinated, at most, made up only 74% of the entire population... Calculated and announced by Trond Haug who has done a formidable job again.
---
CASES ALSO RISE SHARPLY ELSEWHERE AMONGST VACCINATED.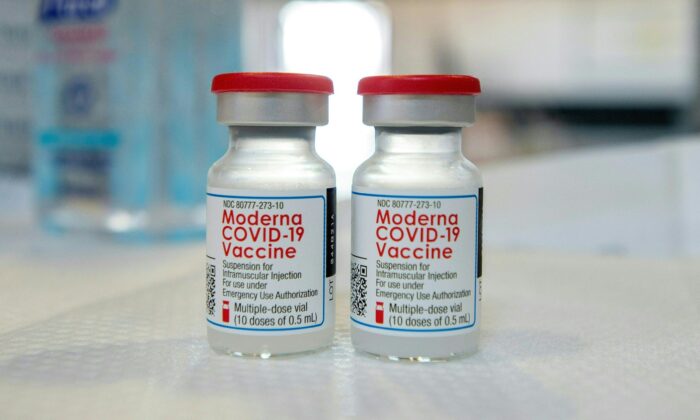 Vials of Moderna's COVID-19 vaccine in Bridgeport, Conn., in a file image. (Joseph Prezioso/AFP via Getty Images)
COVID-19 Cases, Hospitalizations Jump Among Vaccinated: CDC Data
The Epoch Times-By Zachary Stieber February 24, 2022
COVID-19 case and hospitalization rates increased among people who got a COVID-19 vaccine following the emergence of the Omicron virus variant, according to newly published data from the Centers for Disease Control and Prevention (CDC).
According to the data, which is submitted to the CDC by health departments across the country, the COVID-19 case rate in fully vaccinated people rose by more than 1,000 percent between Dec. 11, 2021, and Jan. 8, 2022.
Fully vaccinated refers to people who received two doses of the Moderna or Pfizer COVID-19 vaccines, or the single-dose Johnson & Johnson vaccine.
The CDC doesn't count a person as fully vaccinated until 14 days have elapsed from his or her final shot.
The case rate among those who also received a booster dose skyrocketed as well, rising some 2,400 percent between the same dates.
While cases also rose among the unvaccinated, the jump in infections among the vaccinated closed the gap between the populations. As a result, people who haven't received a vaccine were just 3.2 times more likely to test positive for COVID-19 in January.
COVID-19-associated hospitalizations also increased among the vaccinated, from 1.4 per 100,000 for the fully vaccinated for the week ending Dec. 18, 2021, to 35.2 per 100,000 in the week ending Jan. 8, according to data from a surveillance system managed by the CDC.
People who got a booster were less likely to require hospital care, but the hospitalization rate among the boosted also rose from December 2021 to January.
And deaths attributed to COVID-19 increased during the same time period among the vaccinated, including among the boosted.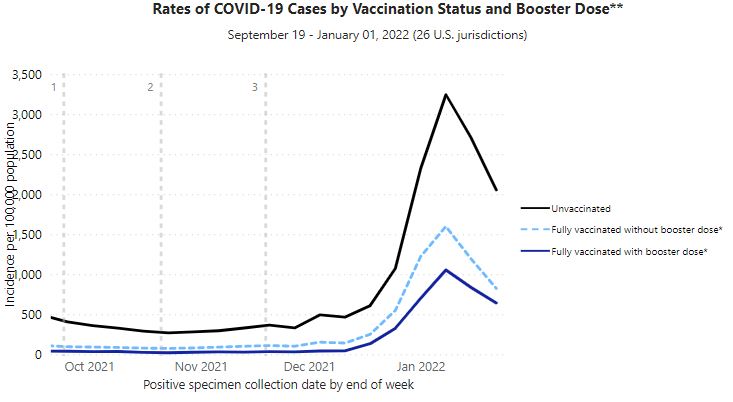 Other data sources also point to vaccines performing worse after Omicron, including studies published by the CDC in January, which has narrowed the gap between the unvaccinated and vaccinated in terms of cases and hospitalizations.
Some research, though, signals that boosters restore much of the lost protection, including a study performed by researchers with Kaiser Permanente and Moderna published in Nature Medicine on Feb. 21.
"Our results suggest that third doses may be needed sooner than 6 months after the second dose of the Moderna COVID-19 vaccine to protect against omicron infection," Hung Fu Tseng, a Kaiser researcher, said in a statement. "Reassuringly, 3 doses provide strong protection against COVID-19 hospitalization due to either the omicron or delta variant."
Just days after the study, though, Moderna CEO Stéphane Bancel told investors on a call that a second booster would be necessary because of waning protection from the vaccine, including the first booster.
"This year, we expect to see continued primary vaccination and boosting in the Southern Hemisphere in the first half, and a shift to boosters as a fourth dose booster in the Northern Hemisphere in the second half of the year, similar to flu vaccines," Bancel said.
U.S. health officials have said they're considering whether to authorize second boosters for the general public.
The CDC data also showed a jump in case, hospitalization, and death rates among the unvaccinated, but the increase wasn't as significant as compared to that recorded among the vaccinated.
The CDC says unvaccinated adults were 2.6 times more likely to test positive for COVID-19 in January compared to fully vaccinated adults and 3.2 times more likely when compared to boosted adults; at least 30 times more likely to be hospitalized in December 2021 due to COVID-19 compared to boosted Americans 18 or older, 14 times more likely to die from COVID-19 in December 2021 compared to the fully vaccinated, and 41 times more likely to die in December 2021 versus the boosted.
Cases, hospitalizations, and deaths have plummeted in both the unvaccinated and vaccinated in recent weeks, driving many states to rescind COVID-19 restrictions.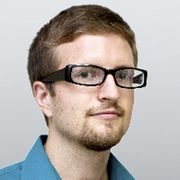 Zachary Stieber
---
COPYRIGHTS
Copy & Paste the link above for Yandex translation to Norwegian.
WHO and WHAT is behind it all ? : >
The bottom line is for the people to regain their original, moral principles, which have intentionally been watered out over the past generations by our press, TV, and other media owned by the Illuminati/Bilderberger Group, corrupting our morals by making misbehavior acceptable to our society. Only in this way shall we conquer this oncoming wave of evil.
Commentary:
Administrator
HUMAN SYNTHESIS
All articles contained in Human-Synthesis are freely available and collected from the Internet. The interpretation of the contents is left to the readers and do not necessarily represent the views of the Administrator. Disclaimer: The contents of this article are of sole responsibility of the author(s). Human-Synthesis will not be responsible for any inaccurate or incorrect statement in this article. Human-Synthesis grants permission to cross-post original Human-Synthesis articles on community internet sites as long as the text & title are not modified