Kremlin Says Russian Military Action Will Stop 'in a Moment' if Ukraine Meets Conditions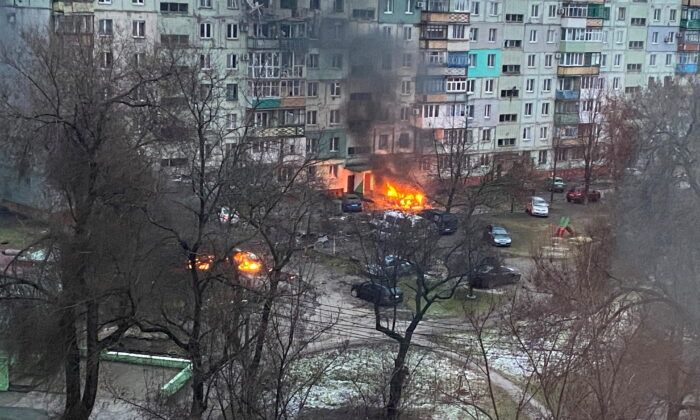 By Epoch Times -  Staff March 7, 2022, Updated: March 7
Kremlin Says Russian Military Action Will Stop 'in a Moment' if Ukraine Meets Conditions
Russia is demanding that Ukraine cease military action, change its constitution to enshrine neutrality, acknowledge Crimea as Russian territory, and recognize the separatist republics of Donetsk and Lugansk as independent territories, Kremlin spokesman Dmitry Peskov said.
Peskov told Reuters that Russia had told Ukraine it was ready to halt its military action "in a moment" if Kyiv met its conditions.
It was the most explicit Russian statement so far of the terms it wants to impose on Ukraine to halt what it calls its "special military operation" in Ukraine, now in its 12th day.
Peskov said Ukraine was aware of the conditions. "And they were told that all this can be stopped in a moment."
On the issue of neutrality, he said: "They should make amendments to the constitution according to which Ukraine would reject any aims to enter any bloc. This is possible only by making changes to the constitution."
The Kremlin spokesman insisted Russia was not seeking to make any further territorial claims on Ukraine.
"We really are finishing the demilitarisation of Ukraine. We will finish it. But the main thing is that Ukraine ceases its military action. They should stop their military action and then no one will shoot," he said.
"They should make amendments to their constitution according to which Ukraine would reject any aims to enter any bloc. We have also spoken about how they should recognise that Crimea is Russian territory and that they need to recognise that Donetsk and Lugansk are independent states. And that's it. It will stop in a moment," Peskov told Reuters.
The outlining of Russia's demands came as delegations from Russia and Ukraine prepared to meet on Monday for a third round of talks aimed at ending Russia's war against Ukraine, an invasion launched on Feb. 24 that has caused the worst refugee crisis in Europe since World War Two and provoked outrage across the world.
____
Russia Says It Will Open Humanitarian Corridors to Ukrainian Cities on Monday
Russia's military will hold fire and open humanitarian corridors in several Ukrainian cities on Monday, the Defence Ministry said, after fighting halted weekend evacuation efforts and civilian casualties from Russia's invasion mounted.
The corridors will be opened at 10 a.m. Moscow time (0700 GMT) from the capital Kyiv as well as the cities of Kharkiv, Mariupol, and Sumy and are being set up at the personal request of French President Emmanuel Macron, the ministry said.
According to maps published by the RIA news agency, the corridor from Kyiv will lead to Russian ally Belarus, and civilians from Kharkiv will only have a corridor leading to Russia. Corridors from Mariupol and Sumy will lead both to other Ukrainian cities and to Russia.
Those who want to leave Kyiv will also be able to be airlifted to Russia, the ministry said, adding it would use drones to monitor the evacuation.
___
Ukraine Rejects Corridors to Belarus, Russia
A senior Ukrainian official on Monday rejected a Russian proposal to evacuate civilians from besieged Ukraine to Russia and Belarus.
"This is an unacceptable option for opening humanitarian corridors," Ukrainian Deputy Prime Minister Irina Vereshchuk said at a briefing.
According to the Russian proposal, the only options for civilians fleeing Kyiv and its suburbs would be to go to Gomel in neighboring Belarus. Civilians in Kharkiv and Sumy in eastern Ukraine would have to flee to the Russian city of Belgorod.
Belarus is a key ally of Russian President Vladimir Putin.
The Ukrainian government is proposing eight humanitarian corridors, including from the southern port of Mariupol, that would allow civilians to travel to the western regions of Ukraine, where there is no Russian shelling.
"We demand that the Russian Federation stop manipulating and abusing the trust of the leaders of France, China, Turkey and India," Vereshchuk said.
___
Zelenskyy Appeals to the West to Strengthen Sanctions
As Russian forces increased their shelling of Ukraine, President Volodymyr Zelenskyy appealed to the West to strengthen sanctions.
In a video statement Sunday evening, Zelenskyy heaped criticism on Western leaders for not responding to the Russian Defense Ministry's announcement that it would strike Ukraine's military-industrial complex, while telling employees of these defense plants not to go to work.
"I didn't hear even a single world leader react to this," Zelenskyy said. "The audacity of the aggressor is a clear signal to the West that the sanctions imposed on Russia are not sufficient."
Zelenskyy called for organizing a "tribunal" to bring to justice those who order and carry out such crimes.
"Think about the sense of impunity of the occupiers that they can announce such planned atrocities," he said.
The Russian Defense Ministry announced Sunday that its forces intend to strike Ukraine's military-industrial complex with what it said were precision weapons.
"We urge all personnel of Ukrainian defense industry plants … to leave the territory of their enterprises," ministry spokesman Igor Konashenkov said in a statement carried by the state news agency Tass.
__
Big Accounting Firms Are Pulling Out of Russia
Two of the so-called Big Four accounting firms are pulling out of Russia over its war in Ukraine.
KPMG and PricewaterhouseCoopers both said Sunday they would end their relationships with their Russia-based member firms. KPMG said it was also pulling out of Belarus.
KPMG International said in a statement it would be "incredibly difficult" to have its Russia and Belarus firms leave the network. KPMG has more than 4,500 employees in the two countries.
PricewaterhouseCoopers said it has 3,700 employees at its PwC Russia firm and is working on an "orderly transition" for the business.
The two other Big Four companies—Deloitte and Ernst & Young—didn't immediately return requests for comment Sunday.
___
US Gasoline Prices Soar to Highest Since 2008 on Russia Conflict: AAA
U.S. gasoline prices at the pump jumped 11 percent over the past week to the highest since late July 2008 as global sanctions cripple Russia's ability to export crude oil after its invasion of Ukraine, automobile club AAA said on Sunday.
AAA said average U.S. regular-grade gasoline prices hit $4.009 per gallon on Sunday, up 11 percent from $3.604 a week ago and up 45 percent from $2.760 a year ago.
The automobile club, which has data going back to 2000, said U.S. retail gasoline prices hit a record $4.114 a gallon on July 17, 2008, which was around the same time U.S. crude futures soared to a record $147.27 a barrel.
The most expensive gas in the country is in California at $5.288 a gallon, followed by Hawaii ($4.695), Nevada ($4.526), and Oregon ($4.466), according to AAA.
Gasoline price provider GasBuddy said the average price of U.S. gasoline spiked nearly 41 cents per gallon, topping $4 for the first time in almost 14 years, and stands just 10 cents below the all-time record of $4.103 per gallon.
GasBuddy said that weekly increase was the second largest ever, following a jump of 49 cents per gallon during the week of Sept. 3, 2005, after Hurricane Katrina tore through the U.S. Gulf Coast.
"Increasing oil prices continue to play a leading role in pushing prices higher," AAA said in a release, noting "pump prices will likely continue to rise as crude prices continue to climb."
___
US Congress to 'Explore' Russian Oil Ban, Enact $10 Billion in Aid for Ukraine This Week: Pelosi
U.S. House of Representatives Speaker Nancy Pelosi on Sunday said the chamber is "exploring" legislation to ban import of Russian oil and that Congress intends to enact this week $10 billion in aid for Ukraine in response to Russia's military invasion of its neighbor.
"The House is currently exploring strong legislation that will further isolate Russia from the global economy," Pelosi said in a letter.
"Our bill would ban the import of Russian oil and energy products into the United States, repeal normal trade relations with Russia and Belarus, and take the first step to deny Russia access to the World Trade Organization."
Russia calls its actions in Ukraine a "special operation."
By Katanga Johnson
___
Oil Prices Jump as Conflict in Ukraine Deepens
The price of oil jumped more than $10 a barrel Monday as the conflict in Ukraine deepened amid mounting calls for harsher sanctions against Russia.
Brent crude oil briefly surged over $10 to nearly $130 a barrel early Monday. Benchmark U.S. crude was up nearly $9 at more than $124 a barrel.
The surge followed a warning from Russian President Vladimir Putin that Ukrainian statehood was imperiled as Russian forces battered strategic locations.
A temporary cease-fire in two Ukrainian cities failed—and both sides blamed each other.
U.S. House of Representatives Speaker Nancy Pelosi said the House was exploring legislation to further isolate Russia from the global economy, including banning the import of its oil and energy products into the U.S.
The Associated Press and Reuters contributed to this report.
---
COPYRIGHTS
Copy & Paste the link above for Yandex translation to Norwegian.
WHO and WHAT is behind it all ? : >
The bottom line is for the people to regain their original, moral principles, which have intentionally been watered out over the past generations by our press, TV, and other media owned by the Illuminati/Bilderberger Group, corrupting our morals by making misbehavior acceptable to our society. Only in this way shall we conquer this oncoming wave of evil.
Commentary:
Administrator
HUMAN SYNTHESIS
All articles contained in Human-Synthesis are freely available and collected from the Internet. The interpretation of the contents is left to the readers and do not necessarily represent the views of the Administrator. Disclaimer: The contents of this article are of sole responsibility of the author(s). Human-Synthesis will not be responsible for any inaccurate or incorrect statement in this article. Human-Synthesis grants permission to cross-post original Human-Synthesis articles on community internet sites as long as the text & title are not modified