ANTINEOPLASTONS - The Cure for Cancer - Stanislaw R. Burzynski, M.D., Ph.D.

by Stanislaw R. Burzynski, M.D., Ph.D. 02 Jan 2022
Antineoplastons
The name Antineoplastons comes from their functions in controlling neoplastic cells: Anti = against, Neoplastons = cancer cells. The manufacture of antineoplastons is done at the Burzynski Research Institute in Stafford, Texas, and is in compliance with strict FDA regulations.
Antineoplastons were discovered by Stanislaw R. Burzynski, M.D., Ph.D. in 1967 who first identified their anti-cancer properties.  Antineoplastons are naturally occurring peptides demonstrating the ability to re-program cancer cells without destroying normal cells.  Due to their low toxicity and anti-cancer activity antineoplastons represent a revolutionary avenue in cancer research.  According to Dr. Burzynski, antineoplastons are components of a complex biochemical defense system that controls cancer in the human body.  Antineoplastons occur naturally in human blood and are reproduced synthetically for medicinal use.
Since their discovery in 1967, antineoplastons have been subject to extensive scientific research by the Burzynski Research Institute and many major national and international research institutes in an effort to identify their mechanism of action and use in cancer treatment. Several institutes confirmed the anti-cancer properties of Antineoplastons, including the National Cancer Institute (1991) and Kurume University Medical School in Japan.  Currently, antineoplastons are used in cancer treatment within FDA-supervised clinical trials, many of them involving patients with malignant brain tumors.
---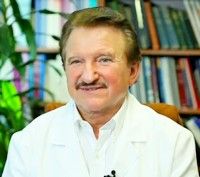 by Stanislaw R. Burzynski, M.D., Ph.D. 02 Jan 2022
ABOUT STANISLAW R. BURZYNSKI MD, PHD
Dr. Burzynski, a nationally and internationally recognized physician/investigator, pioneered the use of biologically active peptides for the treatment of cancer. In 1967, at the age of 24, Dr. Burzynski graduated first in his class of 250 students from the Medical Academy in Lublin, Poland. It was at this time that he identified naturally occurring human peptides, which were deficient in cancer patients. He concluded that these peptides played a role in preventing the growth of cancer cells. In 1968, he earned a Ph.D. degree and became one of the youngest physicians/investigators in Poland to hold both an MD and Ph.D. degree.
Between 1970 and 1977, he received funding from the National Cancer Institute (NCI) for his work as a Principal investigator and Assistant Professor at the Baylor College of Medicine in Houston, TX. During this time he authored/co-authored numerous publications, including those detailing his work on naturally occurring human peptides and their effect on cancer – some of which were co-authored by investigators associated with the M.D. Anderson Cancer Center or the Baylor College School of Medicine. In May 1977, Dr. Burzynski received a Certificate of Appreciation from the Baylor College of Medicine that acknowledged his contributions to the 'Advancement of Medical Education, Research, and Health Care.
In 1977 the Burzynski Clinic was established in Houston, TX. Since then, more than 10,000 patients have received treatment at the clinic, including more than 2,300 cancer patients who have been treated in FDA reviewed and Institutional Review Board (IRB) approved clinical trials program of Antineoplastons, investigational agents that derived from Dr. Burzynski's early investigations of naturally occurring human peptides. Currently, new FDA-reviewed Phase II and III clinical studies utilizing Antineoplastons are awaiting funding approval prior to patient enrollment.
Dr. Burzynski has extensive experience treating cancer with combinations of targeted agents and immunotherapy, and the drug phenylbutyrate (PB), which targets multiple genetic abnormalities simultaneously.
Dr. Burzynski is the author/co-author of over 300 scientific publications /presentations. He has collaborated with investigators at the NCI, the Medical College of Georgia, the Imperial College of Science and Technology of London, the University of Kurume Medical School in Japan, and the University of Turin Medical School in Italy, among others. He is a member of several prestigious organizations, including the American Medical Association, American Association of Cancer Research (AACR), American Society of Clinical Oncology, the Society for Neuroscience, the Society for Neuro-oncology, the Royal Medical Association (U.K.), and the Academy of Medical Ethics. As of June 2015, he held 245 patents in 35 countries covering his scientific inventions.
---
DR. BURZYNSKI PATIENT LIST
ADRENAL CANCER
BRAIN CANCER
Braiden Norton
Bryce Garst
Crystin Schiff
David Doherty
Dustin Kunnari
Elizabeth Mora
Evan Ravenelle
Hannah Bradley
James Treadwell
Jamie Brown
Jared Wadman
Jason Merkle
Jennifer Ciano
Jessica Ressel
Jodi Gold-Fenton
Jonathan Chung
Kendra Gilbert
Kyle Ledy
Lester Mouscher
Mary K. Brittian
Mary Vukich
Matthew Anderson
Matthew Smith
Matthew Weiss
Michael Keller
Nicholas Stoyer
Pam Winningham
Paul Michaels
Roy Hash
Shontelle Hiron
Sophia Gettino
Thomas Lombardi
Tori Moreno
BREAST CANCER

Bogumila Barton
Carol Bricker
Christina De'Troi Egoscue
Donna Batog
Jill Haynes
Julie Atkins
Karen Brown
Laureene O'Dorisio
Marsha Swenson
Peg Schumo
Penny Gordon
Sheila Herron
Sheila Zimmerman
Tracy Edry
COLON CANCER

Chris Onuekwusi
CONNECTIVE TISSUE DISEASE

Pam Murphy
DIFFUSE INTRINSIC PONTINE GLIOMA
ESOPHAGEAL CANCER

LUNG CANCER
LUPUS

Darlene Nichols
LYMPHOCYTIC LYMPHOMA

Alexandra Kowal
MELANOMA
MESOTHELIOMA

Elizabeth Illies
MULTIPLE MYELOMA

Dagmar Burghardt
David Emerson
NON-HODGKINS LYMPHOMA

James Fry
Joann Callahan
Lynn Riemenschneider
Margaret Manning
Mark Wheeler
Mary Jo Siegel
Melody Bullock-Corkhill
Michael Going
Neal Dublinski
Teresa Kennett
PROSTATE CANCER

Nemosthenes Baker
Philip Duncan
---
COPYRIGHTS
Copy & Paste the link above for Yandex translation to Norwegian.
WHO and WHAT is behind it all ? : >
The bottom line is for the people to regain their original, moral principles, which have intentionally been watered out over the past generations by our press, TV, and other media owned by the Illuminati/Bilderberger Group, corrupting our morals by making misbehavior acceptable to our society. Only in this way shall we conquer this oncoming wave of evil.
Commentary:
Administrator
HUMAN SYNTHESIS
All articles contained in Human-Synthesis are freely available and collected from the Internet. The interpretation of the contents is left to the readers and do not necessarily represent the views of the Administrator. Disclaimer: The contents of this article are of sole responsibility of the author(s). Human-Synthesis will not be responsible for any inaccurate or incorrect statement in this article. Human-Synthesis grants permission to cross-post original Human-Synthesis articles on community internet sites as long as the text & title are not modified