Repórter de TV Brasileira tríplice vacinada na UTI após sofrer múltiplas paradas cardíacas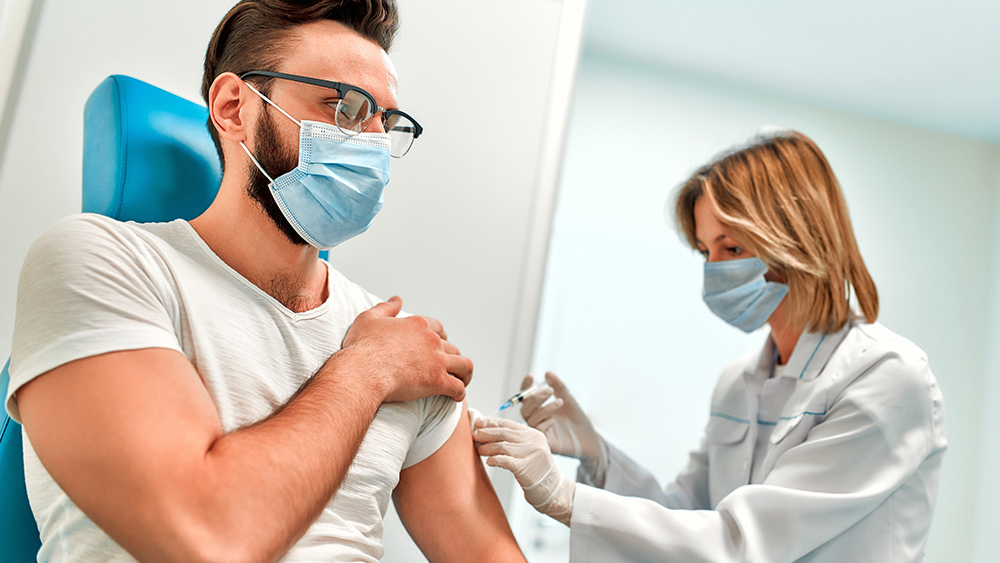 11/01/2022 / Por Matthew Davis
Efeitos colaterais com risco de vida após serem injetadas com a vacina contra o coronavírus Wuhan (COVID-19). Poucos dias depois de se gabar no Twitter de que recebeu sua terceira dose da vacina COVID-19, Silva, de 36 anos, desmaiou durante uma apresentação de notícias ao vivo .
Silva foi socorrido pelo Serviço de Atendimento Móvel de Urgência e levado para o Hospital Humanitas, onde está e agora se encontra na unidade de terapia intensiva. Enquanto estava na ambulância, Silva sofreu mais cinco paradas cardíacas. (Relacionado: CDC relata 8 casos de miocardite em jovens estudantes que receberam a vacina Pfizers COVID-19 .)
Segundo seu colega Kadu Lopez, o apresentador do Jornal das 7 estava extubado, mas consciente. "Ele conversou com a mãe, com o irmão, até pediu para ir ao banheiro", relatou Lopes durante o programa "Alterosa Alerta" em 4 de janeiro. "Estamos muito felizes com essa notícia".
Apesar do que aconteceu, os chamados especialistas disseram que a vacina COVID-19 não tem nada a ver com suas paradas cardíacas.
CDC enganou o público: miocardite não é rara e leve
Sara Middleton, redatora da Natural Health 365 , disse que os Centros de Controle e Prevenção de Doenças (CDC) enganaram o público  em relação à gravidade dos efeitos colaterais das vacinas de mRNA COVID-19 sob a autorização de uso emergencial. Um dos efeitos colaterais é a miocardite, um tipo de inflamação do coração.
O CDC disse que os casos de miocardite são leves, mas uma mãe disse ao Children's Health Defense que seu filho, que foi vacinado com Pfizer, lutava contra miocardite . A mãe perturbada, que presenciou o filho ofegante devido a uma inflamação no coração, lamentou a falta de educação sobre os verdadeiros efeitos da vacina.
Middleton escreveu sobre o caso de Aiden Jo, de 14 anos. Anteriormente saudável, mas com asma como condição pré-existente, o menino foi vacinado com Pfizer. Algumas semanas depois, ele se queixou de dor no peito e dificuldade para respirar.
A mãe de Aiden, Emily, levou seu filho às pressas para o hospital, onde ele foi tratado por uma inflamação no coração. (Relacionado: Trágico: jovem de 13 anos com vacina dupla morre de "parada cardíaca inexplicável". )
Emily estava ciente dos possíveis efeitos da vacina, mas foi levada a acreditar que o efeito adverso era raro e leve. "O que eles não explicaram é que leve significa atendimento hospitalar e acompanhamento indefinidamente. "O cardiologista de Aiden nos disse que nenhum caso de miocardite é leve."
O menino agora está enfrentando problemas ao longo da vida com o coração e não pode mais brincar com seus amigos porque se cansa facilmente. Devido à condição de Aiden, Emily disse que sua família incorreu em milhares de dólares em contas médicas, apesar de ter seguro. A miocardite não é coberta pelo Programa Nacional de Compensação de Lesões por Vacinas.
"O Programa de Compensação de Lesões de Contramedidas cobre apenas se você estiver incapacitado, em cadeira de rodas ou morto", disse Emily.
Enquanto isso, o CEO da Pfizer, Albert Bourla, alegou que as pessoas que espalham "desinformação" sobre a vacina COVID-19 são "criminosos que custaram milhões de vidas".
Bourla também disse que as pessoas vão precisar de um quarto tiro antes do esperado . O CEO da Pfizer disse à CNBC que sua empresa está estudando ainda mais a variante omicron para se preparar para uma quarta vacina que aumentará ainda mais o lucro da empresa farmacêutica.
Originalmente, Bourla disse que levará um ano após obter o terceiro tiro antes que as pessoas tenham o quarto jab, mas a linha do tempo agora deve ser aproximada devido ao omicron. Os especialistas não estão convencidos de que as doses de reforço são necessárias, observando que a Pfizer e outras grandes empresas farmacêuticas devem obter grandes lucros com os reforços.
---
COPYRIGHTS
Copy & Paste the link above for Yandex translation to Norwegian.
WHO and WHAT is behind it all ? : >
The bottom line is for the people to regain their original, moral principles, which have intentionally been watered out over the past generations by our press, TV, and other media owned by the Illuminati/Bilderberger Group, corrupting our morals by making misbehavior acceptable to our society. Only in this way shall we conquer this oncoming wave of evil.
Commentary:
Administrator
HUMAN SYNTHESIS
All articles contained in Human-Synthesis are freely available and collected from the Internet. The interpretation of the contents is left to the readers and do not necessarily represent the views of the Administrator. Disclaimer: The contents of this article are of sole responsibility of the author(s). Human-Synthesis will not be responsible for any inaccurate or incorrect statement in this article. Human-Synthesis grants permission to cross-post original Human-Synthesis articles on community internet sites as long as the text & title are not modified