Ex NATO chief Jens Stoltenberg became the new Central Bank Governor in Norway.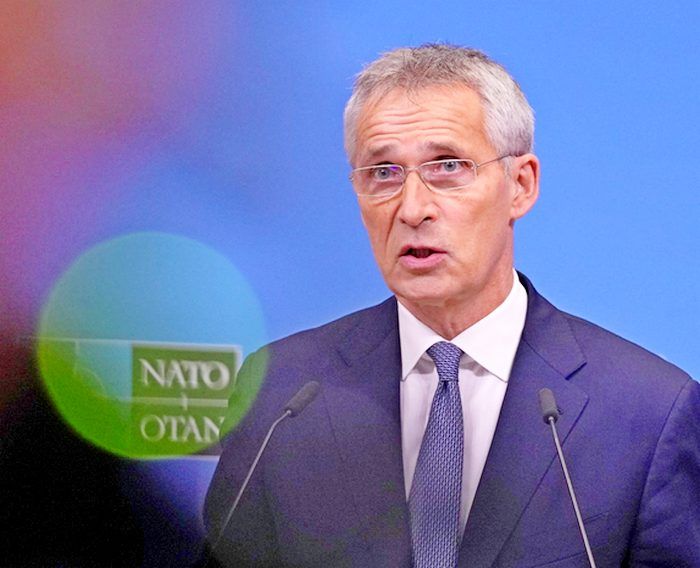 Document.no - By: Hans Rustad, February 4, 2022, 12:27 PM
Jens is not tough. That is why he is chosen, he does not encounter anyone on the cuffs. He is adaptable. But is it this person who is best suited to defend Norway's interests? Now there are two in the leadership who belong to another party: the Party of Davos.  
NATO Secretary-General Jens Stoltenberg expressed concern Thursday, Feb. 3, 2022, that Russia is continuing its military buildup around Ukraine, and that it has now deployed more troops and military equipment to Belarus than at any time in the last 30 years.
Jens Stoltenberg becomes the new central bank governor. Thus, two representatives of the new global elite are in control of Norway's most important card: the oil fund. It is therefore not surprising that the election process for the two institutions was similar: In both cases, the new leader got the spotlight on himself for butter rides, dinners, and "random" meetings where the vacancy came up. They themselves explain away and reject critical questions in a way that shows that they are sure of being elected.
Norway has become a country where certain people are immovable. This is another twist on the old Labor proverb that "someone has talked together". For these "some" no longer sit on Youngstorget. They are based in Berlin, Brussels, Washington, and "Davos". These are people who have no formal power in Norway and therefore we see the emergence of a new supranational power structure that has the whole world as an arena.
Erna Solberg is, if possible, even more, eager to participate in this arena than Støre, who seems a little tired after a few months at the helm.
The one who takes the brunt of the appointments was Øystein Olsen, who groped to find a good justification for how a man-billionaire could become head of the Oil Fund without cutting control. You had a position until you had a new one and the whole thing did not enter into trust.
Now it is Vedum who must take the brunt. Some may have leaned on Vedum, some with such a weight that it is difficult to say no.
The financial markets have gained players that the Norwegian public has hardly heard of: the hedge fund Blackrock is as large as the Oil Fund. Whoever is to govern the Norwegian language must be on good terms with these funds. They also own a lot of Norwegian businesses. When the leaders of these say "jump", most people jump. We see the emergence of a new type of capitalism where a few actors control the whole show. The fact that they are on good terms with China should not come as a surprise.
These are not Democrats. They are top-down, authoritarian and they use critical race theory, floating gender and identity politics as weapons with which they can gain control and dominance. They do not care that these ideologies weaken Western societies because they have no loyalty to Western societies, only their own power, and earnings. If someone threatens their power, they try to destroy that person, in collaboration with Big Tech
You could call this new a hydra, a multi-headed monster.
Anyone who makes big money in a few years out in the big world knows what this hydra is all about. Nicolai Tangen vet.
Jens Stoltenberg has had another arena, but the circles overlap.
With Biden, the United States has got the most corrupt president ever. Biden is the symbol of a corrupt elite that sells out land and people for its own gain. One cannot be Secretary-General of NATO for two terms without knowledge of the Biden family's enrichment, or the President's facilitation of illegal immigration and drug trafficking, child sex, etc. Biden is on a par with Hugo Chavez: Socialism and Money.
The pandemic has increased Norway's integration into a network most people knew little about Pfizer, Wuhan, Tony Fauci, CDC. WHO and they jointly use blackmail and censorship against people who threaten them.
Truth is for them a relative concept. What serves them at the moment.
Welcome to a beautiful new world where Norway plays the first violin due to the Oil Fund.
---
COPYRIGHTS
Copy & Paste the link above for Yandex translation to Norwegian.
WHO and WHAT is behind it all ? : >
The bottom line is for the people to regain their original, moral principles, which have intentionally been watered out over the past generations by our press, TV, and other media owned by the Illuminati/Bilderberger Group, corrupting our morals by making misbehavior acceptable to our society. Only in this way shall we conquer this oncoming wave of evil.
Commentary:
Administrator
HUMAN SYNTHESIS
All articles contained in Human-Synthesis are freely available and collected from the Internet. The interpretation of the contents is left to the readers and do not necessarily represent the views of the Administrator. Disclaimer: The contents of this article are of sole responsibility of the author(s). Human-Synthesis will not be responsible for any inaccurate or incorrect statement in this article. Human-Synthesis grants permission to cross-post original Human-Synthesis articles on community internet sites as long as the text & title are not modified