Warning!- Do not take Vaccines 3 and 4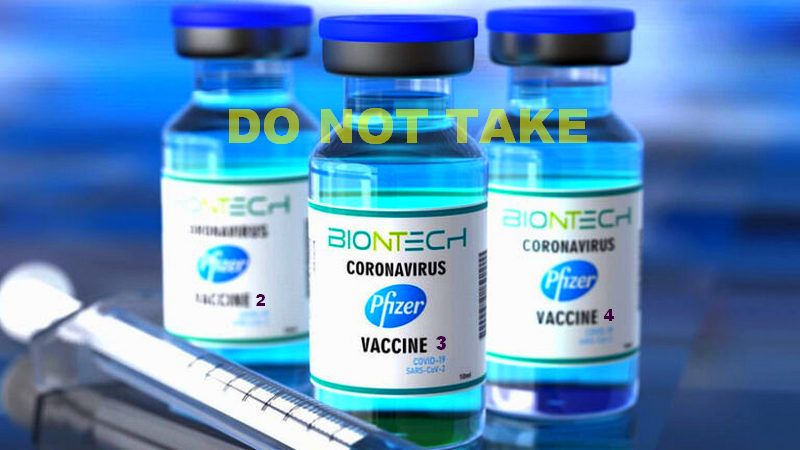 Trude Helen Hole - HUMAN-SYNTHESIS - [29/01/2022 17:07]

There are probably some now who receive encouragement from their own municipality to take vaccines 3 and 4. But this is illegal when at the same time NOT informed about the dangerous side effects.
So today I have commented on the following under Asker municipality's complaint for dose number 3. If anyone wants it, just use the text. I note that Asker municipality fails to state that this is an experiment that is being tested directly on humans - and unfortunately also our children - nor does it state the serious side effects of the "vaccines"!

Skien municipality was more honorable until 26.12.2021 when they also censored the following information from their websites: "The vaccines of Pfizer-BioNTech or Moderna are not approved or licensed according to normal procedures, but have been authorized for emergency use. This means that the trials and observation of side effects and effects of the vaccines are still ongoing and uncertain. This means that those who now receive these vaccines are participants in observational studies for vaccine safety, where the final approval will not be available until 2023 ″. Skien municipality.

We also know that the AstraZeneca "vaccine" was withdrawn after a short period of use because it took too many lives.
As NRK already wrote on 19.3.2021; - It boils down to the following: The relatively young people who have contracted life-threatening illness shortly after vaccination may not have become covid-19 patients at all. Since the vaccines started, ref FHI has had more vaccinated people in hospital than unvaccinated people. This is due to the fact that the "vaccines" that are not approved, that are urgently developed and tested directly on humans - do NOT prevent either infection or disease! On the contrary! The injections have resulted in extremely many serious adverse effects that have led to hospitalizations and death.

For week 49, Akershus University Hospital confirmed that there were NO unvaccinated among the hospitalized patients with covid-19, while those with 3 doses were hit harder by the new virus. In week 49, there were 45,153 reported side effects. This is a big number. In comparison, the Norwegian Medicines Agency received 5,623 adverse reaction reports including medicines in 2018. To date, 4,203 very serious vaccine injuries have been reported, also on children aged 12, including vaccine death.

There are of course large dark numbers, but this still accounts for 17% of all processed messages pdd. Hospitalization is the most common reason why an incident is classified as serious - and this applies to 44% of serious reports.
VACCINE INJURIES have, in other words, resulted in 1,849 hospital admissions in 3/4 years. In addition, there are figures from nursing homes for the elderly. Over 20,000 side effects have not yet been treated due to lack of capacity!

The side effects, both the temporary and especially the serious, lifelong vaccine injuries and deaths affect the individual and his family privately, but the side effects also take up a lot of capacity in the public sector! This costs us as a society very much - but the media does not write anything about this. Nor do they write anything about the actual content of the vaccine and how it is developed.
Let me elaborate a bit on some of the side effects of the vaccine.
Very many cases of pericarditis (inflammation of the pericardium) and myocarditis (inflammation of the heart muscle) have been reported in those who have been vaccinated. People of all ages have been affected, but it is most common in men under 30 years of age.
Mapping of injuries shows a high incidence of various menstrual and hormonal disorders such as stronger pain, persistent, continuous and heavier bleeding among menstruating women, especially in the age group 18-30 years, and that women after menopause have begun to menstruate.
The EMA has concluded that an increased incidence of blood clots is a risk when using the vaccines. Blood clots occur when the blood clots (coagulates) in the bloodstream. Blood clots can occur in various places such as the leg, lung or brain.
Young people and children are more likely to have a stronger immune response after vaccination than older people. They can therefore expect to get some of the common side effects after vaccination, especially after the vaccine can trigger fundamental changes in the immune system and cause reproductive damage in young people.
The vaccine can cause brain lesions and scarring of heart tissue, especially in young people and children.
A 7.5% increase in the number of reports of serious side effects was reported in children aged 12-17 in just one week, according to the Norwegian Medicines Agency's side effect report.
104 reports of heart problems aged 12-29 have been completed, and the dark numbers are large. Many children will have to live with a weakened heart for the rest of their lives!
Very many have also experienced increasing incidences of tumors, strokes and cancer after the introduction of covid vaccination. We do not yet know if this has a connection, but the probability is high.
DEATH
Asler municipality must encourage people to subscribe to "boosters" at least four times a year or more, because one is never fully vaccinated - but the municipality also has a duty to inform about WHAT it is actually vaccinated against, as pdd is common flu and cold. ref FHI.

Of course, the municipality is also obliged to inform about the very serious side effects and deaths due to the vaccines. This should be done together with all the advertising you pour out. If you do not inform about risk - this is not informed consent when people choose / are pressured to get vaccinated, and therefore offenses.
---
COPYRIGHTS
Copy & Paste the link above for Yandex translation to Norwegian.
WHO and WHAT is behind it all ? : >
The bottom line is for the people to regain their original, moral principles, which have intentionally been watered out over the past generations by our press, TV, and other media owned by the Illuminati/Bilderberger Group, corrupting our morals by making misbehavior acceptable to our society. Only in this way shall we conquer this oncoming wave of evil.
Commentary:
Administrator
HUMAN SYNTHESIS
All articles contained in Human-Synthesis are freely available and collected from the Internet. The interpretation of the contents is left to the readers and do not necessarily represent the views of the Administrator. Disclaimer: The contents of this article are of sole responsibility of the author(s). Human-Synthesis will not be responsible for any inaccurate or incorrect statement in this article. Human-Synthesis grants permission to cross-post original Human-Synthesis articles on community internet sites as long as the text & title are not modified