Growing Number of European Countries Rolling Back COVID-19 Restrictions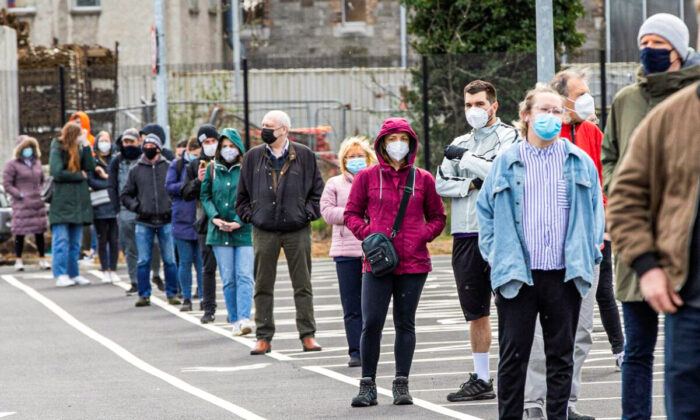 People wait in line to receive a swab test for COVID-19 at a walk-in portable testing center operated by the ambulance service in Dublin, Ireland on March 25, 2021. (Paul Faith/AFP via Getty Images)
The Epoch Times - By Jack Phillips January 23, 2022,
Major economies in Europe have started to roll back COVID-19 restrictions that were implemented in recent weeks in response to a spike in cases and hospitalizations.
In the United Kingdom, people won't have to wear masks in public or show proof they've been vaccinated to enter some venues like restaurants or pubs starting next Thursday.
"Because of the extraordinary booster campaign, together with the way the public has responded to the Plan B measures, we can return to Plan A in England and allow Plan B regulations to expire as a result from the start of Thursday next week," Prime Minister Boris Johnson said several days ago.
The prime minister cited data suggesting the Omicron variant surge has "now peaked nationally."
"And having looked at the data carefully, the Cabinet concluded that once regulations lapse, the government will no longer mandate the wearing of face masks anywhere," Johnson also said.
In nearby Ireland, nearly all COVID-19 rules are expected to expire on Saturday morning, including capacity limits for outdoor and indoor events. Early closing times and some so-called social distancing measures have also been done away with, officials said last week.
"The main thing our government has to consider in our meeting today is issues around the timing as well as issues around financial support for businesses. As we've always said there won't be a cliff edge for the removal of passports for business, but there will be an end," said Ireland's deputy head of government, Leo Varadkar, in public remarks.
French Prime Minister Jean Castex late last week said the country will start to roll back restrictions in the coming weeks, asserting that France's COVID-19 case numbers and hospitalizations have improved.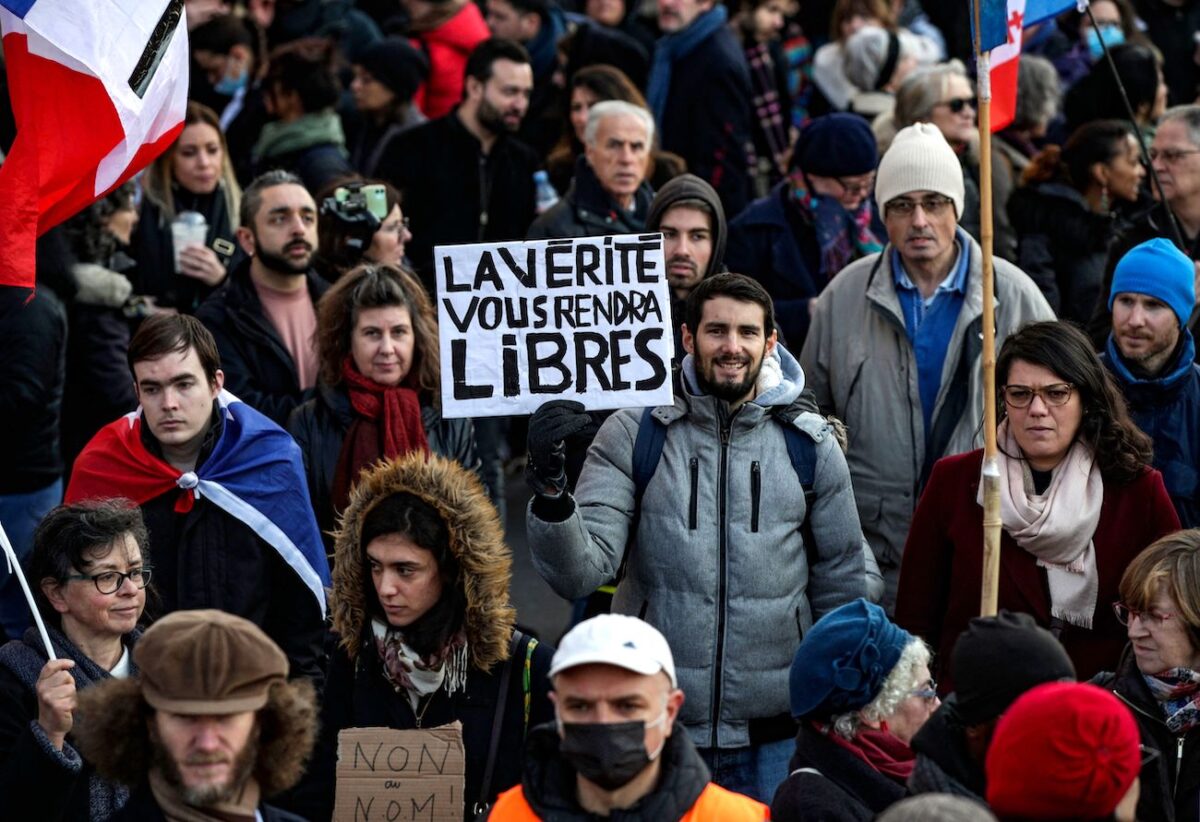 "This exceptional wave is not over, but the situation is starting to evolve more favorably," Castex remarked on Thursday. However, he tied the easing of restrictions with France's new COVID-19 vaccine passport that comes into effect on Monday, which some critics have described as draconian and has drawn mass protests in recent days.
Castex and other French officials said that the vaccine passport system may be done away with entirely if the COVID-19 situation in the country further improves. Health Minister Oliver Veran said Thursday it would depend on how many people are hospitalized.
"We are a bit more confident in saying we can relax some of these constraints and let people return to life as normal as possible," Veran said, according to France24.
Outdoor mask mandates, audience capacity limits at some venues, and working from home won't be required on Feb. 2, French officials said. Nightclubs will also be permitted to reopen in mid-February.
On Jan. 20, Spain's prime minister, Pedro Sanchez, told reporters that the European Union should approach COVID-19 in the same manner that it approaches influenza, as frequent studies and data have shown the Omicron variant is far less virulent than previous variants.
"What we are saying is that in the next few months and years, we are going to have to think, without hesitancy and according to what science tells us, how to manage the pandemic with different parameters," he said Monday, reported The Associated Press.
Meanwhile, Germany and Austria appear to still be forging ahead with plans to make COVID-19 vaccines mandatory for everyone who is eligible in the coming weeks. Austrian rules stipulate massive fines worth thousands of euros and other penalties for those who refuse to comply.
But the nearby Czech Republic has abandoned plans to make the shot compulsory following widespread protests in Prague and other cities, according to the office of new Prime Minister Petr Fiala.
"We've agreed that vaccination against COVID-19 won't be mandatory," Fiala said during remarks last week. "This does not change our stance on vaccination. It is still undoubtedly the best way to fight COVID-19 … however, we do not want to deepen fissures in society."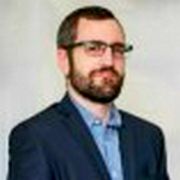 Jack Phillips is a breaking news reporter at The Epoch Times based in New York.
---
Large demonstrations against corona passports and for freedom in Norway and Europe. Norwegian media are silent.
Document.no - By: Petra Stockmann   January 24, 2022, 8:49 p.m.
In less than two years, human rights and democracy have become hollow concepts in Europe as well. Residents who were once terrified of the virus have now become terrified of quarantine, travel bans, and not being part of the herd - and run off to take booster doses. The EU has decided that everyone over the age of 18 must-have three doses of coronary vaccine (still only conditionally approved) in order to be approved for their green travel passport. At the same time, country after country within the union is introducing the most draconian measures to get its citizens to take the measured number of doses.
In Italy and Austria, all "unvaccinated" are excluded from virtually all areas of society. In a week's, Austria will introduce a vaccine order, otherwise, there will be heavy fines and possibly prison. In Greece, the latter applies to anyone over 60 years of age. In Germany, unvaccinated parliamentarians are now banned from the Bundestag - and there they will also soon be voting on vaccine orders. In France, compulsory vaccination has been introduced in practice today.
In our neighboring country Sweden, the corona certificate only lights up green if you have taken the doses ordered by the authorities. Immunity through illness or tests does not apply - and Norway sniffs on the same model.
In Europe, more and more people are now demonstrating against these human rights violations and the segregation of people. In Oslo, a long torchlight procession went up to Karl Johan and to the Storting, where they appeared singing "Yes, we love". There were demonstrations in several Norwegian cities on Saturday.
The media is silent. Freedom and democracy are not so important for state-supported and Wall Street-owned Norwegian media such as NRK, Aftenposten, and VG. On the other hand, they report on the extreme measures that have been implemented against those who do not follow the authorities' order for vaccine doses in Europe. Cool and sober and uninterested and with an undertone of "they can only feel so good". They are about as uninterested in digging more into the side effects that so tragically affect many, many people.
The question for the Norwegian authorities, politicians, and the media must then be: What can we call this? If you do not want coronary vaccine or to continue to put new doses of vaccine in your arm, then you can no longer be a part of society. The authorities have decided that the vast majority can take the vaccine, it is also free for the individual - and the side effects are minimal, the authorities say and disregard. Therefore, this is fine. What this entails, I leave to the readers to consider.
I say: Never forget, never forgive.
---
COPYRIGHTS
Copy & Paste the link above for Yandex translation to Norwegian.
WHO and WHAT is behind it all ? : >
The bottom line is for the people to regain their original, moral principles, which have intentionally been watered out over the past generations by our press, TV, and other media owned by the Illuminati/Bilderberger Group, corrupting our morals by making misbehavior acceptable to our society. Only in this way shall we conquer this oncoming wave of evil.
Commentary:
Administrator
HUMAN SYNTHESIS
All articles contained in Human-Synthesis are freely available and collected from the Internet. The interpretation of the contents is left to the readers and do not necessarily represent the views of the Administrator. Disclaimer: The contents of this article are of sole responsibility of the author(s). Human-Synthesis will not be responsible for any inaccurate or incorrect statement in this article. Human-Synthesis grants permission to cross-post original Human-Synthesis articles on community internet sites as long as the text & title are not modifie