Regjeringer innrømmer at de bruker "masseformasjons-psykose" som verktøy for befolkningskontroll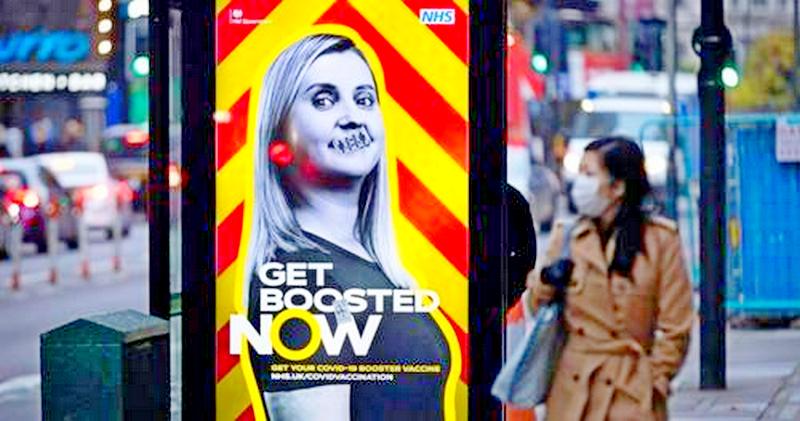 ZeroHedge – AV TYLER DURDEN – ONSDAG 5. JAN 2022 – 04:17
Forfattet av Paul Joseph Watson via Summit News,
Dr. Robert Malones påstander om "massedannelsespsykose" i sammenheng med COVID-19-pandemien understrekes av det faktum at myndigheter i Storbritannia innrømmet å bruke "totalitære" metoder for "tankekontroll" for å skape frykt i befolkningen.
I Canada innrømmet militæret også å ha startet en psykologisk operasjonskampanje mot sitt eget folk for å manipulere dem til å overholde COVID-19-restriksjoner og mandater.
Under sin virale podcast med Joe Rogan, etter at han ble utestengt av Twitter, forklarte Malone hvordan den globale befolkningen ble manipulert til å forbli i en konstant tilstand av hysterisk angst via massedannelsespsykose.
«Hva i helvete skjedde med Tyskland på 20- og 30-tallet? Veldig intelligent, høyt utdannet befolkning og de ble bjeffe gale. Og hvordan skjedde det?" spurte Malone.
"Svaret er massedannelsespsykose."
"Når du har et samfunn som har blitt frikoblet fra hverandre og har frittflytende angst i en forstand at ting ikke gir mening, kan vi ikke forstå det, og da blir oppmerksomheten deres fokusert av en leder eller serie av hendelser på ett lite punkt, akkurat som hypnose, blir de bokstavelig talt hypnotisert og kan føres hvor som helst,» la han til.
På Joe Rogan antyder Dr Robert Malone at vi lever gjennom en massedannelsespsykose.

Han forklarer hvordan og hvorfor dette kunne skje, og dets effekter.

Han trekker analogi til Tyskland på 1920/30-tallet «de hadde en svært intelligent, høyt utdannet befolkning, og de ble bjeffe gale» pic.twitter.com/wZpfMsyEZZ 1. januar 2022
"Og en av aspektene ved det fenomenet er at menneskene de identifiserer som sine ledere, de som vanligvis kommer inn og sier at du har denne smerten, og jeg kan løse den for deg. Jeg og jeg alene," forklarte Malone videre, "da vil de følge den personen. Det spiller ingen rolle om de løy for dem eller hva som helst. Dataene er irrelevante."
"Vi hadde alle disse betingelsene. Hvis du husker tilbake før 2019, klaget alle, verden gir ikke mening, og vi er alle isolert fra hverandre.»
"Så skjedde denne tingen, og alle fokuserte på det," sa Malone og la merke til:

"Det er slik massedannelsespsykose skjer, og det er det som har skjedd her."
Malones oppsummering av hvordan helsemyndighetene tok tak i den samlende trusselen fra COVID-19-pandemien og overdrev tråden for å skape massehysteri, støttes av lekkede detaljer om hvordan den britiske regjeringen manipulerte befolkningen sin i de første dagene av pandemien.
Som først avslørt av forfatteren og journalisten Laura Dodsworth, innrømmet forskere i Storbritannia som jobber som rådgivere for regjeringen at de brukte det de nå innrømmer å være "uetiske" og "totalitære" metoder for å skape frykt i befolkningen for å kontrollere atferd under pandemien .
"Bruk av frykt for å kontrollere atferd i Covid-pandemien var 'totalitær', innrømmer forskere"

Fra 'A State of Fear: hvordan den britiske regjeringen våpnet frykt under Covid-19-pandemien' https://t.co/gD6HFUkQqW 14. mai , 2021
London Telegraph rapporterte kommentarene fra medlemmer av Scientific Pandemic Influenza Group on Behavior (SPI-B), en underkomité av Scientific Advisory Group for Emergencies (Sage), regjeringens ledende vitenskapelige rådgivende gruppe.
Rapporten siterer en orientering fra mars 2020, da den første nedstengningen ble vedtatt, som uttalte at regjeringen drastisk burde øke "det oppfattede nivået av personlig trussel" som viruset utgjør fordi "et betydelig antall mennesker fortsatt ikke føler seg tilstrekkelig personlig truet" .
En forsker med SPI-B innrømmer at "I mars [2020] var regjeringen veldig bekymret for overholdelse og de trodde folk ikke ville ønske å bli låst ned. Det var diskusjoner om at frykt var nødvendig for å oppmuntre til etterlevelse, og det ble tatt beslutninger om hvordan man skulle øke frykten.»
Den ikke navngitte forskeren legger til at "Måten vi har brukt frykt på er dystopisk."
Forskeren tilsto videre at "Bruken av frykt har definitivt vært etisk tvilsom. Det har vært som et merkelig eksperiment. Til slutt ga det tilbake fordi folk ble for redde.»
En annen separat vitenskapsmann i underkomiteen bekjente «Du kan kalle psykologi 'tankekontroll'. Det er det vi gjør ... tydeligvis prøver vi å gå om det på en positiv måte, men det har blitt brukt ondsinnet tidligere."
En annen forsker advarte at "Vi må være veldig forsiktige med autoritarismen som sniker seg inn," og legger til "folk bruker pandemien til å gripe makt og drive gjennom ting som ellers ikke ville skjedd."
🚨Fra boken av @BareReality :

🗣️"Det er klart at det ikke er etisk å bruke frykt som kontrollmiddel. Å bruke frykt lukter totalitarisme. Det er ikke en etisk holdning for noen moderne regjering." – SPI-B- medlemshistorie

via @Telegraph , https://t.co/43oMh99H7e https://t.co/NcbxY0Gt2p 15. mai 2021
I følge rapporten erkjente en annen forsker med gruppen at "Uten vaksine er psykologi hovedvåpenet ditt," og la til at "psykologi har hatt en veldig god epidemi, faktisk."
Enda en vitenskapsmann i underkomiteen uttalte at de har blitt "forbløffet over bevæpningen av atferdspsykologi" det siste året, og advarte om at "psykologer ikke så ut til å legge merke til når det sluttet å være altruistisk og ble manipulerende."
"De har for mye makt og det beruser dem," advarte forskeren videre.
I tillegg til den britiske regjeringens svar, ble det også avslørt at det kanadiske militæret lanserte et psykologisk operasjonsprogram mot sine egne borgere i de tidlige dagene av pandemiordren for å forsterke regjeringens meldinger og "avverge sivil ulydighet."
Massepsykose er en myte på samme måte som militæret driver hemmelige propagandakampanjer mot innbyggerne er folkehelsen. https://t.co/zeDThlGKJP 2. januar 2022
"Kanadiske militærledere så på pandemien som en unik mulighet til å teste ut propagandateknikker på en intetanende offentlighet," rapporterte Ottawa Citizen .
I mellomtiden, etter tidlige forsøk på å begrave begrepet helt, rigger Google nå desperat søkeresultatene sine til kun å returnere negative artikler om "massedannelsespsykose" og Dr. Malone.
Googles nåværende toppsøkeresultatkobling for "massedannelsespsykose" er en hit fra Forbes som gjenvinner tvilsomme påstander Dr. Malone allerede avkreftet under sin Rogan-opptreden.
* * *
---
COPYRIGHTS
Copy & Paste the link above for Yandex translation to Norwegian.
WHO and WHAT is behind it all ? : >
The bottom line is for the people to regain their original, moral principles, which have intentionally been watered out over the past generations by our press, TV, and other media owned by the Illuminati/Bilderberger Group, corrupting our morals by making misbehavior acceptable to our society. Only in this way shall we conquer this oncoming wave of evil.
Commentary:
Administrator
HUMAN SYNTHESIS
All articles contained in Human-Synthesis are freely available and collected from the Internet. The interpretation of the contents is left to the readers and do not necessarily represent the views of the Administrator. Disclaimer: The contents of this article are of sole responsibility of the author(s). Human-Synthesis will not be responsible for any inaccurate or incorrect statement in this article. Human-Synthesis grants permission to cross-post original Human-Synthesis articles on community internet sites as long as the text & title are not modified