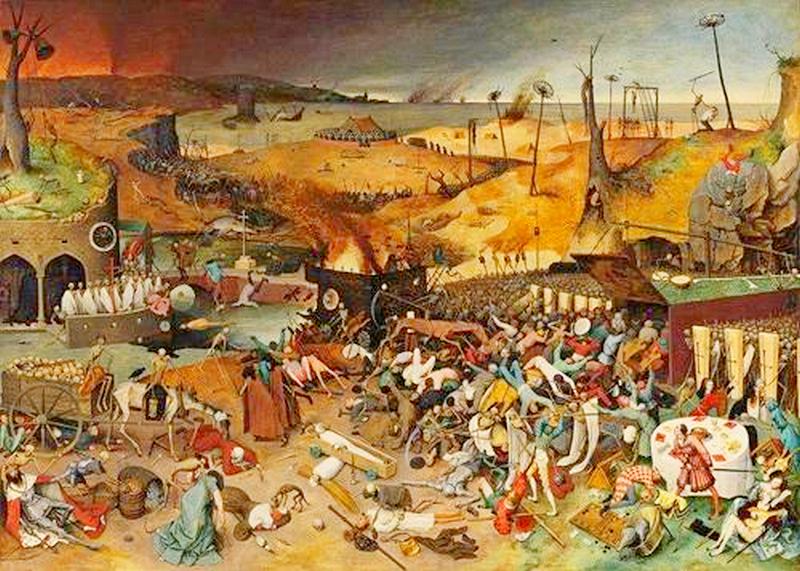 ZeroHedge - BY TYLER DURDEN  - SATURDAY, DEC 25, 2021 - 11:45 PM
Authored by Egon von Greyerz via GoldSwitzerland.com,
One of the most horrifying works of art is Bruegel's "The Triumph of Death" painted in 1562. The painting depicts the end of life on earth.
I sincerely hope that this is not what the world will literally look like in the next decade or two but metaphorically this is not an unlikely depiction of the chaos that could hit us all.
For a detailed description of the grim painting see here
The Black Death plague of the 14th century, which killed up to half of the world's population, clearly had a major influence on the painter.
The moral message is that when chaos hits, the destruction will affect everyone, rich and poor, young and old. No one will escape by power or devotion.
The financial, economic and moral devastation which is about to hit the world will for more than 99.5% of the people come out of the blue like a flash from a clear sky.
For most people, coming events will thus be like the definition of the word CHAOS: "A state of total confusion and disorder".
CHAOS NUMBER 1: COVID
Talking about disorder, just like the Black Death that inspired Bruegel's painting, the world is now facing a global pandemic. But rather than the nearer 50% of global population that perished in the mid 1300s, today we are looking at total deaths from the current pandemic of 0.06% of the world population! And even that figure might be overestimated due to the classification rules applied.
For that minuscule percentage the world has now been paralysed for the third year soon.
There are lockdowns, quarantines, compulsory vaccines with unlined boosters, covid passports, closed schools, closed offices, major industries like leisure haemorrhaging, airlines going bankrupt, shortages of labour, components, products, closed borders, and for the few people who dare to and can travel across borders, more bureaucracy, paperwork and tests than in a police state. At the same time money printing and credit creation have gone exponential.
The politicians obviously blame the scientists for all the rules that they force upon the people.
It is interesting that with almost 200 countries in the world, each country has different rules how to deal with covid. If all these rules were based on science, you would have thought that the rules would have been the same for all 200 countries.
Or could it be as many observers believe that the politicians use the pandemic to their own advantage.
Or is it more likely that neither the scientists nor the politicians have got a clue how to deal with a disease that creates hardly any deaths in excess of normal deaths?
In Sweden for example, there has been no lockdown, no quarantine, no closed shops, no mask requirement and industry has operated normally. Covid cases and deaths are at the lower range of the European average. Hmmm – so much for all these punishing rules in most countries.
We were told that the vaccines would solve the problem but two shots haven't so far as we were promised. So now everyone needs a booster every few months. With Big Pharma being both judge and jury plus benefiting from their own advice to the extent 100s of billions of dollars, how do we know the real truth?
As an example, I have a 19 year old vaccinated granddaughter who had Covid in August. Now she has got Covid for the second time, fortunately in the form of a normal cold. The government/scientist solution is clearly more vaccines at ever more frequent intervals. And still no one has properly tested the long term effects the vaccines have on our bodies. There just isn't time for that!!?
The consequences of these constant changing of rules and shutdowns will clearly have a devastating effect on an already very fragile world economy and financial system.
CHAOS NUMBER 2: GLOBAL DEBT
So if scientists and governments haven't got a clue how to deal with Covid, we can at least assume that central bankers and governments have got the economy and the financial system under control.
How wrong can we be?
Ever since the Federal Reserve was created in 1913, central and commercial bankers have successfully been running the financial system for their own benefit. But what really gave them carte blanche to print unlimited amounts of money was in August 1971, when Nixon closed the gold window. Since then, President Thomas Jefferson's cynical view on bankers have really come to pass.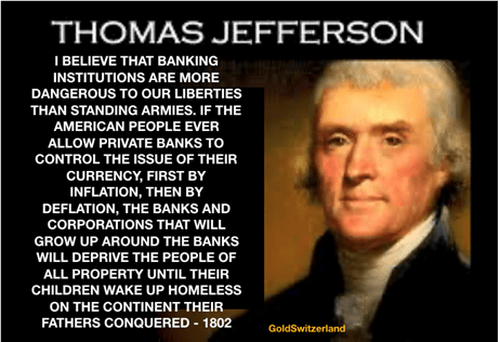 How incredibly prescient the above statement is. We must remember that the Fed is a private bank that totally controls the US financial system. And as long as the US dollar remains the reserve currency of the world, the Fed also controls major parts of the global financial system.
Jefferson will also be right regarding inflation and deflation. The current financial system is now entering a phase of inflation, most probably leading to hyperinflation as I have discussed many times in my articles.
But before this financial system ends, the totally worthless debt must be destroyed through a deflationary implosion not only of the debt, but also the bubble assets financed by printed money created out of thin air.
So a deflationary depression is likely to be the end of yet another failed experiment of a fiat money system which was doomed the day it was created on Jekyll island 111 years ago. Jefferson of course told us this would happen already over 200 years ago.
If history teaches us anything, it is that no one learns from history and everyone thinks it is different today because we are here.
Plus ça change, plus c'est la même chose – The more it changes, the more it stays the same.
So back to Bruegel. An implosion of the financial system and consequently the global economy will clearly have major repercussions for life on earth.
We must remember that NEVER BEFORE IN HISTORY has there been a global debt crisis of this magnitude.
Never before have debt bubbles at this level in Europe, in North and South America, Asia, Africa and Oceania synchronised at the levels we are now experiencing.
Just look at the magnitude of debt that has been created since 1971.
---
COPYRIGHTS
Copy & Paste the link above for Yandex translation to Norwegian.
WHO and WHAT is behind it all ? : >
The bottom line is for the people to regain their original, moral principles, which have intentionally been watered out over the past generations by our press, TV, and other media owned by the Illuminati/Bilderberger Group, corrupting our morals by making misbehavior acceptable to our society. Only in this way shall we conquer this oncoming wave of evil.
Commentary:
Administrator
HUMAN SYNTHESIS
All articles contained in Human-Synthesis are freely available and collected from the Internet. The interpretation of the contents is left to the readers and do not necessarily represent the views of the Administrator. Disclaimer: The contents of this article are of sole responsibility of the author(s). Human-Synthesis will not be responsible for any inaccurate or incorrect statement in this article. Human-Synthesis grants permission to cross-post original Human-Synthesis articles on community internet sites as long as the text & title are not modified